We use affiliate links. If you buy something through the links on this page, we may earn a commission at no cost to you. Learn more.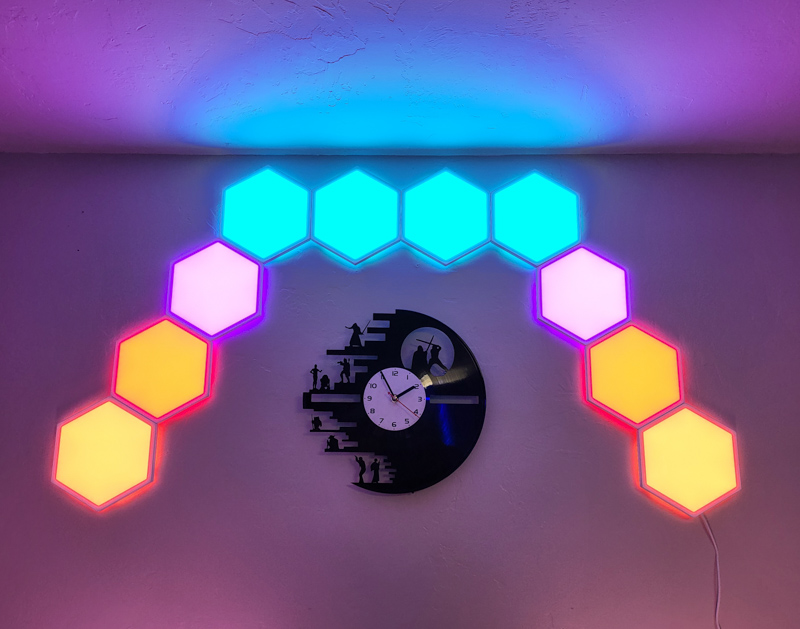 REVIEW – Govee has sent me quite a few of their LED lighting products to review, and I've really enjoyed turning my dark basement office with a single small window into a bright mood-lit space that I can change as often as I'd like. Their latest Glide Hexa Light Panels have been one of the most fun to play with, and have some added bonuses I wasn't expecting!
What is it?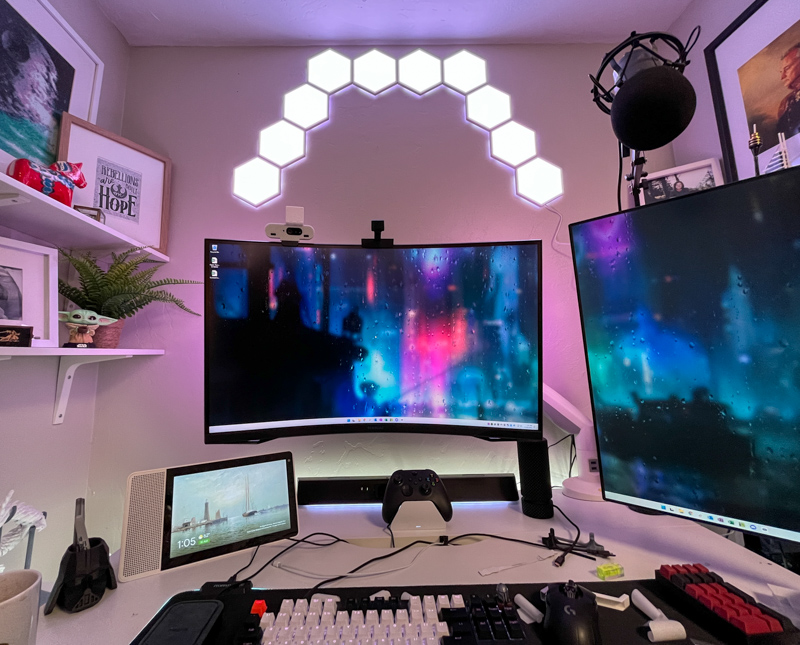 The Govee Glide Hexa Light Panels with RGBIC Effects is a wall or ceiling-mounted light panel system. You're able to set different colors and animated patterns not only per-hex but even with multiple colors on each individual panel. The whole system is controlled by the Govee app, which can also control what seems like millions of other smart lighting products that they've released so far. In addition, integrations with Google Assistant and Alexa allow you to turn on and off the system as well as set colors, just by commanding your voice assistant.
What's in the box?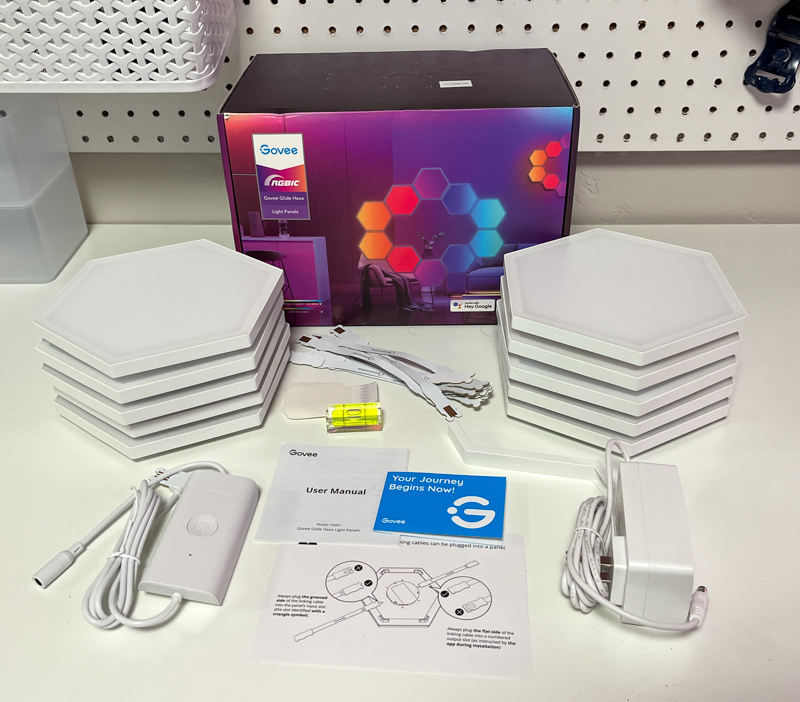 10 x Hexagon shaped light panels with wall mount and preinstalled tape
Mini level
Orientation piece
User manual
Quick Start Guide
10 x linking cables
AC adaptor
Control Unit (Wifi and Bluetooth)
Hardware specs
RGBIC segment colors per panel (Red Green Blue Individually Controlled LED lights)
120V AC, converts to DC 24V/1.5A
System weight: 5.37 pounds
Design and features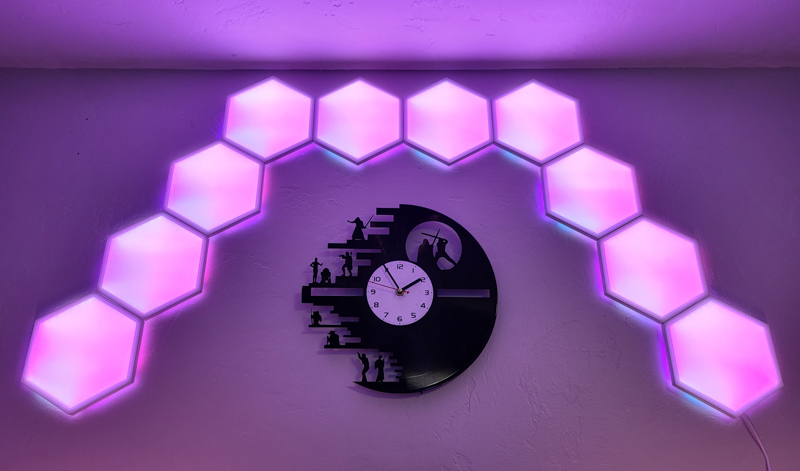 In the photo above, you can see how different colors can be used within each panel. This allows for a massive range of patterns and colors, all of which can vary in brightness.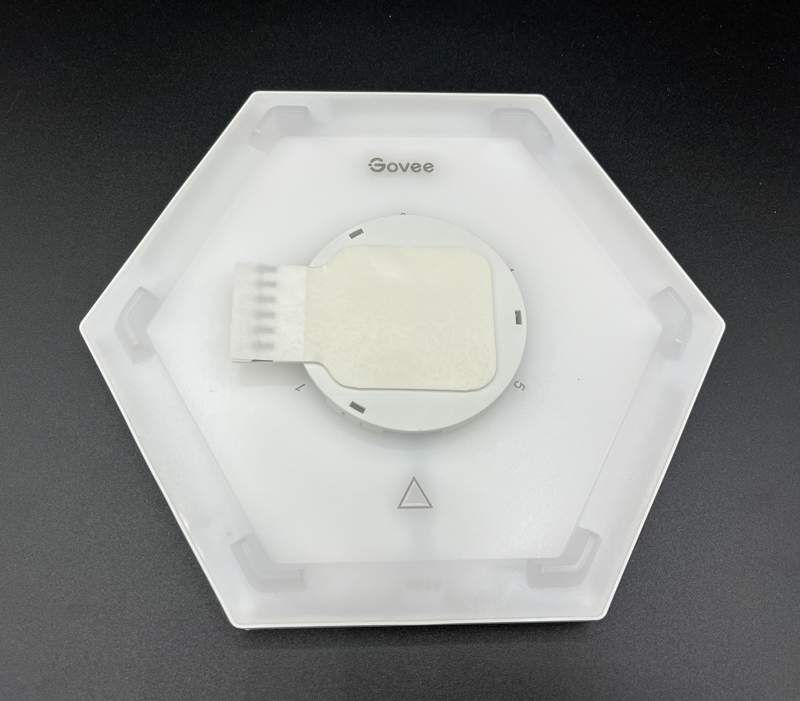 On the back of each hexa panel are markings for the connector strips and preinstalled tape. The plastic piece in the center snaps on and off of the hexa panel (useful during installation or if you ever need to remove the system).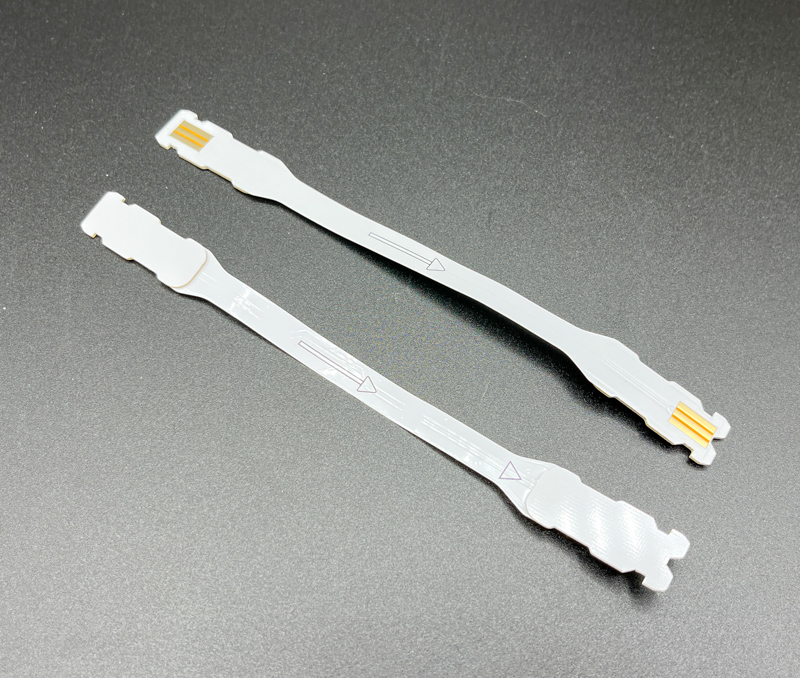 Each of the 10 connection strips has clear markings to follow during installation. These ribbon cables carry power and color commands to the panels.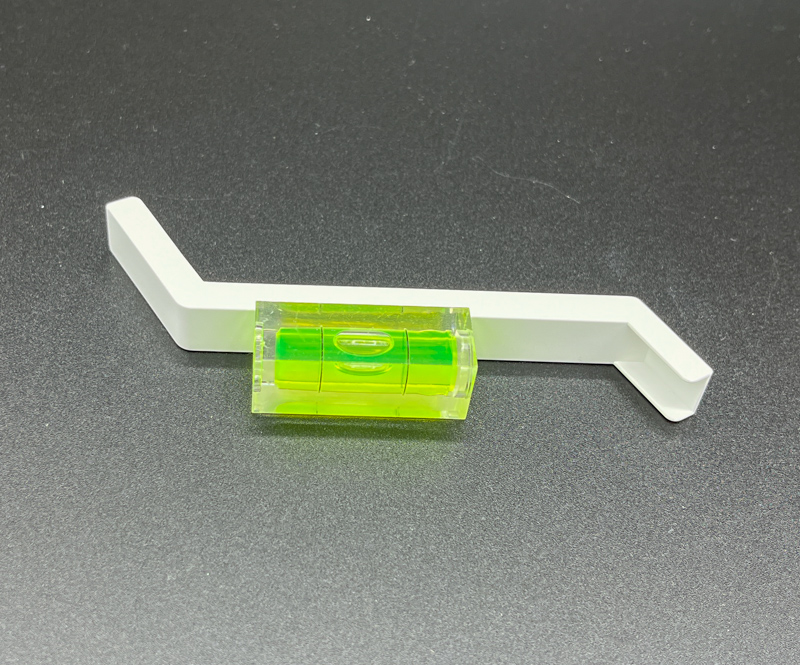 The included orientation guide and level are just cheap plastic, but they get the job done.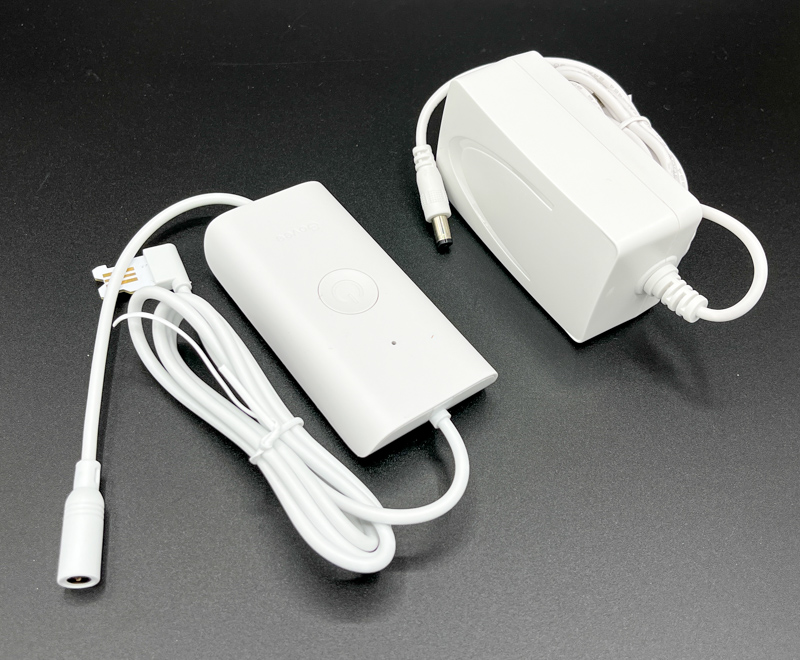 The AC adaptor and control unit combined reach about 2 meters from a wall outlet to wherever you start your light pattern. The control box itself has preinstalled sticky tape to mount.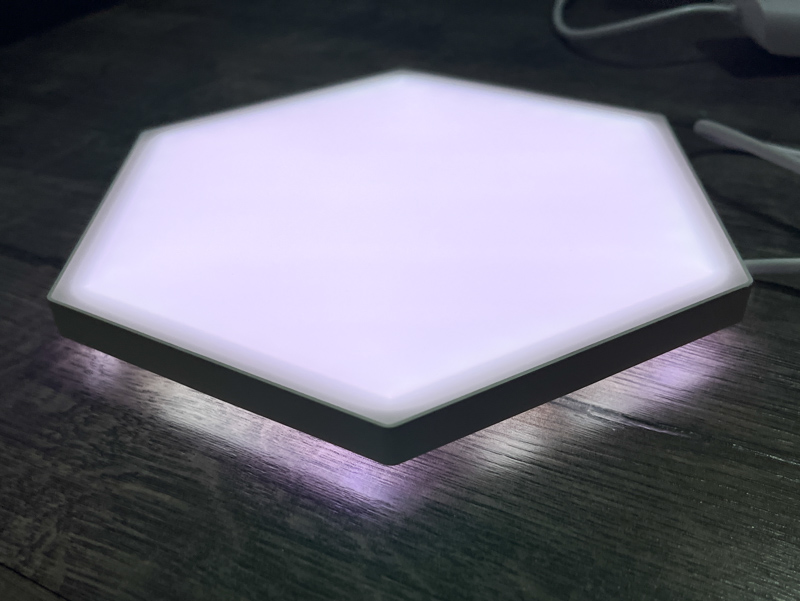 Each panel reflects LED light onto the wall or ceiling behind it, making for a cool glow effect.
Installation and setup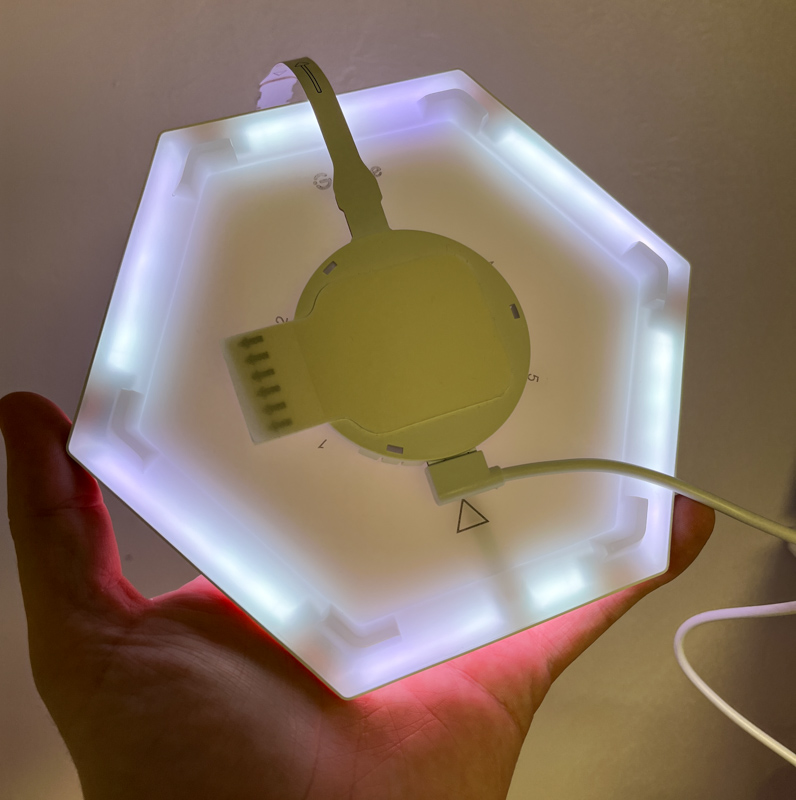 Clear instructions in the manual and the app are very helpful in getting the Govee Glide Hexa Light Panels set up. First, you plug in the AC adaptor to the control box, then the control box to the first panel.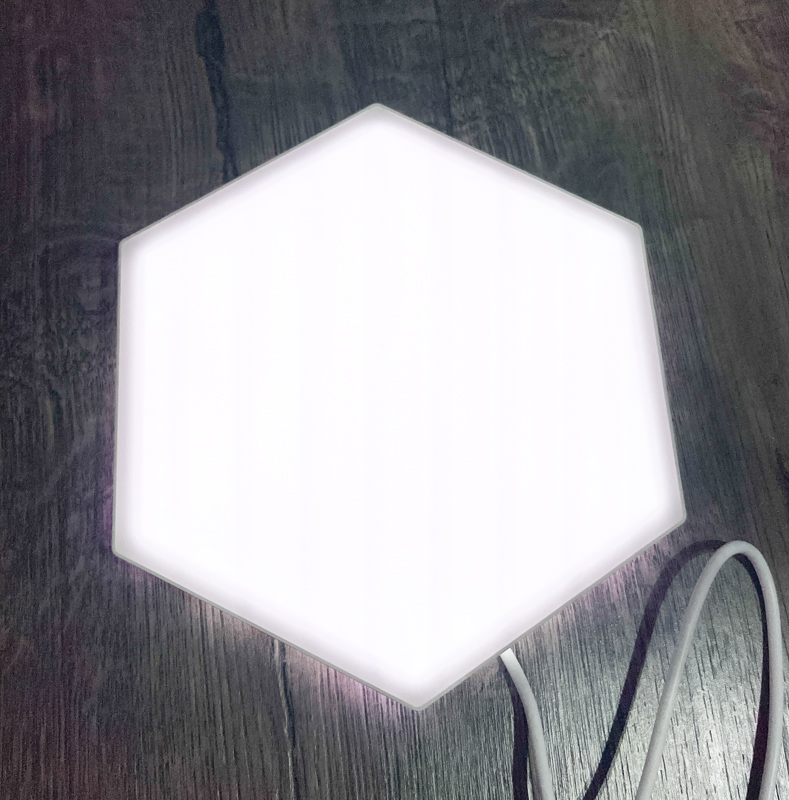 In fact, Govee suggests you plug it into each panel first to make sure there are no issues before you mount everything to your wall.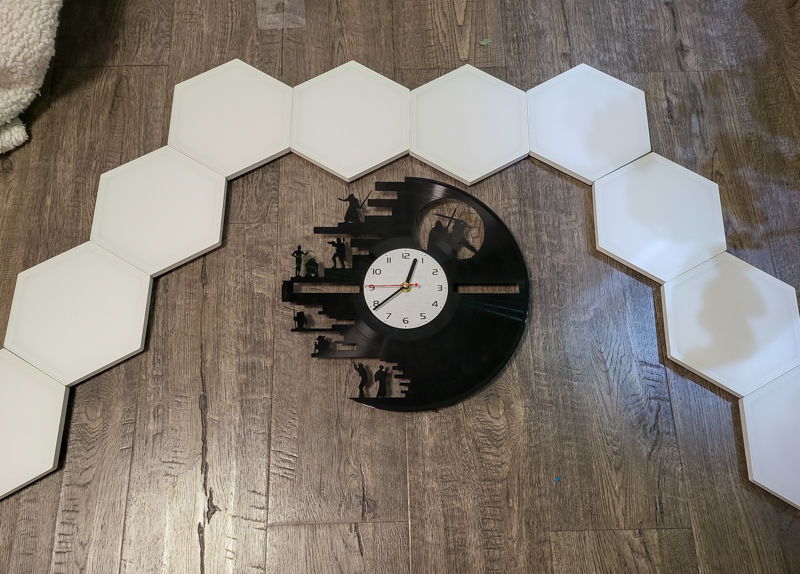 Before mounting, I laid out the panels to experiment with different shapes and layouts. I wanted to surround the existing clock I have on my wall, so I opted for the shape shown above, but you could do any shape combination you wanted, even across wall corners or ceilings, as long as that shape results in each hex panel touching the previous one of course. I also measured things several times to make sure it was all centered before sticking the first one to the wall.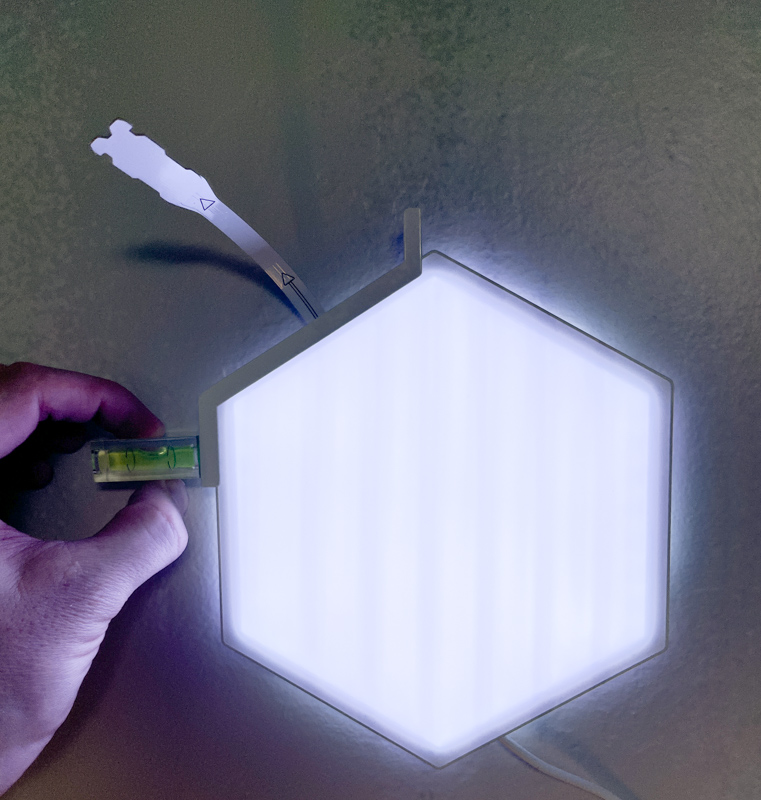 The included level and guide were helpful for getting the panels straight as I mounted them. Shown here was the first one, with the connector strip sticking out (the app tells you which numbered slot to connect it to before sticking to the wall in preparation for the next panel's location.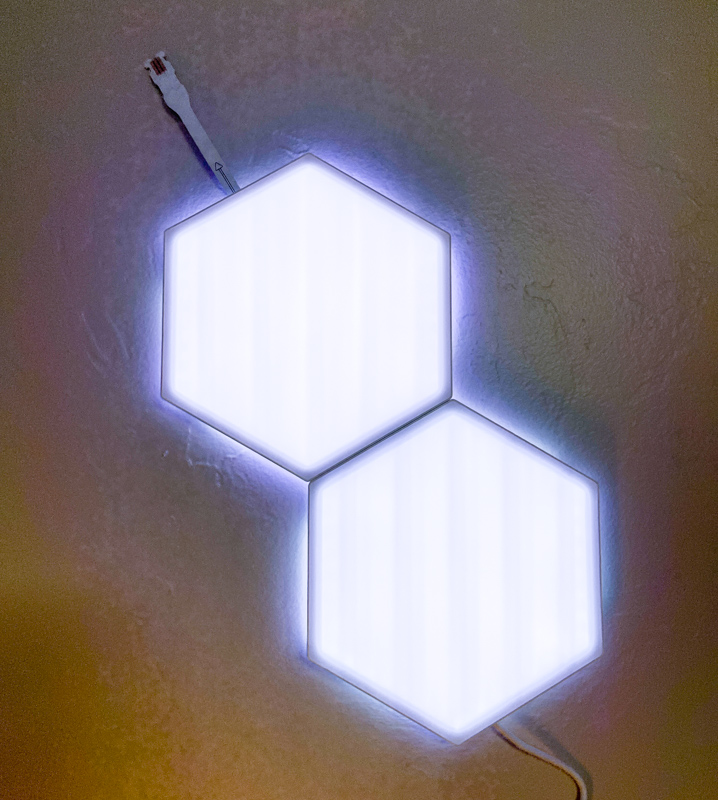 You follow the app's instructions for each panel, until they're all on the wall.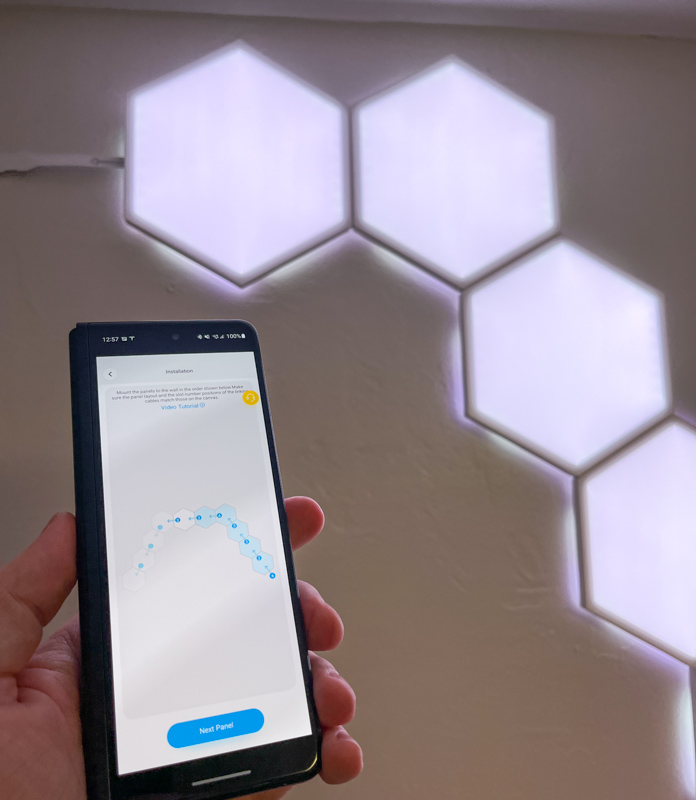 Shown above is the setup instructions in the app mid-installation. As long as you carefully follow the instructions it's pretty easy.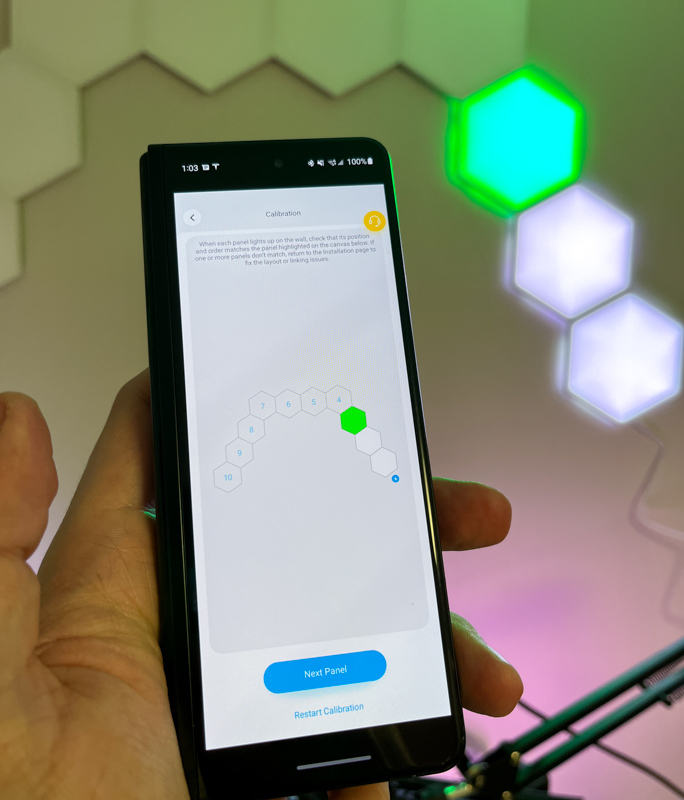 Once you have everything on the wall, the app confirms that everything is working correctly by lighting up each panel green and having you confirm.
Performance
The video above includes a couple patterns/scenes, as well as music-reactive modes. With near-limitless customization and tons of included "scenes", you can really change the lighting and mood of any room. I have many lights I previously reviewed (such as the neon rope light, Glide wall light, and Lyra floor lamp), and I've set schedules for everything to turn on and off, as well as matching scenes such as "Ocean" to bathe my office in shimmering blue-green lighting.
An unexpected bonus that I discovered after installing this new lighting is that I can easily use it as supplemental lighting for Zoom/Teams/GoTo calls: with a quick tweak in the app I can adjust lighting and change color temperature of my face to compensate for the overly yellow overhead lights in my office.
What I like
Clear and simple to follow installation instructions
Good app for changing settings and colors
Integration with Google/Alexa
What I'd change
At this price, it would be nice to have touch interactivity like some of their competitors
Final thoughts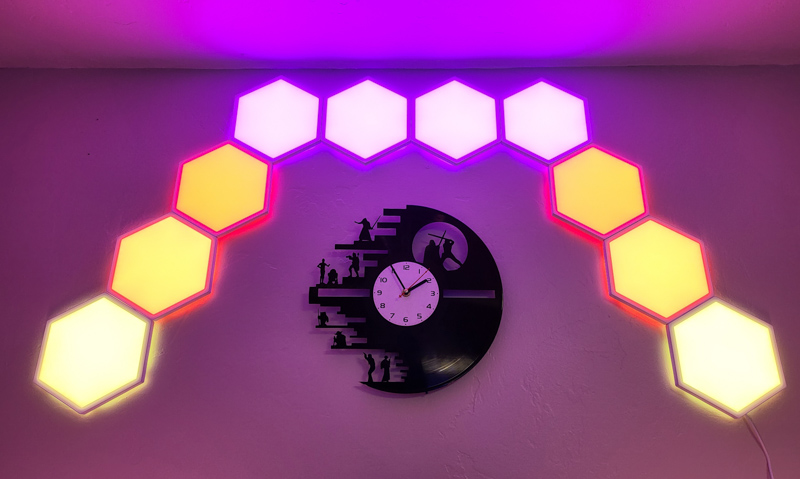 As with all of the other Govee products I've reviewed or purchased myself so far, I've been happy with the performance and build quality. The Govee Glide Hexa Light Panels are a fun way to add a splash of customizable light to any wall (and/or ceiling). I think just about anyone can follow the instructions to install the lights, and then enjoy audio responsive or scene-based lighting. There's other good options at this price point as well, but if you want to add other lighting options Govee's ecosystem is massive and still growing at a fast pace.
Price: $199
Where to buy: Amazon or Govee
Source: The sample for this review was provided by Govee