We use affiliate links. If you buy something through the links on this page, we may earn a commission at no cost to you. Learn more.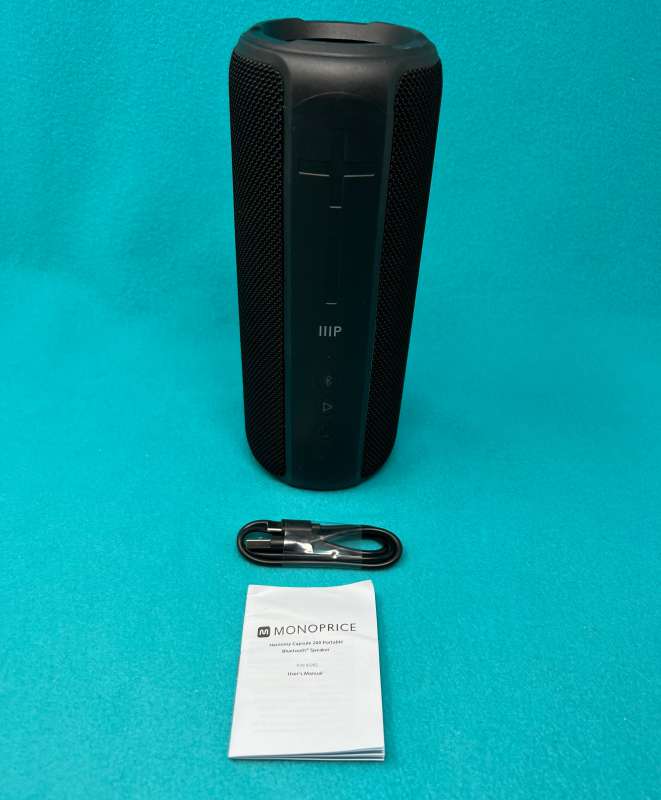 REVIEW – Speakers – we need them to share the music and words we're listening to, and there are a bazillion options out there. Today, I'm going to review the Monoprice Harmony Capsule 200 speaker, which is a capsule/cylinder-shaped speaker system.
What is it?
The Monoprice Harmony Capsule 200 is a black tubular Bluetooth speaker with several input options.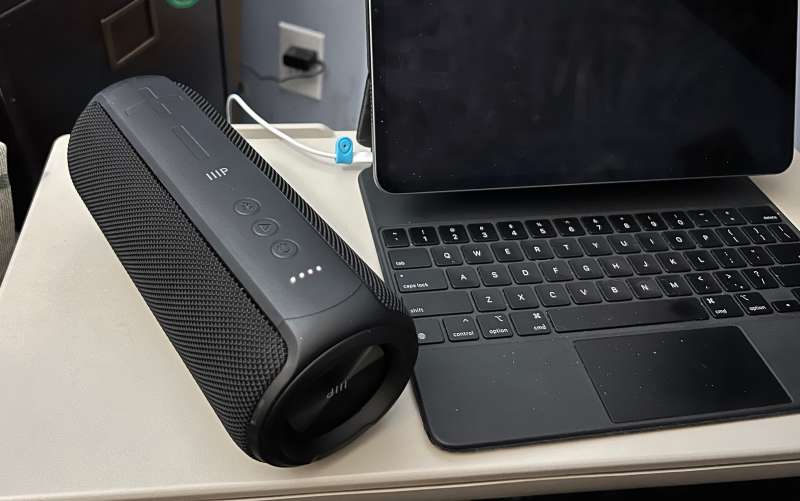 What's in the box?
Monoprice Harmony Capsule 200 speaker
USB-A <=> USB-C charging cable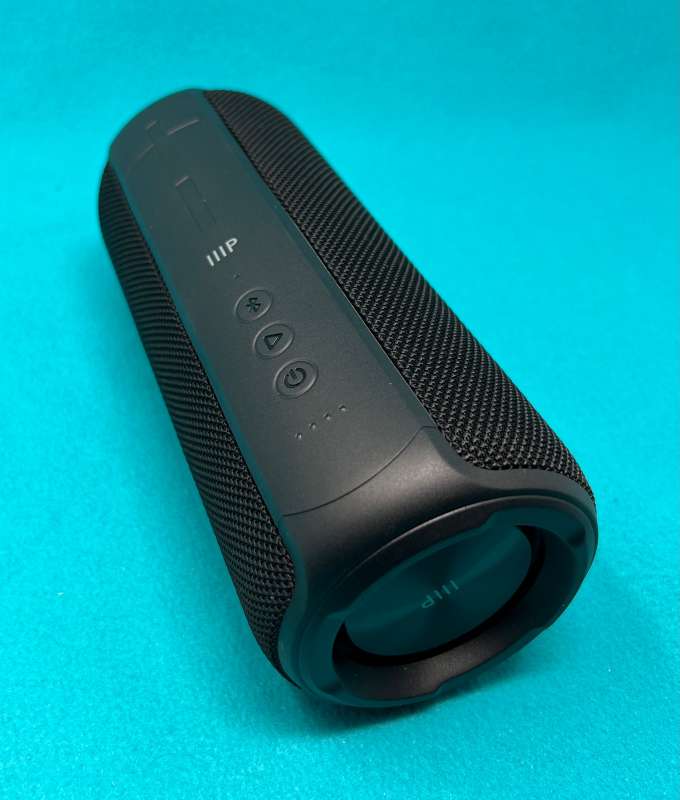 Hardware specs
From company website
Large dual 52mm and single 66mm speaker drivers
EQ tuned for high quality, high volume playback
Bluetooth® 5.0 connectivity with Qualcomm® TrueWireless™ Stereo
IPx7 all-weather certified
Large Lithium‑ion rechargeable battery for all-day playback
Microphone for voice assistant phone control (Siri®/Celia)
Auxiliary and microSD™ card inputs for additional audio sources
USB‑C® charging input

Design and features
There are many speaker systems out that look almost identical to the Monoprice Harmony Capsule 200 speaker. Some are backed by international marketing campaigns, some are from unknown tiny companies. Monoprice is a company that has been making commodity electronics for a good while. (I've been recommending them to friends and customers for finding odd cables for well over a decade because they have every cable known to humankind!) So, that was the background I had coming up to this device.
At 8.5″ x 3.5″, this is not an imposing unit by any means, but the sound it produces far outweighs the moderate size. The build quality is excellent, and the Bluetooth connection is solid, as long as both the speaker and the source are stationary. If this is paired to your phone, put your phone down, or you'll be treated to stuttering and skipping. The sound quality I found to be excellent, both for spoken words on podcasts and audiobooks as well as music. There is a .125″ audio input, as well as a USB-C jack and a TF card slot under a waterproofed flap.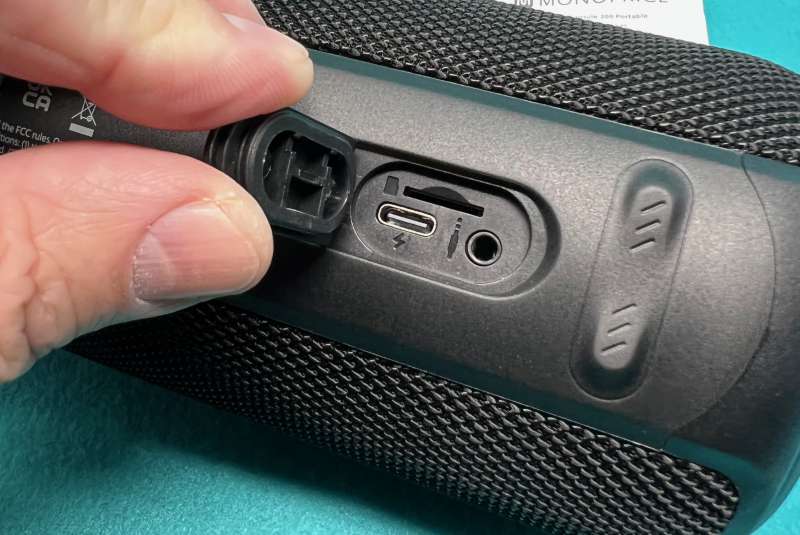 Performance
Right now, I'm listening to Rita Coolidge sing Superstar from the Mad Dogs and Englishmen album from Joe Cocker and friends – one of my freshman dorm's favorites. (I never tire of listening to Leon Russell play!) If my college freshman self would have been told I'd have a sound that matched those huge speakers we'd drag out into the dorm hallways on weekends in a tube the size of a bottle of wine, I'd never have believed it! At 50% volume on my deck, I'm worried I'll irritate the neighbors. We never worried about those things in the dorm.
What I like
hefty design with anti-roll nodes
large, easy-to-press buttons
USB-C charging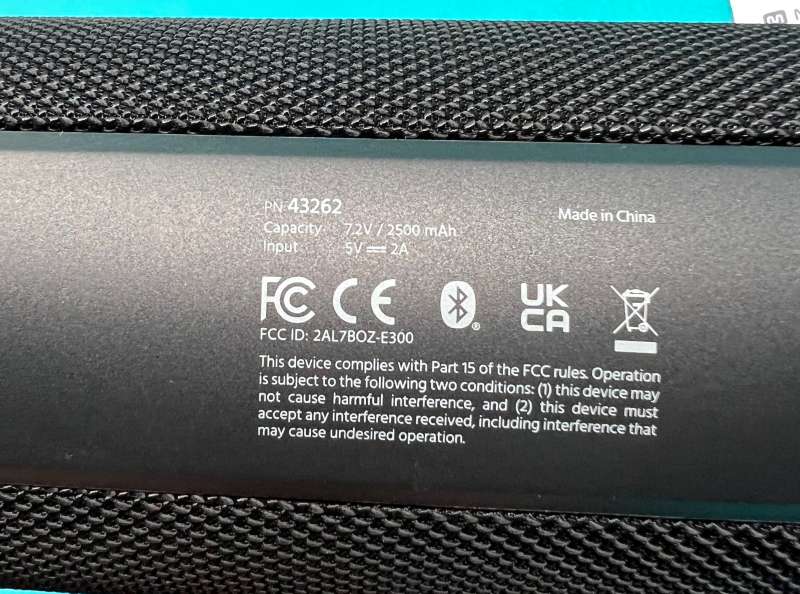 What I'd change
A hanging loop would be nice
It would be nice to pair two of these together
Is TF-card input really needed?
Final thoughts
The size of speakers usually influences volume and sound quality. The Monoprice Harmony Capsule 200, with matched speakers on either end, is easily able to fill most rooms. For larger spaces and outdoors, it'll give you enough sound that you have to worry about local noise ordinances while maintaining good quality sound. I was impressed that the clarity of the sound stayed constant no matter how loud or soft you set the volume. Most speakers of this type have a "sweet spot" where the sound is clear but muffles below or above that notch. This speaker was clear and accurate at whatever volume I chose. As someone who enjoys the little nuances of a live performance, I really liked that feature.
Price: normally $69.99, currently $59.99
Where to buy: Company Website
Source: The sample of this product was provided by Monoprice.