We use affiliate links. If you buy something through the links on this page, we may earn a commission at no cost to you. Learn more.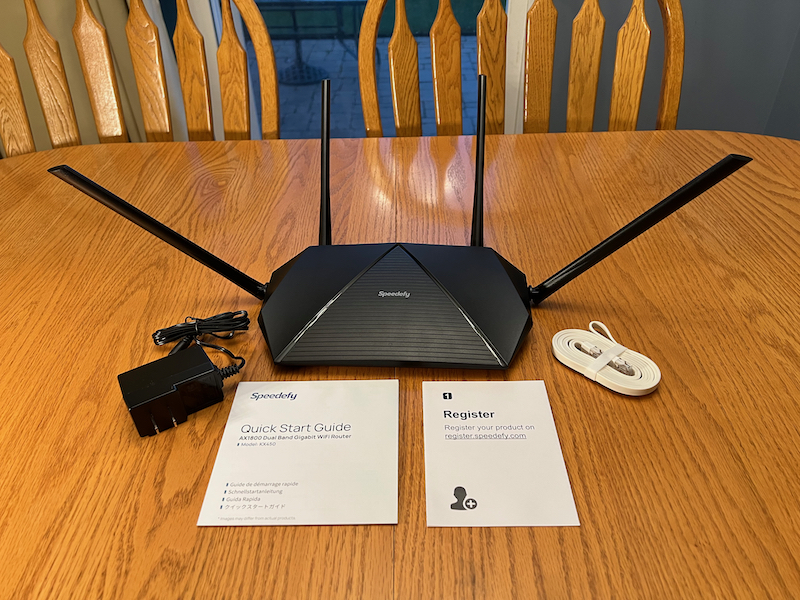 REVIEW – The internet. We all use and rely on it every day. What happens if you can't connect or your speed slows down or becomes unreliable in part of your house? The problem could be your internet service provider or it could be with your network hardware. If you've decided it's time to buy a new WiFi router, which is the best one to purchase? Will you be able to set it up without too much hassle? Does it support the latest standards and speeds? Speedefy may have the answer for you with their new AX1800 WiFi 6 Router.
What is it?
The Speedefy AX1800 is a 4-stream, dual band wireless router, supporting MU-MIMO, OFDMA, Parental Controls, VPN, and IPv6, among other popular wireless and wired networking protocols.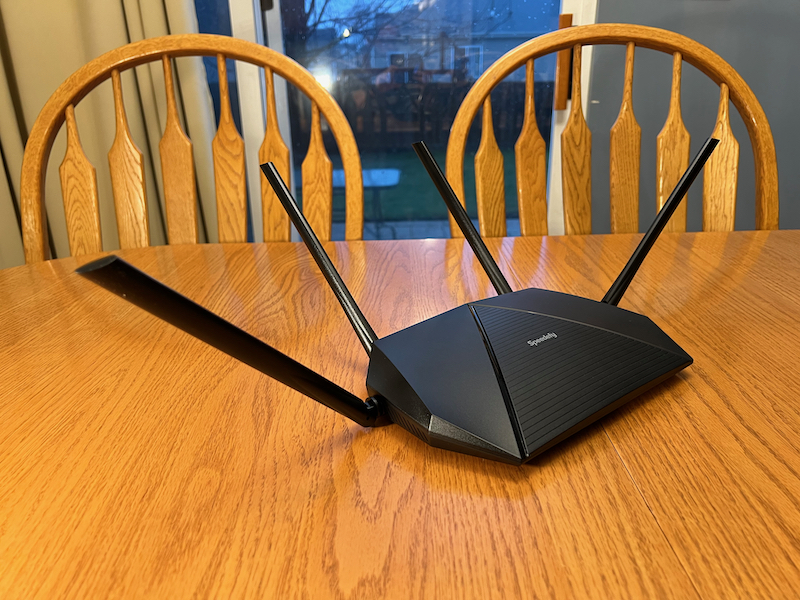 What's in the box?
WiFi 6 Router
Ethernet Cable
Power Adapter
Installation Guide
Registration Card
Hardware specs
Model: Speedefy KX450 WiFi 6 Router
WiFi Speed: AX1800
WiFi Coverage: Up to 2,500 sq. ft.
Frequency Bands: 2.4 GHz, 5 GHz
Dual band rate: 1210 Mbps/5 GHz + 600 Mbps/2.4 GHz
WiFi Security: WPA2/WPA3, Firewall
Processor: 1.5 GHz Quad Core
Wireless Standard: 802.11a/b/g/n/ac/ax
Internet Connection Type: PPPoE/DHCP/Static IP
Advanced Technology: Beamforming+ , MU-MIMO , OFDMA, TWT , BSS Coloring, SSID Broadcast
Other Features: Parental Control, VPN, Guest Network, WiFi Schedule, AP Mode, IPv6 Support
Supports up to 40 devices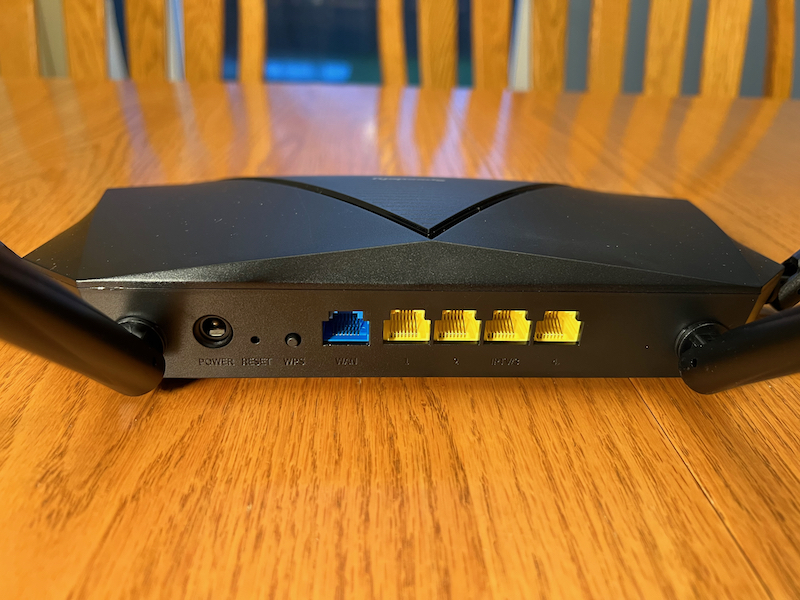 Design and features
The KX450 is a small, black, plastic wedge-shaped router, about 12″ wide, 11.6″ deep, and just under 3″ high. There are four external antennas, two in the back and one on each side. On the front is a small green LED indicating the router's status. This LED is controllable so it can either be on for normal operation, off all the time if you never want to see the LED, or set to turn off on a schedule if you want it off when it's dark in the room. This LED is small enough I can't imagine it being a problem unless it's right next to your bed, but the control is there to turn it off if you want to. Around the back are five RJ45 connections – the blue WAN connection is where you'll plug in your modem or router, depending on the setup of your network. The four yellow ports are to plug in other network devices – printer, computer, an external router, or whatever you need to have hardwired to your network. There's also a recessed reset button and a WPS button for connecting to any devices that use that protocol.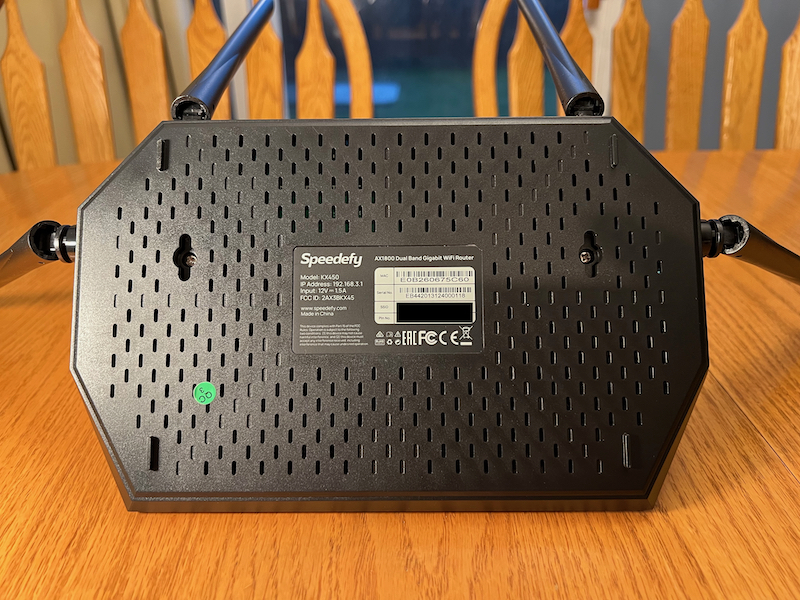 Installation and setup
I've set up quite a few routers over the years and I can say that this is probably the easiest one I've ever set up. I plugged it into a port on my network, not directly to my modem (I didn't want to disrupt the regular network so I can keep my family members on my good side). I made sure the antennas were unfolded and facing pretty much straight up. For the most part, I tend to point antennas like this straight up or angle them away from each other just a little bit. There's a whole science to how to position antennas, as well as the device they're connected to, to make sure they are oriented correctly to provide the best coverage while reducing interference from nearby objects. I won't get into that here, but just wanted to mention it in case there are issues when it's installed; if you're having trouble, the antenna position is something you may want to experiment with before assuming it's just not working properly. 
Once I was finished positioning the router I downloaded the app using the QR code in the quick start guide and connected my phone to the router's WiFi using the default SSID and PIN printed on the bottom of the router. By the time I had done that the router had already found its way through my network to the internet. All I had to do from there was open the app and change the SSID and password and after a short reboot period I connected to the new SSID and logged in to the app to configure the rest of the settings. By default, the configuration password for the app or web interface is the same as the SSID password but that can be changed. For security purposes, I recommend making this change since anyone you share your WiFi password with would also have access to change your settings.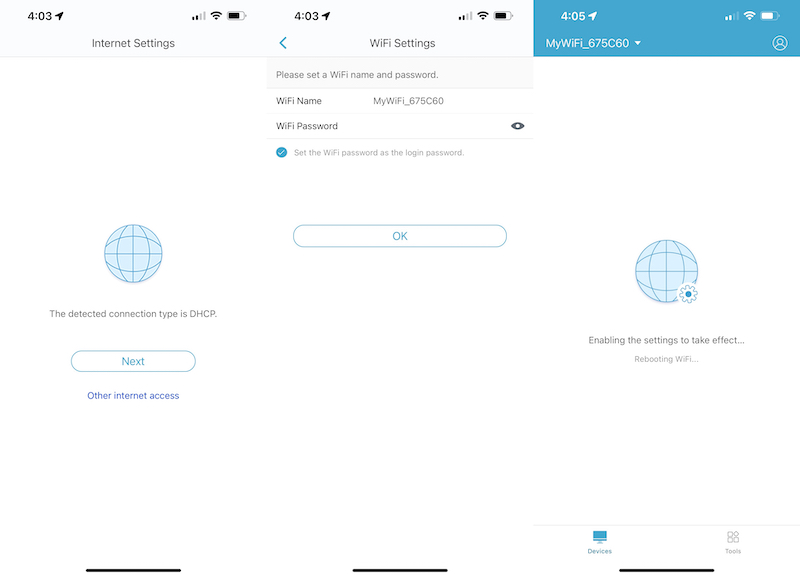 The mobile app is very clean and well laid out with two main tabs at the bottom – Devices and Tools. The Devices tab shows everything connected to the router with icons for devices it recognizes – it used an Apple logo for my MacBook Pro, but it also showed a second entry for my MacBook Pro which was a Lenovo logo (our home laptop is made by Lenovo and I did connect it to this router during testing but its icon ended up being a circle with a question mark in it). It also shows my iPhone 13 Pro Max with an Android logo but correctly shows the same Android logo for my Google Pixel 6. I'm not sure how it's deciding to assign these icons but it's not working correctly. In addition to showing logos you can assign a custom name to each device for keeping track of everything on your network. Having worked with other routers that automatically assign random names to devices or use the name of the ethernet or WiFi chipset rather than the name of the device it can get pretty confusing. The app has some preset names you can choose from or you can type in your own for complete customizability.
Tapping on a device in the list takes you to another page with four options: Speed Limit, Parental Control, Modify Remark, and Internet Information. Speed Limit allows you to control the amount of internet bandwidth a device can use. There are options for upload limit and download limit, both listed in KB/s, but you can also choose from three presets: Web, Video, and Gaming. These assign different upload and download speeds for the most-used tasks within those categories.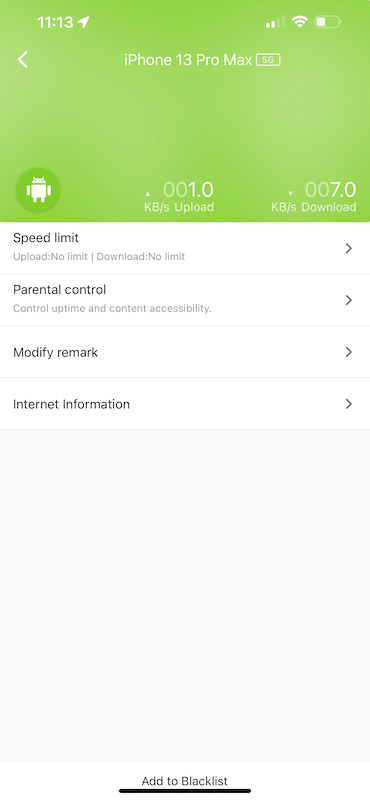 Parental Control allows you to set a time frame for web use and which days the limit is active. If you want your child to only have access for a few hours a day during the week but unlimited use on the weekends, this would be a great way to accomplish that. There is also web filtering based on either a blacklist of sites not allowed or a whitelist of sites that are allowed.
Modify Remark is where you can assign preset or custom names for your devices. Lastly, Internet Information shows the type of connection used (2.4 GHz or 5 GHz), the amount of time the device has been connected, and the MAC and IP addresses of the device. 
The top of the device info page shows the selected device's current upload and download speeds in KB/s. The bottom of this page has an Add to Blacklist option for removing the selected device's ability to connect to the internet.
Under the Tools tab are 14 colored icons for checking and configuring settings, divided into two sections: Routing settings and Smart apps. Routing settings has options for getting your internet connection information, changing the WiFi name and password, changing the login password, checking the device blacklist, updating the router's firmware, controlling the front panel LED, rebooting the router, and resetting it to factory settings, and several other options.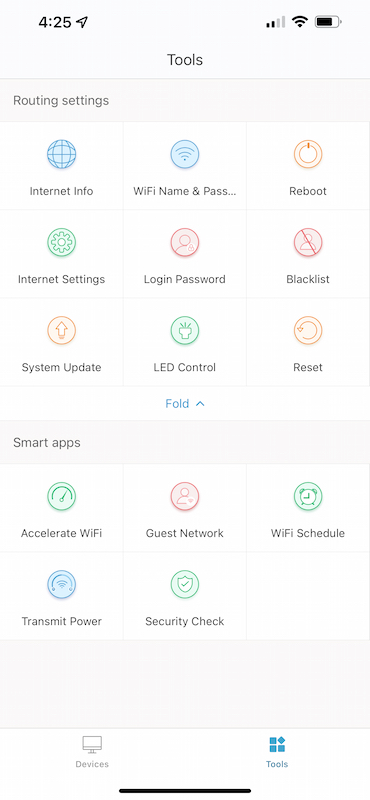 The Smart apps section includes Accelerate WiFi, which checks settings and optimizes for best WiFi use; Guest Network for allowing guests to use your internet connection without having access to your whole network; WiFi Schedule for disabling your WiFi connection during certain hours of the day, Transmit Power for setting how strong the router's signal is; and Security Check, which checks your settings for potential security issues. Funny enough, the app told me I had a security issue because my WiFi and router login passwords were the same, which is their default setup. Once I'm finished with testing I will be setting these to different passwords for long-term use.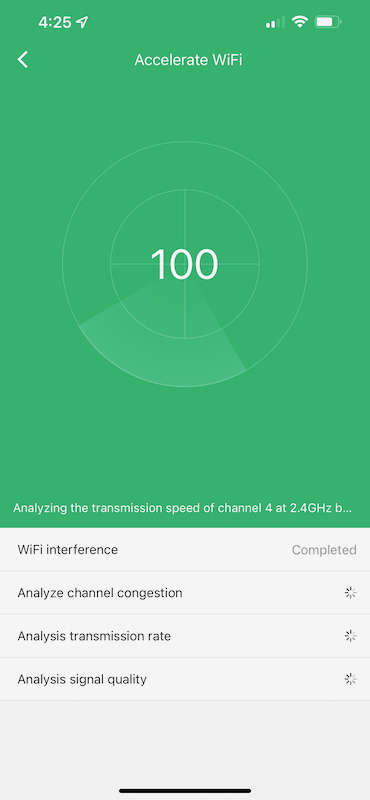 At the top of the Devices tab there is a profile icon where you can log in to your account and register your product. The login allows you to quickly log in with your Google, Facebook, or Apple account, or with an email address and password. There are pages for reading some FAQs and contacting the company for support. You can also enable or disable notifications from the app although I'm not sure what notifications you might get; I haven't received any during my testing period.
Overall the app is simple to use and easy to understand. The graphic design is modern and moving through the different parts of the app is quick and fluid. I expect most people will use the app for setup and never even have a need to log in to the web interface. Thankfully the web interface for configuration and control of the router is just as useful and responsive as the app. The icons are clean and it's easy to find what you're looking for. The page is laid out with a sidebar consisting of nine categories, plus a few links to Speedefy's site and for support and registering the product.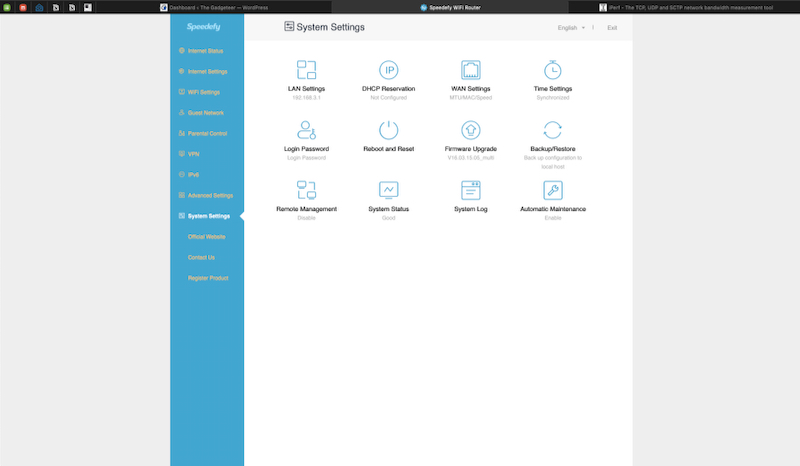 In addition to the controls in the app, the web interface includes more settings such as Wireless Repeating, WPS, OFDMA, AP Mode, VPN access, and IPv6 settings. Even more advanced settings include Bandwidth Control, MAC address filtering, Firewall settings, Port Forwarding, DMZ Host, and UPnP.
Lastly, under System Settings you can configure the LAN settings for setting the IP address of the router as well as the DHCP range, DHCP Reservation if you want to use DHCP but need certain devices to always use the same IP address, internet time sync, backup and restore of configuration settings, remote management, system status, and automatic maintenance.
All in all, this is a router with a lot of options available, but it's simple to understand and use. I'm not a networking expert although I've come across most of these terms in the past because so much of the work I do is connected to one kind of network or another. I do know these are a lot of options people look for in a router so having these available is pretty much a necessity today.
The web interface is available in 18 languages, easily switchable from the top of any page. I'm not sure about the mobile app but I assume it would match the language settings from the mobile device.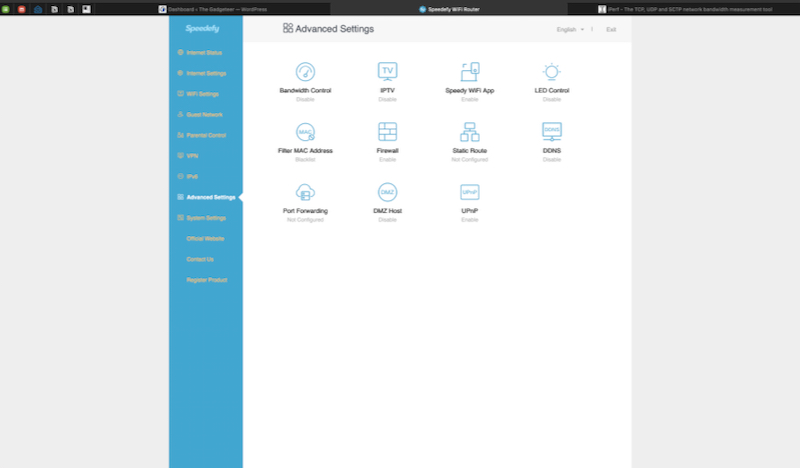 The firmware update process seems like it will be pretty simple but there were no firmware updates during testing so I can't say how well this process actually works. In the web interface, there is an Online Upgrade option, which is only available if there is an update, and a Local Upgrade option, which gives you the option to find a file on your hard drive. I wasn't able to find a firmware file on Speedefy's site but I assume this is because the router is new and there just hasn't been an update yet. At the bottom of the product page for the KX450 there is a Downloads button but clicking it doesn't do anything. Presumably, this is where the firmware files will be as they become available in the future. In the mobile app, this is listed as System Update, which only has an online option.
Another great aspect of the mobile app is that it can be used to remotely control the router's settings away from home or the office. Creating an account allows you to log in from wherever you have internet access. This would be great if you need to set up a router for parents or another family member who doesn't live in your home unless of course, the problem is that their internet isn't working. 
One thing I noticed by accident about the mobile app is that it can only be logged in on one device at a time. After I logged in to my Pixel 6 I noticed later that I had to log back into my iPhone the next time I used it. Since I still had the app open on my Pixel when I did this, I noticed that it logged me out right away. I suspect this won't be an issue for many people, but it is something to be aware of if there are multiple people with access to the router's settings or you want to use multiple devices for configuration. I didn't have any trouble staying logged in to the app while also using the web interface so that's a good thing.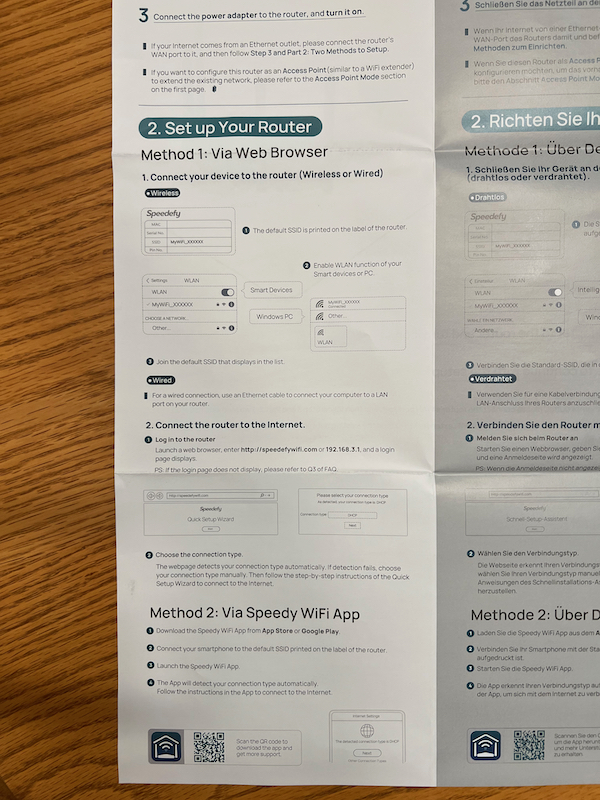 In Use
As mentioned above, the router was super simple to set up. Once it was set up, all the devices I tried it with connected quickly and worked at their expected speed. I have a fiber internet connection with 200 Mbps up and down. Using the 5 GHz band on all the devices I tested with I was able to get that speed throughout most of my house. Using 2.4 GHz I  saw 11 Mbps down and 24 Mbps up – not great but expected for that type of connection, especially with all the other WiFi hotspots being used in the surrounding area. Having the 2.4 GHz connection, while I may not use it for most of my general browsing use, makes it possible for older devices, or some smart devices, that don't support 5 GHz to still be able to connect to the internet.
I used this router for several days as my default router for my laptop and phones and can say I didn't have any connection problems other than when I misconfigured the DNS settings at one point. I wanted to test this router in the most problem-prone area of my house – the bathroom connected to the master bedroom on the second floor. With the router in the basement, this is the furthest point I can reach in my house and has been a problem with previous routers, which is why I've relocated one of my mesh routers to the office on the first floor. I'm happy to report that I was able to connect to the AX1800 in 5 GHz mode and while the speed ended up being about half of my available internet speed, I was able to browse the web and even watch the video as reliably as if I was sitting right next to the router. Maybe I should take a long shower so I can watch a movie for some real in-depth testing. 🙂 Seriously, though, I do take the occasional bath and my iPad Pro is a perfect TV viewing device when I want to relax and catch up on my shows.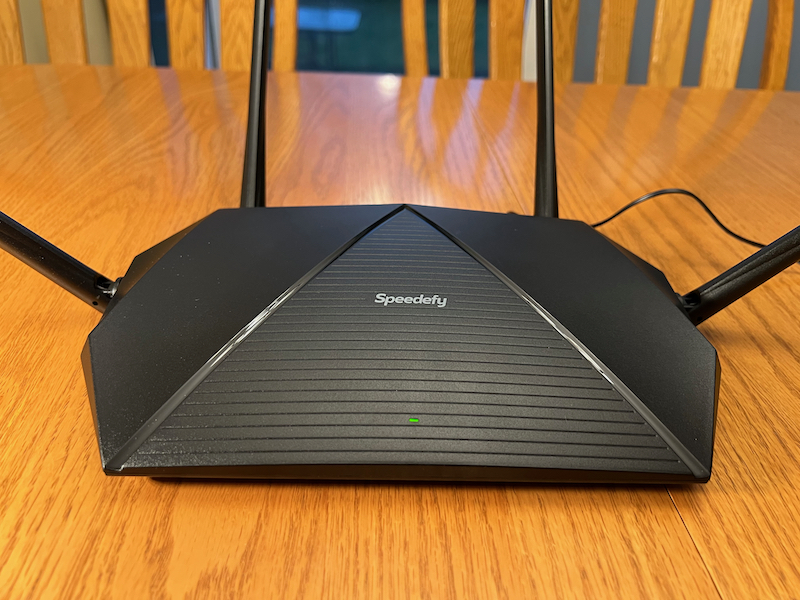 One thing I did not test is combining the 2.4 and 5 GHz networks. This is done so you only have to connect to one SSID and the router will intelligently determine which radios it should use based on the connection quality. I prefer to have separate networks so I can choose what I use. It's a little more work to manage but that's my preferred method of operation.
What I like
I like the simplicity and responsiveness of the user interface. I also like the speed and stability of the router's WiFi connection. Finally, I like the good number of features for the price. At least as a home user this router does everything I would need and more.
What I'd change
I think the only improvement I can think of is that it could use a more in-depth manual. There is a good online help system, and links in the web interface and the mobile app to contact support, but it would be nice to have better explanations of how to use some of the more advanced features, such as how to set up a VPN.
Final thoughts
For basic home use to more advanced users and even for a small business, this is a router that can handle most tasks, over a decent-sized area, at a reasonable price.
Price: $89.99
Where to buy: amazon.com or speedefy.com (Save 10% with discount code: MQDL9H5Q Expires: 03/31/2022)
Source: The sample for this review was provided by Speedefy. For more information visit their site.