The Gadgeteer is supported by readers like you! If you buy something through links on our site, we may earn an affiliate commission at no cost to you. Thank you! Learn more.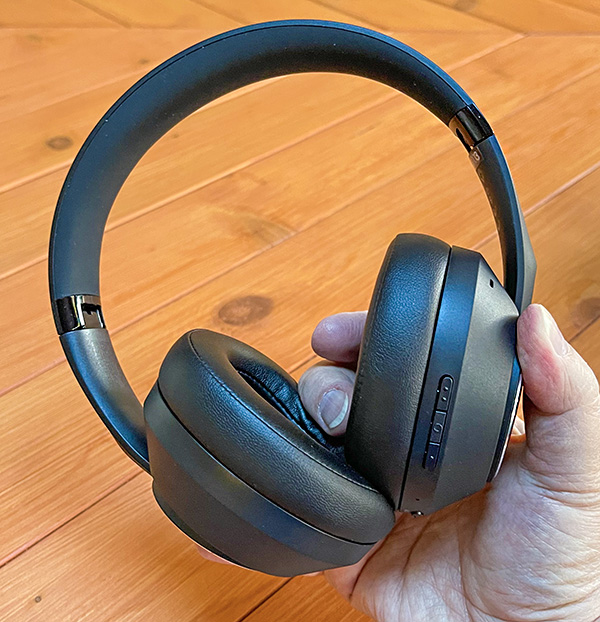 REVIEW – When I reviewed the Tribit QuietPlus 50 headphone, I said, "At $60, the QuietPlus 50 is the least expensive of four QuietPlus models Tribit offers. Heck, the most expensive—Tribit QuietPlus 78—is only $20 more." And wouldn't you know, Tribit sends me the QuietPlus 78 headphone to review. So, is the QuietPlus 78 $20 better than the QuietPlus 50? 

What is it?
The QuietPlus 78 is Tribit's flagship headphone—even though it's an affordable $80. It features 40 mm speaker drivers, Bluetooth 5.0, adjustable active noise canceling (ANC), transparency mode, and swiveling earcups for a better fit—better than the QuietPlus 50, anyway.
In the Box
Tribit QuietPlus 78
USB-Micro charging cable
3.5mm audio cable
User manual
Protective case

Specs:
Active noise cancelation (ANC)
Transparency mode
Up to 30 hrs of playtime
Foldable
Bluetooth 5.0 with 49 ft. range
Design and features
The QuietPlus 78 headphone is a step up from Tribit's other headphones. It's interesting that this headphone has features that are usually only found on much more expensive headphones. 
My main complaint about the QuietPlus 50 headphone was the ear cup being attached to the headband which prevented any independent movement. This resulted in the headphone not fitting the side of my head all that well allowing external sound to creep in while listening to music. The QuietPlus 78 headphone has ear cups that swivel, so they fit the head much better. It's the small things that count.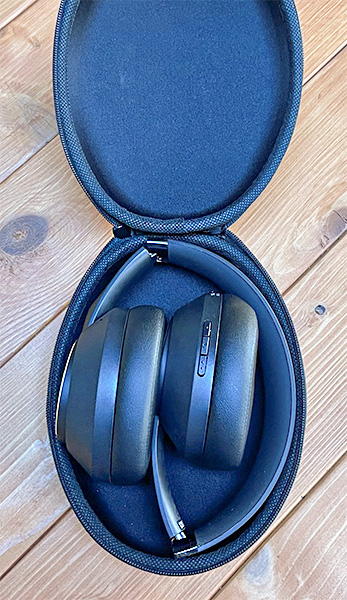 The QuietPlus 78 headphone comes in a hard case. The size is minimal because the headphone folds to fit the case. Once zippered, the case should offer maximum protection against dust and light moisture.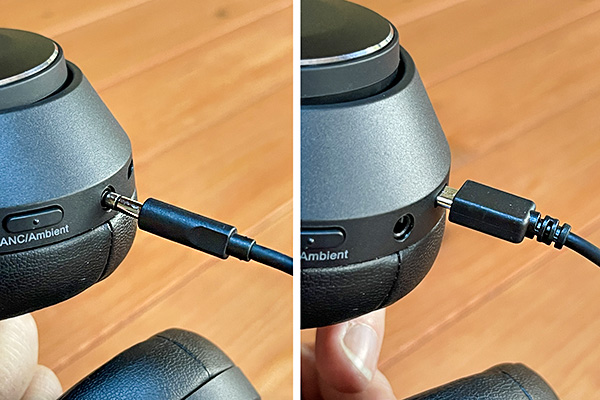 AUX mini plug and micro USB cables are included. Unfortunately, the USB connection is not the newer and faster USB-C. Come on Tribit, it's past time to retire micro USB. Even the cheaper Tribit StormBox speaker has USB-C!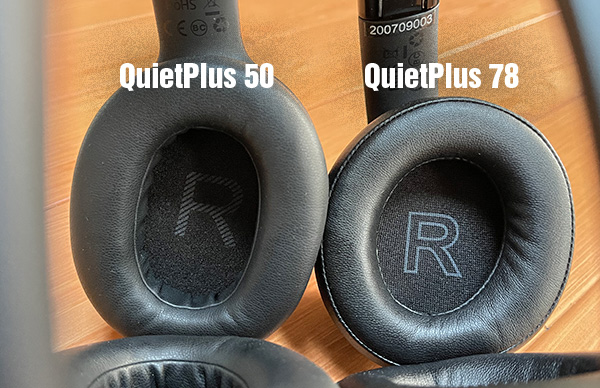 The ear cups are rounder than the QuietPlus 50 ear cups. This could be an issue for people with larger ears, but my ears fit perfectly inside the ear cups. Since the ear cups swivel, the comfort of the QuietPlus 78 headphone is better than the QuietPlus 50. The ear cup cushions are thick, but a bit too soft. I wish they were denser. I fully expect the ear cups to induce some sweating during the humid Florida summer months, even with air conditioning. Oh well.
The headband cushioning is minimal, but soft enough to help prevent sore spots on the top of your head.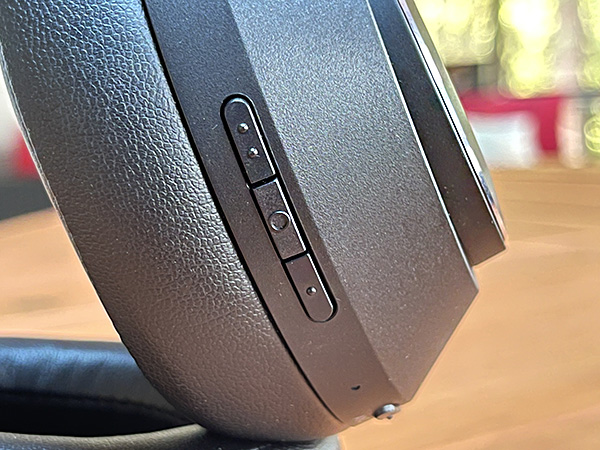 The right ear cup has all the buttons: Volume up/MFB/Volume down and ANC/Ambient. The MFB button (multi-function button) doubles as the on/off, Pause, and Bluetooth pairing button although it's not marked as such. The manual explains the sequence and how long to hold the button depending on what you want it to do. It's all a bit complicated in pursuit of the supposed simplicity of having fewer buttons.
Note that the MFB button also works with the call functions of the QuietPlus 78. I loath using headphones for calls, so I ignore telephony functions.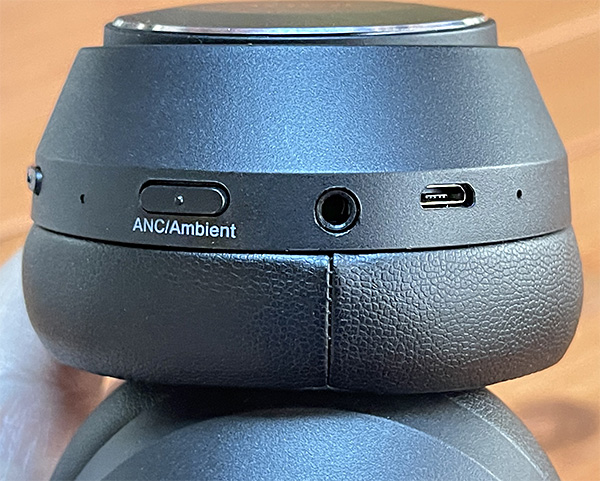 The bottom of the right ear cup houses the AUX port for wired connection and the micro USB charging port (cables included). Battery life is rated at 30 hours, but the volume and other factors will affect how long the battery will hold out until recharging. Either way, you can easily expect a full days' worth of battery that will cover a workday.
The QuietPlus 78 headphone has adjustable active noise canceling (ANC). In addition to ANC being on or off, Tribit includes two levels of ANC (high or low) and Ambient Mode. Ambient mode allows outside sounds in, adding an extra level of safety if the headphone is worn on a busy street.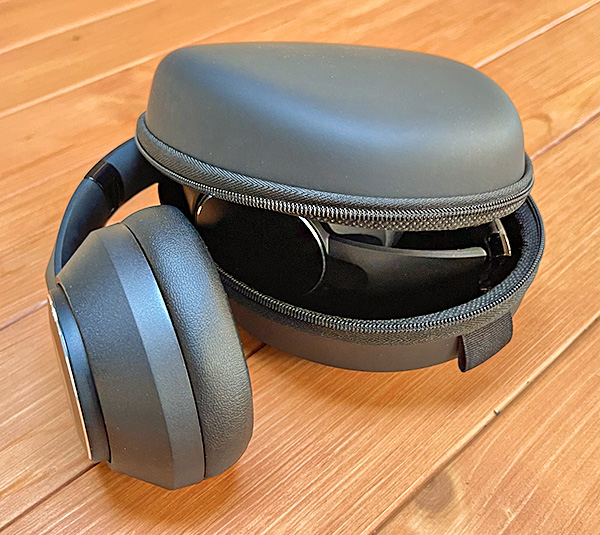 ANC affects audio quality, but not in an unpleasant way. Music sounds … different. There's an immediacy to listening to music with ANC off or in Ambient mode. When ANC is on, the listener feels like they're listening from the outside looking in. With ANC off, music sounds more intimate, like you're eavesdropping in on a session. Plus, ANC is not very effective. It does quiet background noise, but it doesn't make you feel isolated like ANC should. ANC on the QuietPlus 78 headphone lets too much outside noise in to be truly effective. However, this headphone only costs 80 bucks, so the fact that ANC is included at all is darned impressive.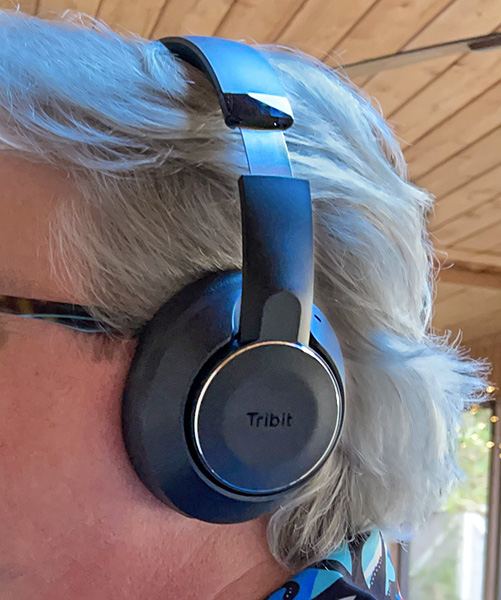 Does music on the QuietPlus 78 headphone sound $20 better than the QuietPlus 50? Yes, it does. The swiveling ear cups help make music sound richer and fuller. Bass is more prominent without sounding bloated with just enough treble to add sparkle. Muddiness creeps into the audio at higher volumes but goes away when the volume is reduced. 
Despite these quibbles, listening to music with the QuietPlus 78 headphone is fun, and that's how it should be without getting too wrapped up in audio specs.

What I like
Comfortable – the earcups swivel
ANC included
Earcups swivel
Inexpensive
Protective case

What I'd change
ANC could be better
Music can become muddy sounding at higher volume

Final Thoughts
Tribit is becoming known for true audio bargains and the QuietPlus 78 headphone is no exception. Since this headphone is so affordable, there's really no reason to buy any other Tribit headphone. Just stick with this flagship—for now. I would love to see what Tribit could do making a truly high-fidelity headphone if budget was no object.  
Price: $79.99 US
Where to buy: Amazon
Source: The sample of this product was provided by Tribit.