We use affiliate links. If you buy something through the links on this page, we may earn a commission at no cost to you. Learn more.

REVIEW – Earlier this year I said that the Tribit StormBox Micro Bluetooth speaker was the audio bargain of the year. Now I get to review a new headphone from Tribit, the affordable QuietPlus 50. Is this Bluetooth wireless headphone with active noise canceling another bargain of the year like the Stormbox Micro? Not exactly, but that doesn't mean it should be ignored.
What is it?
The QuietPlus 50 wireless headphone is the latest from Tribit, who is known for affordable audio that sounds more expensive than it is. At $60, the QuietPlus 50 is the least expensive of four QuietPlus models Tribit offers. Heck, the most expensive—Tribit QuietPlus 78—is only $20 more. The QuietPlus 50 features wireless Bluetooth 5.0, active noise canceling, and voice prompts.

Specs
Active Noise Cancelation
40mm Speaker
Voice Capture Noise Reduction
Bluetooth 5.0
49 ft. Bluetooth range
30 Hrs of Playtime on single charge
USB-C connection
Foldable
In the box
QuietPlus 50 Headphone
Cloth carrying bag
Mini plug audio cable
USB-C charging cable

Design and features
Just because the Tribit QuietPlus 50 headphone is only, $60, that doesn't mean it's cheaply made. Quite the opposite. Tribit lives up to their reputation by including extras that only much more expensive headphones usually have.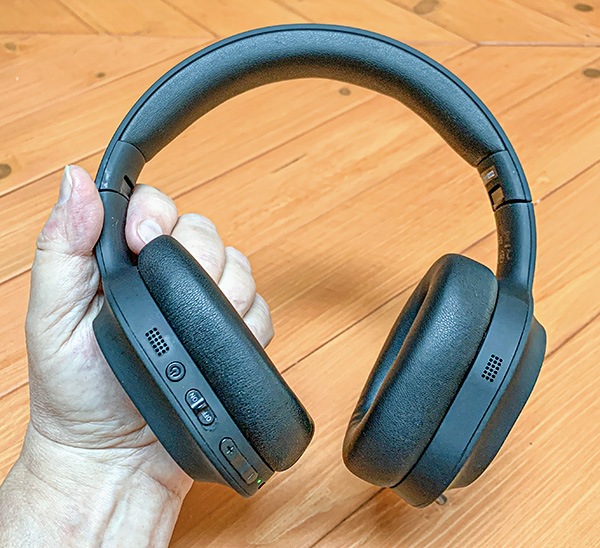 The QuietPlus 50 headphone looks like any standard bland-looking black headphone. There's nothing "designy" about it. It's made of mostly plastic (but then, so are the much more expensive similarly-named Bose QuietComfort), but feels impressively solid with no squeaking when twisted. The faux leather ear pads are thick and cushy—making the QuietPlus 50 comfortable for a long period of time. However, the pads can make the side of the head sweaty if you're prone to face sweats. I am—yuck.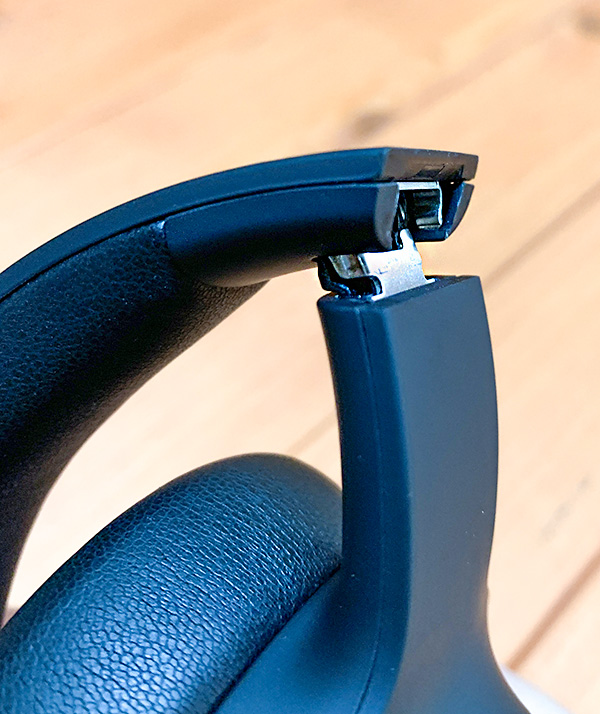 The headband has a metal skeleton with plastic attached to the underside. The headband is adjustable by sliding the ear cups up and down. There's no way of measuring the adjustment, so it's difficult to achieve an identical fit each time. There's a decent amount of padding on the headband. My huge head never complained about headband comfort while wearing.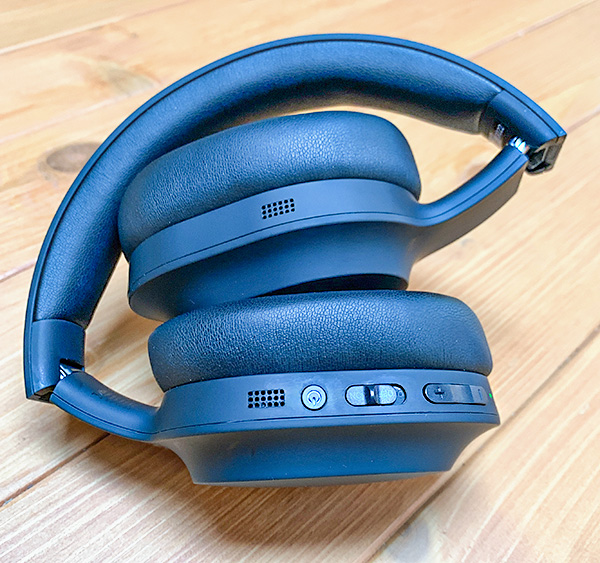 The headphone folds allowing for easy carrying. Tribit included a pull-tie cloth bag to help keep them clean and dust free. Charging is done via the faster USB-C (does anyone miss micro-USB?). The headphone charges in about 3 hours and will operate for about 30 hours. Note that different settings can affect battery life.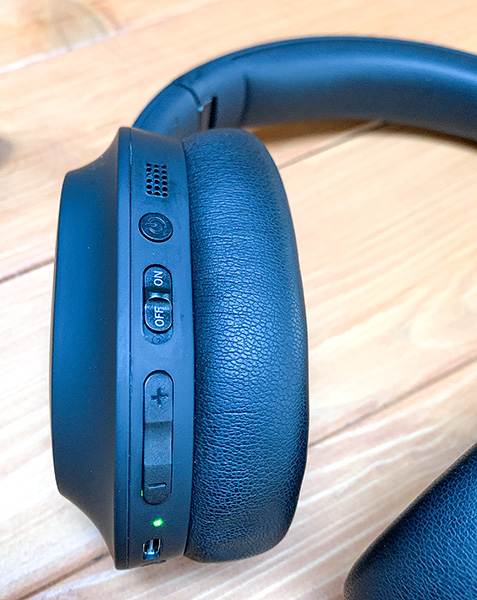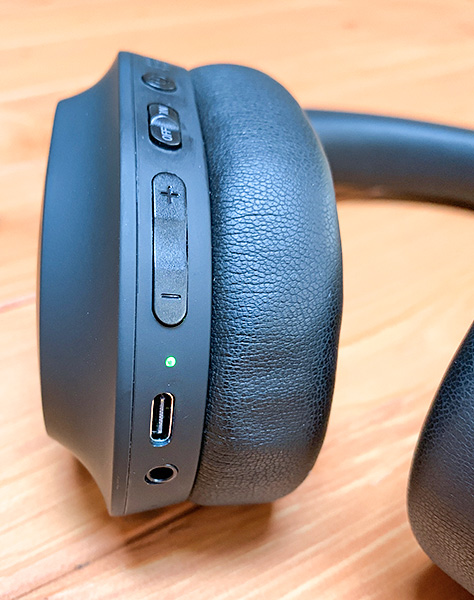 The left ear cup holds all the buttons. A circular on/off multi-function button is followed by an on/off slider switch for active noise canceling and a volume up/down rocker switch. When the headphone is turned on or off, a female voice—with a slight accent—says "Power on (or off). The same voice announces when Bluetooth pairing is successful. A different colored LED light indicates powering on/off and pairing.
The QuietPlus 50 headphone has a design flaw that could make it a deal-breaker for me. The ear cups are not separately adjustable—they can only move as the headband moves. So the ear cups don't swivel sideways or up and down. They only move as the headband is adjusted. Because of this, I can't get the QuietPlus 50 to rest flush on either side of my head. Not only does this angle make the headphone press more at the bottom of the ear cups than at the top, it also can interfere with the audio. More on that later in this review.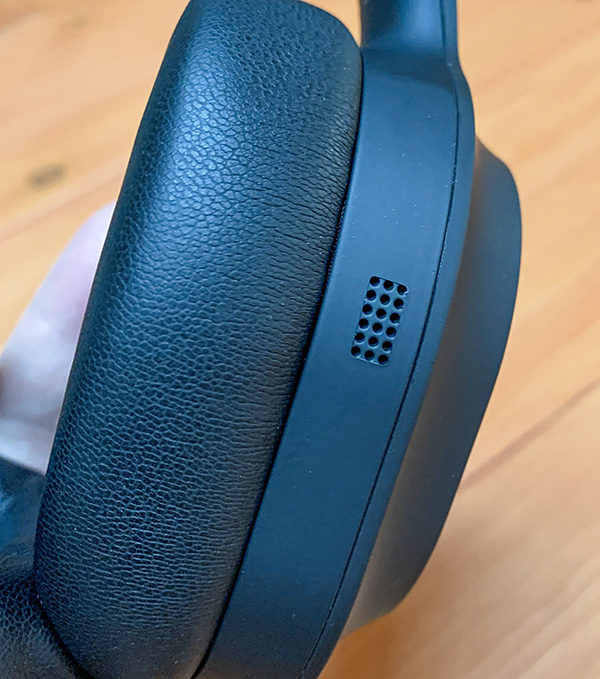 The latest Bluetooth 5 is used in the QuietPlus 50. This helps future-proof the headphone as smart devices and their operating systems are upgraded. Add to that a wireless range of almost 50 feet and you can wander farther away from the audio source.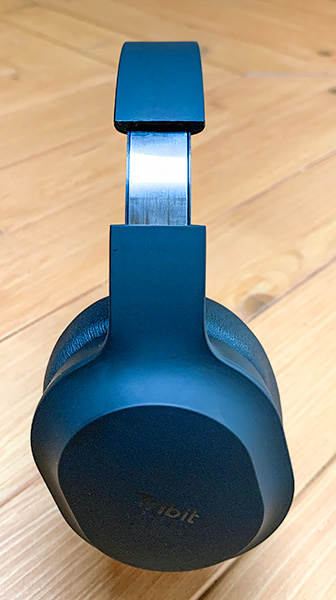 Active noise canceling (ANC) is included. This is beginning to be a necessity as headphones become more and more sophisticated. Even though Tribit's use of ANC is not as dramatic as Bose or Apple, it is effective at blocking many background sounds.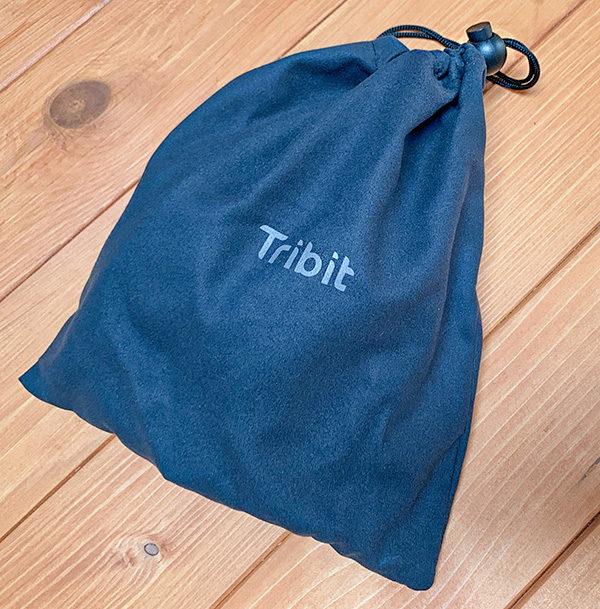 But there's a drawback to ANC. The QuietPlus 50 sounds better with ANC off than when on. This can be true of many headphones with ANC, but audio usually sounds a bit robotic using ANC. Not with these. On the QuietPlus 50s, turning ANC on introduces much more prominent bass to the music mix. If you're a bass-head or a fan of hip-hop, the added bass can be a plus. My ears prefer a more balanced bass to balance out the high and mid frequencies—something the QuietPlus 50 headphones deliver—with ANC off. Still, for only $60, I can't complain too much. 
Since the design of the QuietPlus 50 headphone leaves the ear cups angled, rather than flush against the head, some outside noise can leak in, making ANC not as effective as it could be. If the ear cup could just pivot up and down just a bit, there wouldn't be this issue. Note that my issues with the ear cups are for my head. Every head is different, so the QuietPlus 50 headphones may fit you perfectly.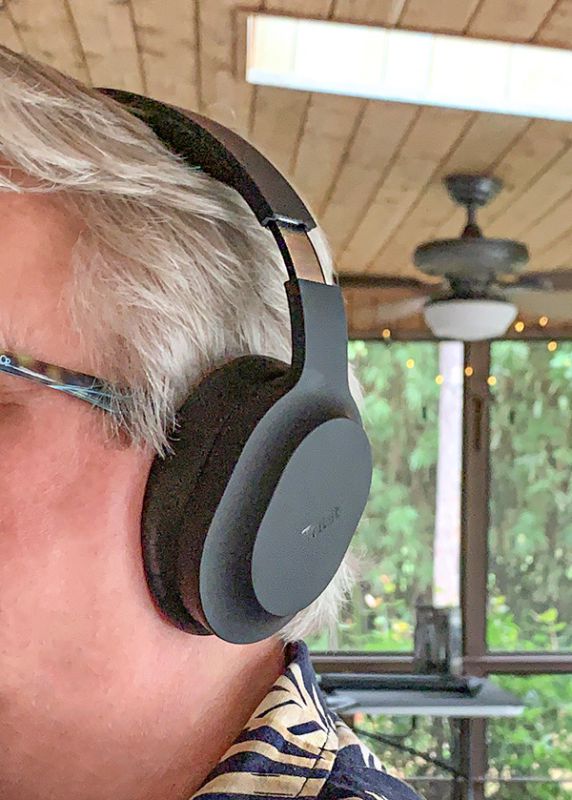 The QuietPlus 50 headphone may not be the answer to audio nirvana, but they still sound darn good for $60 headphones. The headphone is a closed-back design, meaning that no one can hear what you're listening to—unlike open-back headphones. With closed-back headphones, music is more "inside the head" as opposed to open-back which makes music sound like speakers away from your body. Each approach has its pros and cons, which is why some people own both types of headphones. 
As I said, the QuietPlus 50 headphones exhibit more bass than I care for (with ANC on), so I sampled a lot of music with it off. The headphones are tailor-made for 60s-80s music, my favorite era. Whether listening to 80s electronic musicians (OMD, Ultravox or Brian Eno) or psychedelic music from  the late 60s (Jimi Hendrix, Spirit or Moody Blues), the QuietPlus 50 headphone lets the enjoyment of the songs come through without trying too hard to be exacting in the reproduction. Sometimes, that's not a bad thing.
What I like
Affordable
Comfortable
Fold for easy carrying
Built-in mic for phone calls
ANC at this price!
What I'd change
Allow ear cups to swivel independently for better fit
Better audio with ANC on

Final Thoughts
Despite some minor quibbles I have with the Tribit QuietPlus 50 headphones, you can't argue that they are quite a bargain. While not as shockingly good as the Tribit StormBox Micro speaker, the QuietPlus 50 headphone has a lot to offer at such a good price.
Price: $59.99 US
Where to buy: Amazon
Source: The sample of this product was provided by Tribit.