We use affiliate links. If you buy something through the links on this page, we may earn a commission at no cost to you. Learn more.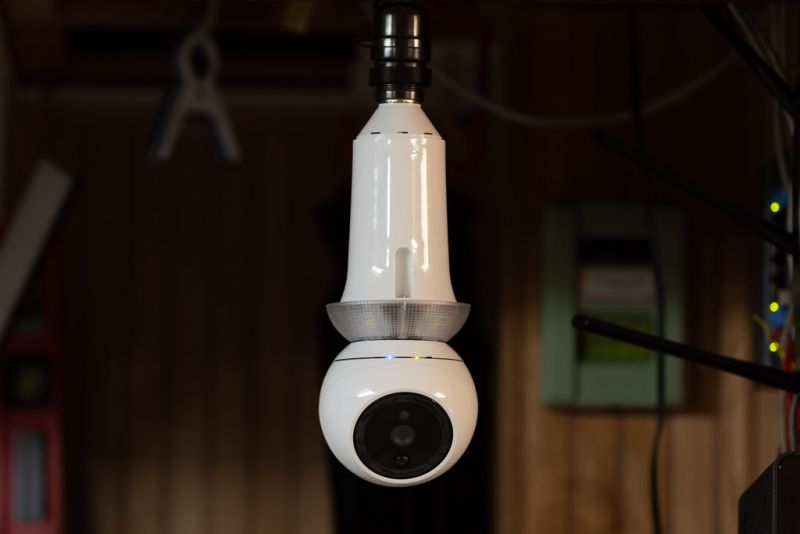 REVIEW – I've had a couple of security cameras for my home office, both of which no longer work. When the Amaryllo Zeus cam review offer came along, I figured I would give it a try considering its ease of installation and advertised features.
What is it?
The Amaryllo Zeus is a Biometric Auto-Tracking Light Bulb Indoor Security Camera.
What's in the box?
Amaryllo Zeus cam
Mounting Screws
Quick Start Guide
Biometric Setup Sheet
Hardware specs
Frame Rate
1920 x 1080 up to 30 fps.
Resolution
2M Pixels FHD.
Video Resolution
1080p, 720p, 480p, 360p.
Wireless
Embedded Wi-Fi (2.4G) 802.11 b/g/n.
Mounting Options
In-ceiling using the E26 Light Bulb Base.
Storage
Supports up to 128 GB microSD Card for local storage.
Lights
6 Front-facing warning LED lights, 8 hidden infrared LEDs to protect even in the dark, and light lamp ring.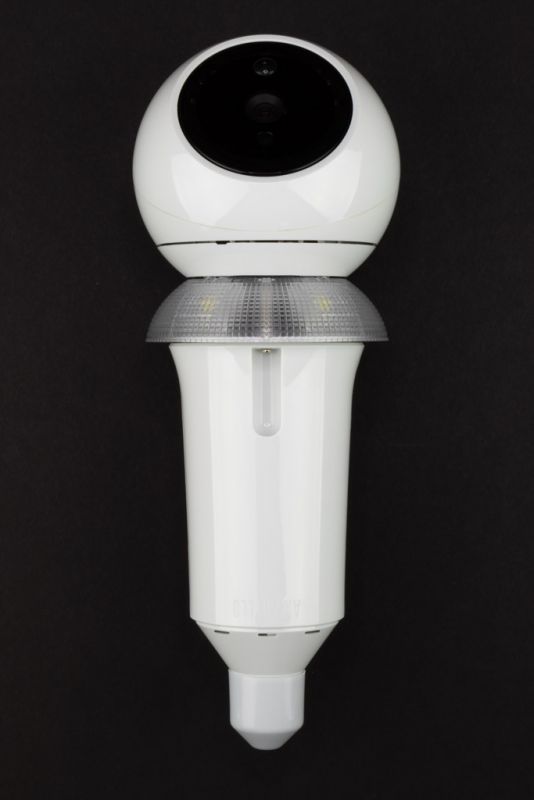 Design and features
Both of the previous cameras I had tried to use for an office security camera have since died. One was a hardware issue; the other used a cloud service and went out of business. I thought I would give it one more try with the Amaryllo Zeus camera.
The Amaryllo Zeus camera initially caught my eye because it merely screws into a lightbulb socket, which I had above the unused fireplace in my home office. Perfect! Or so I thought. The recessed flood light socket was a little too deep for the Amaryllo Zeus cam to screw into.
That little hiccup wasn't enough to stop me, though. I designed and 3D printed a bracket to hold a drop light socket. My little workaround ended up working great as it gave me better coverage of my office and naturally pointed right towards the door.
The Zeus includes several biometric features that are rarely found in other cameras. These include fire Warning, heat mapping, path tracking, facial recognition, human, vehicle and pet detection. The facial recognition is included in the free account while the remaining biometric features are included in the various subscription levels.
The device itself seems well built. The SD card slot is a little challenging to get to being recessed like it is, but it does come with a pre-installed 16GB card. The light is bright enough to light a large room. It's not designed to be the only light in the room but provides enough light to see where you are going without turning on another light. The base can also be removed and mounted with the included screws and clips. However, you'll have to run a USB power cable to power it.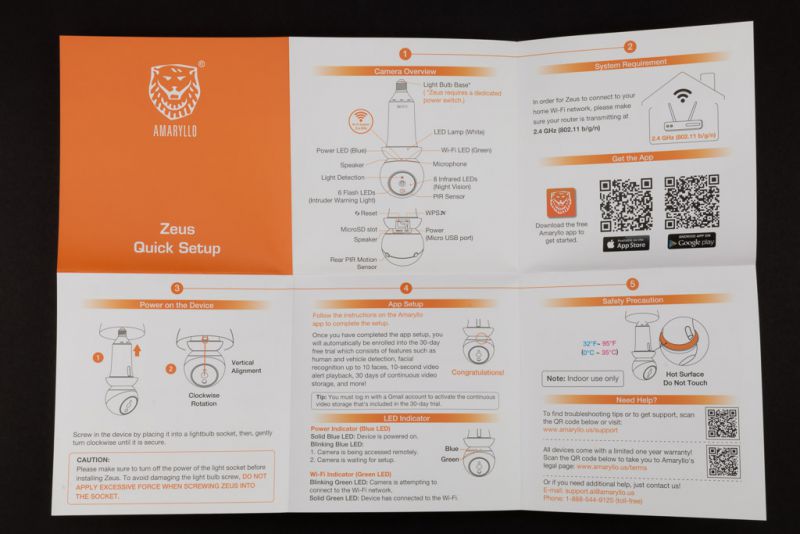 Viewing the camera video is easy, simply click the play button on the initial screen of the app: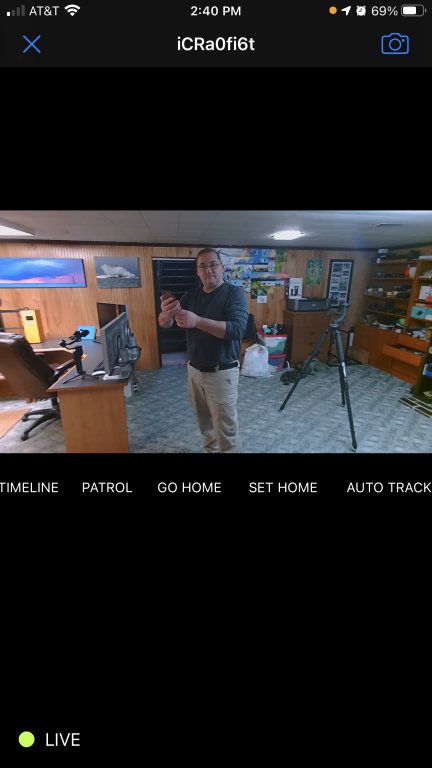 The app is very nice. App sections include Account, Daily Report, Activity Map, Privacy, Notifications, Archive, Settings, Scheduling, Snapshot, and Help.
The app's Account section includes your Google account sign in for cloud storage, service plan status, 24/7 monitoring status and contact information, and camera settings for the camera wallpaper (background image in the app) and the camera name.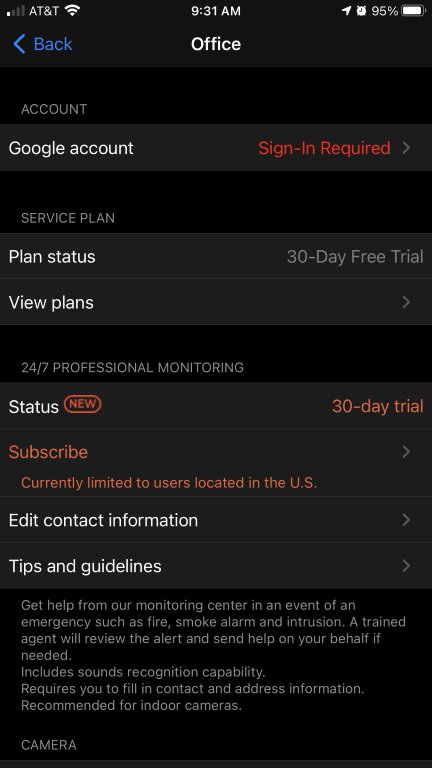 The Daily Report section shows a biometric alert timeline and totals for the various types of detections such as fire, face, human, vehicle, and pet. Sensor alert totals for motion and audio are also included.
The Activity Map section includes a heat map and path tracking analytics, although I did not see much use for it.
The Privacy section isn't really a section of the app, but just a means to disarm the camera quickly. When you tap the privacy icon, the app will ask you if you want to change the privacy mode.
The Notifications section lists the notifications along with an image or video preview. The notification also includes how many people, pets, or people were detected.
The Archive section of the app lets you access the cloud storage feature when you are signed into your Google account.
The Settings section of the app is quite extensive. The Settings include Amaryllo features (AI recognition), Live View, Recording, Notifications, Camera, and app version info. The AI recognition includes settings for turning on and off various features such as face recognition, sound recognition, fire warning, human detection, vehicle detection, and pet detection. The pet detection includes separate controls for dog, cat, and bird detection.
The Live View section of the settings includes various settings for the video stream, alert zones, viewers, and more. I really like that they have settings for the streaming resolution, including Auto, 360p, 480p, 720p, and 1080p.
The recording section of the settings includes the resolution setting (Stop, 360p, 480p, 720p, and 1080p) and timestamp, backup storage options (cloud and NAS), and SD card status.
The Notifications section of the app include controls for the front and back sensors and audio sensor. The capture format can be changed to text only, snapshot, or video. Phone/tablet notifications can be changed between notifying every time, do not notify, and notify when an event is detected and no alarm occurs within a set time. Emergency contacts can also be added in this section.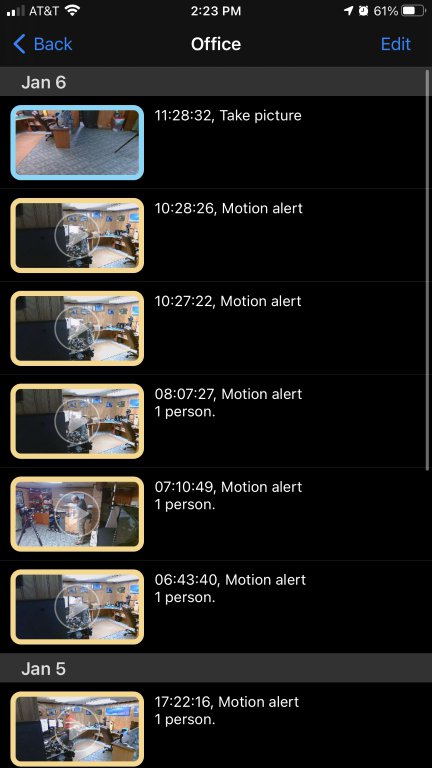 The Camera section has settings for just about everything. The camera light settings include backlight, night vision, LED lamp control, and LED indicators. Also included are settings for audio, auto-tracking, timezone, Wi-Fi (connect up to 4 Wi-Fi Networks), and many others.
The Schedule section provides a means of adding scheduled days and times to be in privacy mode. This is quite handy if you don't want the camera sending notifications while you're home. This is a much-appreciated feature that has been lacking in many of the cameras I've seen.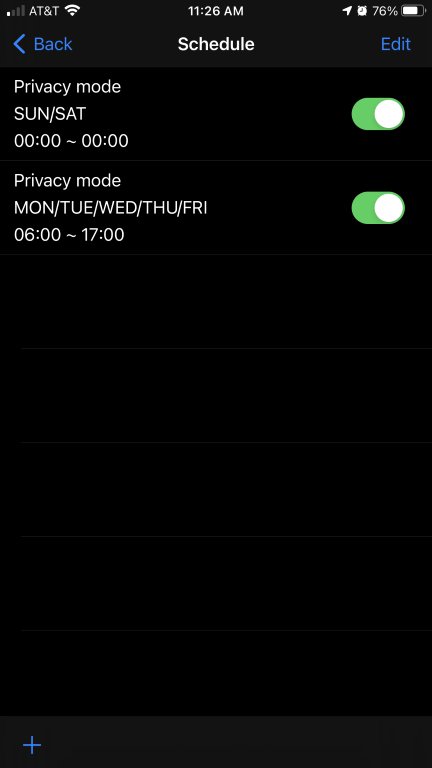 The Snapshot section is also just a button that takes a picture and stores it as a notification. Since this and the Privacy icon doesn't enter a mode/screen, I would prefer to see these in another location in the UI.
Also, if I'm going to be picky, I would also like to see the Notifications icon more to the left so that it's on the screen when you initially start the app. Currently, you have to slide the toolbar to the left to see it. I'm not a fan of toolbars that you have to slide. There's plenty of screen area for another toolbar or other user interface item for these items.
As for the camera, it works wonderfully. The passive infra-red sensors enable the camera to track and pan 360° for up to 40 feet. I found the tracking to work very well, much better than other cameras I have tried. The 256-bit military-grade encryption is certified by Microsoft Skype, which means it's virtually impossible to hack. The built-in speaker and microphone allow for 2-way communication as well as alarms to warn intruders.
What I like
Included a 16GB SD card
Extensive settings
Viewing the camera video without requiring a notification being triggered first
What I'd change
Notifications take several minutes to arrive, it should be quicker
Socket needs to be narrower to extend out of floodlight sockets
The app toolbar could use a little bit of work
Final thoughts
The Amaryllo Zeus security camera has been a nice addition to my office. The ability to know if someone is in my office is reassuring and helps me know when my kids "borrow" stuff. Aside from the free plan, the plans start at $2.99 a month up to $29.99 a month depending on the features you want.
Price: $249.99
Where to buy: Best Buy and Amazon
Source: The sample of this product was provided by Amaryllo.