We use affiliate links. If you buy something through the links on this page, we may earn a commission at no cost to you. Learn more.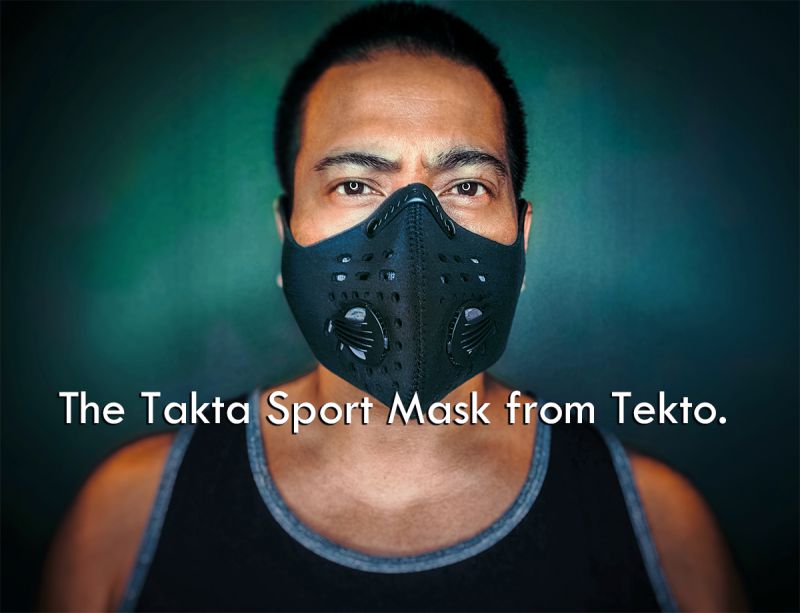 REVIEW – In the world we live in today, wearing a mask is not only a part of our everyday lives but it has also become part of our lifestyle. And if your lifestyle includes an active one then you know that going to places such as a gym, studio, rec center, or another training facility, requires you to wear a mask. But just wearing any ordinary mask is not ideal for you when you are doing strenuous activities such as working out, running, biking or doing any kind of intense extreme sport since you need to breathe properly as well as comfortably.  You don't want to wear a mask that will impede your breathing especially when you are breathing heavily from all that working out and training.  In times like this, having a mask that is tailored to these physical needs are a must. And with the Takta filtered sports mask from Tekto, it can help you breathe better during your workouts while helping you do your part when the establishment you are at has a mask wearing policy.
What is it?
Keep in mind that this is only a sports mask that is intended for high-intensity workouts, sports, and activities in environments where dirt and dust may be present. See articles linked at the bottom of this review for more information about this mask and preventing the spread of COVID-19.
The Takta filtered mask is a neoprene sport and daily mask with a five-layered filter technology that helps protect against bacteria and viruses. It not only has one but two valves. One on the left and one on the right side of the mask, allowing for proper ventilation as you breathe out and preventing any unfiltered air into the mask as you inhale (but it doesn't filter the outgoing air). Since the mask is made from neoprene, it is well suited for intense workouts or can be worn as your everyday mask when needed.
Design and features
This mask is designed to allow the wearer to breathe more easily with the help of the dual valve system. And these valves certainly do allow for better breathing which makes wearing this mask comfortable should you need to wear it for long periods of time. Plus, the neoprene material is a nice change from those itchy polyester fiber masks. The form and cut of the Takta mask has a nice fit on my face even without having to pinch the nose clip. However, not only is it a good idea to adjust the nose clip to minimize any air and breathing particles from escaping out of the mask, but it just makes the mask that much more form-fitting to the shape of your face.
Keep in mind that this mask has more size to its profile than your everyday store-bought mask. When I first tried it on and checked myself in the mirror, I noticed that the mask protruded out further than the mask that I normally use. This didn't have anything to do with its performance, it was just something I noticed from the first time wearing it. I immediately thought I resembled the character Bane or some kind of jet fighter pilot. But I just got used to it after a while. I have seen many people wearing similar types of masks like this Takta mask, however, the masks they wore only had one valve on it, whereas this one has two valves.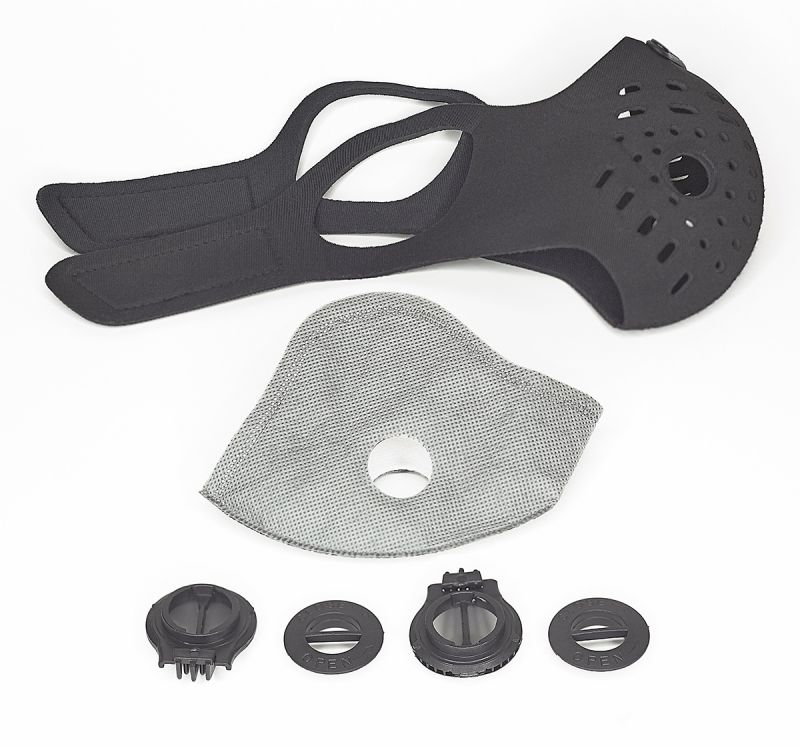 Since this is a neoprene material that means it is hand washable and reusable, which I really like. Just remember to take out the valve and filters when you wash the mask.
Cleaning the mask makes it reusable for you so that it keeps the mask clean, fresh, and sanitary.
Also, these valves have a really nice contrast in its look if you get the white version of the mask. I actually really like the look of the white mask.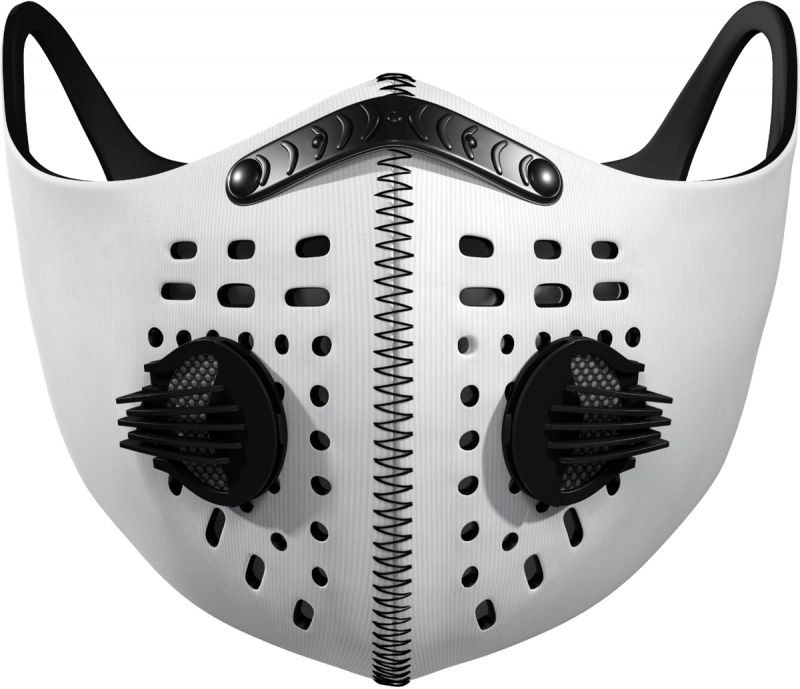 I found the nose clip to be very pliable yet kept its shape while on the bridge of my nose. It held the mask securely on my face preventing it from sliding down my nose. Having the clip on the nose portion of the mask not only helps prevent air from coming up as you breathe out, which by the way, is very helpful when you are wearing eyeglasses, but it helps form a tight seal around the edges of the mask. If you have had glasses on while wearing a mask then you know that dreaded steam that can fog up the lenses as you exhale and breathe out. I didn't get that while wearing this mask and I'm thankful for it.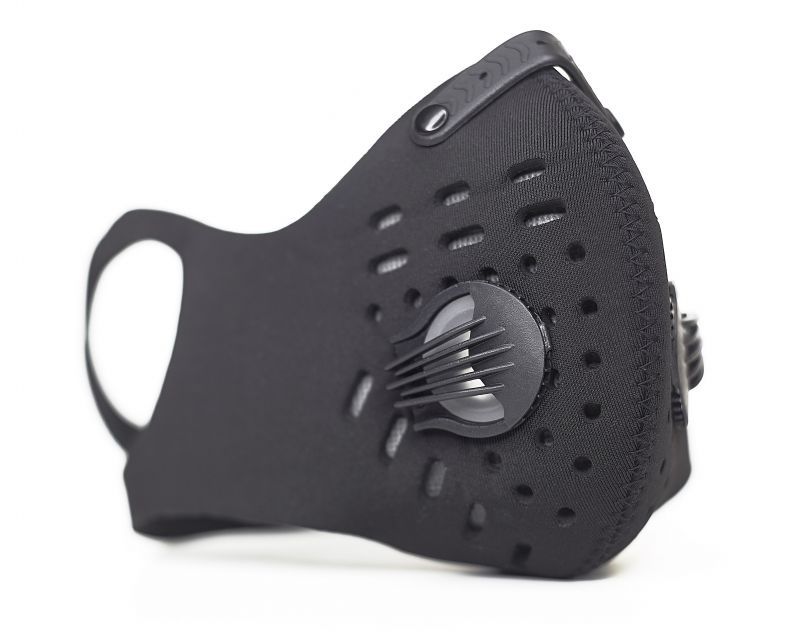 And with the help of the dual valves, it is much easier to breathe. You can even feel the valve work as you inhale and exhale. I found that the valves help tremendously with heavy breathing especially if you are working out, training, running, or doing any other kind of sports activity. I really like how simple and effective it is to use this mask. Although it can be somewhat awkward to wear a mask while you are doing anything strenuous and sports-related, I found that this mask made it tolerable as I was breathing heavily doing my workouts. You will, however, feel it getting warm inside the mask as you breathe hard and sweat but that is to be expected. Trust me, wearing this mask for workouts is much more suited than wearing a mask without valves.
Without these valves, your breath and air just accumulate inside your mask which makes breathing difficult. Plus, it helps expel your heavy breathing, thus allowing the warm air inside your mask to leave. This then helps prevent the inside of your mask from getting too warm than if you didn't have the valves. The valves help alleviate that warm build-up of air that normally gets trapped inside your mask when you breathe heavily. This mask helps just you breathe.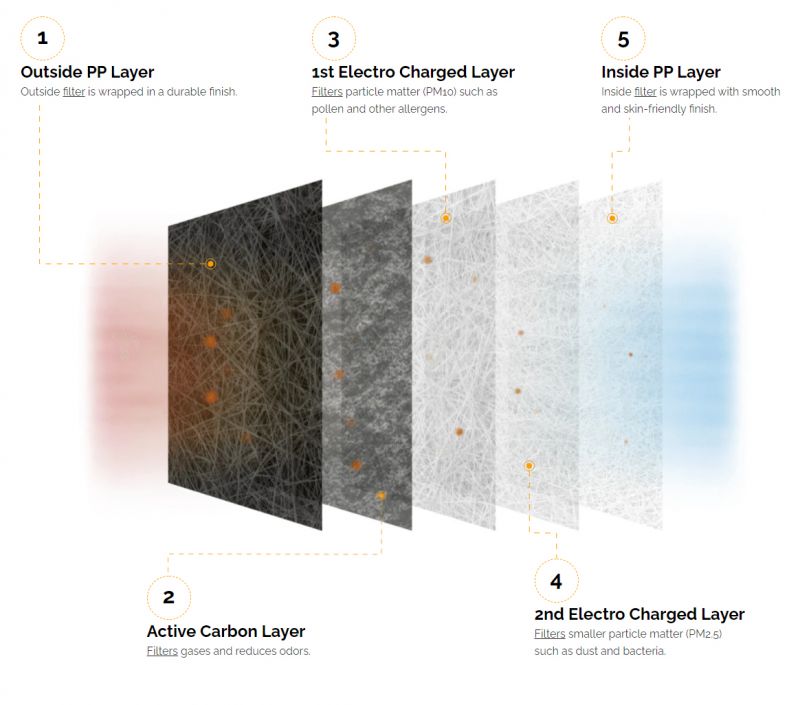 And speaking of breathing, this mask is supposed to help prevent and protect you from breathing in varying sizes of particles. 95% of particles as small as 0.3 micros to be exact.
According to the Tekto website, the valves are "engineered to only transport out the exhaled air, and not let any unfiltered air to sneak in." The supplied filter is designed with five layers to help prevent allergens, bacteria, and viruses from entering or leaving the mask.
The Tekto company recommends changing the filter out every other week and that the filter lasts around 80+ hours on average.
The Takta mask is also hand washable should you need to clean it. Cleaning the mask keeps the mask clean, fresh, and sanitary for continued use.
Performance
I was more than pleased that the mask did fit me very well and comfortably. I like the Velcro strap around the neck which gave the mask a more secure and sealed fit since it helps hold the mask on your face in addition to the ear loops and nose clip. It prevents the mask from moving or sliding about.  And this Velcro isn't the typical thick nap but rather a thinner low profile version.  Combine this secure fit with the filter and you have the makings a well-sealed and effective mask. Since I haven't been able to run lately, I have been jumping rope instead. Having the Velcro strap around the neck really helped keep the mask secure and in place. I didn't have any issues with the mask slipping or sliding off, even with the consistent up and down movement.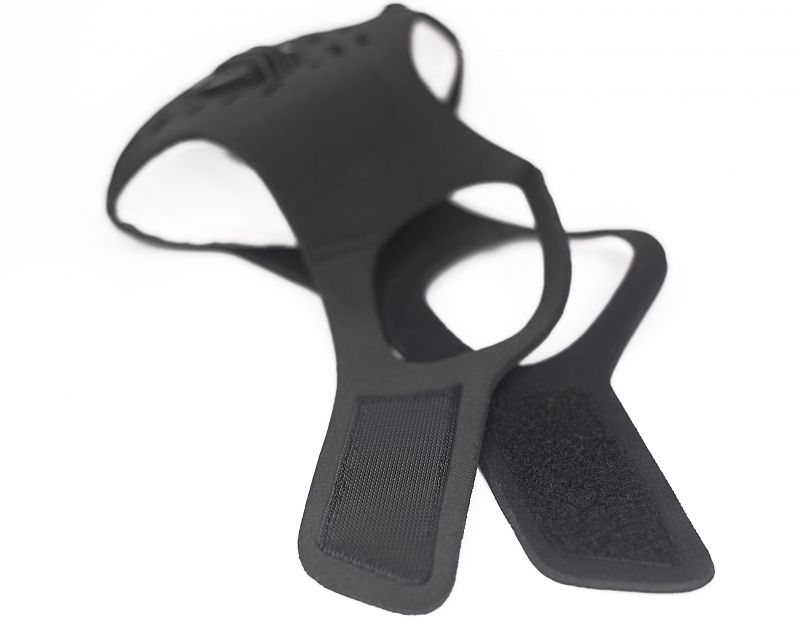 Even though this mask is effective for workouts and other vigorous activities, it is also a mask that you can definitely wear throughout your day to day life. I generally carry a cloth mask with me at all times for the sole fact that any establishment I go into nowadays has a "masks on" policy, which I have no problems abiding.  So, I keep the mask in my pants pocket when I am not wearing the mask. It's fairly easy to keep the cloth mask in my pant's pocket since the mask can be folded into a small bundle.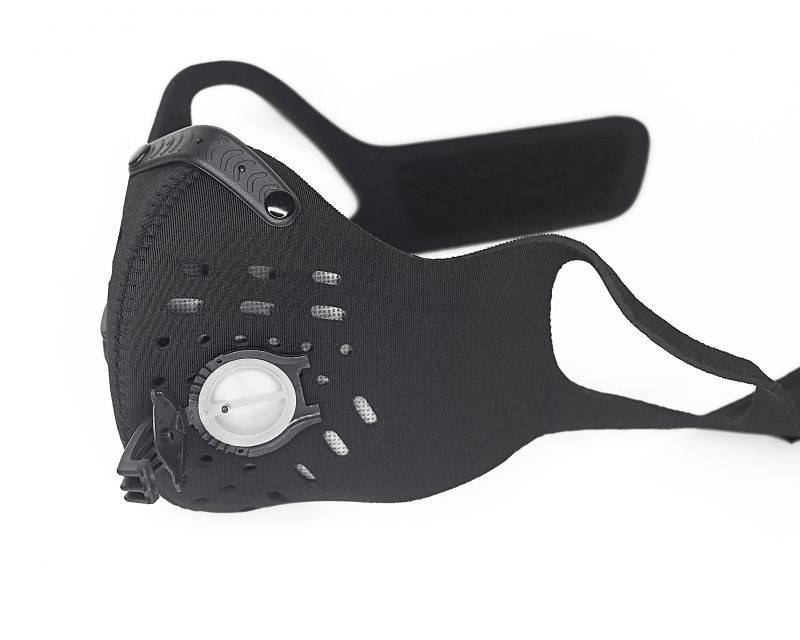 However, since the Takta mask is made from neoprene material, plus the include filter and valves, it can be beefier than the average fabric mask when it's folded up. It's still easy to fold but more cumbersome to place the mask into your pant's pocket. The mask can be bulky but it is still manageable to place in my pocket. But I do carry the mask in my messenger bag or camera bag when I can, so there is always that option.
What I like
Dual valve system allows for easier breathing.
Prevents steam while wearing eyeglasses.
Low profile Velcro strap.
Seal tight nose clip.
Neoprene material.
Washable
What I'd change
Make mask thinner to accommodate carrying in pocket
Final thoughts
If you are looking for a mask to wear while you are working out, training, running, biking, or doing any other strenuous activity, then having a mask with a valve system is the way to go since you will want to have a mask that is not going to impede your breathing. However, a mask with two valves systems is even better. Of course, you still want that mask to keep you safe from harmful bacteria and viruses. With the Takto mask from Tekto, you will have a mask that is not only equipped with a multi-layered filter, sealed, and form-fitting but you will have a mask that is a light-weight and comfortable to wear for long periods of time. This is a benefit to have in a mask that you use for workouts and training as well as one you use in your day to day lifestyle.
Not only does this mask have health benefits for the wearer but also the design and features make the mask comfortable to wear for extended periods of time. When it comes to following the policy of gyms, stores, or other facilities that require you to wear a mask, why not have a mask that will allow for better breathing ability?
According to Tekto:
1. This mask as I mentioned before protects the person wearing in because it has a KN95 filter. It is just as good as a mask that has an N95 filter. This means, everything the wearer of the mask inhales is filtered.

2. Any non-medical grade mask lets the person germs go out. This is scientifically proven. That means that all non-medical grade masks should not be allowed at the airport. Yet, they allow bandanas, homemade masks, which do not protect the wearer whatsoever because there is no filter to filter anything they breathe in nor do they keep the germs in since there is no filter. Also, most of these masks are not sealed tight around the edges and therefore the air particles and germs are getting out anyways.

3. People who do not wear medical-grade masks (about 95% of the people you see out there) are putting themselves at risk. It is as if they are basically carrying an umbrella with holes all over the umbrella. The rain or in this case the particles will come through. Our holes are fully covered when the person breaths in and the mask conforms around the face so well so therefore the air they breathe in have to come through the filter.

These masks are designed for high-intensity work, and at the same time, they keep the person wearing them safe.
Additional info to consider:
www.travelandleisure.com/airlines-airports/delta/delta-air-lines-banning-face-masks-with-valve
www.livescience.com/avoid-masks-exhalation-valves-cdc-recommends.html
Price: $49.99 (use coupon code: GADGET10 for 10% off – expires 12/31/20)
Where to buy: Tekto Website
Source: The sample of this product was provided by Tekto.