We use affiliate links. If you buy something through the links on this page, we may earn a commission at no cost to you. Learn more.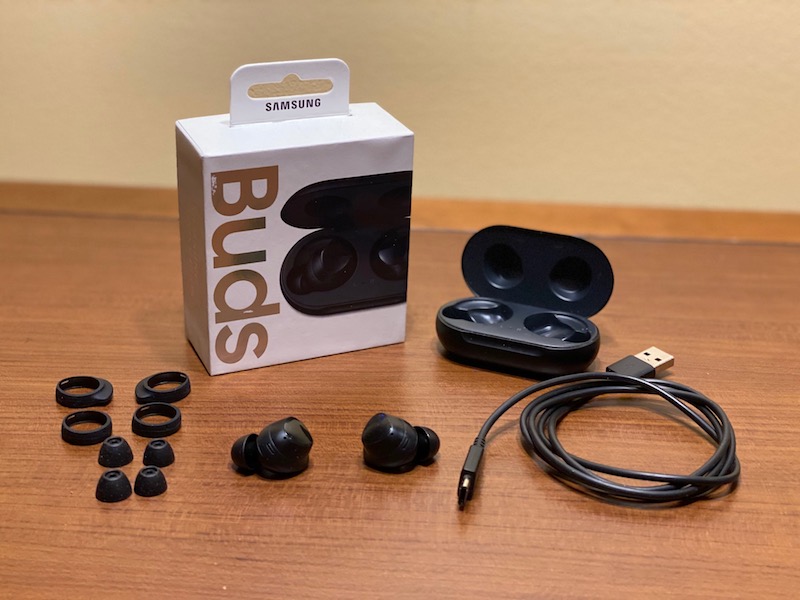 REVIEW – I'm an iPhone user; I've used them almost exclusively since the iPhone 3G came out in 2008. I've also been a blue­tooth headset user for many years, having owned models from Jabra, Plantronics, and several others. I mostly listen to podcasts for several hours a day but I also use them for the occasional phone call and less frequently to listen to music or to stream TV or movies from an iPad. It's not unusual for me to have a Bluetooth earbud in my ear for 6 or more hours a day, so battery life and a comfortable fit are a big concern.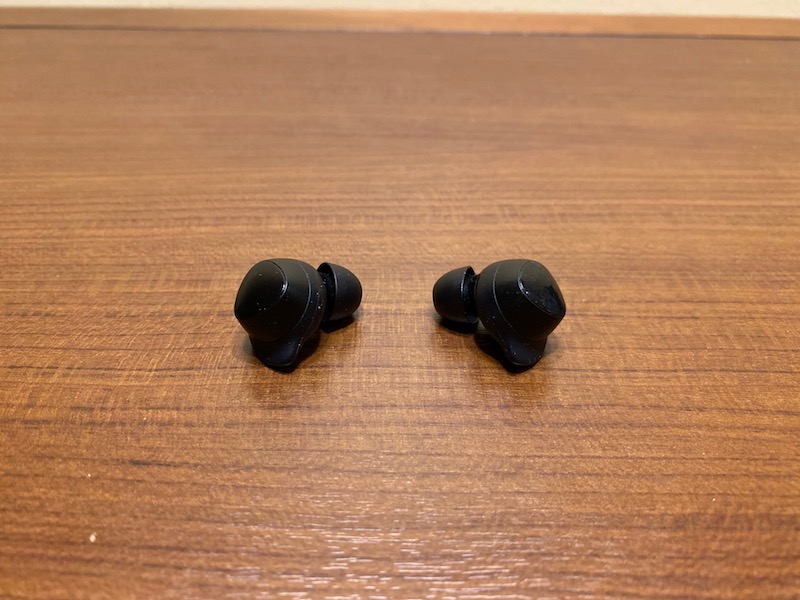 What is it?
Samsung Galaxy Buds come with a compact charging case, offering up to 13 hours of battery life. They are a small pair of earbuds that fit well in the ear, sound good for music and podcast listening, and are more affordable than AirPods or similar competing brands. Galaxy Buds are available in Black, White and Yellow color options.
What's in the box?
Earbuds
Wingtips (Small, Medium, and Large)
Eartips (Small, Medium, and Large)
Charging Case
USB Cable (USB-A to USB-C)
Quick Start Guide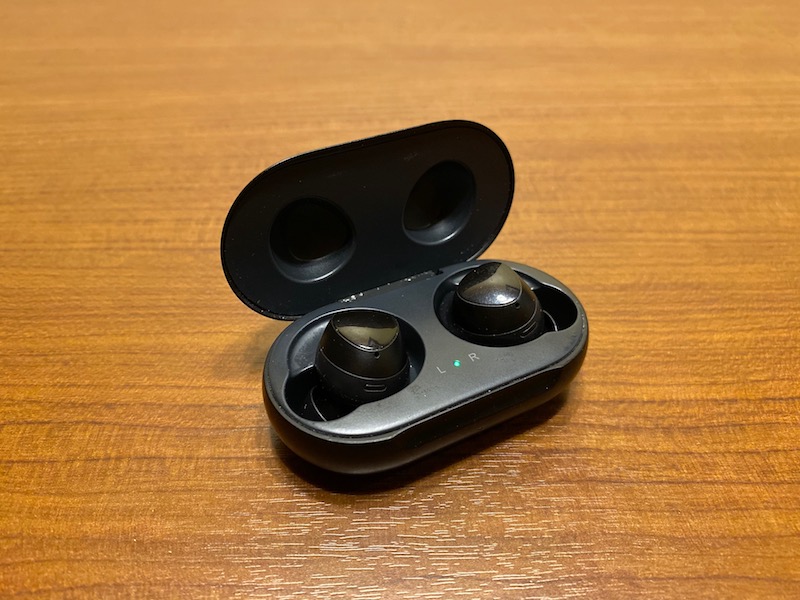 Hardware specs
Bluetooth 5.0
Profile: A2DP, AVRCP, HFP
Codec: Scalable (Samsung proprietary), AAC, SBC
Battery: 58mAh (each earbud) 252mAh (charging case)
Battery life: up to 6 hours per earbud; 13 hours total with the charging case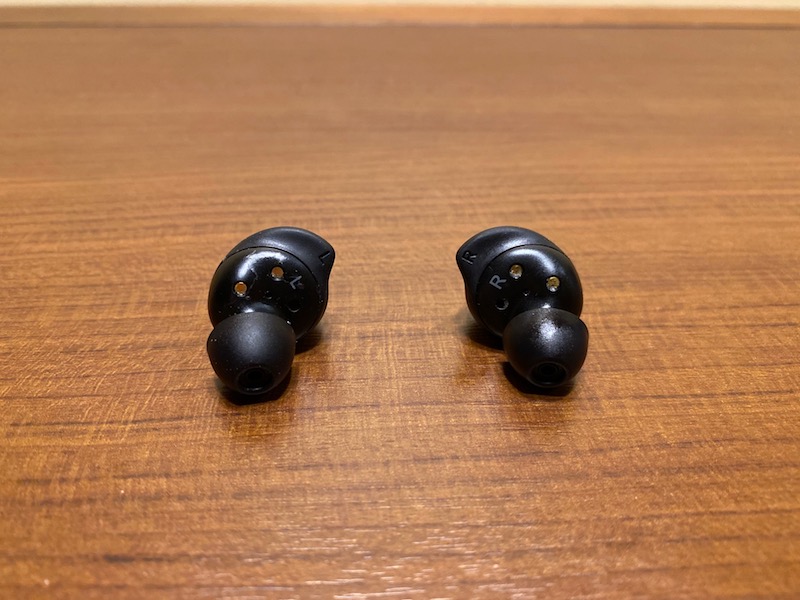 Design and features
Since I'm an iPhone user (and a Mac and iPad user as well) it would make sense that I would choose AirPods, since they're so compatible with Apple's products. There are two main reasons I didn't: 1) I don't like the hard plastic feel of Apple's EarPods, their wired headphones, and AirPods are essentially the same shape and material; 2) I want the same controls on both earbuds. Since the majority of my listening is only in one ear I don't like the way most stereo earbud manufacturers put skip forward on one ear and skip backward on the other, or play/pause only on one earbud. I want both earbuds to be able to do everything. AirPods split the controls between each earbud so they are not an option for me.
Another thing that was important was that they would be able to go further into my ear and seal with a rubber eartip, which AirPods don't do. I realize that AirPods Pro are designed this way, but you still get the split controls, plus they're quite a bit more expensive. My wife used to complain that she could hear what I was listening to, thinking I had the volume up too loud when in reality some of the sound was just leaking out because the earbud didn't seal into my ear very well. I've never heard her complain about hearing the sound from one of the Galaxy Buds.
Another cool thing is that the charging case is Qi-compatible, meaning that you can charge it from the back of a compatible Samsung Galaxy phone or a Qi charging pad. I've never used that feature; I just plug in the cable every night, but this could be very handy if you have a charging pad that can charge multiple devices at once.
Setup
Setup is very easy. Make sure the case is charged, then simply open the cover with the earbuds inside, then go to the Bluetooth settings on your phone and look for Galaxy Buds. It took me a while to figure out how to pair these earbuds with multiple devices. It's not mentioned in the Quick Start Guide but a simple Google search gave me the answer. I had to disable Bluetooth on my phone, set the earbuds back in the charging case, leave it open, and search for them on the second device. Once they're paired with all my devices, all I have to do is select the earbuds in the Bluetooth settings of the device I want to listen to and they connect right away.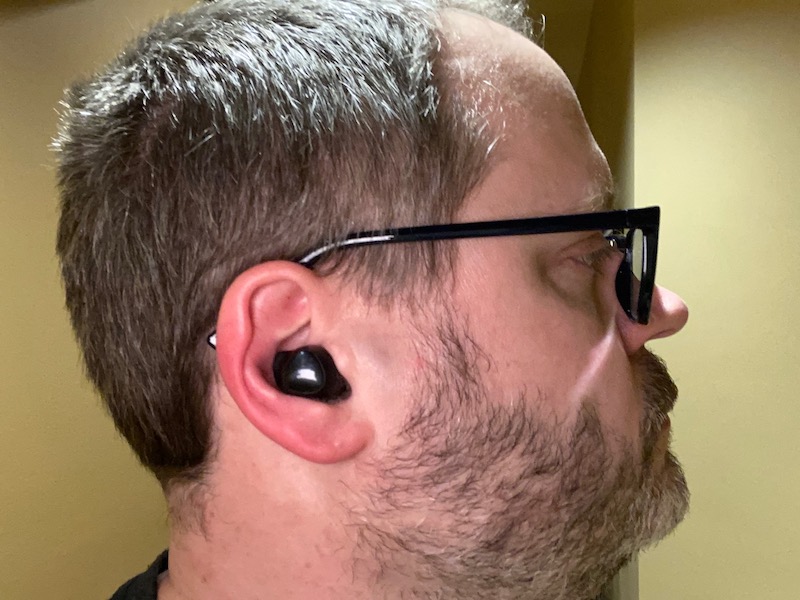 Performance
Battery life has almost never been a concern. When I first got them I wasn't sure exactly how long they would last so I didn't charge them for a few days and let them die all the way (including the charging case). As long as I charge the case with the earbuds inside every night battery life hasn't been an issue. I have listened long enough in a day that one earbud has started to beep to give me a low battery warning, but I always have the other earbud ready to go, so it's never a problem.
Bluetooth earbuds connectivity can also be an issue. I'm happy to say that the Samsung Galaxy Buds have been very reliable. I don't think I've ever had the signal drop out except for when I've walked too far away from my phone, like if I forget it at my desk and walk away or if I walk into the garage and leave the phone on the kitchen counter. Every once in awhile, I'll pull one of the earbuds out of the charging case and put it in my ear and it doesn't power on and connect to my phone. I just put it back in the case for a few seconds, pull it back out, and it connects right away.
The controls are fairly intuitive. There are no actual buttons on them so you control them with a series of taps. A single tap will play or pause the music or podcast you're listening to. A double tap will skip forward or answer an incoming call or end a current call. A triple tap will skip backward. A long press will trigger your phone's smart assistant or reject an incoming call. It is also possible to change the long press option to turn on an ambient sound mode where you can hear the sounds around you but enabling that feature is only possible through the Samsung Wearable app, which is only available for Android. Through this app, you can also change the EQ profile and customize the controls for the single, double, and triple tap gestures. It took me a while to get used to how quickly to tap and where I need to press on each earbud for it to be registered as a tap. It's harder for me to do this with my left hand because it doesn't have the same dexterity as my right hand but I've pretty much gotten used to the process.
There is no way to control the volume on the earbud itself. The only way to control the volume is through the device they're paired to. I've gotten used to reaching into my pocket to turn the volume up or down as necessary but having volume controls on the earbuds would be a nice thing to have.
As far as phone calls go I think I've only heard one complaint about someone on the other end not being able to hear me very well. I've always been able to hear the people I'm talking to very clearly as well.
What I like
Solid connection
Good volume
Seals inside my ear canal
Long battery life
Easy to carry in the case in a pocket without too much bulk
What I'd change
Volume control on the earbuds
Samsung Wearable app on iOS
Make the tapping gestures a little more reliable/easier to do
Final thoughts
Overall these have been the best earbuds I've ever owned. Listening to podcasts, music, movies and TV shows has been a pleasure. Sure, they're not audiophile quality but they are very easy to listen to without feeling like I'm missing something; they even have a decent amount of bass considering their small size and Bluetooth audio compression. Even wearing them 6 – 8 hours a day it's hard to run the batteries down, especially if you put them back in the case when you're not using them. Great battery life, good onboard controls, and a solid fit in my ear make these a joy to use all day every day.
Price: $129.99
Where to buy: Amazon
Source: The sample for this review was purchased with my own funds.