We use affiliate links. If you buy something through the links on this page, we may earn a commission at no cost to you. Learn more.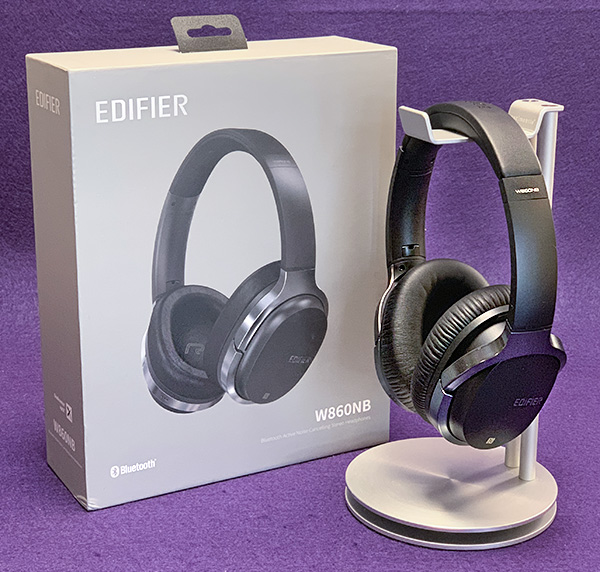 REVIEW – As wireless headphones and earphones are becoming the norm rather than a luxury, it only makes sense that customers will keep asking headphone makers "How can you top that?" with each new headphone. Now that wireless is common, the next step is making ANC or Active Noise Canceling standard. Currently, it seems Bose and Sony have ANC locked down, but more headphone companies are incorporating ANC into their product line with varying degrees of success. One of those companies is Edifier—a maker of first-rate (and expensive) home speakers, downright inexpensive computer desktop speakers and everything in-between. They also make good sounding headphones that provide a lot of bang for the buck.

What is it?
The Edifier W860NB headphone combines a warm sound signature, ear pad tracking and ANC into a successful mix of good sounding tech. It's an affordable headphone that sounds better than its price might indicate.

Specs
Frequency response: 20Hz~20kHz

 

Impedance: 32 Ohms (easy to use with smartphones)
Input sensitivity: 100dB
Bluetooth: 4.1

 

Bluetooth profiles: HSP HFP A2DP AVRCP

 

Connection distance: 33 feet

 

Battery capacity: 1400mAh rechargeable battery
Battery standby time: About 800 hours

 

Charging time: About 3 hours

 

In the box
W860NB headphone
Hard case
Micro USB charging cord
Mini plug cord
Airplane adapter

Design and features
The Edifier W860NB headphone loosely reminds me of Bose ANC headphones. They don't look like them, but there are similarities. The W860NB is mostly plastic but feels solid and not cheap—like Bose. The ear pads are quite soft and comfortable with head clamping that holds securely without being too tight—also, like Bose. It's a mama bear approach—just right. These are the kind of headphones that can be worn for hours with no issues—with or without glasses. The ear pads are tilted at the same angle as human ears, so the fit is more "eargonomic" than many other headphones. Because of this, the W860NB headphone looks and feels perfectly natural when wearing—so why is this a rarity?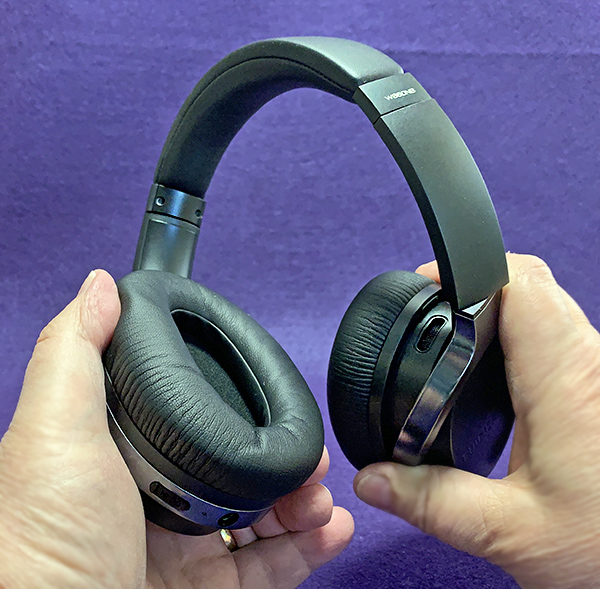 Black is the go-to color for headphones that aren't trying to make a designer statement and the W860NB headphones are no exception. The look is all business with black plastic mated with black protein leather ear pads and a subtle silvery-black trim. It's a classy look, if a bit forgettable. However, they don't sound forgettable. More on that later.
All controls are on the right ear cup. Edifier calls the On/off button a Multi-function button. It will power the W860NB headphone on or off, but pressing it longer begins the Bluetooth pairing process. Anyone who hasn't read the manual may get quickly frustrated trying to pair for the first time. NFC is available for most smartphone users—except Apple, of course.
Next to the Multi-function button is the active noise canceling switch. This slider button is easy to find with fingers without looking while wearing the headphones.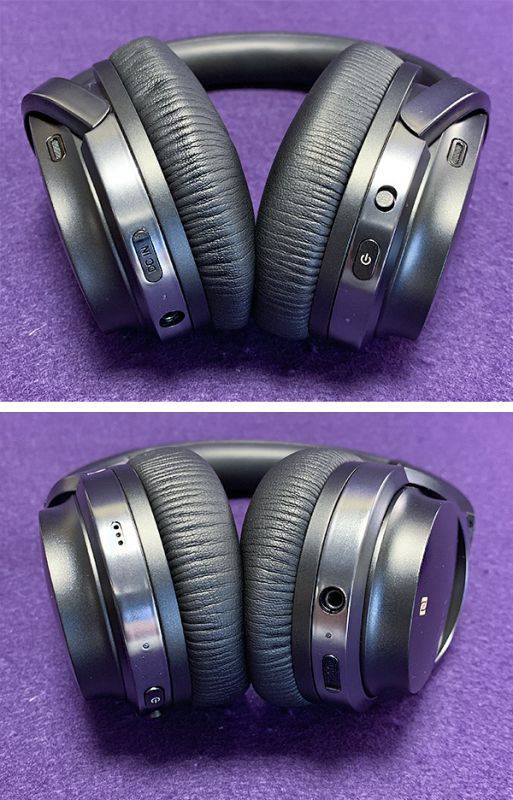 The left ear cup houses both the micro USB charging port and mini-plug port for wired listening. I listened to music both wired and wirelessly. Usually, I can tell the difference between the two sources, but not with the W860NB headphone. That's rare.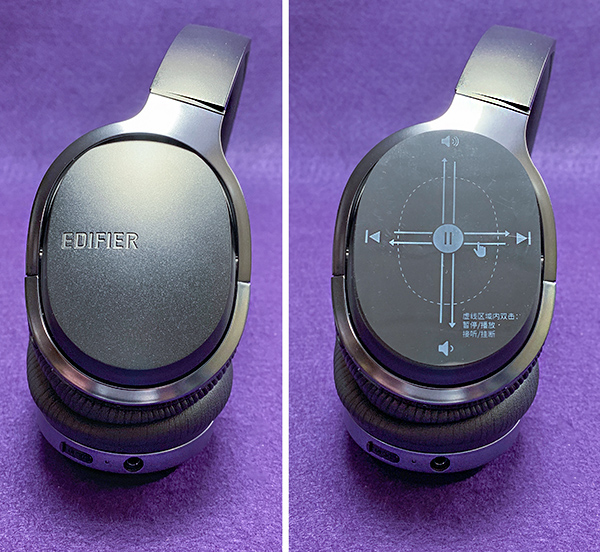 The right ear pad has a touch screen (track pad) built into its slightly rounded surface. Dragging your finger up and down adjusts the volume up and down. Dragging forward will skip to the next track and dragging back go will either go to the previous track or return to the beginning of a track. Double-tapping the center of the ear pad pauses and un-pauses music or accepts/rejects a phone call. 
This is all a nifty feature with a couple of caveats. Sliding a finger up and down changes volume alright, but there's no finesse. I was either adjusting the volume too loud or soft. I realized that short-flicking my finger on the ear cup rather than dragging changed the volume in more accurate, shorter increments. The other issue I had is that anytime I touched the ear cup to adjust it on my head, I  would perform one of the trackpad functions when I didn't mean to. I needed to be aware of where I touched the ear cup. I'm sure I'll get used to it, but its a learning curve.
Call quality using the built-in mics is okay—not great. People I talked to could hear me just fine, but when (unfairly) compared to Apple's AirPods, there is no comparison. I sounded a bit muffled and far away. To be fair to Edifier, I haven't had any headphones yet that can rival the AirPods in call quality—regardless of price.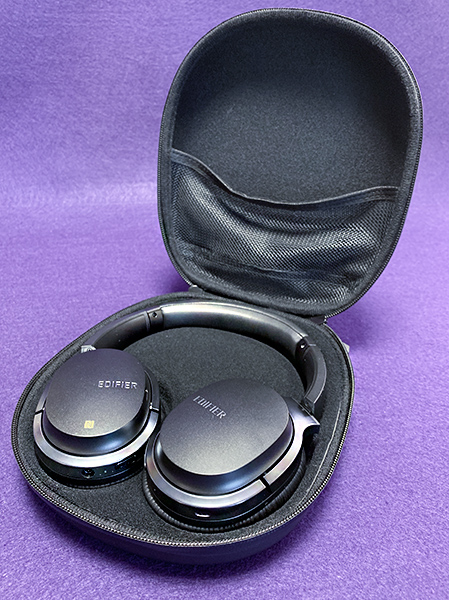 The W860NB headphone comes with a hard, protective case. The W860NB does not fold, so the case is a bit large. An additional soft, commuting bag would have been welcome, but at the price of this headphone, I can't argue that point too much. Also included are a mini plug to mini plug cord and a USB to micro USB charging cord. There's even an airline adapter, though those are becoming more unnecessary as time goes on.
It takes about 4 hours to fully charge the W860NB headphone. Play time is rated at 25+ hours with ANC on or 45+ hours with ANC off. Note that volume can also affect battery time.
ANC is one of the main features of the W860NB headphone. It's not quite as effective as either Bose's or Sony's ANC but hey—the W860NB headphone is a bargain compared to those two brands and it's almost as good! When on an airplane or in a daily commute, the W860NB headphone's ANC will eliminate any drone-like background and adequately muffle vocals so you can either rest or have better concentration. ANC on the W860NB headphone does what it's designed to do and that's a good thing.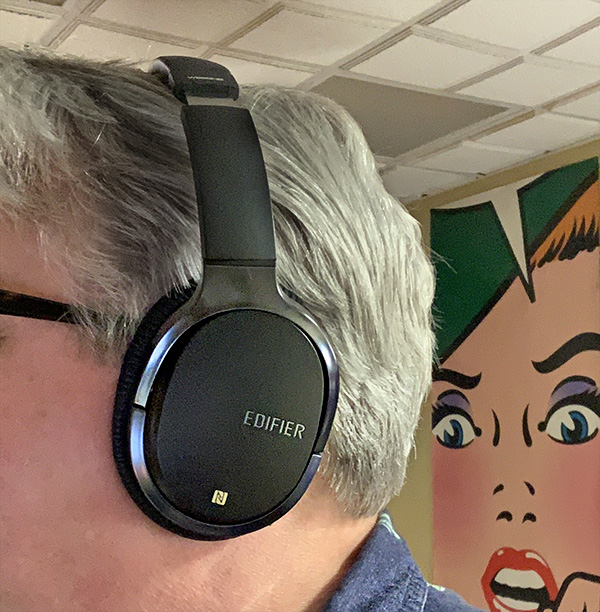 The W860NB headphone's ANC does affect the quality of music when on. ANC tends to "flatten" the sound a bit. This has the effect of distancing emotional connection to what music I'm listening to. However, with ANC off, music takes on a more engaging, fuller sound. There's just the right amount of bass for easy listening with no hint of harshness in the high frequencies. Technically, the W860NB headphone may not be as accurate as it could be, but who cares? They're fun to use, comfortable and can wirelessly make music sound good. That counts for a lot.
Even if music sounds better with ANC off, I would not hesitate to use ANC if I thought it was necessary.

What I like
The main attraction of the Edifier W860NB headphone is not its comfort, ANC or relaxing sound signature. All that works just fine. The attraction is that Edifier manages to provide all this at the price they do.
Well made
Comfortable
Long battery life
Good ANC
What needs to be improved
Too bad they don't fold
Case is protective, but big for travel
ANC flattens the music a bit

Final Thoughts
Edifier has a winner with the W860NB headphone, It's not too expensive—especially with all the extras factored in. The headphone can easily compete with Bose and Sony at a much better price—and still look good doing it.
Price: $169.99 US
Where to buy: Amazon
Source: The sample for this product was provided by Edifier.