We use affiliate links. If you buy something through the links on this page, we may earn a commission at no cost to you. Learn more.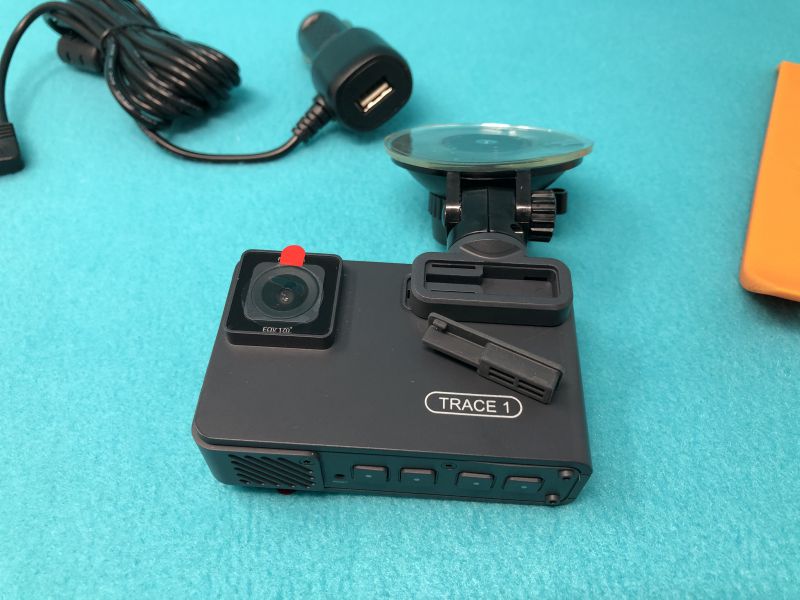 REVIEW – I have tested several dash cams lately. Most have been OK, but cameras in general are improving at quite a clip. Witness the current dash cam under review, the Akaso Trace 1.
What is it?
A small box with both a front- and rear-facing camera that takes high-quality videos, with time stamping, and fantastic low-light resolution.

What's in the box?
Camera unit
Suction mount
Power plug with captive miniUSB plug and pass-thru jack
Mounting clips and tool
Quick start guide

Hardware specs
(From company website)
FRONT AND INSIDE RECORDING: Trace1 dual dash cam is equipped with dual lenses to capture exterior and interior of the car simultaneously at 1080p30 (340-degree field of view combined). When inside recording is not needed and turned off, the front lens records 1080p60 for crisper and smoother image.
UNPARALLELED NIGHT VISION: Thanks to the state-of-art Sony STARVIS at both lenses, which extends the sensitivity of sensor beyond visible light to near-infrared range, and WDR technology, Trace 1 dash cam excels capturing every detail of your surroundings regardless of lighting conditions.
G-SENSOR & PARKING MONITOR: Loop recording comes standard, and built-in G-sensor locks the recording clip to ensure data integrity when collision gets sensed. Parking monitor protects your vehicle even when parked – it enables the car dash cam to turn on if any impact is detected, record for 30 seconds and turn off again.
OTHER FEATURES: Trace 1 dash camera supports up to 128GB of mircoSD storage (class 10 or above and at least 16GB recommended, memory card NOT included); efficient heat dissipation design; internal microphone with on/off option; auto LCD off to save power.
PERFECT DASHCAM FOR EVERYONE: With so many tech and safety features packed into an affordable package, this dash cam front and rear is a perfect option to everyone – beginners and seasoned taxi and rideshare (Uber, Lyft) drivers alike. All AKASO car camera – dash cam comes with 30-day hassle free return and 1-year limited warranty.
Design and features
The Trace 1 is small, even by today's miniaturized standards. At 3" x 1.75" x 1", it's barely as large as an action camera. There's a 2" (diagonal) screen on the rear side, and an f1.8 camera with a .5" diameter lens pointing out both sides. On the rear, there's a 4-element IR light that allows for great night-time video of the car interior, as well as your blind spots to either side. Both cameras sport a 170º field of view.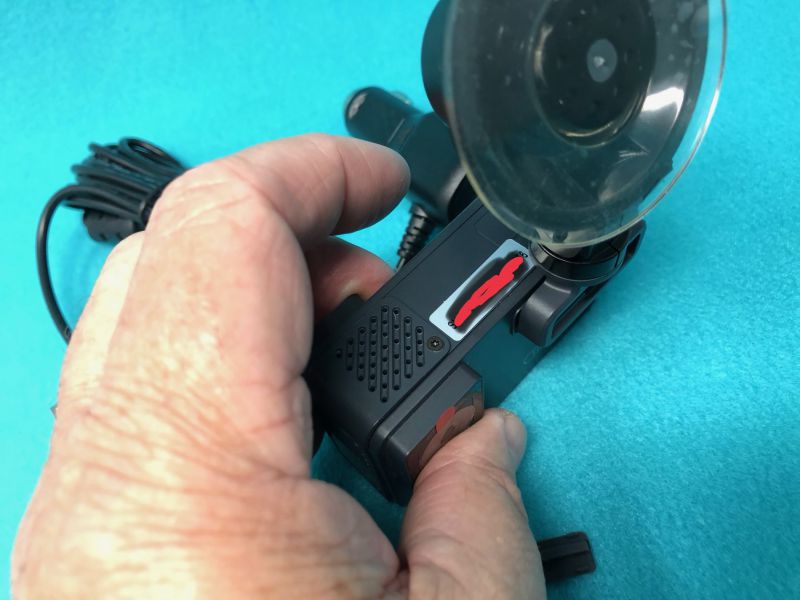 The suction mount has a sticky silicone gripper 2.25" in diameter, with a quarter-turn locking mechanism. I only had it fall off once, after sitting out in the sun all weekend. When I brought it in for this review, however, I noticed that I had left the protective film on the silicone! It wouldn't have slipped at all if I'd removed that film and actually stuck the bare gripper to the glass.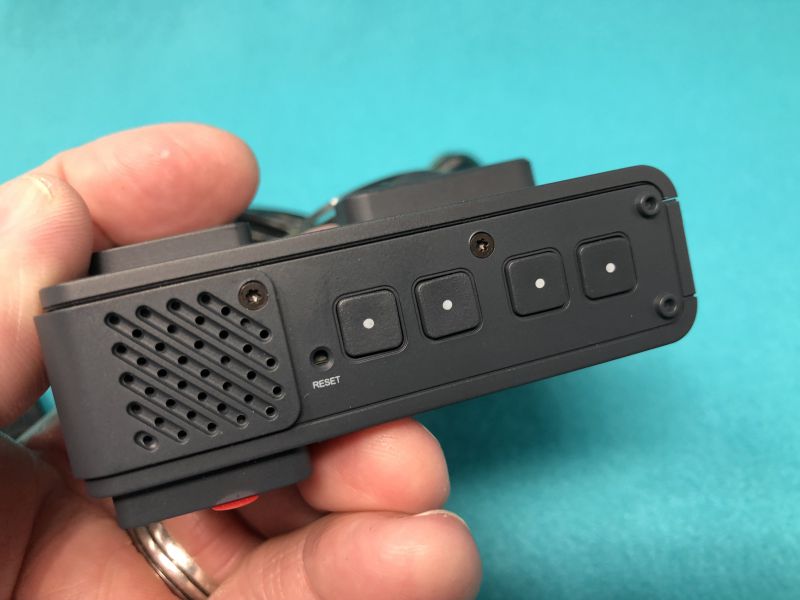 There are four function buttons across the bottom, as well as an on-off button above the card slot on one end. The miniUSB power port is on the top, and there's a pin-hole mic between the card slot and the power button.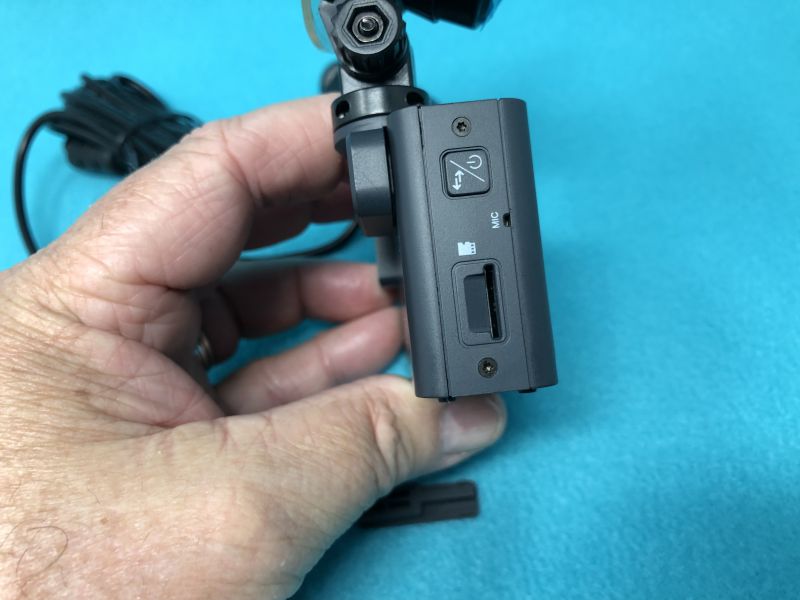 There are various protected grills/vents on several sides, at least some of which is for sound. For a tiny little unit, it's easy for me to review my last drive home, with a podcast playing, over the noise of lawnmowers and kids that I'm hearing on my back deck writing spot.
The default setting for the firmware is for English, with no parking mode, incident mode (where the clip being recorded will be locked if a jolt or collision is detected based on the motion sensor), with a time-stamp on the videos. This is pretty standard. The four buttons across the bottom of the unit change function when you press them. They are used to replay captured video, format the data card, change the date, turn off the beeping sound, etc.
Setup
Setup of the Trace 1 was minimal. Other than installing a TF storage card (not included), affixing the suction cup mount to the windshield and routing the wire and attaching it to a power plug, there's really nothing to it. (I didn't set the time/date at this point, which shows in the video clips.) By default, it's set to turn on when it has power and stay in "park" mode as long as the battery lasts. Park mode can be set to three levels of sensitivity (as can the normal "incident" mode). This will start recording video and audio if there is a jolt or crash to the vehicle. You can select the length of videos, and in Park mode, the camera will record video until there is no more motion, and then finish the clip. This will allow you to view what happened in case of a parking lot crash where someone hits your car, then drives off.
Here's a short clip from my exciting commute into work. Note the car passing me on the left at about 7 seconds, which shows in the front camera after the view transitions from rear to front view.
Performance
What I like
Single unit takes front and rear-facing video
170º coverage on both front- and rear-facing cameras totals 340º of coverage
Both cameras capture high-def video
Light and small
Runs on battery power for a good while.
What needs to be improved
I can't think of anything.
Final thoughts
As noted in previous dash cam reviews, I have a very short commute and most drivers obey the rules of the road and tend to not try to make me hit them for insurance fraud like in some countries. But, given the nature of changes in our society, there seem to be increasingly many incidents that could be helped by having a video camera on and running all the time. If you're feeling that vibe, this is a pretty nice little unit to consider.
Price: $99.99
Where to buy: Amazon
Source: The sample of this product was provided by AKASO.