We use affiliate links. If you buy something through the links on this page, we may earn a commission at no cost to you. Learn more.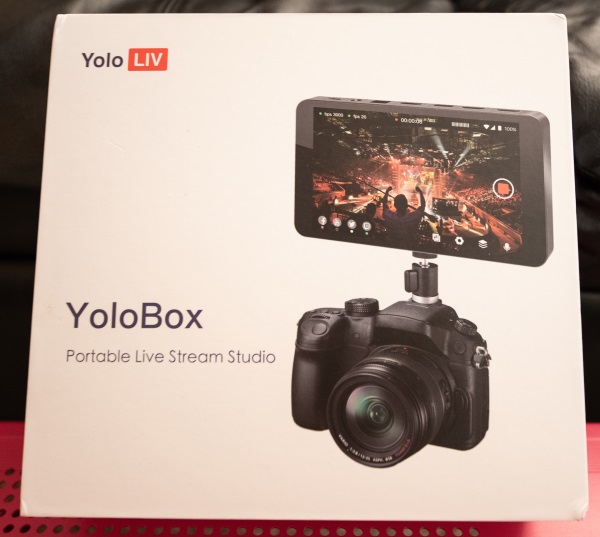 REVIEW – As a videographer/photographer, I am always looking for ways to promote my business and for ways to offer more to my clients. The ability to live stream events like wedding ceremonies, business events, etc is one that I know many of my clients would find appealing because they have previously asked about it or mentioned it. For my needs, I have been looking for a small all-in-one device that would allow me to manage as many functions as I could including features like, encoding, recording, switching, and streaming. About a year ago, while web surfing, I stumbled across a product on IndieGoGo called Yolobox from a company called Yololiv. After much waiting, I finally got my hands on one to test and review. After all of my impatient anticipation, let's get it going!!
What is it?
YoloBox is a hardware live stream solution that allows you to stream live video across Facebook, YouTube, Twitch and other platforms using many kinds of cameras, such as DSLR, professional cams, action cameras, and Drones.
What's in the box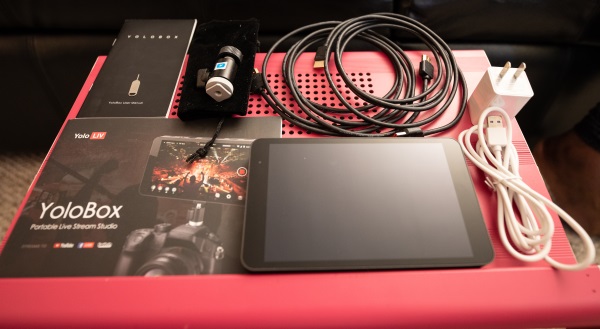 1 x Yolobox
2 x HDMI Cable
1 x AC Adapter with USB-C Cable
1 x ¼-20" Tripod Mount
1 x Carrying Sleeve
1 x User Guide
1 x Holder with Sim Slot release tool
Design and features
Specifications
Encoded Format: Video Encoded Format:H.264
Audio Encoded Format:AAC (48k)
Video Recorded format:MP4
Audio Input Format:32kHz, 44.1kHz, 48kHz, 16-bit
Video Input Format:1080i/ 720p/ 1080p
Video Recorded Resolution:Up to 1080p:60fps
Live Broadcast Resolution:540P/720P/1080P
Video Storage: Storage Card Type:SD Card, Storage Card Capacity:Expanded to 128G
Network Connection: WiFi:2.4G/5G, Support 802.11a/b/g/n/ac, 4G Network:LTE-FDD B2/4/5/7/12/13/17/25/26,LTE-TDD B41
SIM Card Size:Standard SIM Card
Power Interface:Type C, Quick Charge 3.0
Battery Capacity:3.7V/5700mAh
Transmission Network Protocol:RTMP
Dimensions: 185mm(L) x 107mm(W) x 19.5mm(H)
Weight:480g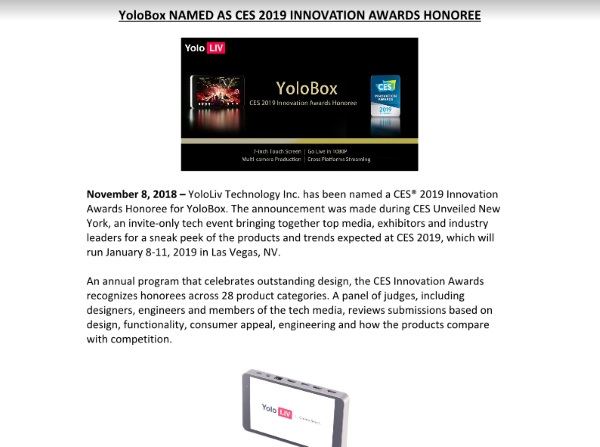 On the top edge of the Yolobox as shown in the photo below, from left to right there are 2 x HDMI input ports, 1 x USB input port, 1 x HDMI output port, 1 x Ethernet port, 1 x audio input port and 1 x  USB-C charging/powering port.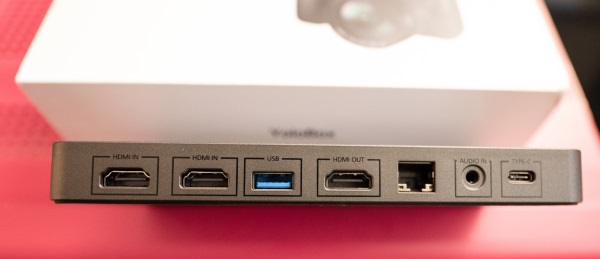 On the bottom of the Yolobox from left to right, as shown below, there is an audio out port, a Sim card slot, a 1/4-20″ mount, an SD card slot and the power button.



Performance
When I first took the Yolobox out of the box, I was very impressed by the build quality, the design and the sleek look. The front of the Yolobox is smooth with no protruding buttons.
Once I charged it up and powered it on, I was greeted by a Yolobox splash screen and then it took me straight to the network screen that offered 3 choices for connectivity. The following are your choices: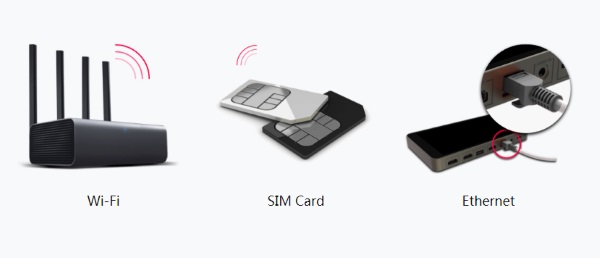 I have been using the hard wired ethernet cable choice since I have been live streaming the sermons from my church and I prefer not to risk any signal issues that may occur when using a wireless connection. As you can see in the picture below, I mounted the Yolobox with the 1/4-20″ head to a tripod so that I could operate it at eye-level. The touchscreen response is great, but the screen does attract fingerprints that are actually only visible once the device is powered off.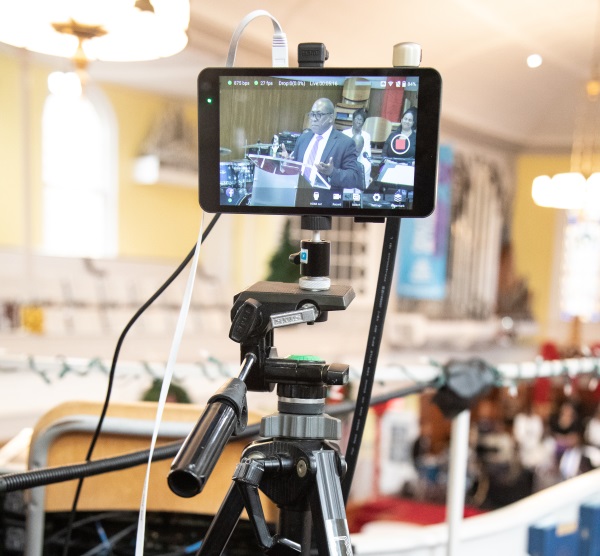 At the top of the device, as shown below, I have an HDMI cable plugged into the input. The other end of this cable is plugged into an 8-port Blackmagicdesign Switcher that has 6 cameras connected. So for this particular live stream, the camera switching is done on the BM Switcher. I also have an HDMI cable plugged into the HDMI output port. That cable goes to a large monitor approximately 10 feet away and is used by other members of the media team that keep an eye on everything. The white cable that you see is a flat Ethernet cable that is connected to one of the network switches for internet connectivity.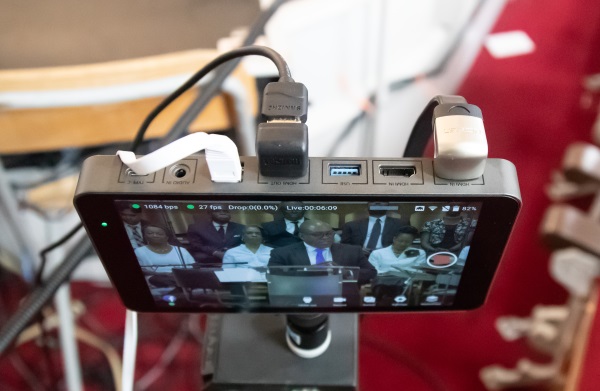 The picture below shows the Yolobox as it is actually live streaming a sermon. As you can see on the screen, the device provides the live streaming data including data rates, dropped packages metrics, the platform or platforms that you are streaming to (Note the Facebook Icon ion the bottom left corner. You can stream to multiple platforms simultaneously), as well as utilize the functional options on the toolbar across the bottom of the screen.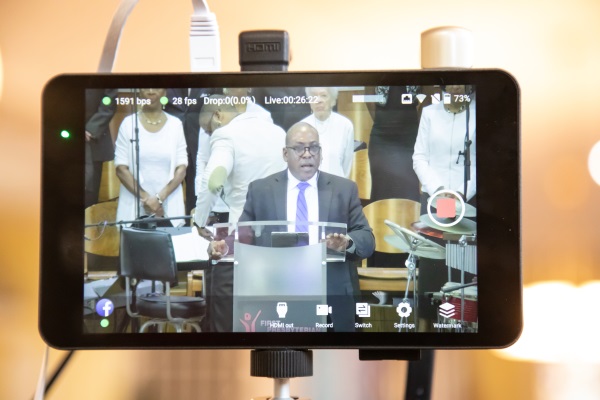 The features also include the ability to add custom graphics layers like a logo or watermark to your stream and you can also live switch between 5 video inputs((2 HDMI, 1 USB,1 SD card,1 from web source). You can stream video with picture-in-picture and audio from a separate external audio source if you choose to. Here is an illustration of the platforms that you can stream to: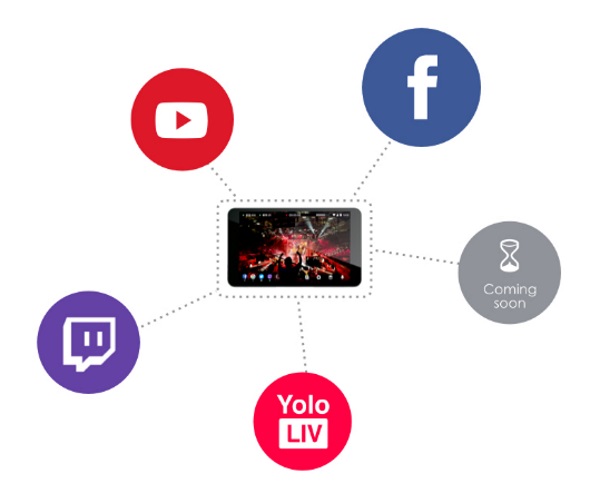 There are a large number of settings that utilize the features and capabilities of the Yolobox, and too many to mention in this review. During the time that I have been testing this device, the Yolobox record feature was enabled so that you can record your stream onto an SD card and have it ready for other purposes. However, I have noticed an extreme audio/video sync problem with the recordings. The audio and video start off in sync, but over time, they become extremely out of sync and unusable without major editing. There is no sync problem with the live stream.
Another negative that I have been experiencing is that connectivity to Facebook has been a bit inconsistent. Out of every 4 attempts, there will be one occasion when it will not connect. I have identified this as an issue because I have a lower-end streaming box that connects every time. They are both on a 1GB/1GB FIOS connection, I did reach out to Yolobox support, and while they responded within a couple of days, they never offered any clear or practical solution.
You can click here to see one of the sermons that I live streamed to Facebook using the Yolobox.
What I like
Its size and sleek look
Build quality
Numerous included functions and features
The all-in-one concept/design
Battery life
Expansion capabilities
What can be improved
A redesign to include a user replaceable battery.
The ability to stream 4K
A storage capacity beyond 128GB
Fix the audio/video sync issue
Final thoughts
Yolobox is poised to make all of my live streaming needs and goals a reality. Right out of the box, its functions and features make it a winner in my book. It also seems that the architecture is already built-in to expand on its capabilities to make parts of it future-proof. Otherwise, the only test left is to see if it stands up to extensive use. This is where the weakness may exist partially because of the built-in battery that does not seem to offer a replacement option. In addition, I do think that a software fix is needed to ensure that the connectivity to all of the compatible platforms always works. Regardless, I am giving the Yolobox a well done!! And, two thumbs up!!
Price: $999
Where to buy: Amazon
Source: The sample for this review was provided by Yololiv.