We use affiliate links. If you buy something through the links on this page, we may earn a commission at no cost to you. Learn more.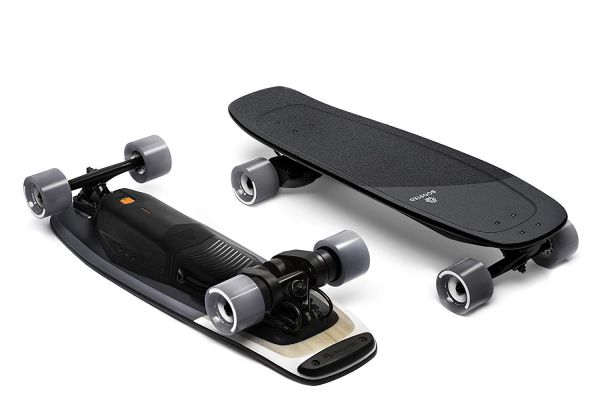 NEWS – Okay, so this is pretty cool. And by that, I mean it's really cool.
Boosted calls it "your new electric vehicle" and they're not wrong.
With speeds up to 20 mph, the Boosted Mini X Electric Skateboard might replace the need for automobiles for many people in overpopulated cities. (Which is great for the environment, eeeeeeep!!!)
The board is 29.5 inches in length with a Deep Dish deck and a kicktail for ultimate control and maneuverability. According to Amazon, the deck is made from Poplar and Fiberglass, and weighs just under 17 pounds. It has a recommended weight limit of 250 pounds, but Boosted featured Shaquell O'Neal (325 lbs) riding their board on their Instagram page.
Small and lightweight, this is perfect for people who are always on the go.
It runs on 1 Lithium ion battery, which is included. This allows you to go the distance of around 14 miles before needing another charge, and the full charge time is 1 hour and 45 minutes. Tiny but mighty, the Boosted Mini can ascend hills up to a 2o% grade, with great control of acceleration and breaking.
Ride safe and easily because Boosted says, "Smoother and faster than ever, the wheel's flex profile is soft enough to handle road imperfections, yet firm enough to provide all the grip riders need when it matters most." It has strong trucks with 80mm lunar wheels.
Does anyone have Santa's number? I just want to chat…
The remote control was made ergonomically to fit comfortably in your hand. It has 3 ride modes, and each mode includes a special Jerk Filter that allows a careful taper when accelerating or braking, which provides a super responsive, yet predictable ride, from beginner to pro, according to Boosted.
Get moving! Buy yours for $999 on Amazon now.