We use affiliate links. If you buy something through the links on this page, we may earn a commission at no cost to you. Learn more.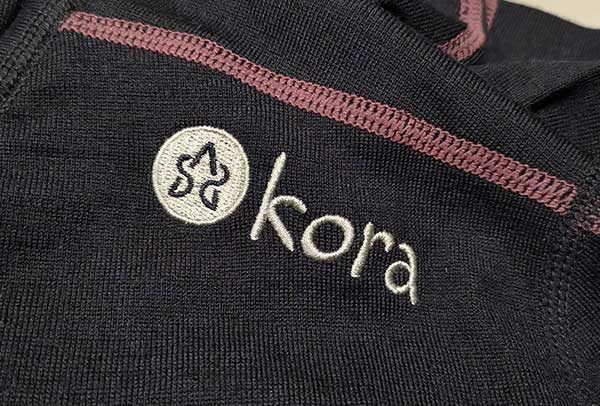 REVIEW – You've no doubt heard of clothing that has been made of merino wool right? It's well known for keeping you warm when it's cold, comfortable when it's warm, and it can be worn multiple times without getting smelly. Many people seek out clothing made of this material, but is there another type of wool that is even better? How about yak wool? Let's take a look at the Shola 230 Zip yak wool shirt from Kora.
What is it?
The Shola 230 Zip is a base layer shirt made of 100% pure Himalayan yak wool fabric that has been sourced from nomad families on the Qinghai Tibet plateau in the Himalayas. The Himalayan yaks live in altitudes between 12-18,000 feet which causes their wool to be finer and according to Kora, up to 40% warmer and more breathable than merino wool.
Design and features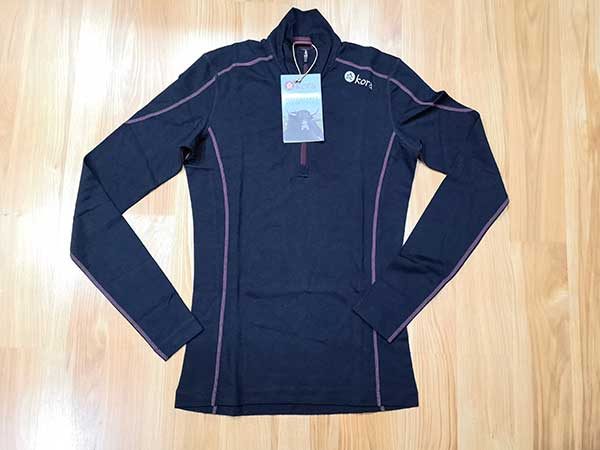 I was sent the women's version of the Shola 230 Zip in obsidian blue. The shirt is thin and lightweight with a YKK zippered neck and contrasting wine colored stitching along the flatlock seams on the shoulders, arms, and sides.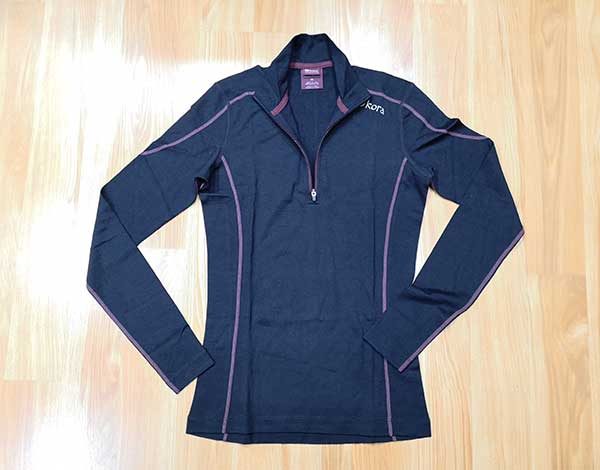 When fully zipped the shirt has a sleek sporty turtleneck style. The only noticeable branding on the shirt is the Kora logo which is embroidered in silver on the left shoulder.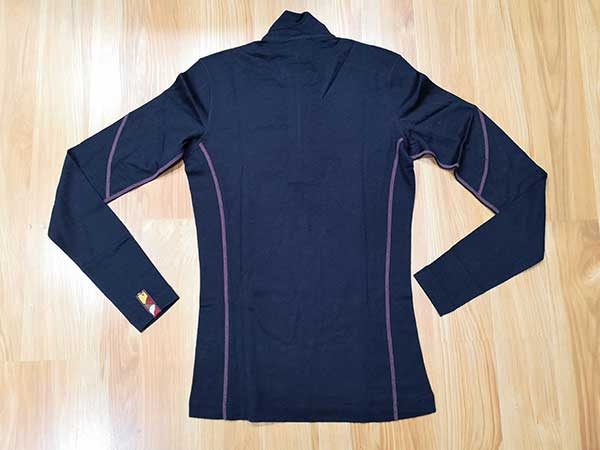 There is a decorative fabric tape on the left cuff that depicts the contours of the Himalaya mountains and the colors of Tibetan prayer flags.
The Kora Shola 230 Zip has tapered sides for a flattering fit. It's available for women in sizes XS up to XL and for men in sizes S up to 2XL.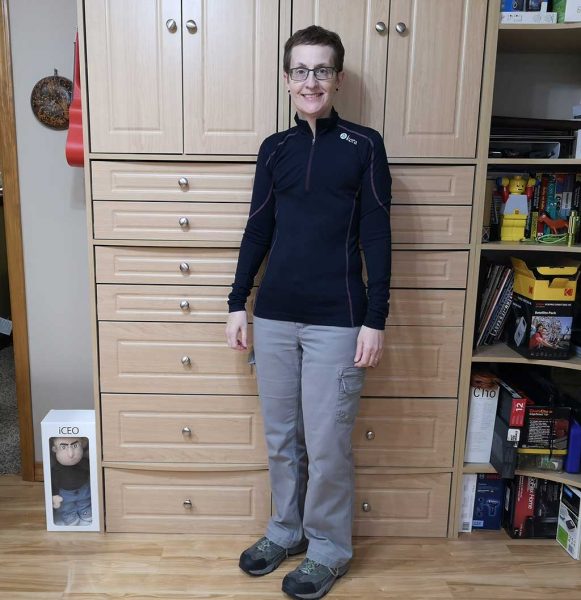 I asked for the Shola 230 Zip in size medium even though I normally wear a size small shirt. I decided to go up one size larger just because I knew this shirt was designed as a base layer and I don't really like a skin-tight fit. As you can see from the image above, the shirt does fit me. But even with the medium size, it was still much tighter than I find comfortable and almost felt like a compression shirt. That said, I found the length of the sleeves and the hem of the shirt to be fine and the tightness of collar/neck area was also just fine. It was just the arms and torso that felt too tight to me.
I don't know if the tight fit of the Kora shirt made me notice the very slight scratchiness of the yak wool, or if that's just the way yak wool feels next to my skin, but unlike the Shadow Pass Trailhead bamboo and merino wool shirt that I also reviewed, recently, the Kora shirt wasn't quite as soft or comfy. Of course, the Kora shirt is all wool, while the other one is 50/50 merino and bamboo. But according to the Kora website, yak wool is actually supposed to feel softer than merino wool. Note that I've worn other clothing made entirely of merino wool like socks and haven't had issues with them feeling itchy.
What I like
Lightweight
Sporty look
Keeps you warm
Wicks away moisture
Machine washable on cold (don't dry in the dryer though)
What needs to be improved
Expensive
Size runs small
Felt a little scratchy
Final thoughts
I wore the Kora Shola 230 Zip shirt off and on for a few weeks without washing it and it never got smelly even when I got sweaty which is easy to do right now since it's in the upper 90's here in southern Indiana. This really isn't the right time of year to review base layers, but I gave it my best shot by giving the shirt a day to day wear type of test.
With clothing this expensive, I expected to feel the difference, but I really didn't. Yes, the Shola 230 Zip is well made, looks nice, kept me warm, and didn't stink after wearing it for a few weeks. But that's about all I can say about it. So I looked at a few other reviews of the Kora products to see what others were saying about them and most people really loved Kora's yak wool garments. So I guess yak wool just might not be the best choice for me personally. Hey, every product isn't perfect for everyone.
If you decide that you want to buy one of these shirts, make sure that you order a size or two larger than your regular size. At least Kora allows for 30-day exchanges or returns with no questions asked if you end up getting the wrong size on your first order. If you're going to spend $160 on a shirt, you definitely want it to be the right size so that you'll actually wear it.
Price: $160.00
Where to buy: Kora
Source: The sample for this review was provided by Kora.