We use affiliate links. If you buy something through the links on this page, we may earn a commission at no cost to you. Learn more.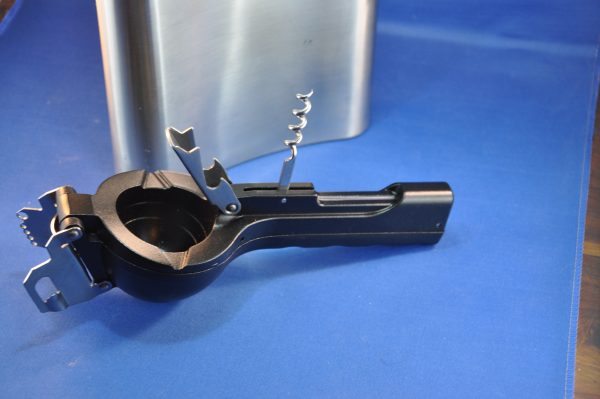 I'm not much of a drink mixer. I like cocktails, but don't do much mixing myself. Part of the reason is that, other than a knife, a shot glass, and a corkscrew, I really don't have many of the tools needed to make those fun concoctions. But, as an intrepid gadgeteer, I knew we shouldn't let this product pass by unreviewed, so I thought I would give it a test drive. So, what nifty gadget is this? It's the Barbarian Bartool – a multitool for the adult beverage set. Let's see if it can up my mixology game.
Note: Photos may be tapped or clicked for a larger image.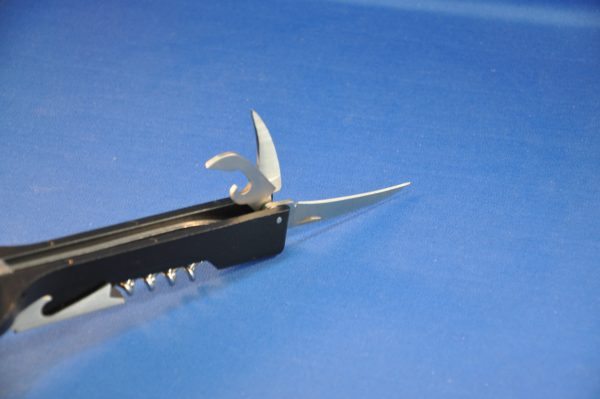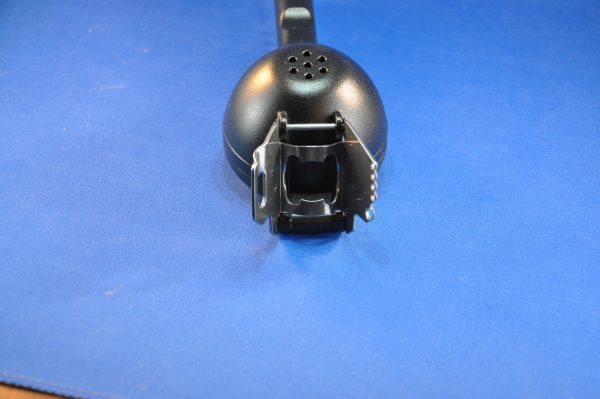 The Barbarian Bartool is a multitool with everything the bartender needs for most drinks in a single tool. No need to have a separate citrus juicer, shot glass, zester, twist-maker, corkscrew, bottle opener, citrus knife, utility knife, or can opener – this bad boy packs everything into one 17-ounce unit, ready for action. About all you'll need in addition to this beast is a long-handled spoon, a strainer, and a muddler. The individual tools are pretty easy to get to, and the entire thing is hand-washable and fully immersible. The only irritation I could foresee is that as parts get dirty or are in use, the other tools are compromised until you rinse the unit off. (The company even puts that in the disclaimer!) If you're at an actual wet bar where you can spritz it off while working, it'll be much less hassle, I'd imagine.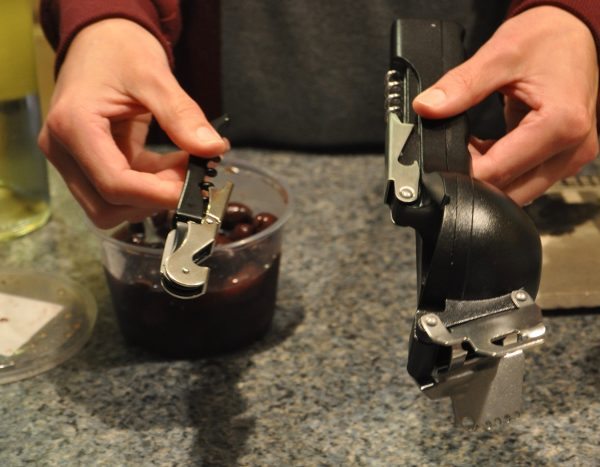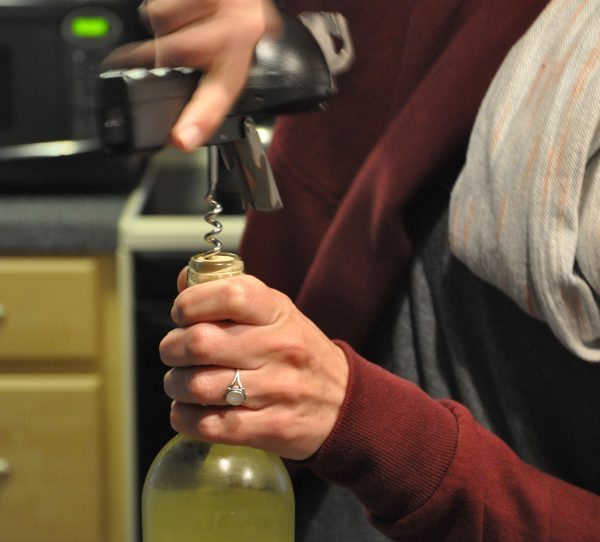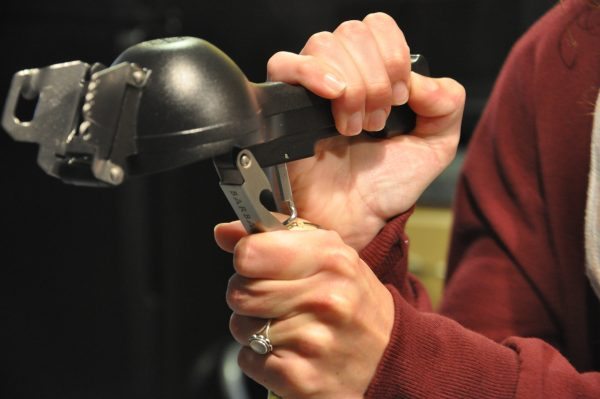 The first people whose opinion I wanted was my daughter and son-in-law, who have been waiting tables and working as bartenders off and on for almost a decade. Needless to say, they're both pretty good with a corkscrew. When they came over for dinner a few weeks back, I brought this out to uncork a bottle. She was unimpressed by the sheer complexity and weight of the Barbarian on a single easy task like this. Showing her the other features made her a little less dubious, but she did like the fact that grabbing this one item would prevent losing the tiny zester or opener in the kitchen gadget drawer. She is also impressed by the style it represents, but more for the fact that it exists, rather than the utility of it. (She is also the one who gifted me with the 1.8 liter "pocket flask" a few years back.)
Her husband, on the other hand, liked the innovation and integration, even though he, like her, felt it was a bit cumbersome to use for actual mixing. So, I decided to give it a try.
Her husband, on the other hand, liked the innovation and integration, even though he, like her, felt it was a bit cumbersome to use for actual mixing. So, I decided to give it a try.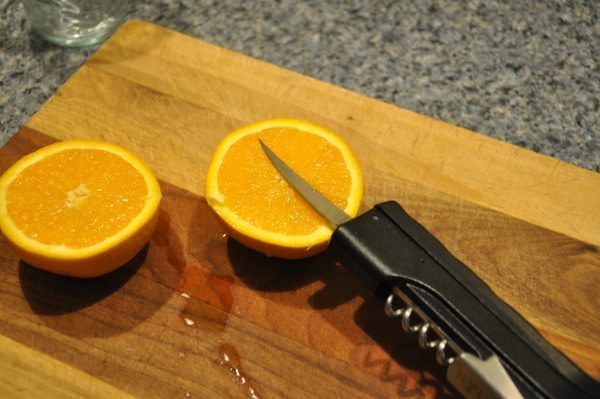 My most involved mixed drinks are soda & spirit combinations, for the most part, but for the good of the community, I pulled out a few recipes and gave them a whirl. I tried the citrus knife and the juicer first and found a major problem right off the bat. With the knife extended, using anything else is pretty dangerous. But putting it back in means having to wash it off.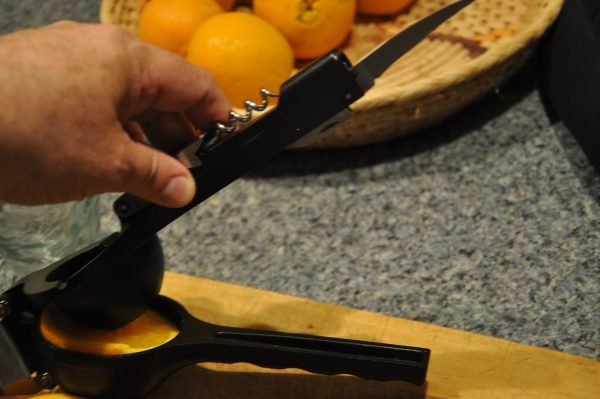 OK, I'm working on the kitchen cabinet, so no big deal. Then I placed a half orange into the juicer, and – wait a sec – where is the juice going to come out? There's a series of holes in the bottom of the cup that you place the fruit into, but how can the juice go around the rind and get down there? *** See update below, I had the orange in upside down ***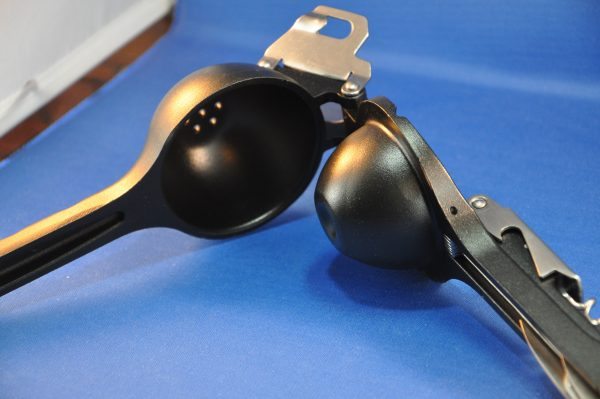 Turns out, it doesn't. I wound up placing the whole unit into the glass, in order to capture the juice and not have it run all over the cabinet. On the second half, I cut a small hole to match where the drain holes are, but it still went everywhere. Removing the smashed fruit from the "plunger" half of the unit was pretty tough, because of suction. There's no place to let air in to release it. Maybe a channel in each side would take care of both issues – allow the juice a place to escape, and prevent suction from holding onto the rind so hard.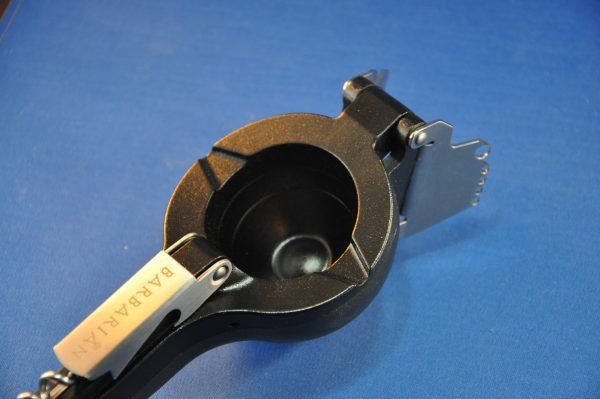 Using the measuring cups for half or full measures was easy, and the resulting Screwdriver was very tasty. But the counter was a mess, from just one drink!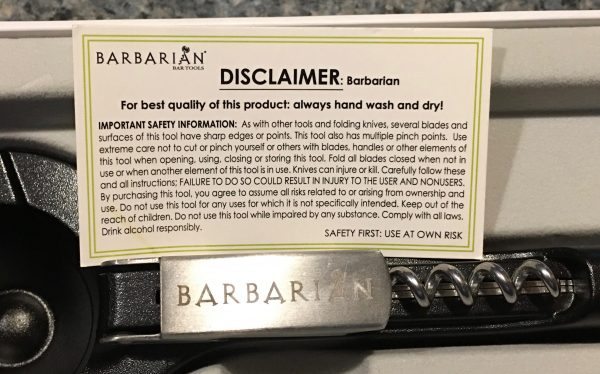 Cleanup was fairly straightforward – open all the blades, agitate in hot soapy water, rinse, and dry as normal, but allow to air dry while opened. But having all those pointy tools exposed in a sink or dish drainer is a bit worrisome. With a regular knife, the point goes one way, and if you have more than one, folks generally keep the handles oriented to one end of the wash basin. With the Barbarian, there are pokey bits going in all directions.
So, final verdict, it's a gadget that meets all requirements of gadget perfection except one: usefulness. I'll keep it around for the cleverness and fun conversations it starts, right next to the 1.8 liter pocket flask. But I doubt it'll get a lot of use.
Update 07/03/16
So, apparently, I don't know how to use a citrus press. The first comment explaining this to me hit, I think, .001 seconds after Julie released the link to this review. I grew up getting my orange juice from frozen concentrate, like an animal. So, in fairness to the folks at Barbarian Bartools, and the world in general, I want to rectify the situation: To use a citrus press, you place the fruit in open side down, and press the handle down to squeeze out the juice.
This does make the contraption work more cleanly. It also makes clearing the pulp easier, since the suction is on the lower part, where the vacuum is broken by the drainage holes. But it sure is non-intuitive. And it doesn't really change my overall opinion of the whole unit. It still is great as a conversation piece, but I think would be endlessly frustrating in constant use, due to the various tools pointing in opposite directions.
Source: The sample for this review was provided by Barbarian Bartools. Please visit their site for more info and Amazon to order.

Product Information
Price:
$59.99
Manufacturer:
Barbarian Bartools
Retailer:
Amazon
Requirements:

Ingredients for libations

Pros:

Stays together in the drawer!
Quality materials and construction.
Many tools that are missing from many gadget drawers.

Cons:

Have to clean and fold in sharp tools in order to use others.
Citrus Juicer doesn't funnel just anywhere.
Heavy and awkward.