We use affiliate links. If you buy something through the links on this page, we may earn a commission at no cost to you. Learn more.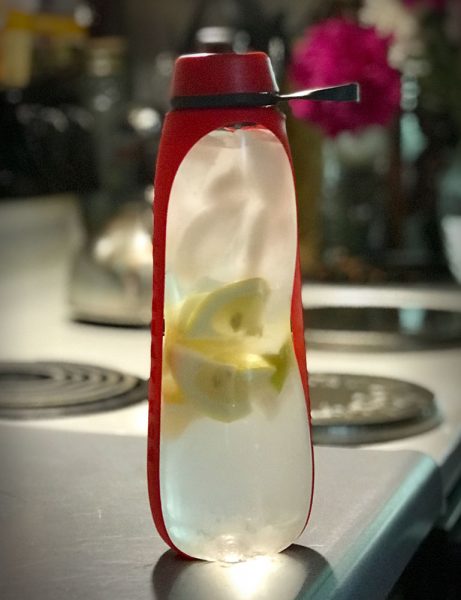 REVIEW – Every minute, a staggering one million plastic bottles are purchased, many of which simply contain filtered water, and that figure is on the rise. Homeware designer Black+Blum aims to help curb that rampant bottled water consumption with their double-duty water filter and infuser bottle, the Eau Good Duo.
What is it?
The Eau Good Duo is an easy-grip, dual-purpose plastic water bottle made of Tritan from Eastman that has both charcoal purification and infusion capabilities. It's meant to act as a natural replacement for that packaged bottle of water that you'd normally grab from the fridge or gas station.
Hardware specs
holds 700ml/24 fl oz
122g/4.3oz empty weight
24.2cm/9.5″ high x 8.2em/3.2″ max width
built-in infuser cap filters infusing ingredients
easy-grip silicone hand strap
bottle made from taste-neutral, lightweight Tritan™
fast-flow polypropylene spout
binchotan charcoal filtration stick
What's in the box?
one Eau Good Duo bottle
one charcoal filter (good for 6 months)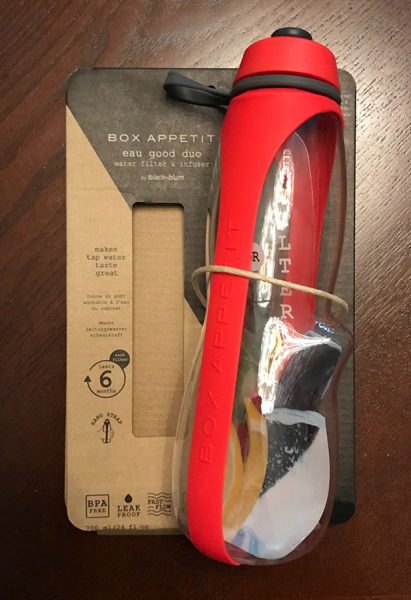 Design and Features
The Eau Good Duo can be used just like any other water bottle. Fill it up and hit the road. It's perfectly fine for that, and the silicone hand straps and quick-flow spout make it a nice little sports bottle. But it's true strengths lie in its purification and infusion functions, which I'll get into below.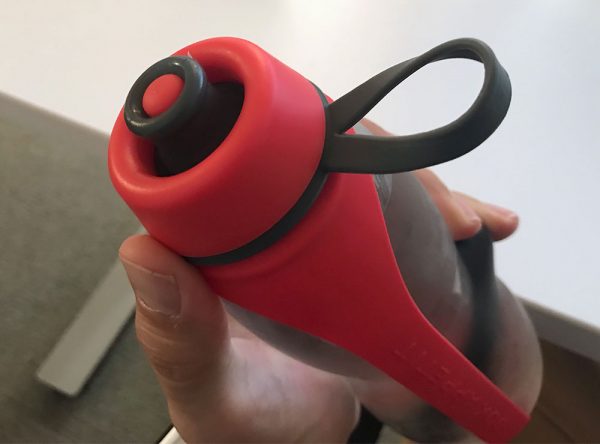 One note about the spout, at least on my sample bottle, it was really hard to open. I think if the spout were made of a more flexible or softer material, it would have been easier to wiggle and pull up with my fingers, but most of the time I had to employ my teeth to pull it out, which is probably cringeworthy for any dental professionals out there. The other option was to completely remove the cap and push the filter from the other side, popping the spout up… or just drink directly from the bottle.
It's also worth mentioning that if you decide to drink from the capless bottle, the threading for the cap is on the inside of the bottle, so the outside is nice and smooth, like drinking from a glass.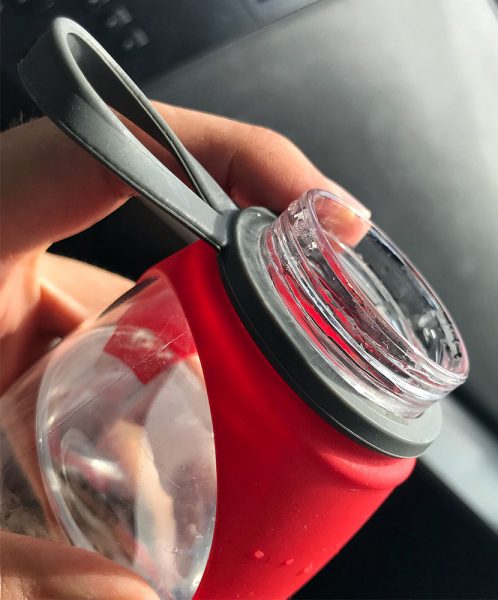 After using the bottle for several weeks, I've found that it was best to simply treat it as a replacement for a single-use water bottle. Since it's roughly the size of a bottle of Dasani or some other 20oz water, I found myself grabbing it out of the fridge in the morning for my commute into work, refilling it when I arrived and grabbing it out of the work fridge around lunchtime. That allowed for enough time to purify and chill the water in each instance.
Infusion
One could make the argument that pretty much any container could be used to make flavor-infused water, but there are a couple of built-in features that make the Eau Good Duo good for that purpose. One being the wide opening, allowing for easy insertion of ingredients, and the other being the fast-flow filter on the spout. The filter keeps seeds, stems and other pieces of fruit or mint debris from blocking the flow of water.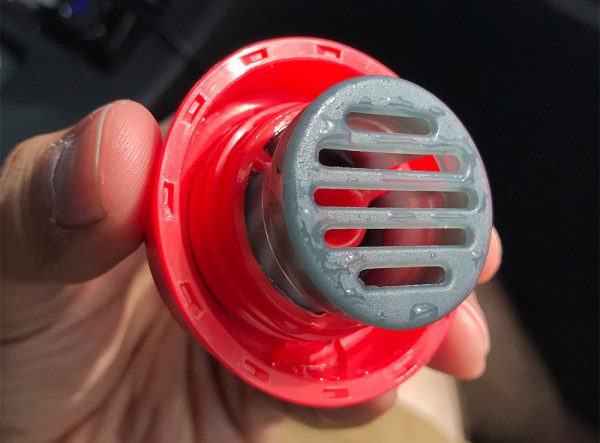 I really like the design of the spout. It allows for the water to flow quickly without creating that suction vacuum effect on the bottle.
Of course, placing an entire wedged lemon or bunch of strawberries into the bottle takes up a lot of space, and since the bottle can only hold about 24oz of liquid, that doesn't leave a lot of room for actual water. In each of my tests, I was able to gulp down that delicious lemon water in a short amount of time, leaving me wishing the bottle was at least a little bit larger.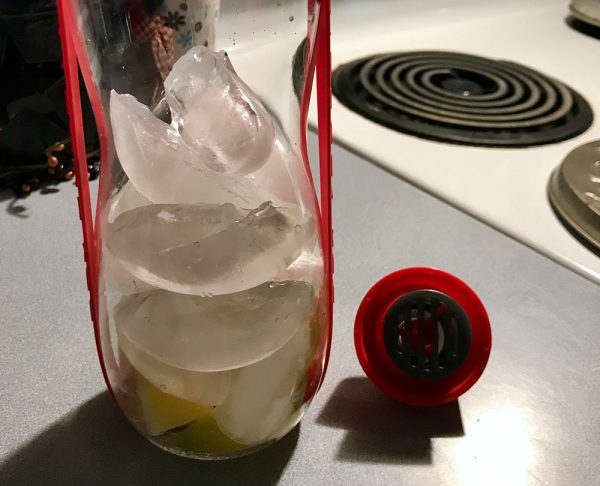 Filtration/Purification
Binchotan charcoal is a type of activated charcoal that has been used for hundreds of years as a natural water filter. When left in a bottle of water overnight, it purifies water by absorbing chemicals (such as chlorine) and heavy metals commonly found in tap water. This leads to better tasting and pH-balanced water.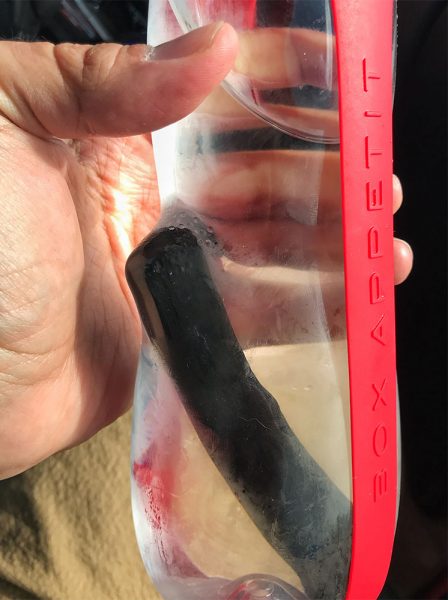 The Eau Good Duo comes with a perfectly-sized charcoal stick, ready to be inserted into the bottle and locked into place with a quick squeeze on the nifty locking mechanism. One of the key factors to remember about charcoal purification is time. The instructions recommend 8 hours for the best effect, and once you've downed that 20 oz or so of purified water, it's another 8 hours until you can drink some more, if you want the best taste.
The charcoal sticks absorb chemicals and flavors for about 3 weeks or so and then can be "recharged" by boiling them to release the absorbed chemicals. The stick should be replaced every 6 months.
I don't buy a lot of bottled water, but over the last few weeks, I tried to imagine that every time I emptied the Duo, that was one less plastic bottle I'd be putting out into the world. That's a lot of bottles for just one person! Not to mention potentially a lot of money.
Positives
charcoal filter neutralizes water flavor well
spout filter flows well and keeps infused ingredients from blocking water flow
replacement for individual bottles of water
Negatives
is not insulated
spout is rather hard to open
bottle could be a bit larger
Final thoughts
Overall, the Eau Good Duo is a nice little water bottle. I almost wish it was a bit larger so that one could purify more water at a once, since it takes about 8 hours for full effect. But it's super-lightweight, has a unique, easy to carry design, and I love the high-flow spout. And most important, it accomplishes the goal of keeping plastic out of the landfill.
Price: Pre-order for £25 (approx. $33.42)
Where to buy: The Eau Good Duo filter/infusion bottle is, at the time of publishing, only available for pre-order on Crowdox. One bottle plus 1 charcoal is £25.00, or about $34. There are two other pre-order levels with additional charcoals and bottles.
Source: The sample of this product was provided by Black+Blum. Visit their website for more information and to check out their other products.