We use affiliate links. If you buy something through the links on this page, we may earn a commission at no cost to you. Learn more.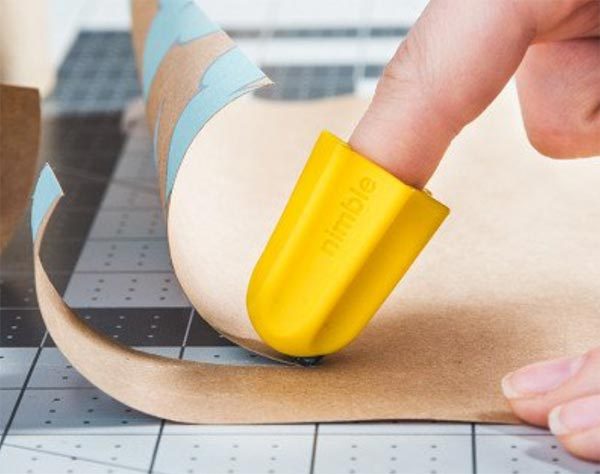 I used to use a pair of scissors to open boxes, until the day I almost literally cut the pad of one of my fingers off.  I switched to using a box cutter, but I'm still worried about cutting myself with that, too.  With the Nimble One-Finger Safety Cutter, I could rip into boxes and packages and cut through up to three pieces of paper at once. – and I wouldn't have to worry about cutting myself because the ceramic blade won't cut into skin.
It's made of silicone rubber, ABS plastic, and a zirconia ceramic blade.  The silicone sleeve is yellow to make it easy to find in a drawer.  To cut, slip the Nimble on your fingertip, hold your finger at a 45-degree angle, and "draw a line" to cut.  When cutting through papers, you'll want to have a cutting surface on your work table.
Since you don't have to grip like you do with scissors, the Nimble is especially good for people with dexterity problems.  The Nimble One-Finger Safety Cutter is $10 at The Grommet.