We use affiliate links. If you buy something through the links on this page, we may earn a commission at no cost to you. Learn more.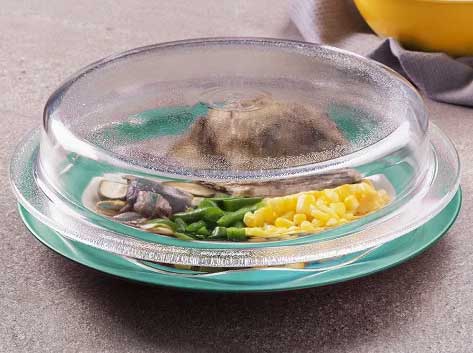 If you're anything like me, your microwave is used daily to reheat leftovers. And the interior of your microwave might look like you nuked a small animal if you don't regularly cover your plates while you're reheating your food. Or maybe your microwave is clean, but you use plastic storage containers with plastic lids when you reheat your food. If you do either of these things, you should take a look at Cuchina Safe covers.
Cuchina Safe covers are made of borosilicate glass that can handle temperatures as high as 450 degrees. That means that you can use these covers in your microwave and oven without fear that they will melt like plastics can do.
Glass is much safer for you to use when reheating food in the microwave. I'm paranoid to use plastic containers and plastic wrap in the microwave after having an adventure with breast cancer back in 2011. I prefer to reheat food in ceramic or glass dishes and usually place a ceramic plate face down over the dish. This works fine with bowls, but you cant do that with a plate of food like you can with the Cuchina Safe cover.
The covers come in two styles.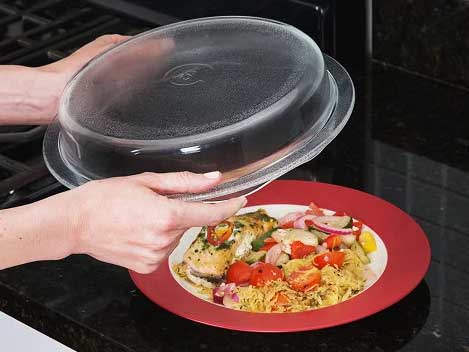 There's the microwave cover that has a scalloped edge that acts as a steam release when face down over a plate. When you flip it over, it doubles as a baking dish.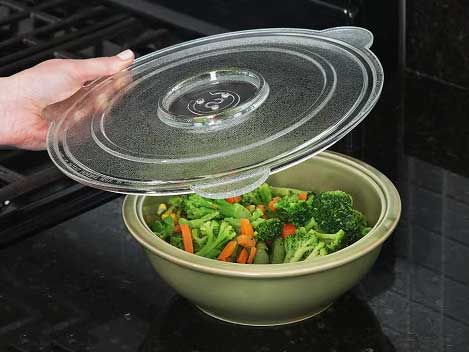 And then there's the Cuchina Safe vented flat lid that can be placed over a bowl to protect your microwave from splatters or pots on the stove.
Cuchina Safe lids are priced at $26.95 for one microwave cover & baking dish and the same price for 2 of the vented lids. You can read more about these products by visiting cuchinasafe.com and you can order them from The Grommet and also check prices on Amazon.
Updates 04/13/18
Shortly after I published this news post, the maker of the Cuchina Safe emailed me to thank me for the post and offered to send me the microwave cover with the scalloped edge. We have been using this dish for months now and it's great. Funny thing is that we've never used it as a cover over a plate of food because we use it as the food dish and then place a plate on top as the lid! 😉
The dish is made of really thick and heavy glass. I think it will be something that we use for months and years to come. Thanks Cuchina!