We use affiliate links. If you buy something through the links on this page, we may earn a commission at no cost to you. Learn more.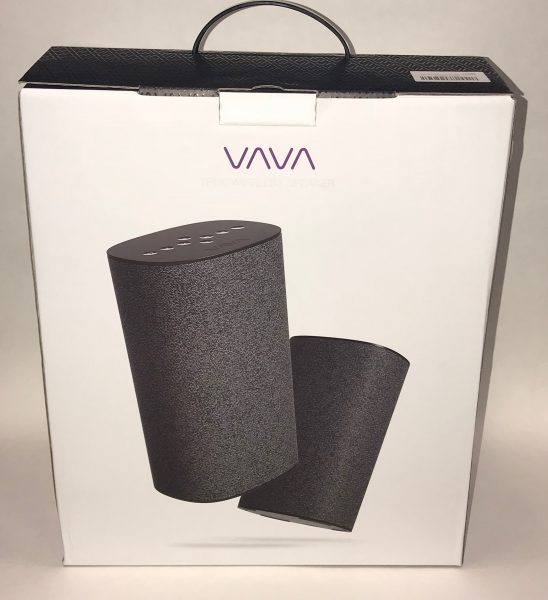 I have bought and currently still own a lot of Bluetooth speakers.  For some reason every time I see a new design or one that has a slight advancement in functionality, I want it.  Why?…I have no idea.  I don't go on a lot of outings where I need a speaker, the ones I have are already great for going on the deck or backyard where having some music makes for a more enjoyable time, yet I still find myself drawn to these things.  The VAVA VOOM 22 is the first pair of Bluetooth speakers that I have owned that are portable and offer stereo sound when paired together.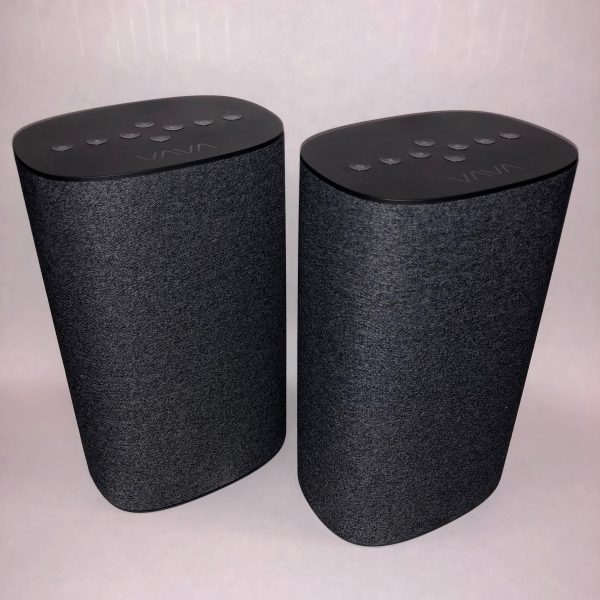 Offered on Amazon for $129.99 for one or $219.99 for a pair, these speakers have quickly become my new favorite and not because they are my latest audio toy, because they offer a rich stereo sound and are more geared for home use.  You could easily take these speakers with you on a car trip but if you are looking for something to drop in a suitcase or backpack for on the go listening, these are probably not for you.  If, however, you are in the market for a speaker or set of speakers that can go from the living room to the patio or something that is more permanently set up in somewhere in your home or office, I highly recommend that you seriously consider these speakers.
Once paired, the wireless connection between the speakers in instant.  There is no volume lag if you reduce the volume on one speaker, they operate in perfect harmony no matter which speaker you choose to control via the onboard buttons.  You have full control of the EQ, track selection, volume control, power and Bluetooth buttons onboard each unit.  You can also connect your music source directly to the speaker using the 3.5mm audio cable connection on the back of the speaker.  There is also a USB power outlet on the back for charging your phone or another device while listening.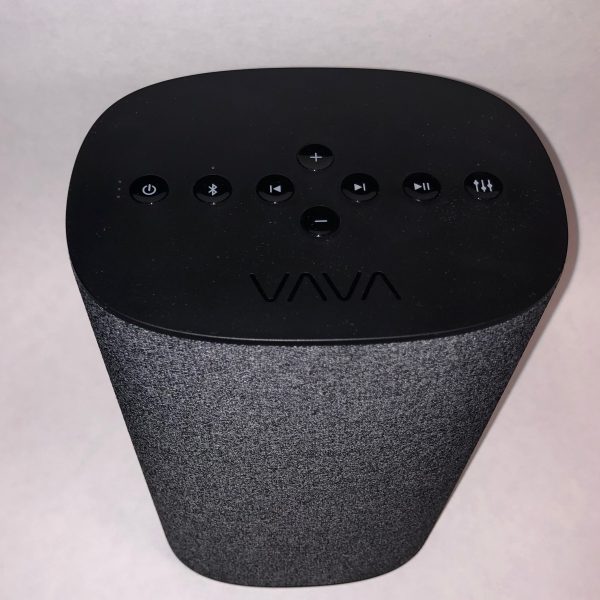 Each speaker is equipped with a 4000mAh battery, which VAVA says will provide 4-6 hours of playback after a 3-4 hour full charge from empty.  The speakers can also operate full time if connected to a constant power source.  Each unit is equipped with a 10W driver and a 20W subwoofer, totaling 60W when a pair of them is connected.  There is no lack of power here.  Whether listening in your home/office or filling an outdoor space, you will not be left wanting more power.  Each speaker is 5.9″ x 4.33″ x 9.84″, making them ideal to sit on a desk, shelf or table but maybe not so much if trying to pack them in a suitcase or backpack.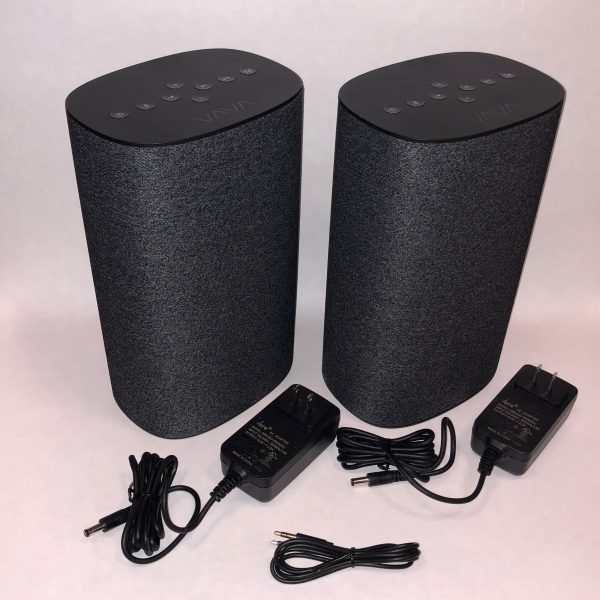 The design of the VOOM 22 is very attractive with the fabric mesh wrapping and the rubberized end caps, giving each surface a very satisfying feel.  Each speaker is easily moved using what I assume is the subwoofer output in the back that doubles as a handle.  They look right at home with your home entertainment system or on a shelf or desk.  During a majority of the time, I spent testing the VOOM 22 I was using the pair of speakers.  I did test a single speaker but wasn't as impressed with the sound as I was when paired with its twin.  This is exactly what I expected as the richness you get from a stereo experience far exceeds that of a mono sound. The experience I got from using just one speaker was similar to other Bluetooth speakers I own, which isn't a bad thing but where this product shines is when used with its twin.  If you bought the single unit, I don't think you would have any complaints at all.  In hindsight, I should have tested the single speaker first because now I am hooked on having them in opposite corners of my living room.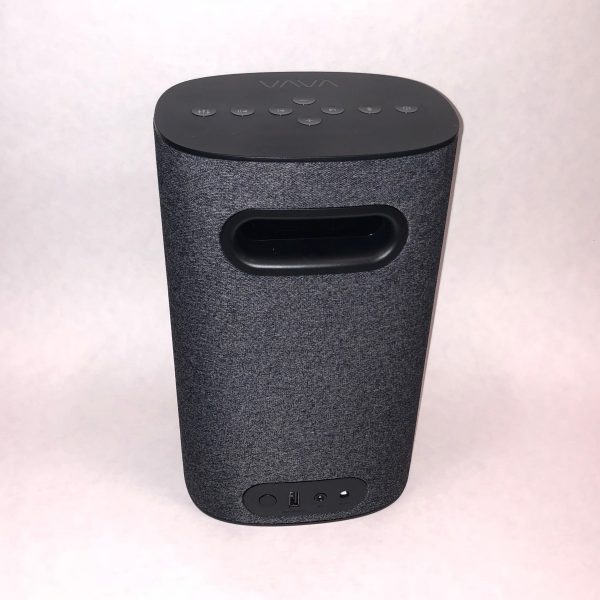 One downside to these is the slight delay when using these while watching a movie on your iPad or another device.  The delay isn't as long as other Bluetooth speakers or headphones that I have but it prevents me from using them for this purpose.  This delay is less than a second but if you don't want your movie to seem like an old Kun Fu movie with the English dubbed over the top where the sound doesn't match the moving lips of the actors, I would recommend connecting your device to the speakers using the audio cable.  When plugged into the source while watching a movie, the speakers sound great and there is no delay.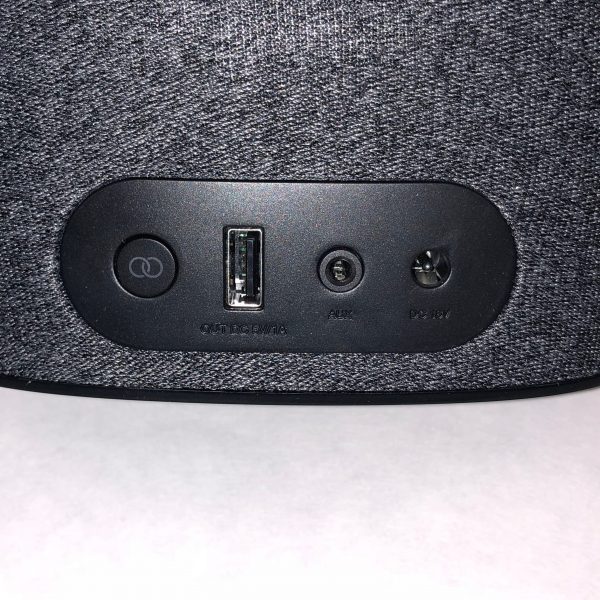 Overall, I am extremely happy with the Voom 22 Wireless Bluetooth Speakers from VAVA and for $219 for a pair, I don't think you will be disappointed.  If you are in the market for a new sound source, I definitely recommend that you take a serious look at buying a pair of these.
Source: The sample for this review was provided by VAVA. Please visit their site for more info and Amazon to order.