We use affiliate links. If you buy something through the links on this page, we may earn a commission at no cost to you. Learn more.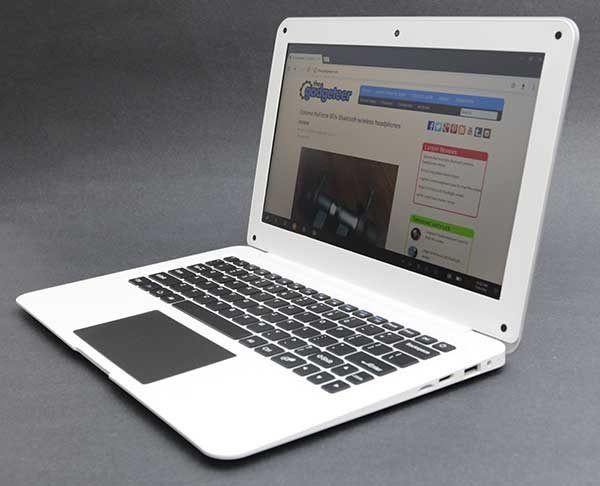 You know the saying "if it looks like a duck and quacks like a duck, then it must be a duck"… If we go by that critera, then the Azpen Hybrx A1160 Remix 2.0 laptop is probably a lightweight, low-priced Windows 10 laptop. Right? Wrong. It is a laptop, but it doesn't run Windows, Linux, Chrome OS or macOS. It runs an operating system based on Android called Remix OS. Let's take it for a spin.

What is it?
The Azpen Hybrx A1160 is a full sized 2.5-pound laptop with an 11.6″ display, QWERTY keyboard, touchpad, USB ports and more. But instead of running Windows, it runs an operating system based off of the Android operating system called Remix OS v2.0.
Hardware specs
Processor: Allwinner A64 Quad Core 1.3GHz
Operating System: Remix OS 2.0 and Android v5.1.1
Storage: RAM: 2GB , 32GB Flash
External Memory: microSD card up to 64GB (not included)
Display: 11.6″ (1366 x 768 )
HDMI output: Mini HDMI slot, supporting 4K output
Camera (front): 0.5MP
Connectivity: Bluetooth 4.0, Wi-Fi
Battery: 3.7V / 6000mAh Lithium polymer battery for up to 5 hours of power
Dimensions: 11.61 x 7.74 x 0.31 inches (29.50 x 19.67 x 0.80 cm)
Weight: 2.48 lb (1.129 kg)
What's in the box?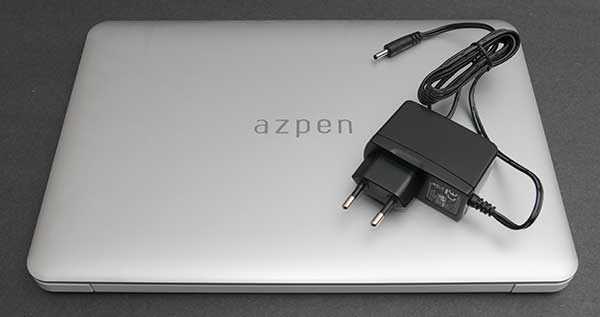 Azpen laptop
AC adapter
User manual
Design and features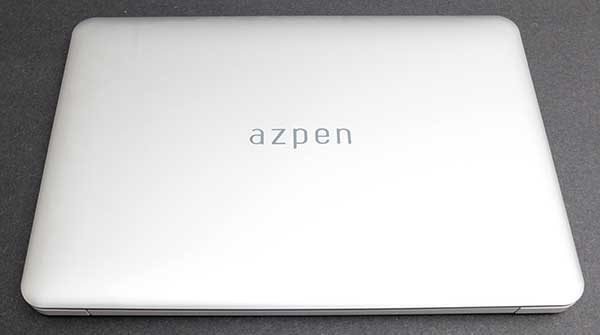 The Azpen has a silvery-gray plastic cover with the Azpen brand logo on the top.

The side view reveals a wedge shape that reminds me a lot of my old 12″ MacBook Air.
On the right side is a micro SD card slot that can accommodate a micro SD card with up to 64GB capacity. There's also an HDMI output, USB port, and the power port. Next to the power port is tiny LED that glows Blue while the laptop is charging.

On the left side of the Azpen you'll find another USB port and a 3.5mm headphone jack.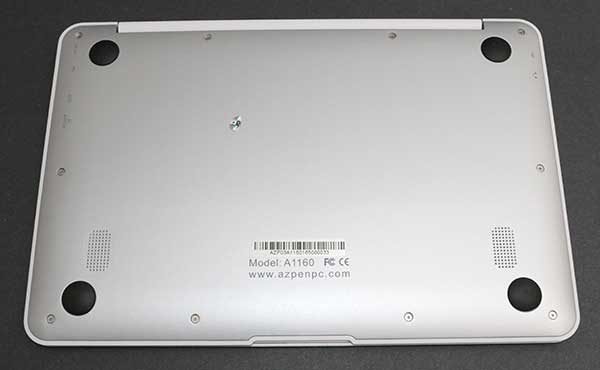 The bottom of the laptop has downward firing speakers and rubber feet that keep the laptop slightly elevated above the work surface.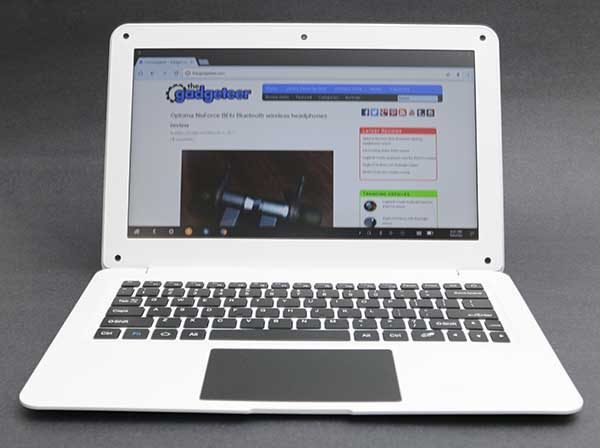 The 11.6″ display is nothing to get too excited about it. It doesn't have very good viewing angles but works fine when viewed straight on with the brightness turned up. Although the Azpen laptop is running a variant of Android OS, it does not have a touch screen like Android smartphones and tablet. So all your interactions are done through the keyboard and touchpad.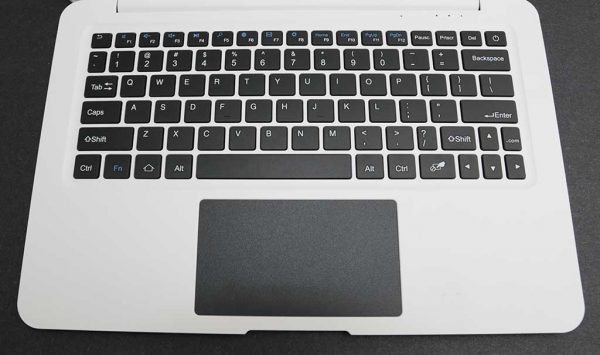 The keyboard has a decent key layout that includes a few extra keys that control media playback, toggle the touchpad and bring up the home screen. Touch typing feels comfortable enough but the keyboard is very glitchy, The cursor will spontaneously jump to another line while I'm in the middle of typing a sentence. At first, I thought I might be accidentally pressing the up arrow which is to the right of the right shift button. But this was not the case and I could find no reason why the cursor moves around on its own. I just know that it's really annoying to be typing and have your work messed up when the cursor jumps to a random location in a previous line and starts inserting your typed characters there.
The touchpad a nice size and works pretty well for scrolling, but the click action in the lower left and right corners feels too stiff.
Camera
Above the display is a built-in camera that is a whopping .5MP. And yes, it's pretty crummy. You can record video at 480P. Wow! Check out the quick sample above. You'll also notice the scratchy audio recorded through the built-in microphone.
User interface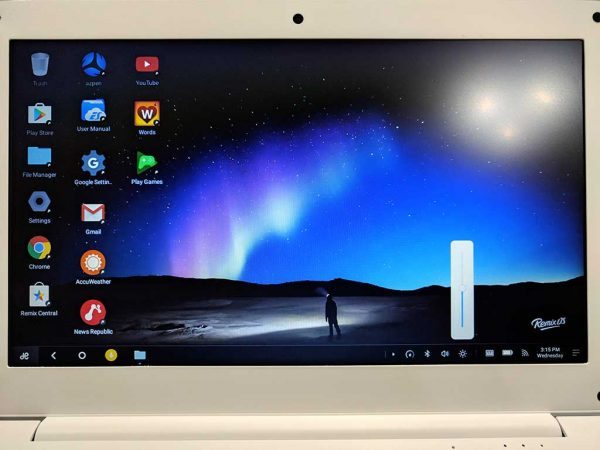 The Remix OS user interface has a Windows-esque/Android-esque feel. Windows because there are shortcuts on the home screen with a taskbar along the bottom of the screen that provides access to running apps, status icons, brightness, volume levels, and more.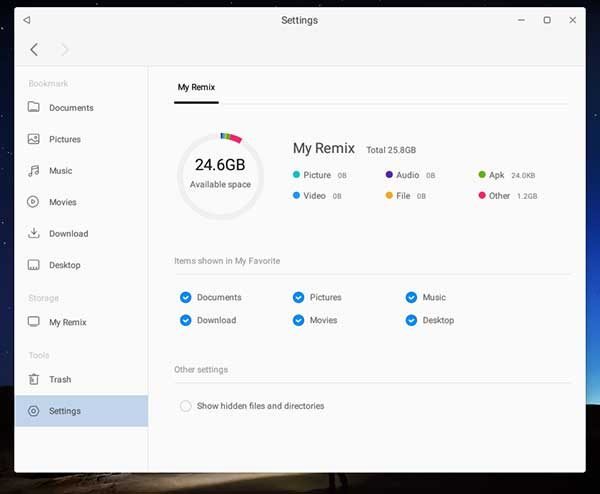 Out of the box, the Azpen has 24.6GB of storage space available. You can expand storage by inserting a micro SD card in the slot on the right side of the laptop. However, there isn't an option to install the apps to the micro SD card or save camera images and videos to the card by default. The micro SD card is just extra storage that you'll have to access on your own by copying files to it.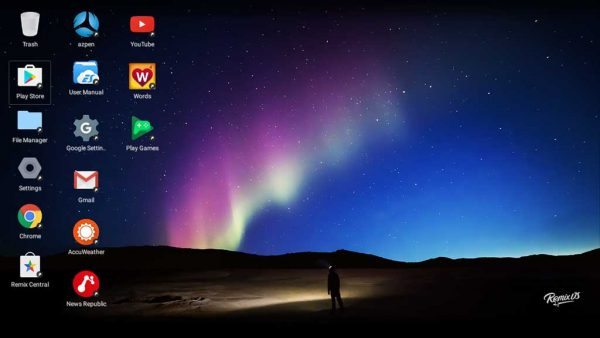 The Azpen comes with a small selection of apps installed that include: Accuweather, Amazon shopping, Blio eBooks, Chrome, Chrome switcher, FlashFox browser, Games, Music, News Republic, OfficeSuite, Play store, QuickPic, Remix AppCloud, Remix Central and WPS Office.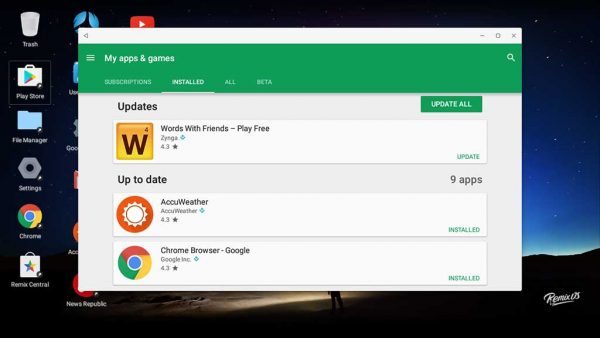 Remix Central is an app store app that is installed on the Azpen. I used it once to install the Youtube app and the official Play Store app immediately informed me that there was an update as soon as the app downloaded installed. After that happened, I only used the official Play Store app to find and install apps on the Azpen.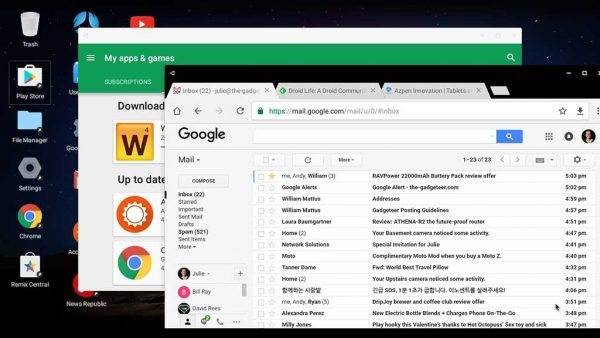 Some apps can run in a smaller window like Chrome and the Play Store apps that you see above. But other apps like Netflix will only run in full-screen mode.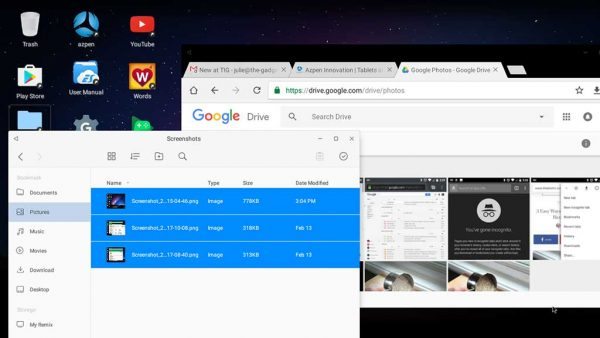 A lot of Android apps are optimized for touch screen devices, so the fact that the Azpen does not have a touch screen can be an issue with some apps. One of my favorite games is Words With Friends. While you can play it on the Azpen, the experience using the touchpad to move tiles is not that good.
You also can't enlarge windows like the Chrome browser for easier reading by using a pinch and zoom gesture with your fingers on the touchpad.
And you can't copy and paste text in Chrome Gmail window by clicking and dragging the cursor. You have to click or move the cursor with the arrow keys and then use shift key with arrows to highlight text or double-click a word and then drag the highlight anchors to select the desired text.
System performance and battery life
Overall, the Azpen A1160 feels sluggish when surfing sites via WiFi and loading apps. It's not unbearably slow, but it's really noticeable how sluggish it is when I use the Chrome browser on my MacBook Pro to load a website page and then do the same thing on the Azpen when they are sitting side by side on a desk using the same WiFi.
As far as battery life, the Azpen gets about 5-6 hrs per full charge which is not very impressive.
Final thoughts
It's hard to complain a laptop that is priced at less than $150. But the Azpen Hybrx A1160 Remix OS laptop feels pretty meh to me. They cursor jumping issue is the main deal breaker for me. But the sluggish performance and the less than impressive battery life don't impress either. This device might be useful as an email and lightweight web surfing device. But I wouldn't want to use it unless it was the only device available to me.
Source: The sample for this review was provided by Gearbest. Please visit their site for more info.