We use affiliate links. If you buy something through the links on this page, we may earn a commission at no cost to you. Learn more.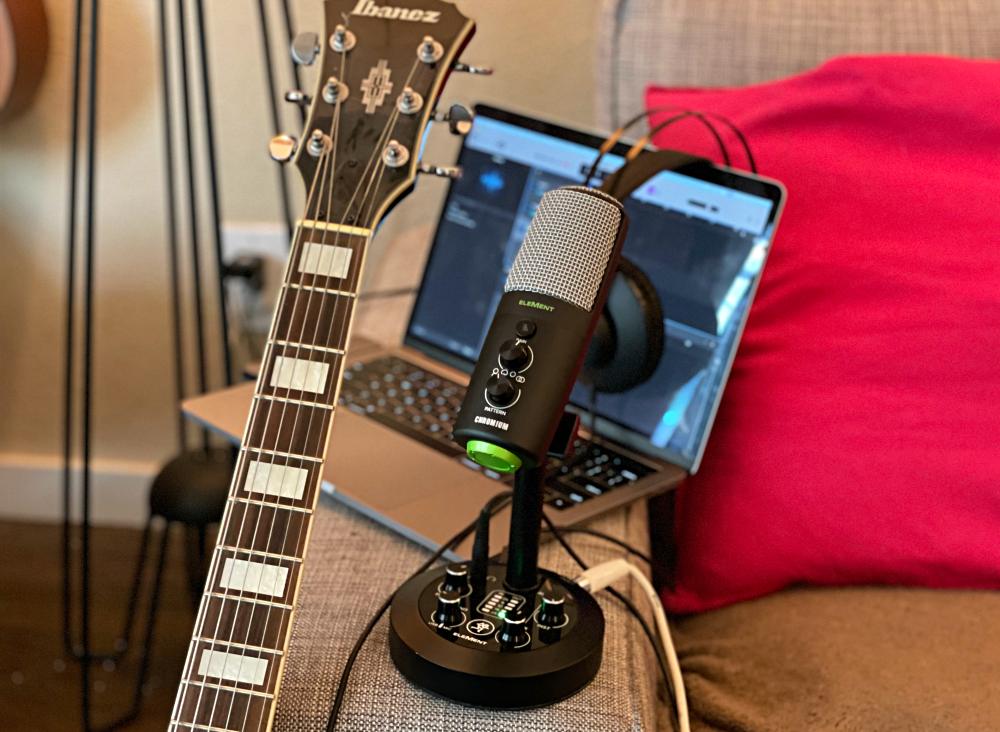 REVIEW – Hot on the heels of my Carbon Microphone review, another Element Series mic arrived. This time it's Mackie's top-of-the-line Element Series model, the Chromium Microphone.
What is it?
The Mackie Element Series Chromium Microphone is a desktop USB Mic with built-in support for instruments and aux sources with level and mixing controls all built in. It can easily replace multiple parts of a recording system if you're looking for a simple setup that produces anything but simple results.
What's in the box?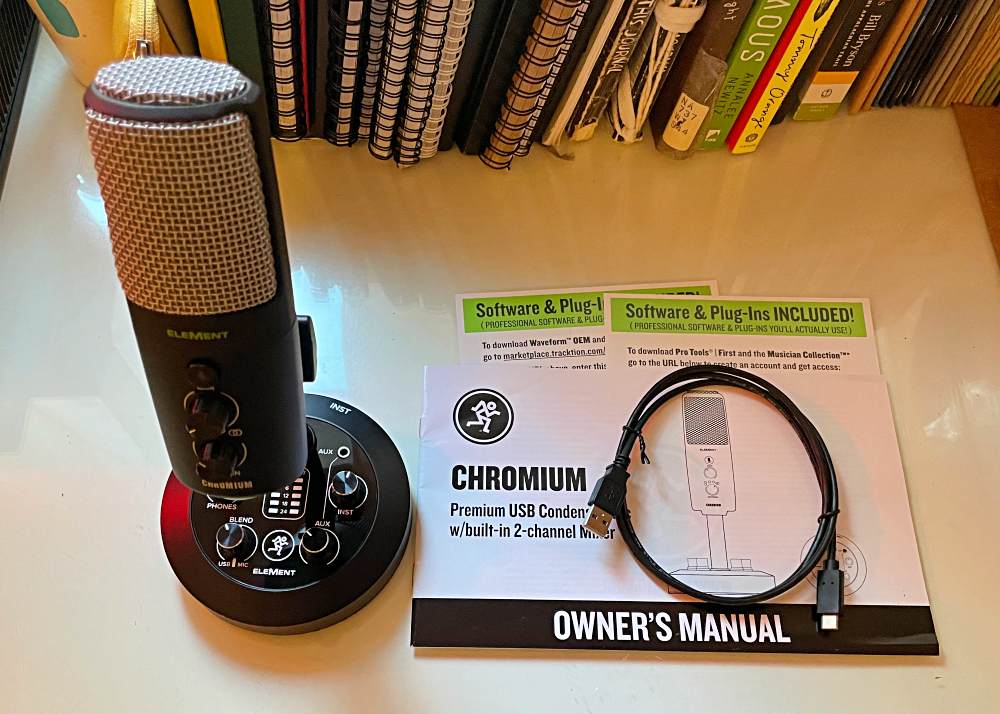 Mackie Element Series Chromium Microphone
USB-A to USB-C cable
Owner's manual
Hardware specs
4 Polar Patterns: Stereo, Cardioid, Bi-Directional (figure 8), Omni
Sample Rate: Up to 16-Bit, 48kHz
Connectivity: USB-C t0 USB-A cable, no driver required
Audio: On-board headphone port with volume control / Blend between USB and direct signal
On-Mic Controls: Polar pattern dial, Gain, Mute switch (mic)
On-Base Controls: Headphone port w/ volume control, USB/Mic Blend, Aux input and volume, Instrument input and volume
On-Base Display: Professional metering with In/Out readings
Construction: Sturdy all aluminum construction
Mic Base: Weighted, adjustable mic angle
Design and features
The Chromium Microphone, part of their Element Series, is a very capable desktop mic with additional inputs for aux and instruments along with blending and signal controls.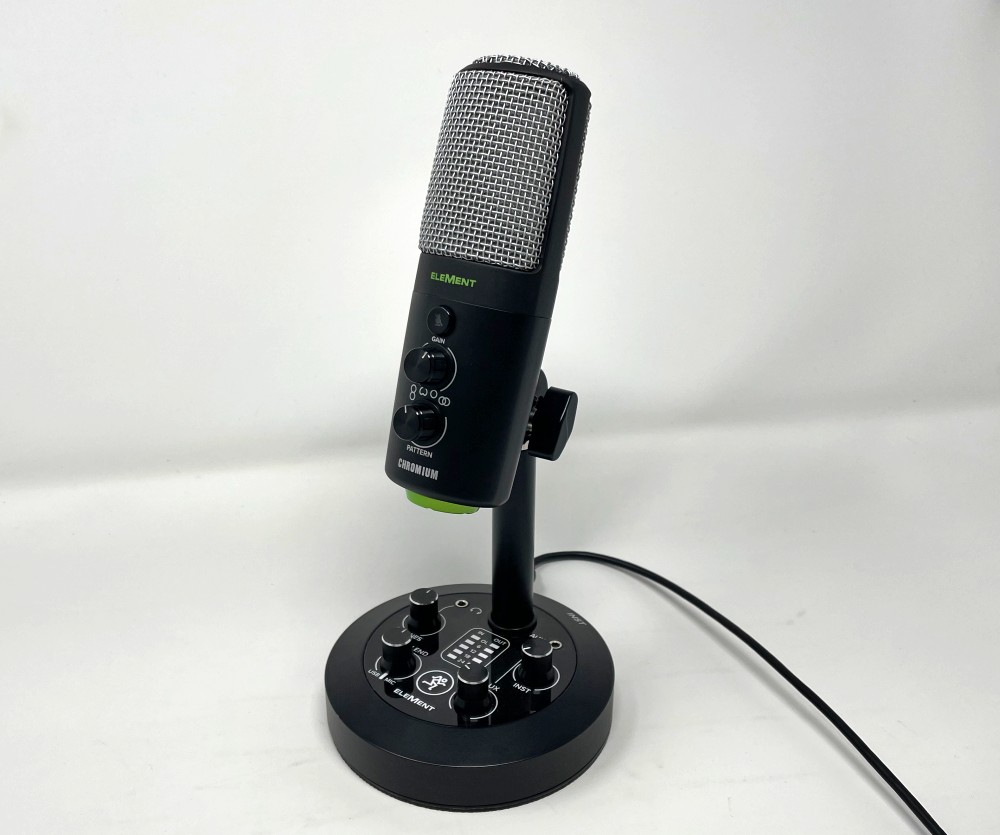 The mute button gives you instant control when needed and the gain knob adjusts levels. A pattern selector provides four different polar patterns so you can easily switch to the one that will work best for your needs.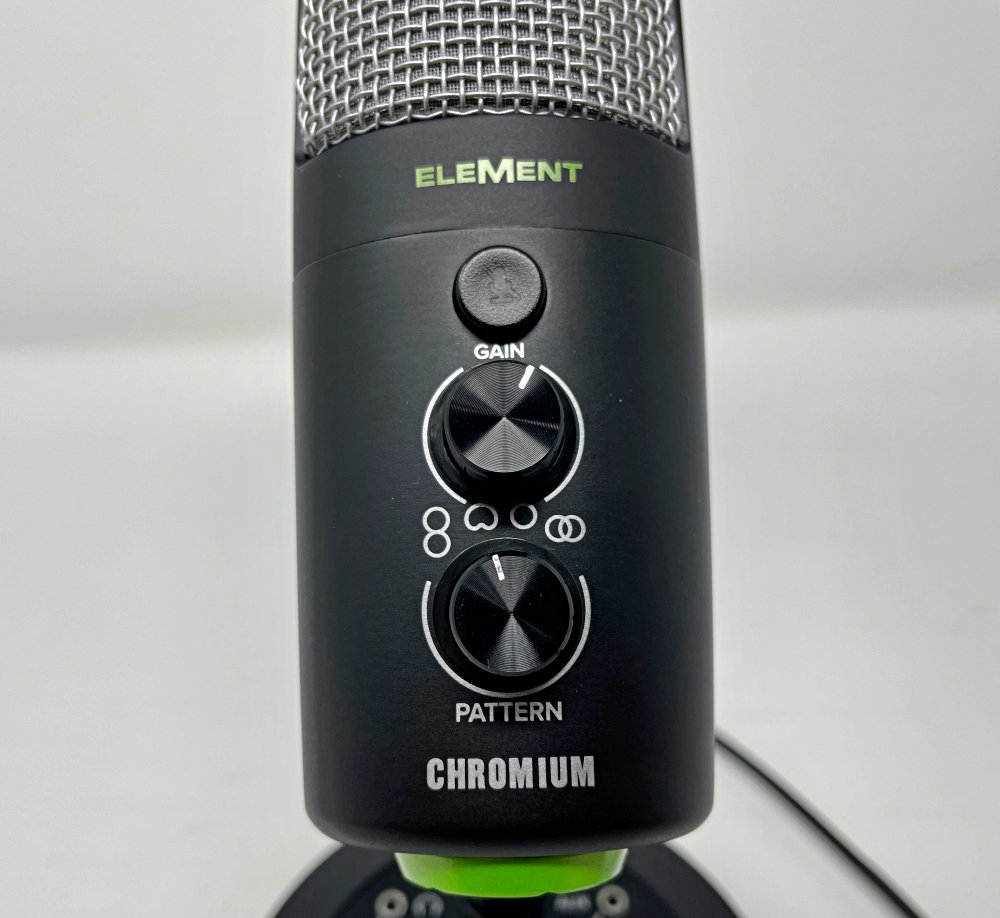 On the base of the Chromium Microphone, there are multiple controls and inputs. The headphone port has its own volume control as does the Aux and instrument inputs. The lower left knob blends between the USB and Mic while the meter in the middle lets you keep an eye on your levels.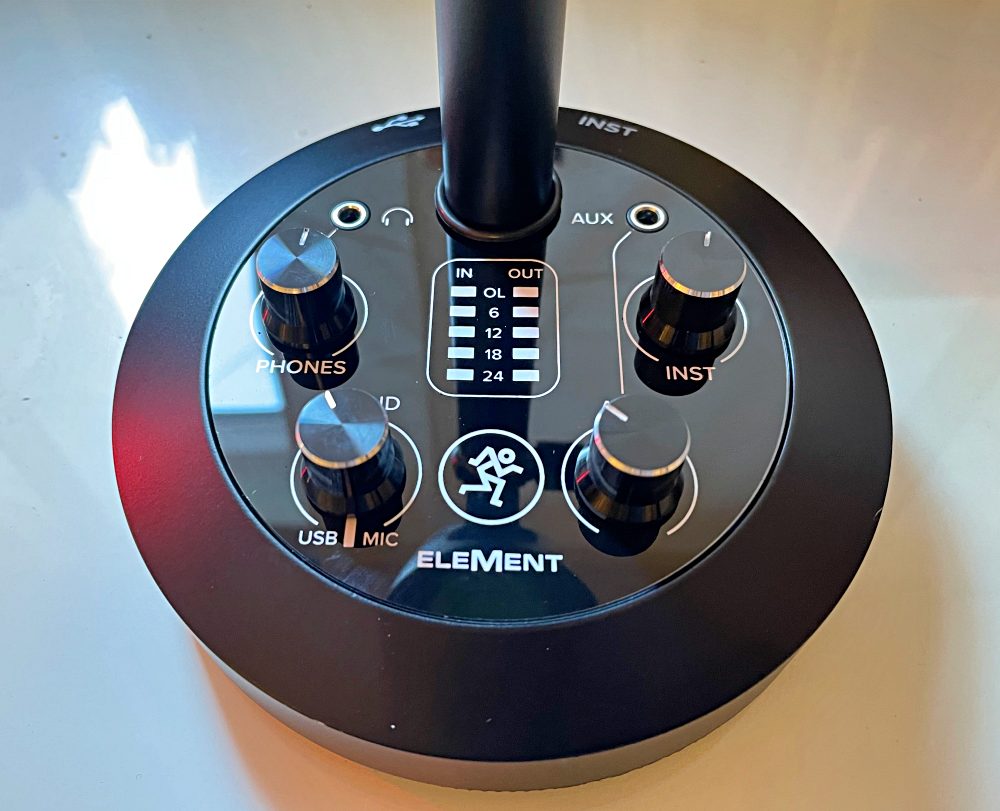 The weighted base has a traction pad on the bottom giving it a solid foundation.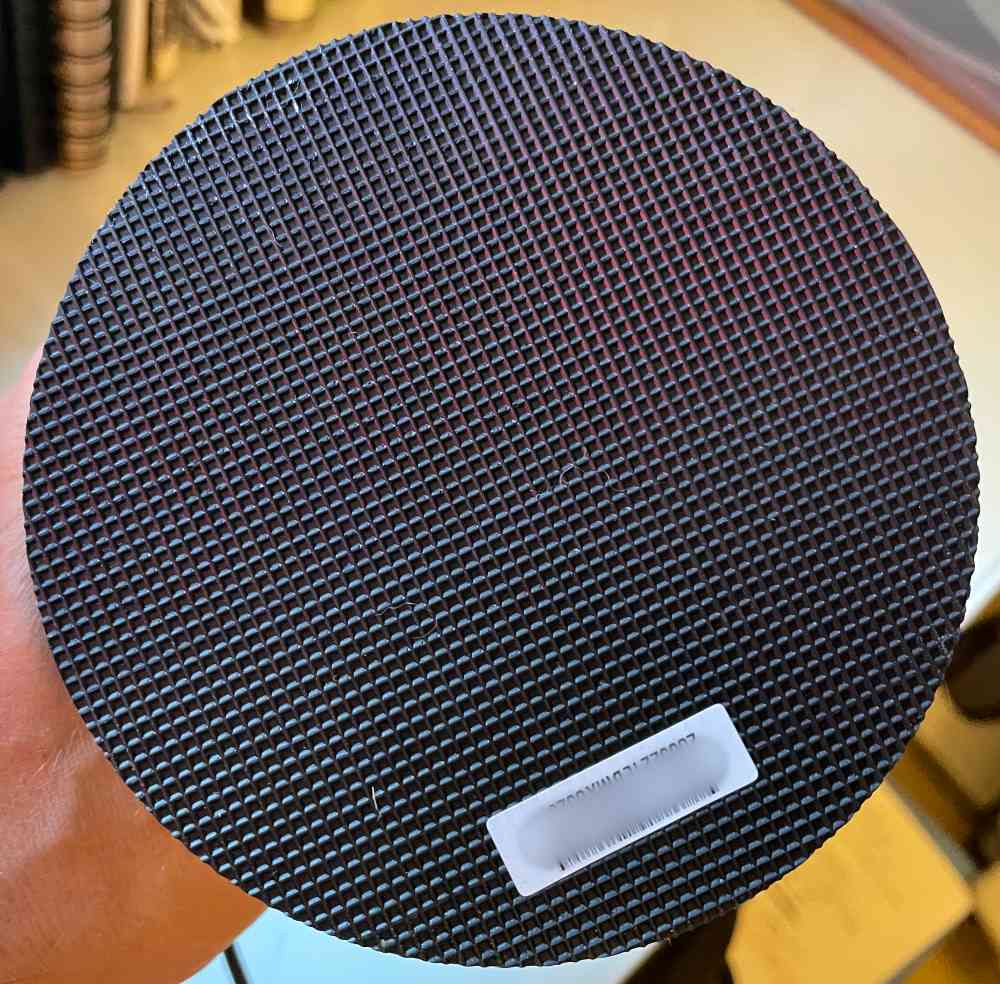 An adjustment knob on the rear lets you set the optimum angle of the microphone.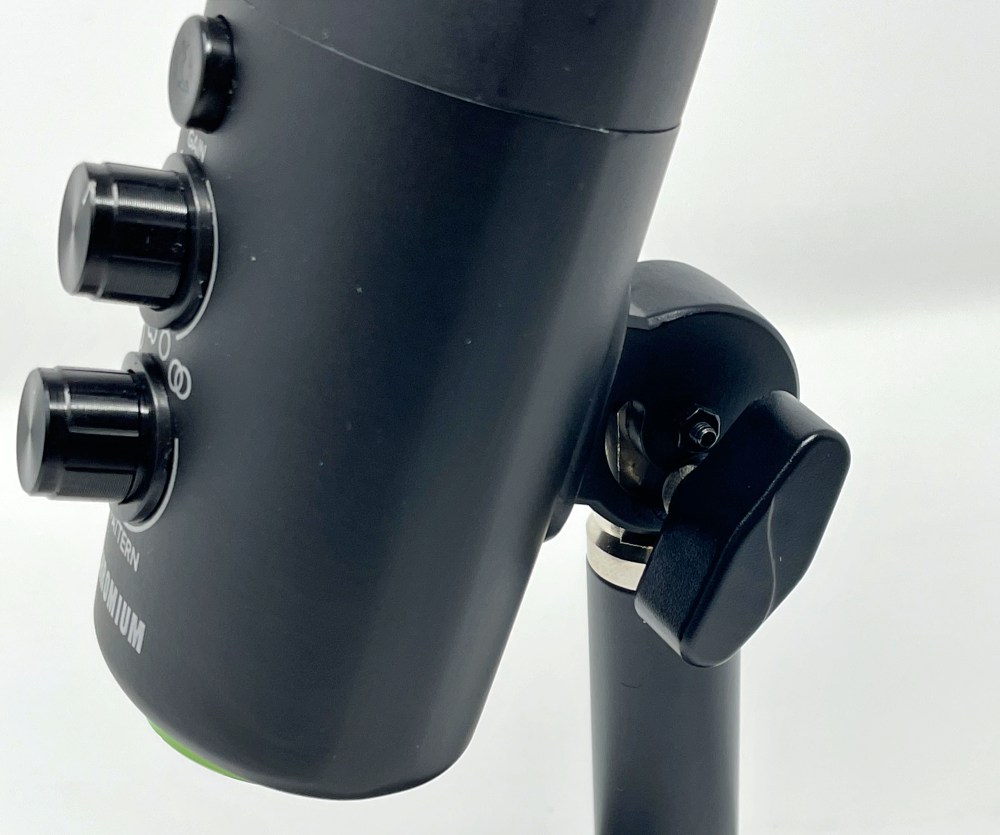 Setup
Connect the included cable to the USB-C port on the back of the microphone's base, and the USB-A connector to an available port on your computer. You'll need an adapter or hub if you're on a USB-C or Thunderbolt machine. Note that like the Carbon mic, USB-C to USB-C cables do seem to be supported.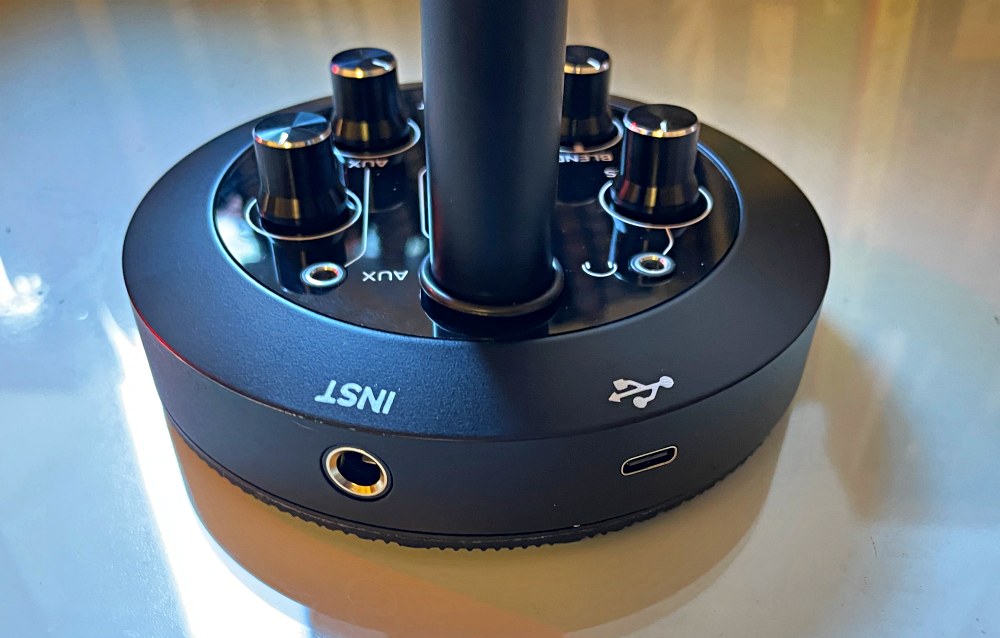 On your computer, you'll need to go into audio settings either in your system preferences or in a specific app (possibly both depending on your global settings) and select Chromium Microphone.
Use the gain control on the front of the Chromium to set the level of the mic. The meter on the base will be the best way to keep an eye that your levels are where they need to be.
If you want to use headphones, connect them to the port on the base with a 3.5mm/1/8″ plug and use the control to set your volume level. The same goes if you want to connect an aux source; just use the aux port and that control. To connect an instrument like a guitar, you'll need a standard 1/4″ cable and connect that to the jack on the back of the Chromium's base.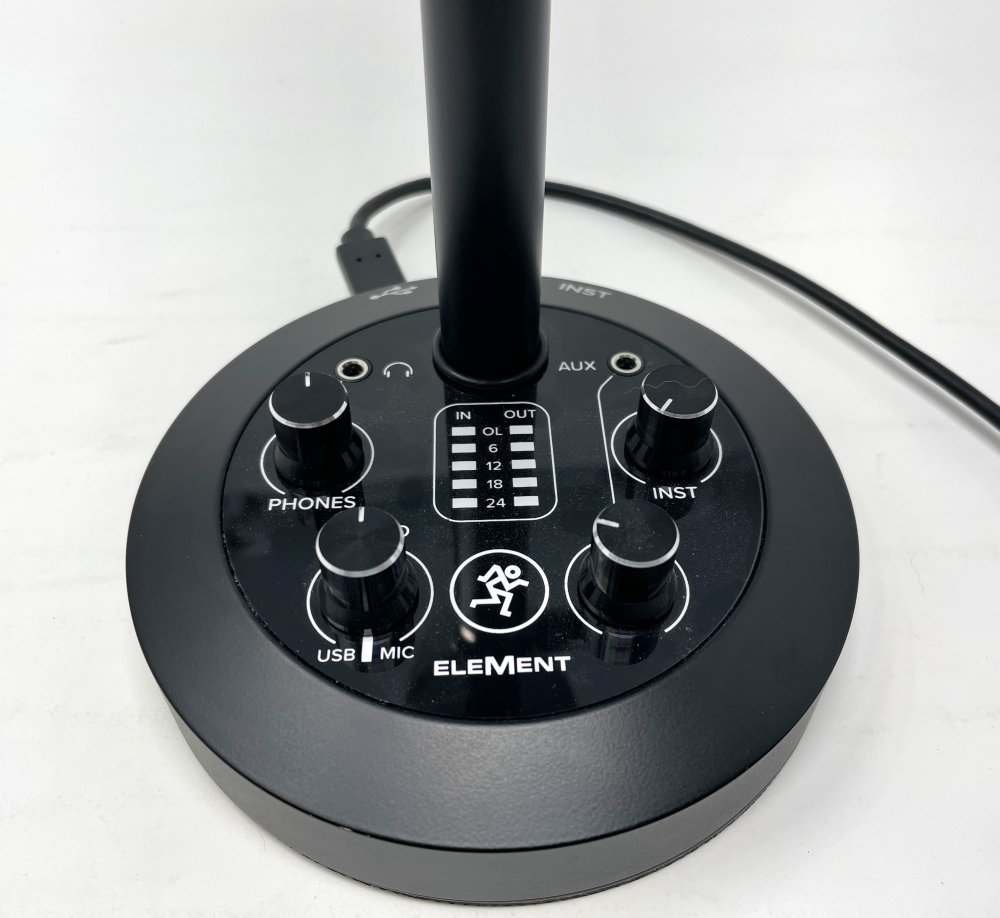 Finally, use the blend dial to balance the microphone against any other inputs you're using.
As for the mic, you'll want to adjust the polar pattern selector to choose from the 4 different patterns. Mackie's own graphic does a really good job of explaining which setting is best for different uses. Note that the Super-Cardioid (present on the Carbon mic) is not an option on the Chromium.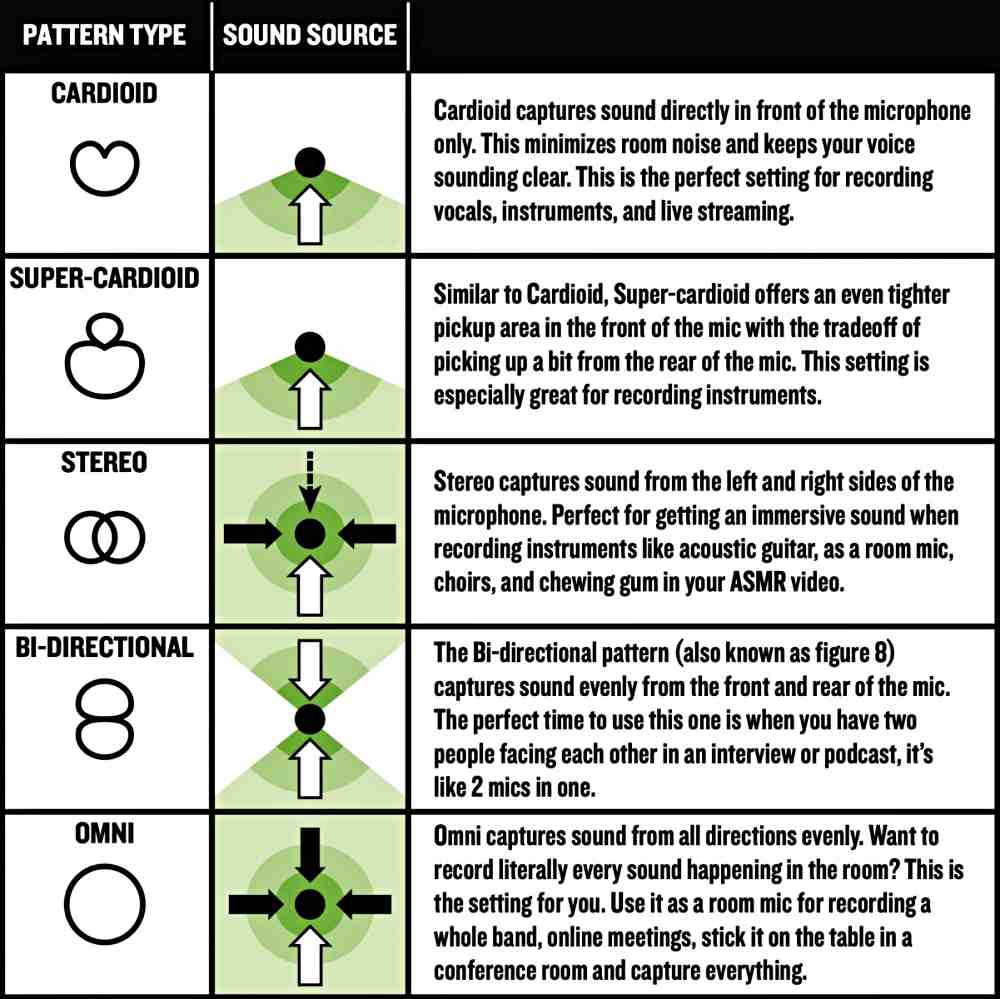 Performance
The Chromium Mic shares quite a few things with the Carbon Mic that I reviewed back in July. It's built crazy sturdy, and should survive touring easily, especially since it's designed for desktop/USB use. As far as vocal characteristics, the only real performance difference is the lack of the Super Cardioid pattern. It's a small detail and when compared to all the additional capabilities Mackie's added, it's a pretty good tradeoff, so let's look at those.
Those additions are instantly visible as the base of the mic is filled with dials, a meter and inputs. Like the Carbon, you can connect headphones, but with the Chromium you can now also connect an aux source and an instrument with individual level controls for each. The blend knob lets you balance those inputs against the microphone to set a final mix. So yes, it's basically a mixer on top of a great mic.
The meter in the center of the base gives you instant visuals alerting you to possible clipping if you've got a source set too high.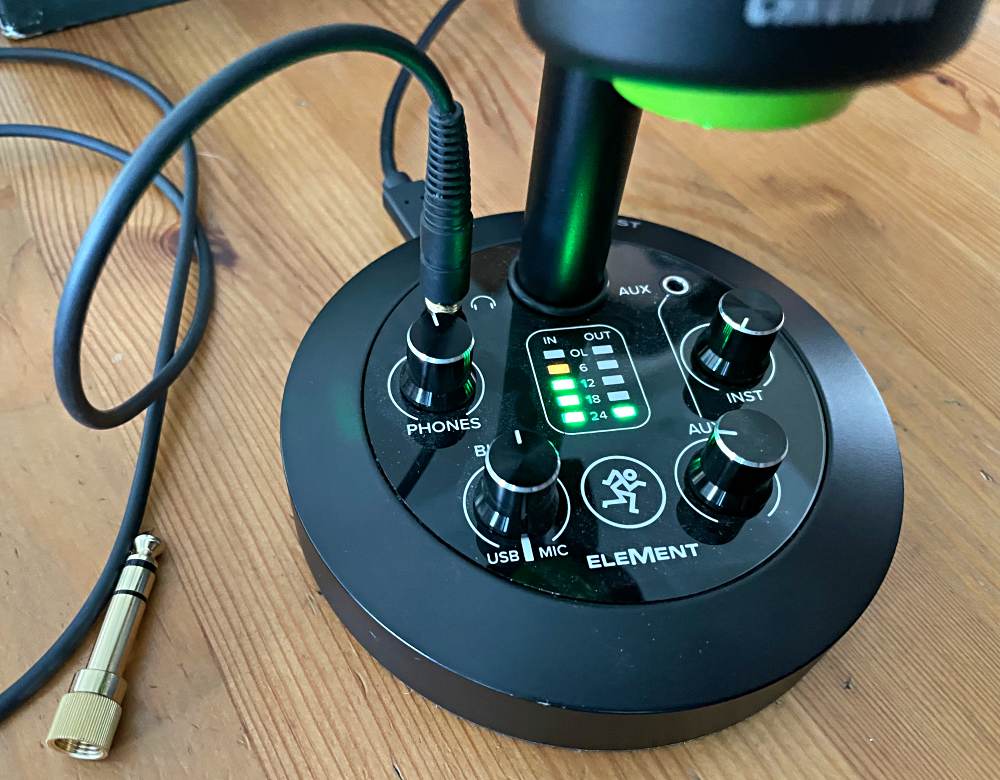 There was only one real issue that I ran into with the Chromium mic. Like on the Carbon mic I reviewed before, I could not get my computer to recognize the Chromium Mic when using a USB-C to USB-C cable. It's a frustrating point as a Mac user where my machine only has USB-C ports. Hopefully it's something they can address with a firmware upgrade.
I'm still happily running the Carbon as my preferred mic for all my computing vocal needs. My college aged kids however, make a lot of music together and now that they are literally on opposite sides of the country, the Chromium is going to come in handy. I sent it off with my daughter so that she can add vocals and additional guitar tracks to the songs my son records and masters. It's a great solution as this single product replaces a separate microphone, audio interface and more, making it a much simpler and simpler to fit into dorm life.
Here's a quick audio track of them goofing around on a classic, Fly Me to the Moon.
What I like
Great audio quality with noticeable differences between the 4 different audio patterns
Integrated support for instrument and aux inputs, mute and headphones with controls and blending
Quality construction and clean metering display
What I'd change
Support for USB-C cables (as more laptops are ditching USB-A)
Final thoughts
As I mentioned in my Mackie Carbon Mic review, Mackie is a name that should be on your radar. The Chromium Microphone is quick to set up and exceptionally easy to use, especially considering that it also functions as a guitar and aux input with mixer functionality. Given its incredibly robust construction, you can feel good knowing that this is going to withstand pretty much anything you can throw at it.
Price: $199.99 Element Series Carbon Microphone
Where to buy: Amazon
Source: The sample of this product was provided by Mackie