We use affiliate links. If you buy something through the links on this page, we may earn a commission at no cost to you. Learn more.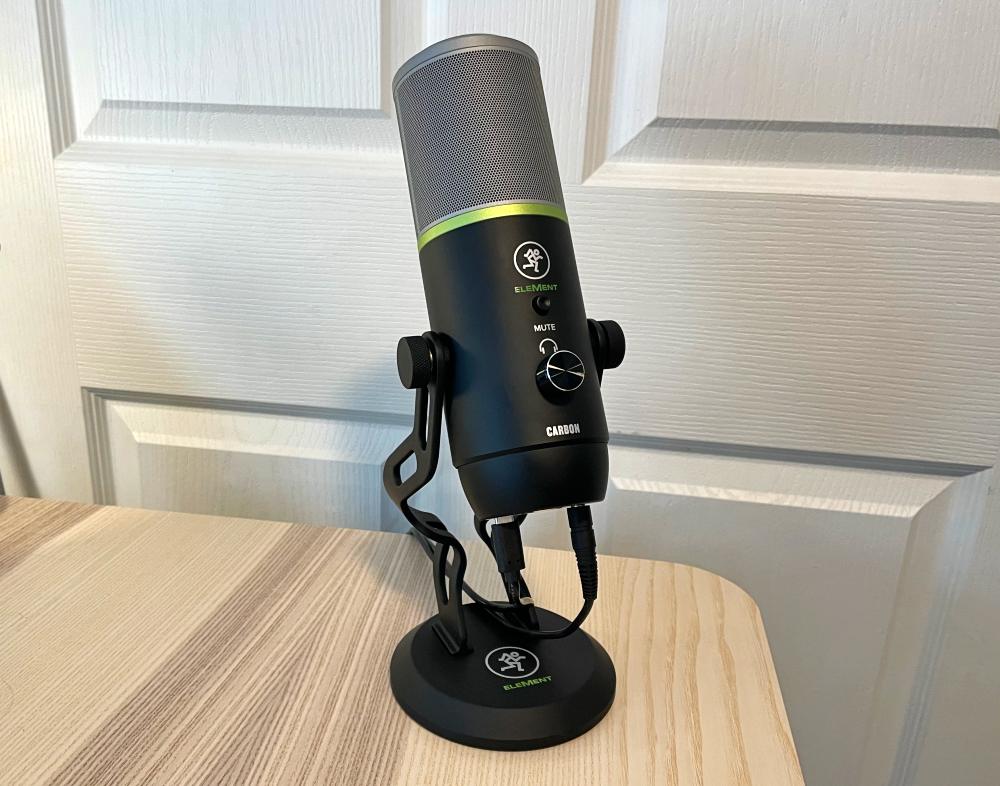 REVIEW – I was already working remotely from home when the lockdowns started, but video conferencing didn't really kick into high gear until everyone else was also working from home. Since you all have been through the same gauntlet, I don't need to describe what that's been like. However, I made a point to do what I could to improve the experience at my desk. The visual side of that is the one that jumps to mind first, but how I sound outwardly is just as important if not more so. I bounced between built-in, webcam, earbuds, headphones and a couple of different external mics and each have had their own pros and cons. Recently I was able to use the new Mackie Element Series Carbon Microphone. It's part of their Element series and it's worth a look.
What is it?
The Mackie Element Series Carbon Microphone is a desktop USB Mic that will dramatically improve live and recording capabilities over the microphone in your laptop or webcam. Part of their Element series, the Carbon is aimed at content creation, live streaming and mobile recording making it more than capable to tackle daily Zoom calls.
What's in the box?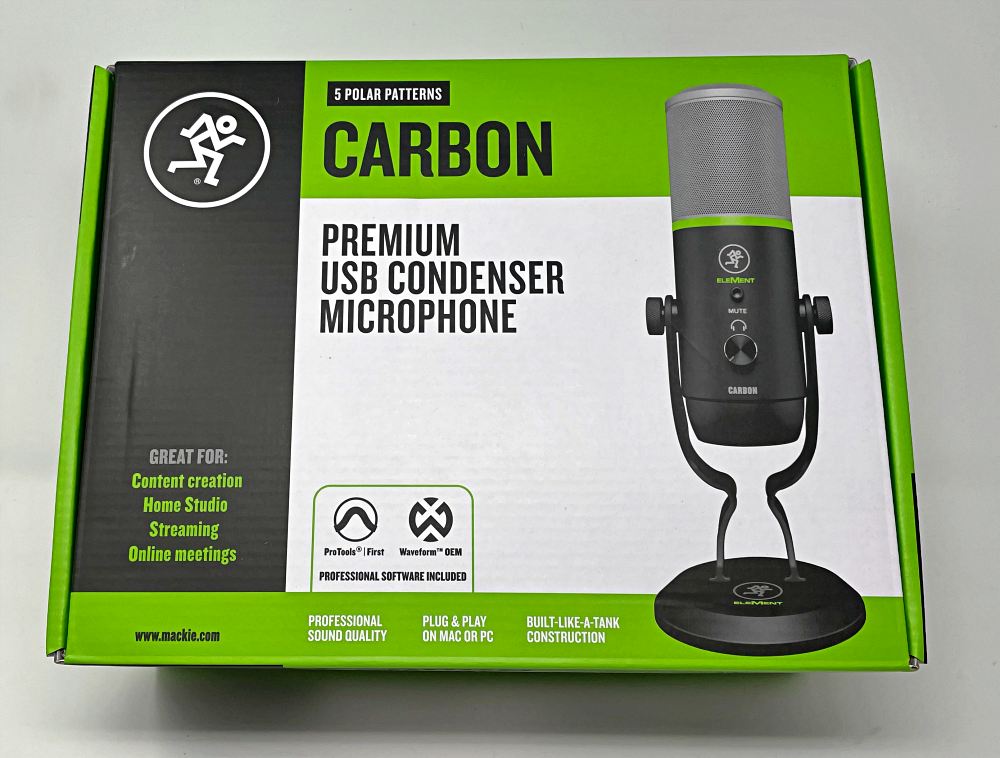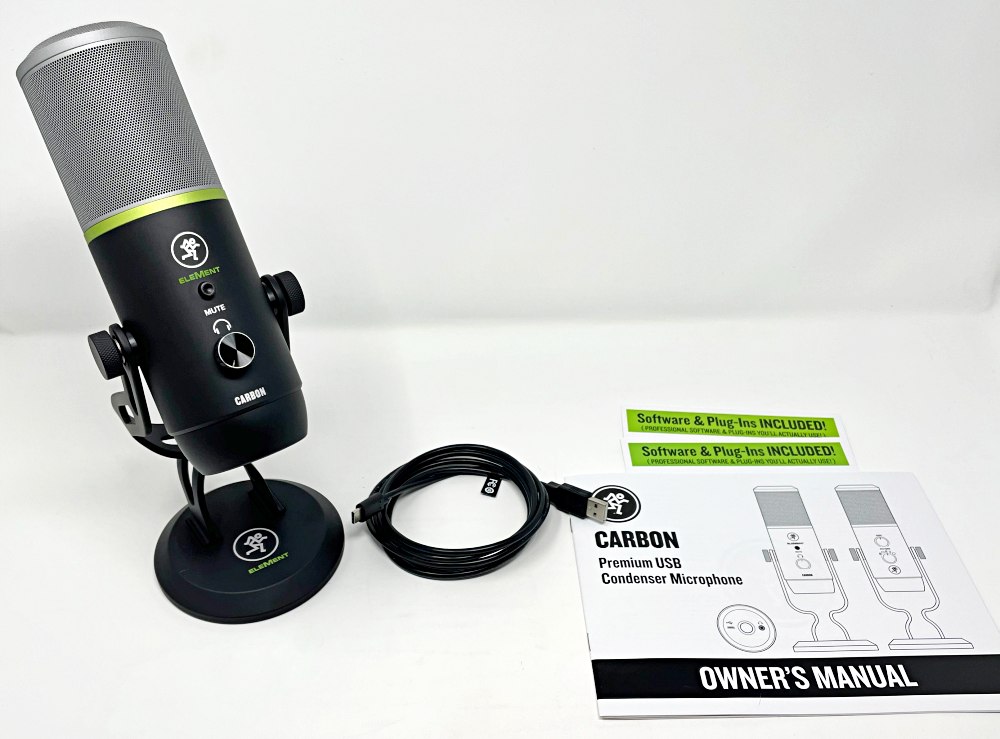 Mackie Element Series Carbon Microphone
Desktop stand (pre-mounted)
Small threaded mounting adapter (not shown)
USB-A to USB-C cable
Owner's manual
Available separately: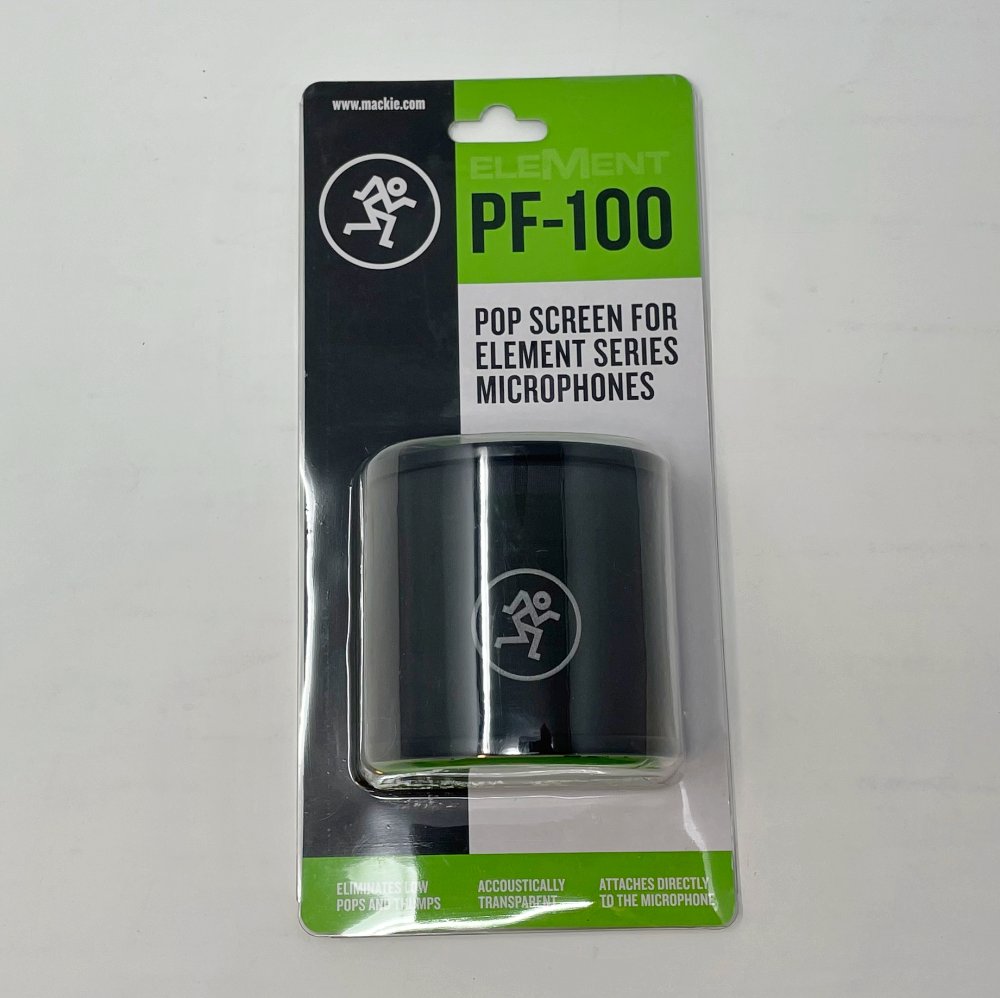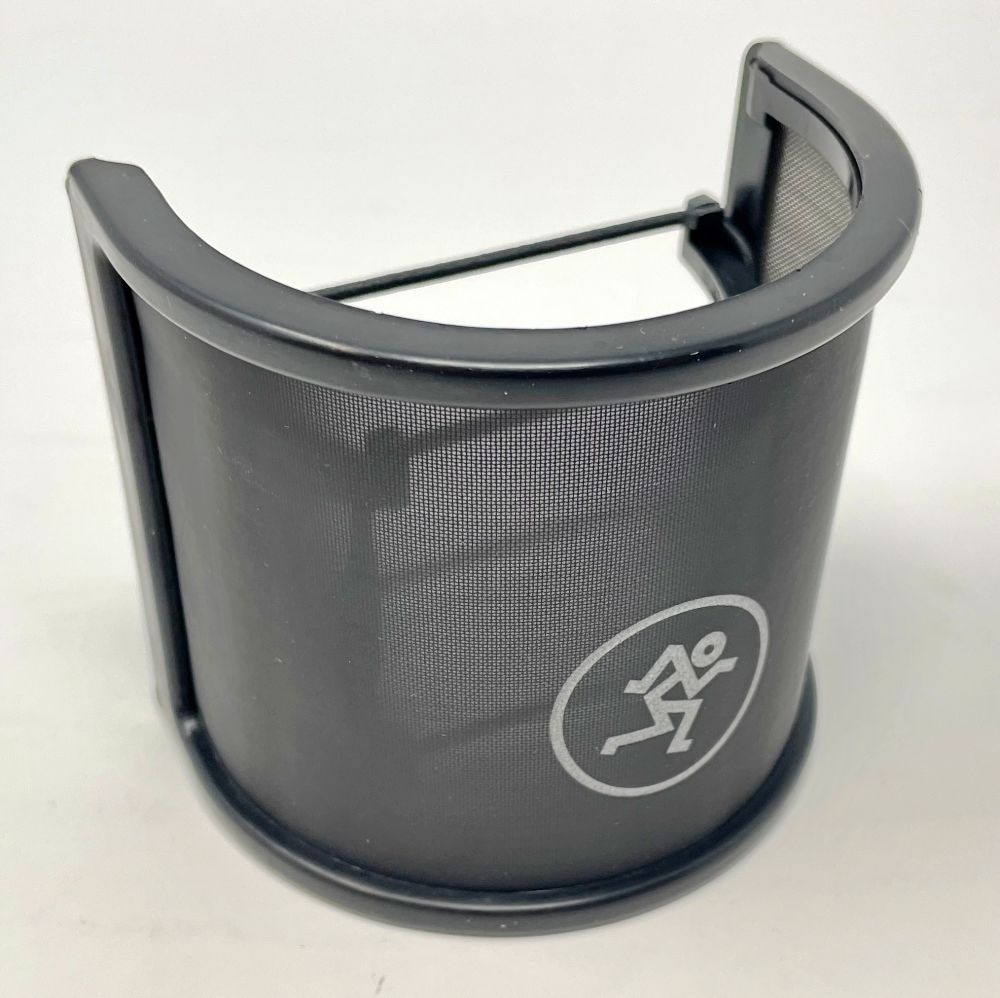 Hardware specs
5 Polar Patterns: Stereo, Cardioid, Bi-Directional (figure 8), Super-Cardioid, Omni
Sample Rate: 16-Bit, 48kHz
Connectivity: USB-C t0 USB-A cable, no driver required
Audio: On-board headphone port with volume control
On-Board Controls: Polar pattern dial, Gain, Mute switch (mic), Headphone volume
Construction: Sturdy all aluminum construction
Boom Support: Standard threaded mount
Desktop Stand: Weighted base, adjustable angle
Design and features
The Mackie Element Series Carbon Microphone, part of their element series is a serious desktop mic.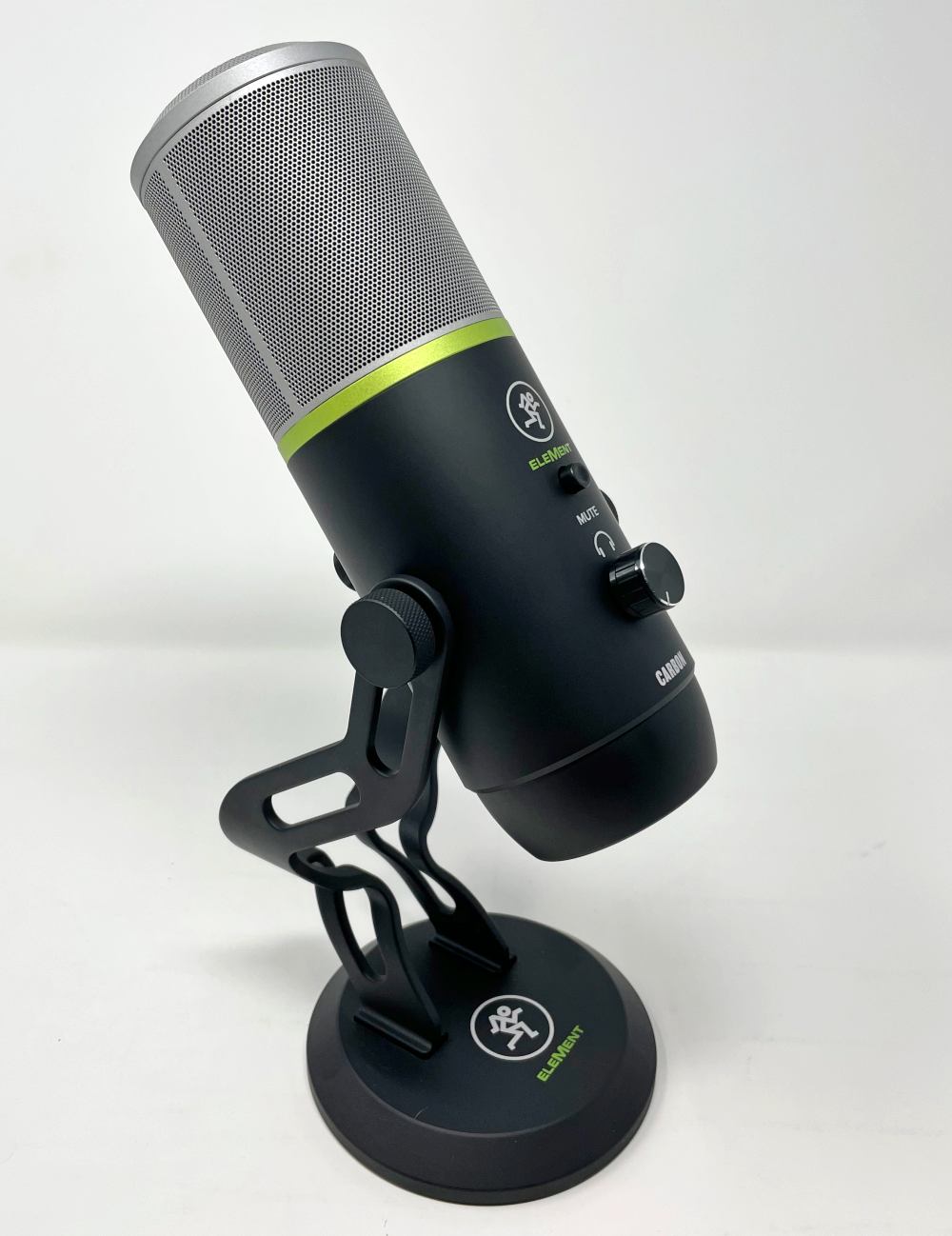 The mute button gives you instant control when needed and the volume knob adjusts the level of the on-board headphone port.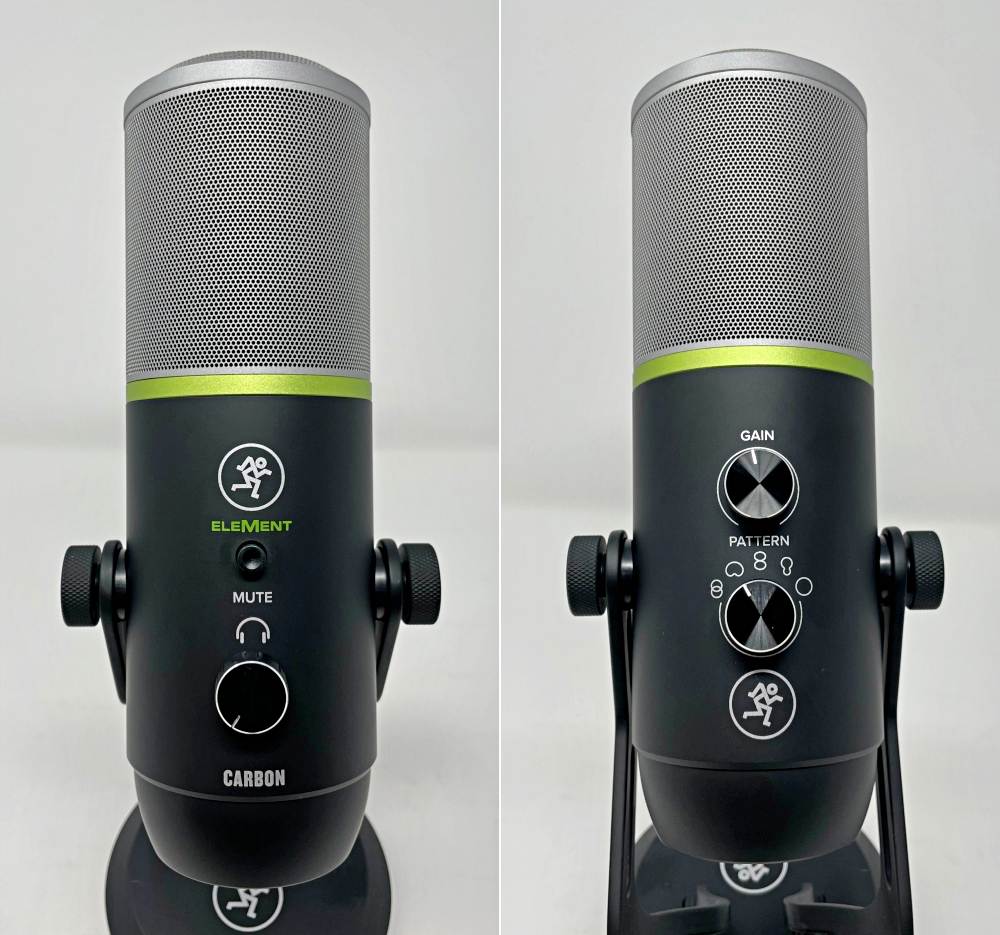 A pattern selector provides five different polar patterns so you can easily switch to the one that will work best for your needs and a gain control lets you easily set the right input level.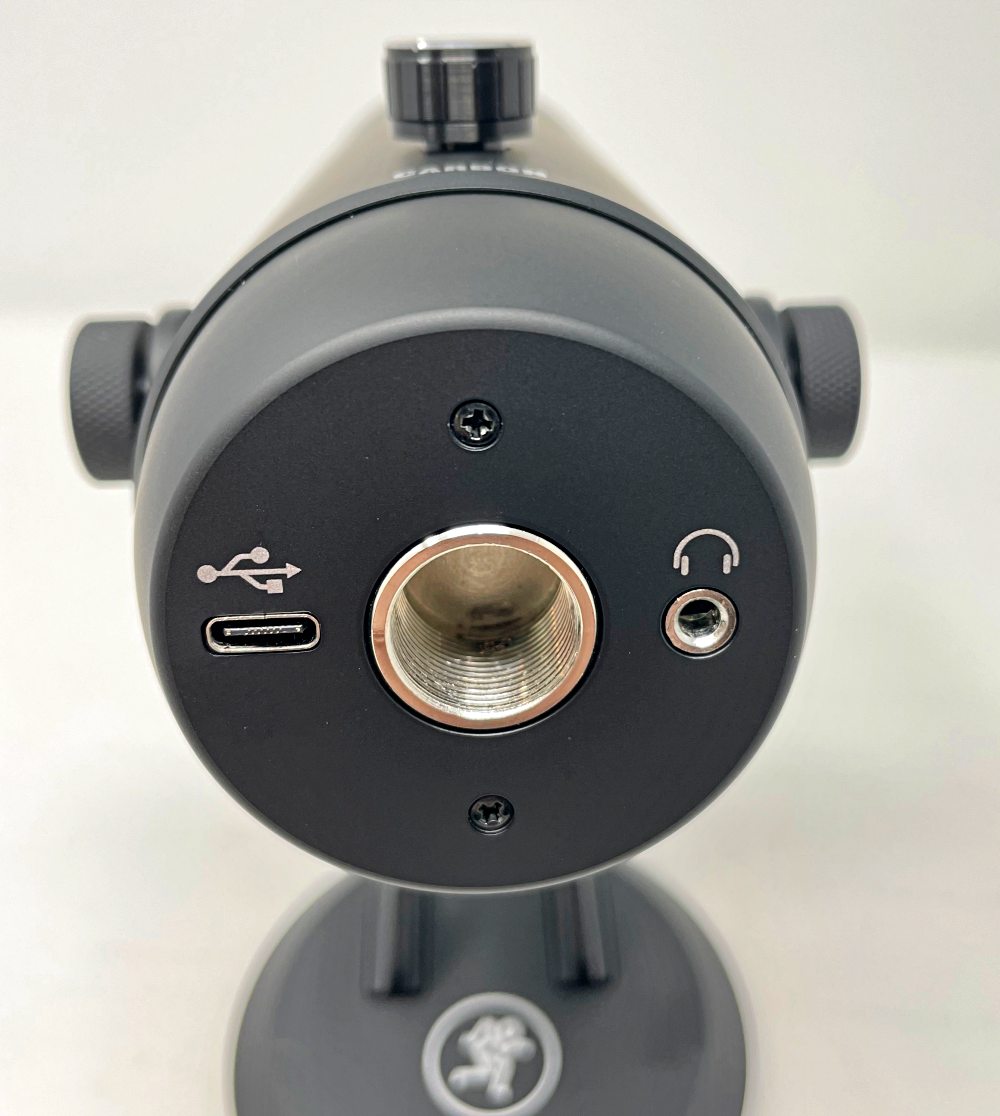 On the underside of the Mackie Element Series Carbon Microphone, there's the USB-C port for connecting to your computer, the headphone port and standard threading (plus an adapter (not shown) should you want to mount on a floor stand or desktop boom.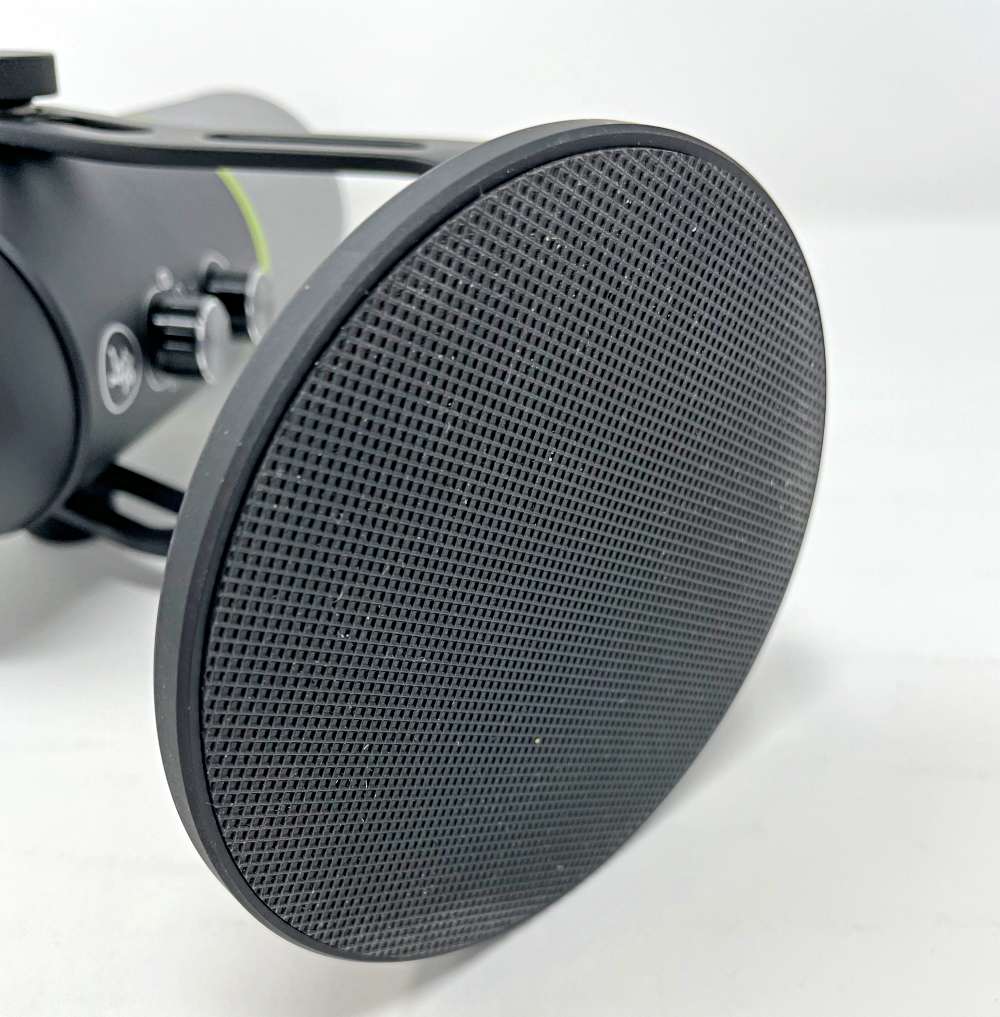 The weighted base with a traction pad gives it a solid foundation and never wobbles regardless of the angle which is easily adjustable via the knurled knobs on each side.
Setup
Outside of unpacking the box, you'll just need to connect it to your computer. Connect the included cable to the USB-C port on the underside of the microphone, and the USB-A connector to an available port on your computer. You'll need an adapter or hub if you're on a USB-C or Thunderbolt machine. Note that USB-C to USB-C cables do seem to be supported.
On your computer, you'll need to go into audio settings either in your system preferences or in a specific app (possibly both depending on your global settings) and select Carbon Microphone.
On the back of the Mackie Element Series Carbon Microphone is the gain control. Since this is at your fingertips, you may prefer to use this over anything in your computer settings, but keep an eye on where apps do and do not have auto-adjust settings so your input doesn't vary from app to app too much. Also on the back of the microphone is the polar pattern selector. You can choose from 5 different patterns and Mackie's own graphic does a really good job of explaining which setting is best for different uses.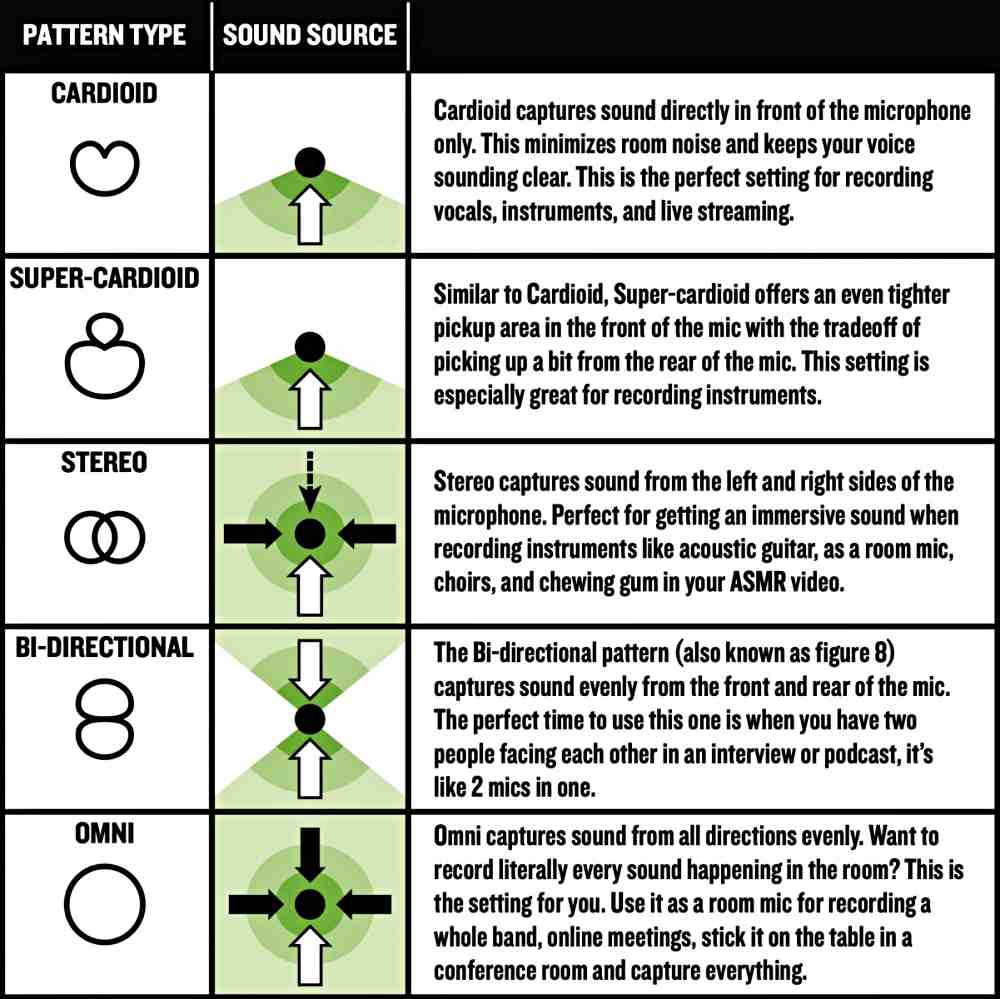 And last, if you want to install the Pop Screen (available separately)…
Hold the screen with one hand
Stretch both elastic bands with one finger from your other hand (a good bit larger than the diameter of the mic)
Lower all the way into place and then release the bands
Key is not to drag the screen side along the mic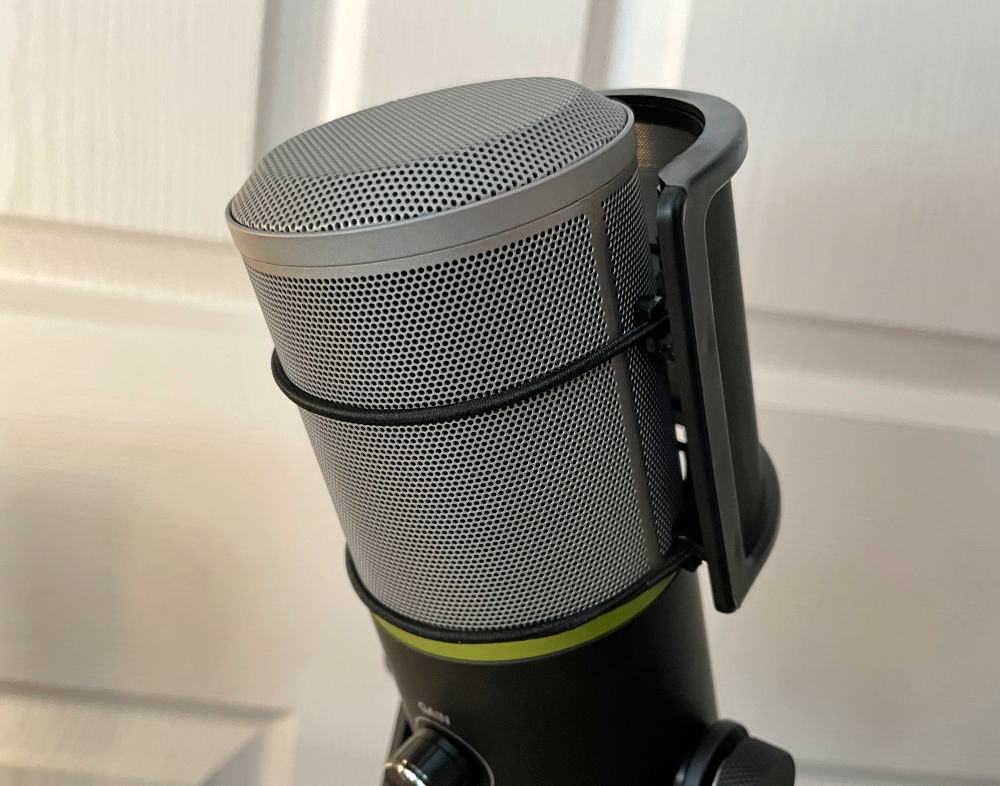 Performance
Writing a synopsis of how a product works can actually be really hard when everything just works. Almost feels like there's not enough to talk about. That's the case here and I'll just give it a go.
The Mackie Element Series Carbon Microphone is eye-catching with its matte silver grille, black body/stand and the metallic lime green stripe around the middle. Constructed from aluminum, it's going to take a beating and has a cool touch to it (at least in my climate). The knobs feel solid and the polar pattern selector has strong detents that pop into place without fail. It's also great to have a headphone port and volume control right on the mic.
There's a small green LED behind the grille that turns red when you hit the mute button. It's actually just behind the green stripe and visible in desktop mode, less so when boom mounted upside down. Regardless, I found myself using mute button more than a keyboard command on Zoom. The red glow was a better indicator to remind me that I was muted.
The Carbon Mic is not small. It stands over 11″ tall which can feel pretty imposing, making even my 13″ MacBook Pro feel small.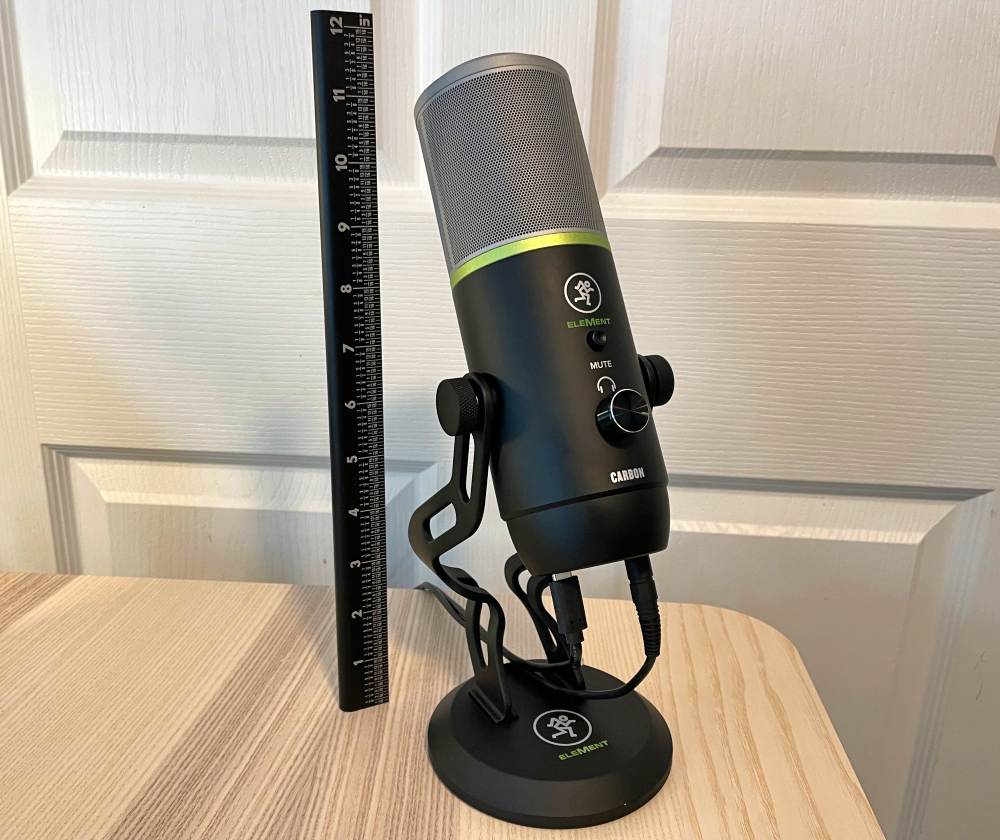 This is one of the main reasons I ended up using it on a boom. That and being able to just swing it out of the way when not needed without having to have another location to set it down.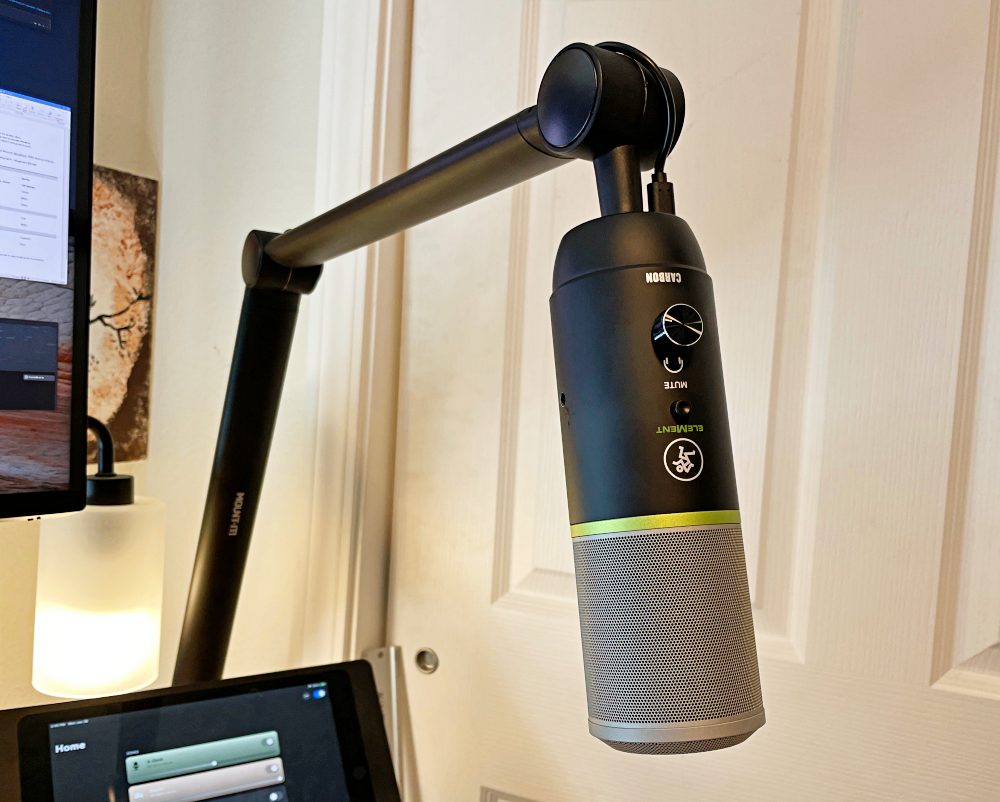 There were only two real issues with the Mackie Element Series Carbon Microphone that I ran into…
I could not get my computer to recognize the Carbon Mic when using a USB-C to USB-C cable. It's a frustrating point as a Mac user and one I hope they can address in the future.
Installing the Pop Screen should be a simple process, and it is but you need to stretch the bands a lot further than you would guess. I didn't and the result was that the Pop Screen dragged down the surface of the mic which tore one of the rubber isolation pads off in the process. That glue works fine if you can keep the pads clear until in the final position.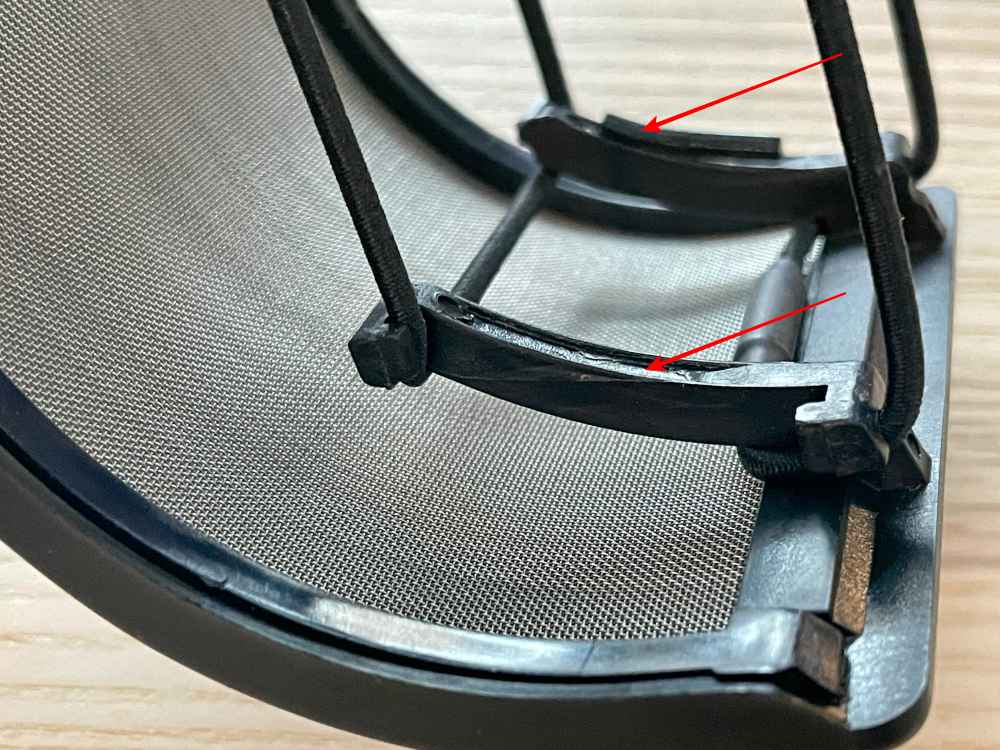 Here's how it looks installed.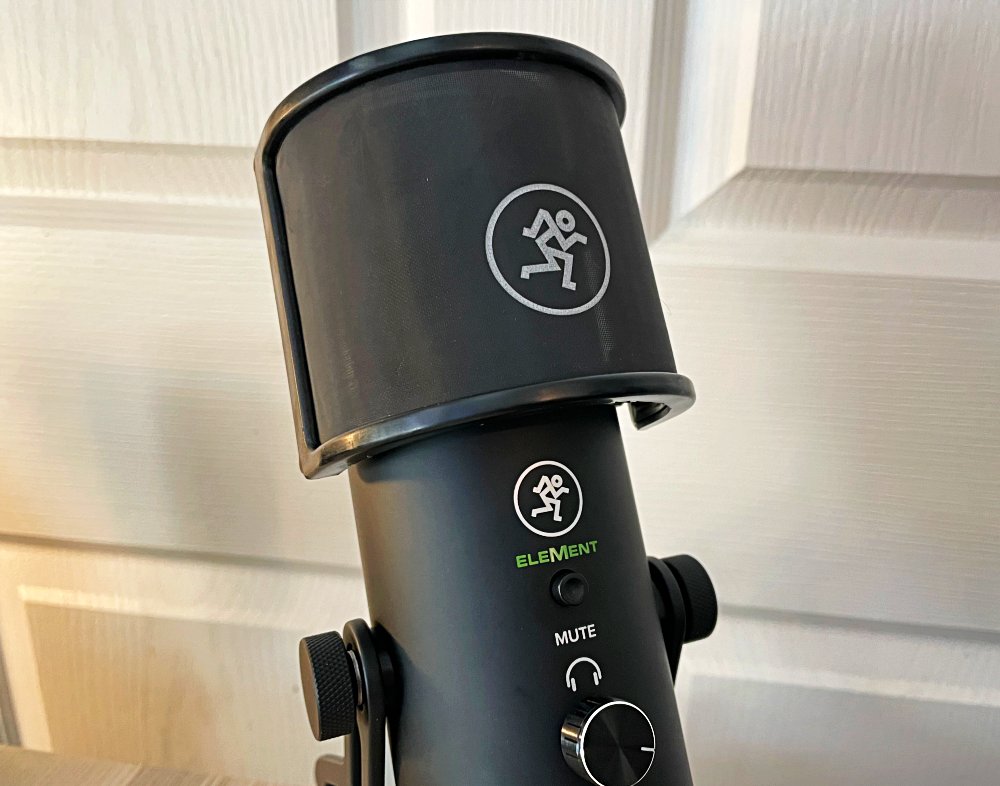 So here's a video I made reading the descriptions from Mackie's diagram (up above in setup) while using each pattern. Figured it was the best way for you all to hear the differences. Note that it's just me talking, so I'm not demonstrating the best use of some of those patterns, but you will hear the shift as the Mackie Element Series Carbon Microphone is focusing on its new duties each time.
What I like
Great audio quality with noticeable differences between the 5 different audio patterns
Integrated support for boom mounting, mute and headphones
Quality construction and clean visuals
What I'd change
Support for USB-C cables (as more laptops are ditching USB-A)
Add some threaded holes in the stand for storing the mounting screws (if you use a boom)
Better glue holding the rubber isolation pads on the Pop Filter (and instructions for how not to drag during install)
Final thoughts
Mackie started in the pro audio space so it might not be the first name you think of when it comes to USB microphones, but considering how much music and content gets created with computers, Mackie is a name that should be on your radar. The Mackie Element Series Carbon Microphone is quick to set up and exceptionally easy to use. In my short time using it (primarily for Zoom meetings), I've been asked multiple times what I'm using for audio due to how clear I sound.
Price: $149.99 Element Series Carbon Microphone | $14.99 PF-100 Pop Screen
Where to buy: Amazon
Source: The sample of this product was provided by Mackie