We use affiliate links. If you buy something through the links on this page, we may earn a commission at no cost to you. Learn more.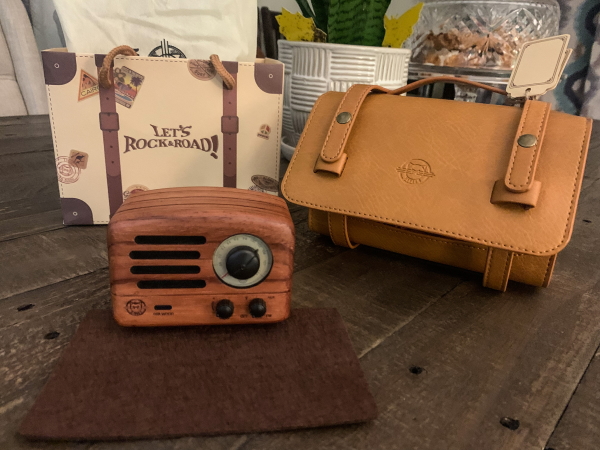 REVIEW – I can remember being stuck at home during Hurricane Sandy with no power for 14 days. My only contact with the outside world was a transistor radio. That one occurrence made me a believer that despite our advances in technology, simple devices can be most important. This is one of the reasons that I am excited to test this Muzen Transistor AM FM Radio, Portable Bluetooth Speaker albeit that it does not have removable/replaceable batteries.
What is it?
The Muzen Transistor AM FM Radio, Portable Bluetooth Speaker features loud volume, HD stereo sound, and a retro old fashion design with FM/AUX Radio Function. 
What's in the box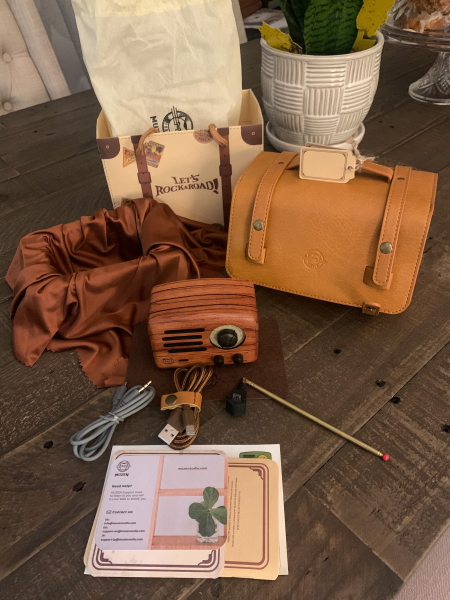 1 x Muzen Transistor AM FM Radio, Portable Bluetooth Speaker
1 x Micro USB Charging Cable
1 x Auxilary 1/8″ Cable
1 x Antenna
1 x User Manual
Design and features
Features
Amazing Stereo Sound & Loud Volume: With its high-quality amplifier, the MUZEN Bluetooth speaker delivers immersive sound without any distortion. With its loud volume, you can enjoy the music in every corner of your room. Its excellent performance brings you a concert-like experience
Portable & Retro Design: The MUZEN portable Bluetooth speaker only takes a place of 3.72 x 2.84 x 2.21 inches, allowing you to put the speaker into your bag. Take the music anywhere anytime. The retro and elegant appearance of the vintage Bluetooth speaker brings you back to the Old Days
Long Battery Life: Built-in 1000mAh rechargeable battery, the Bluetooth speaker lasts for 10 hours in Bluetooth mode(varies by volume) and 20 hours in FM mode. It only takes 3 hours to be fully recharged. Enjoy non-stop music!
3-in-1 Speaker: The MUZEN OTR Bluetooth speaker can be used as FM&AUX radio and wireless Bluetooth speaker. With a high-quality radio chip and an external antenna, the FM radio has excellent receive sensitivity. Plugging the AUX into an iPhone, Pad,vehicle-mounted audio, or any smart device, you can enjoy the music. In addition, the 4.0 Bluetooth version ensures you can connect the speaker in 2s and maintain a strong connection up to 33 ft.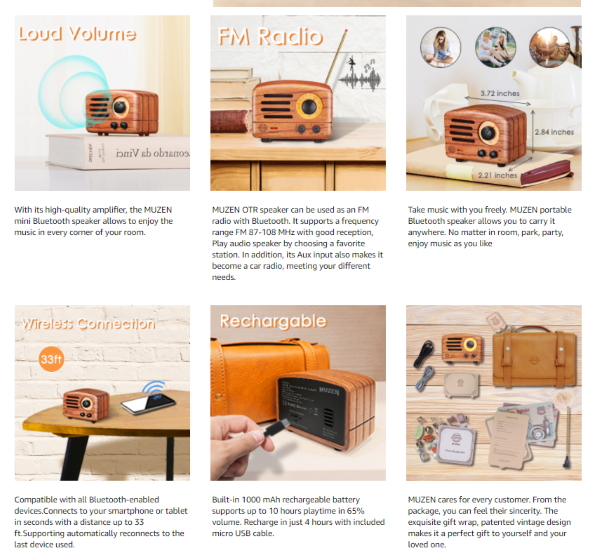 Specifications
Bluetooth, FM radio, and AUX Functionality
Product Dimensions: 3.46 * 2.56 * 2.2 in
Speaker: 40mm / 1.57 in neodymium iron boron, full frequency
Battery: Rechargeable lithium-polymer battery (3.7V/1000mAh)
Net Weight: 0.94 lb
Battery Life: 8-10 hours at <70% volume capacity Frequency Range: 87-108 MHz SNR: > 60db
Distortion: ≤ 0.5%
Bluetooth Version: 4.0
Bluetooth Frequency Range: 5m≤distance≤10m / 16.4ft≤ distance≤ 32.8ft
Bluetooth Connection Distance: 2402 MHz to 2480 MHz
Warranty: 12 months
The controls and speaker vent are on the front of the radio and the antenna/charging/auxiliary port is on the back. The radio sits on four small rubber feet.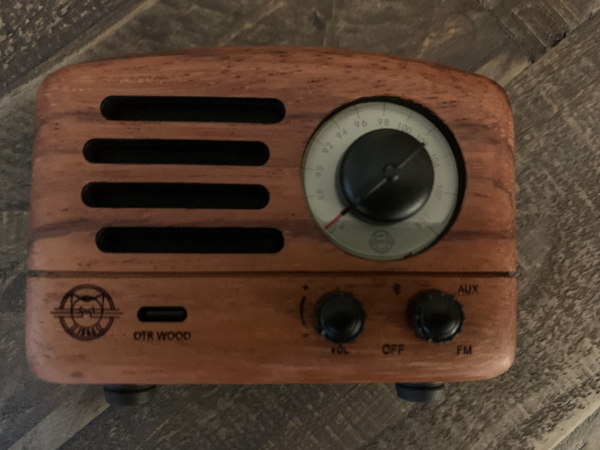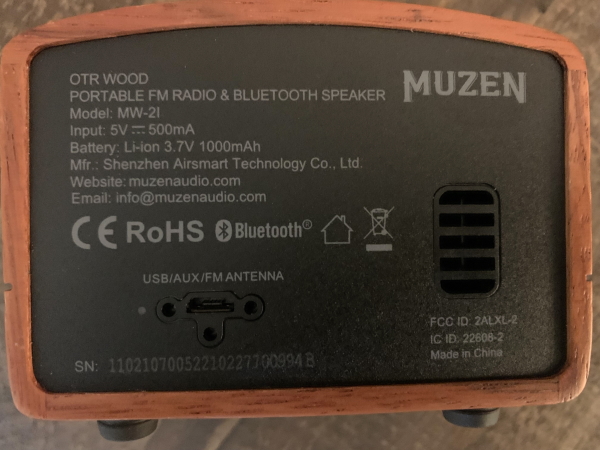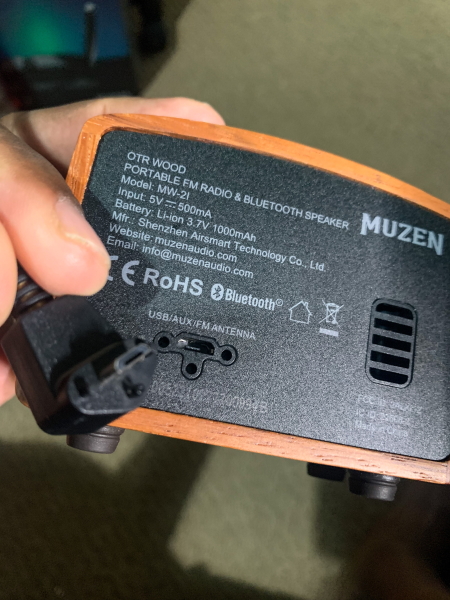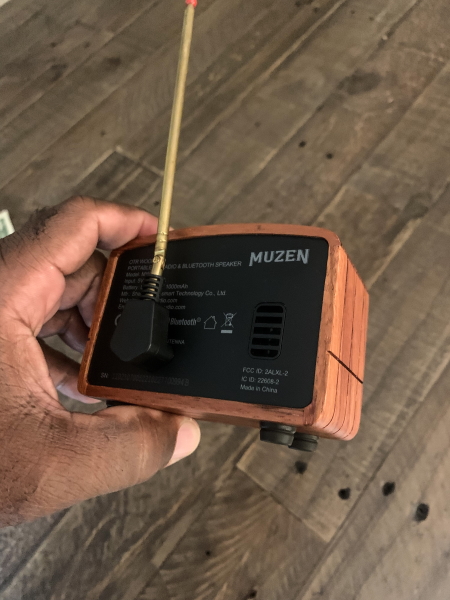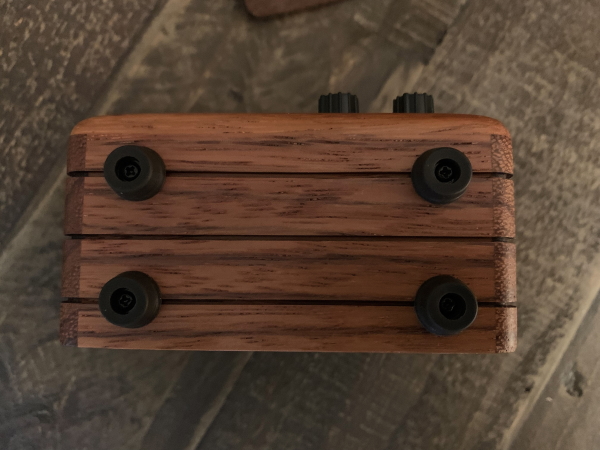 Performance
Since this is a rechargeable radio, the first thing that I did was to charge it fully. When the LED turns green it is fully charged.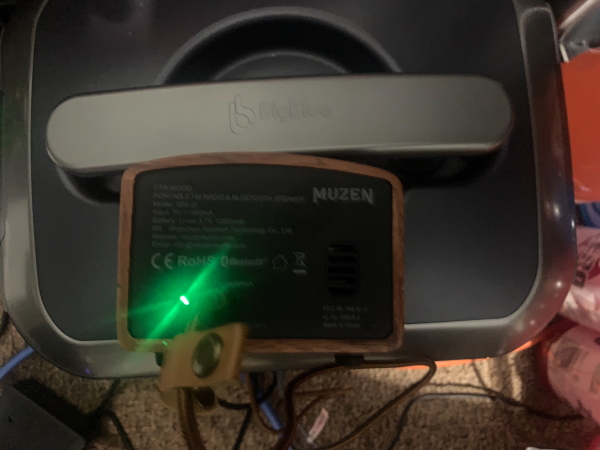 Next, I powered it on and turned the input selector to Bluetooth, then I tested the FM radio and then the auxiliary input.
For each input selection, the LED on the front changes color.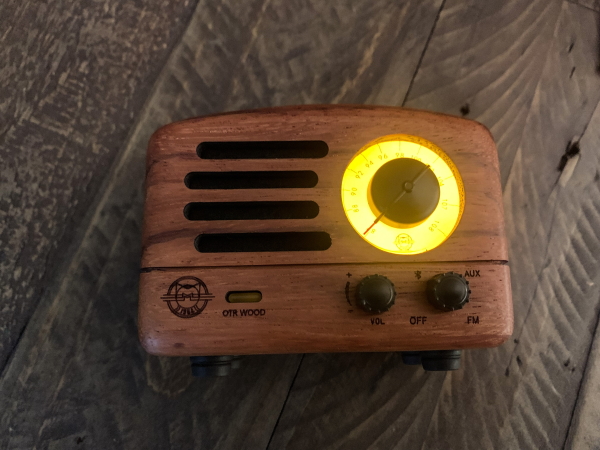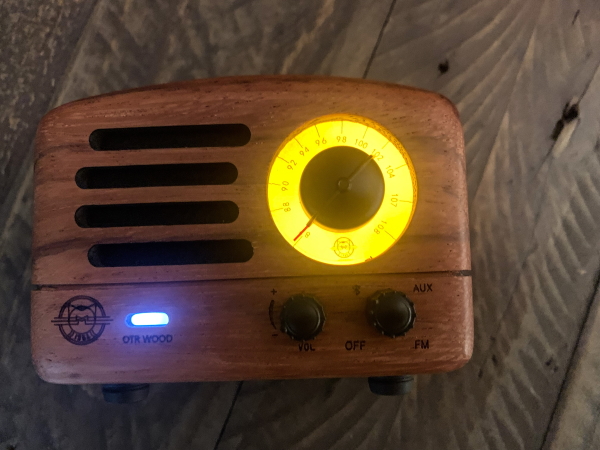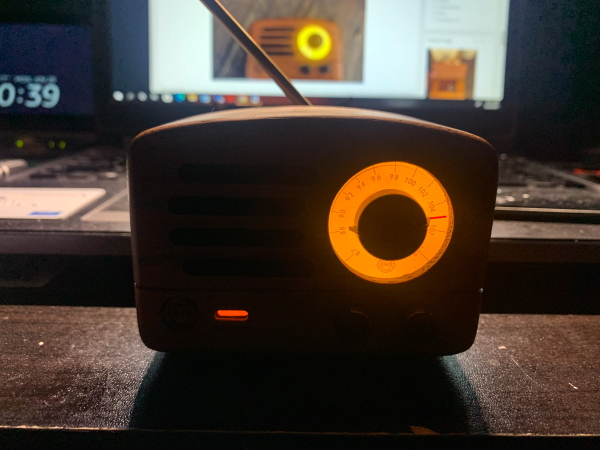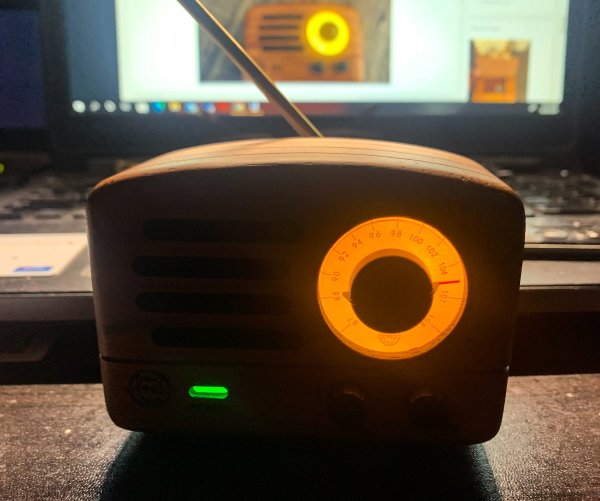 Here is a test and sample of the FM input:
The radio arrived beautifully packaged in an elegant leather case. It just looks expensive and it sounds amazing for its very, very small size. It is unbelievably portable and the retro look is great and a favorite of mine. The sleek and elegant fit and finish are second to none.
What I like
The exquisite packaging
The sleek design and build quality
The retro look
The loud and good quality sound
The inclusion of Aux and Bluetooth capability
Solid but lightweight
What I'd change
Add the option to use removable/replaceable batteries should USB charging not be an option. IMHO, this makes it relevant for many situations
Final thoughts
The packaging and presentation of the MUZEN AM/FM radio are classy and can be considered somewhat exquisite. The radio is well made and is amazingly loud and clear for such a small device. For my use, I would have liked it to be able to be powered by rechargeable/removable batteries so I could justify its price by the critical role it could play in an emergency such as a hurricane. However, since it can't, purchasing this well-made radio will be a matter of individual preference and taste.
Price: $129.99 with $30 coupon = $99 (Amazon), $119 (MUZEN Audio website0
Where to buy: MUZEN Audio website and Amazon
Source: The sample for this review was provided by Muzen