We use affiliate links. If you buy something through the links on this page, we may earn a commission at no cost to you. Learn more.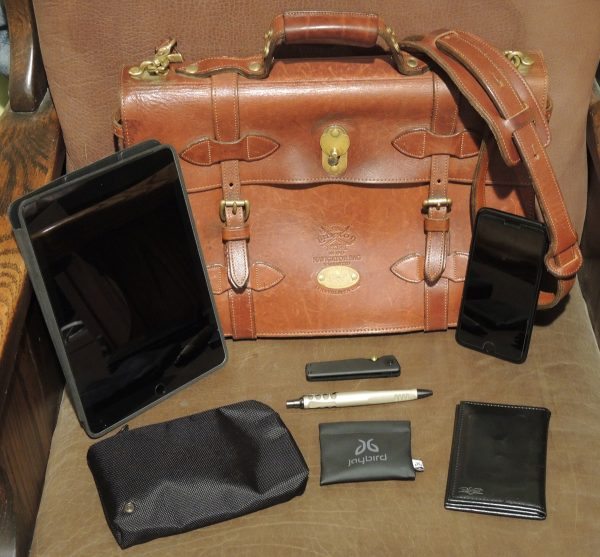 From a functionality standpoint, my everyday carry gear bag has remained relatively unchanged for years. I have swapped out a few items here and there due to better, high-tech gear but overall it is just evolutionary vs anything revolutionary. Like the rest of the Gadgeteer team and many of you, I take my EDC bag with me a majority of the time. It has been nearly 4 years since I've written an update on my EDC gear and this reflection makes me chuckle how little has changed. 
Feb 2017 Gear Bag
Colonel Littleton No. 1943 Navigator Bag: My 1943 Navigator Bag remains my absolute favorite carryall. Hard to believe I have been using it for nearly 5 years. As I have said before, its quality, style and function are perfect; I would not change a thing. A few smaller, lighter bags have tempted me over the years but I always come back to my old travel companion.
iPad Air 2: I have found that I can do 75% of my personal computing while traveling or in transit on an iPad. Though I regularly need to take my laptop to get my day job work accomplished. In 2017, I do plan on upgrading to the rumored 10.5″ minimal bezel iPad Pro 2.
iPhone 7 Plus: Over the years I have waffled between iOS and Android devices. Currently, I'm on an Apple kick, using mainly iOS devices and this includes Apple's latest flagship…the iPhone 7 Plus. I love the hardware and superb camera.
Jaybird Freedom F5 wireless earbuds: Moving to the iPhone 7, meant living without a 3.5mm headphone jack. The Jaybird Freedom F5 earbuds are excellent minimalistic wireless earbuds with terrific sound and solid bass.
James Brand Chapter knife: A knife is the only true addition to my EDC bag in many years. The James Brand Chapter knife is very well made, sized and fits in my bag perfectly.
Work credentials: No getting around needing to drag these along.
SureFire Pen 3: Currently my favorite pen due to its great feel, weight, and smooth writing. Though I have been looking for its replacement in a thinner, lighter titanium writing tool for awhile now.
Bits and pieces: I use a WaterField zippered pouch to carry charging cables, several USB plugs, a few thumb drives, and Surefire Titan Plus Ultra-Compact Variable-Output LED Flashlight.