We use affiliate links. If you buy something through the links on this page, we may earn a commission at no cost to you. Learn more.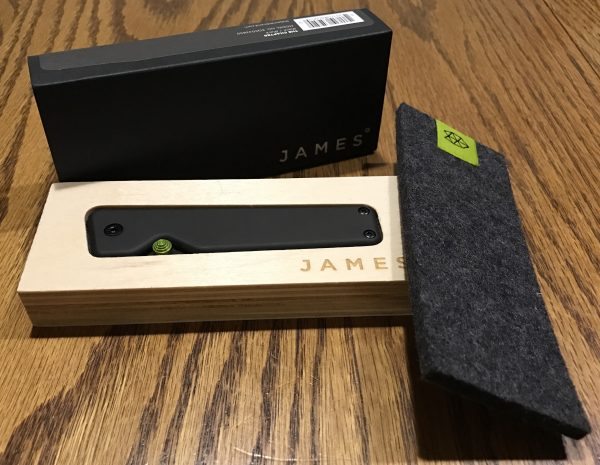 As I have grown older, I appreciate the finer things in life and that is definitely reflected in my EDC gear. Where I look for items that not only suit my needs throughout my day but also my personality as well. I prefer items that are well made from high-quality materials and engineered to withstand a lifetime of the road less traveled. When I am not on travel (aka going thru airport security), I typically carry a knife with me in my bag…nothing dangerous/outrageous but a worthy cutting tool nonetheless. So I was very pleased when James Brand agreed to send me their Chapter knife in BLACK + BLACK which looks to be the ideal knife to add to my EDC collection.
First off, James Brand does an excellent job of delivery presentation. The form fitted wood box and wool padding not only protects the Chapter but adds attention to detail and a bit of class to the box opening experience.

The James Brand Chapter is a very well made folding pocket knife constructed from high grade stainless steel and titanium. The drop point blade is forged from D2 416 stainless steel. The handle is made from 6AL 4V titanium with a tip down carrying style. Except for the thumbstud, branding, and blade edge, the Chapter is completely black-oxide coated.
TECHNICAL SPECIFICATIONS:
Blade Length: 2.81″
Blade Type:  drop point
Blade Steel:  D2
Scale Type:  6AL 4V Titanium
Carry Style:  tip down
Carry Orientation:  right-handed
Hardware:  416 stainless, black-oxide coated
Washers:  phosphor bronze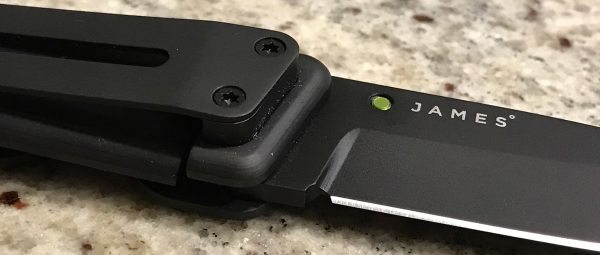 The Chapter is finely machined and finished giving it an excellent, polished look and feel.

When closed, the Chapter measures just over 3.75″ in length. Its overall weight is 2.8 oz. The left side on the knife has a triangular cutout allowing access to the thumbstud. The bright metallic green thumbstud makes for a great offsetting highlight color and a nice touch to the all matte black knife.

The Chapter is not symmetrical with the thumbstud on the left and the beltclip on the right making for a right-handed carrying orientation. The beltclip is stiff and does a good job of keeping the knife securely on your belt or in your pocket.

With the knife extended, the Chapter is 6.50″ long.

The titanium frame-lock construction is simple and easy to operate one-handed. With minimal moving parts and maintenance needed, it should last a very long time. The frame-lock firmly secures the blade into the open position with zero blade wiggle and little chance of the blade accidentally closing.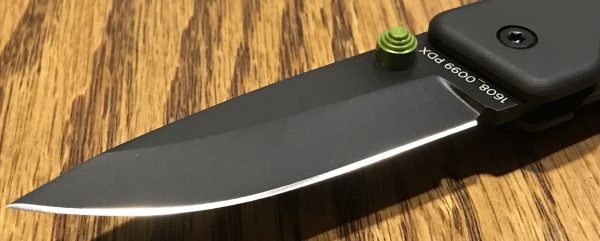 The Chapter's 2.81″ blade is well sized for EDC and use…not too big and not too small. The edge is razor sharp as you would expect 😉 .

The Chapter is also available in Titanium + Stainless / Black + Stainless / Titanium + DAMASCUS / The Swell Edition in Silver + Titanium.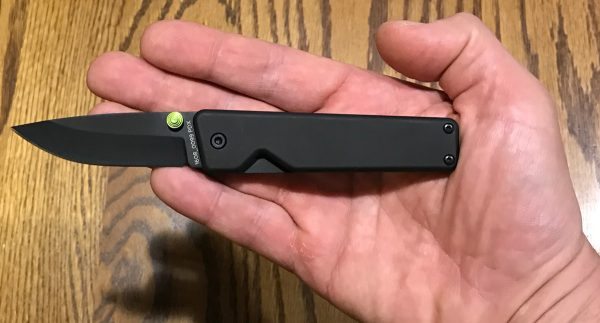 The Chapter in matte black has earned a place in my gear bag. I love it's size, weight, material/build quality and stealthy, minimalistic looks. James Brand has hit the mark in creating a high end EDC knife that should last a lifetime… At $275 it is not cheap but in this case you get what you pay for.
Source: The sample for this review was provided by James Brand. Please visit their site for more info and Amazon to order.
Product Information
Price:
$275
Manufacturer:
James Brand
Retailer:
Amazon
Pros:

Premium materials
Very well made
Excellent size and weight
Engineered to last a lifetime
Smooth opening and closing action
Pocket clip

Cons: