We use affiliate links. If you buy something through the links on this page, we may earn a commission at no cost to you. Learn more.

Several years ago, I reviewed SureFire's Pen I & II and still use them today. I typically have one of these pens with me daily. Due to its size and form factor, the SureFire Pen II is my pen of choice to have with me on my travels. They are both rock solid and have aged well, hardly showing any signs of wear or use. SureFire recently sent me one of their new additions, the Pen III. I am looking forward to seeing if the Pen III has what it takes to be my new favorite writing instrument.

Like its siblings, SureFire's Pen III is constructed of military grade aluminum and stainless steel, coated with a Mil-Spec Type III hard anodized finish, finely machined, and seems to be nearly indestructible. SureFire pens are built to the same (very high) standards as SureFire flashlights and meant to withstand the test of time. All of the Surefire products I have used/reviewed are of made of excellent materials, superb quality and built to last a lifetime.
Specifications
Casing:       Aerospace-grade aluminum body
Colors:        Black or tan
Length:       5.80 inches (14.7 cm)
Weight:       1.70 ounces (48 grams)
Cartridge:   SCHMIDT easyFLOW 9000
Warranty:   Lifetime
Features
Rugged aerospace aluminum body with Mil-Spec hard-anodized finish
Heavy-duty stainless steel pocket clip
Schmidt easyFLOW ink cartridge flows flawlessly
Ink tip retracts into body, no cap to lose
Assembled in the U.S.A. with imported ink cartridge

The SureFire Pen III has a stainless steel clip and tip. The pocket clip is extremely strong and rigid. In my original review of the SureFire I & II I state 'I doubt it could be easily bent without a lot of force'.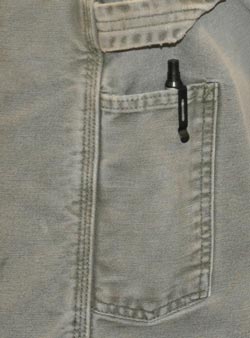 A true enough comment; but sadly while clipped to a side pocket in a pair of Carhartt pants, the pen caught on my seat while I was getting out of my truck. The clip was bent 45 degrees out from its normal position…..I was bummed to say the least. I tried but was not able to bend the clip back to its normal position.  I called SureFire and asked them what it would take to get it repaired (the operator did not know I was reviewing the pen). Without hesitation the operator said they would repair it under warranty. He gave me a RMA number and off it went to be fixed. Approximately three weeks later, I received the pen back good as new. Definitely great customer service experience – living up to their 'no hassle, lifetime guarantee'. 😀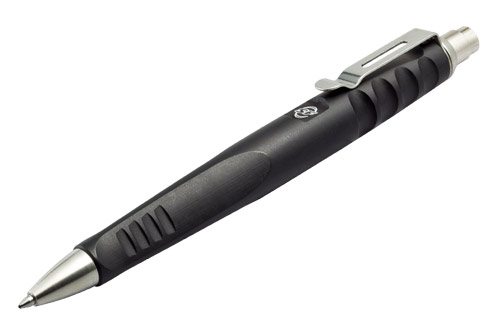 SureFire's Pen III is available in tan/black and the black/silver version you see above. (I grant you this is a personal preference) While the the tan and black looks nice, the black and silver Pen III appears much more professional and business like (who knows, I might have to order SureFire's new all black Pen IV just for its  stealthy looks 😉 ).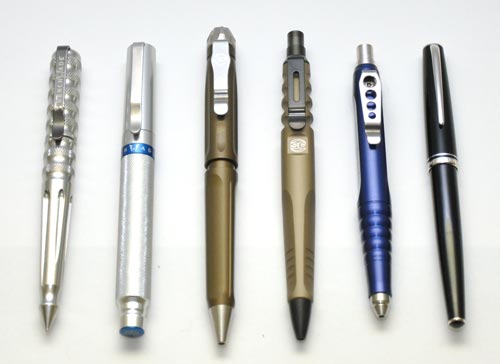 Color scheme not withstanding, the Pen III is well sized and weighted…..a great writing instrument. Its contoured shape has a great grip and is nice to hold. I am partial to retractable ink tips as I hate losing pen caps. Schmidt easyFLOW 9000 ink cartridge writes as well as any pen I have ever used.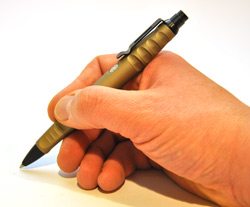 Bottom line, I love the Pen III's weight, balance and feel while writing. Like the Pen I & II, its quality and durability are second to none. The overall writing experience is very enjoyable as well. Priced at $115, SureFire's Pen III is not inexpensive but in this case you are definitely getting what you pay for…..a pen that will last you a lifetime.
Product Information
Price:
$115
Manufacturer:
SureFire
Pros:

- Very well made
- Quality materials and workmanship
- Nice size and weight
- Nearly indestructible
- Excellent warranty and customer service

Cons: