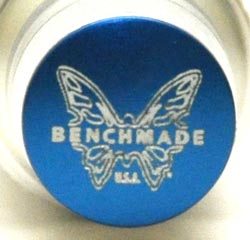 Several years ago, I reviewed the stainless steel BenchMade 1100 pen that I love and continue to use to this day. It is half medieval dagger, half fine writing instrument. The 1100 looks so weapon-like, I am afraid to take it with me through airport security screening; worried that some overeager TSA agent would confiscate it due to its appearance. The BenchMade 1210 pen series looks nothing like a weapon, is made of lightweight aluminum, and is an equally fine writing instrument.
BenchMade is widely known for their high-end knives but have branched out over the years to creating safety products, clothing line, and various types of pens.

As I said, the BenchMade 1210 series pen is made of finely crafted anodized aluminum (CNC Machined 6061 T-6 Aluminum) and weighs one half the weight of the stainless steel 1100 series pen. While I find the heft of the 1100 very solid and feels great to write with, it does become heavy with extended use. I would say just the opposite about the 1210, even though it is longer and fatter than the 1100….it is deceptively light.


The main barrel of the pen has a heavy knurl pattern machined into it, giving the 1210 a nice feel and grip-ability. BenchMade engineered the cap to click securely onto either end of the pen. When not in use, the cap is over the pen end and while you are writing, the cap locks into place over the opposite end.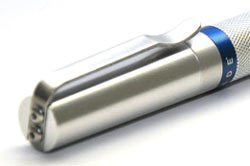 The stainless pen cap/clip is well made and as tough as the rest of the 1210. The clip is rigid and very strong; it will keep the pen where you clip it.


The 1210 series is available in four configurations: silver body with black or blue ink and/or black body with black or blue ink.
Specifications:
Thickness: 0.58″
Open w/Out Cap: 5.78″
Closed w/ Cap: 6.00″
Weight: 1.30 oz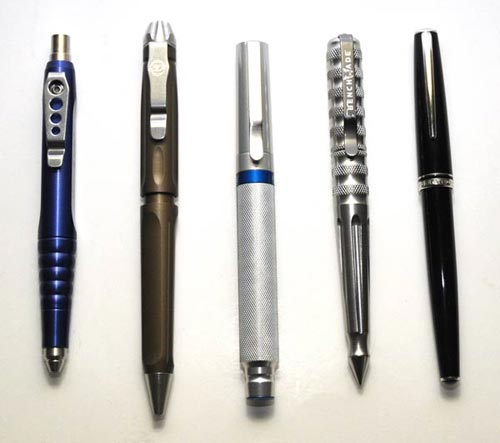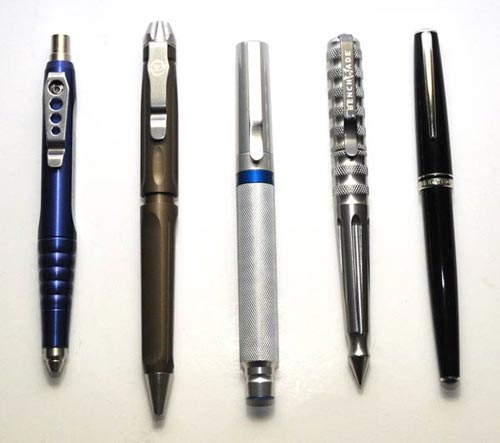 As you can see, the BenchMade 1210 is the second to largest pen pictured. The SureFire Pen I is longer and heavier than the 1210. But with the cap on the other end, they are comparable in length and width. The 1210 is the second lightest of the five pens pictured above (from left; SureFire Pen II/EWP-02 (1.6 oz), SureFire Pen I/EWP-01 (1.8 oz), BenchMade 1210 (1.3 oz), BenchMade 1100 (3.2 oz), and Mont Blanc (0.8 oz)). But it is the lightest of the four more rugged pens made of aluminum.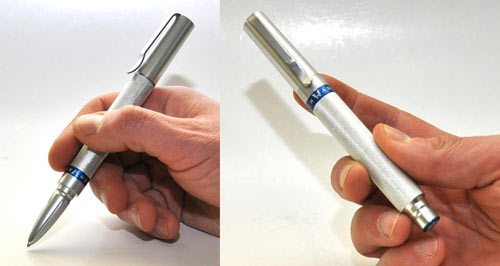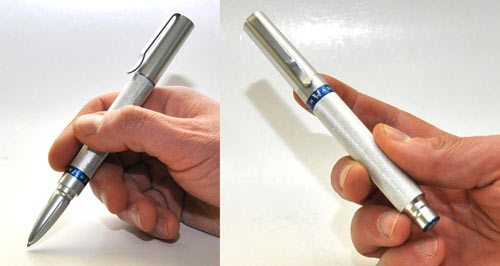 The BenchMade 1210 is great to write with. It is not too heavy and is sized nicely for a person with larger hands to comfortably use. Due to its size and capped design, I would not call it the most transportable pen (with my hectic coast-to-coast lifestyle. I am sure I would loose the cap in the first few trips) in my collection but is ideal for desk use or to carry in a suit pocket to a meeting.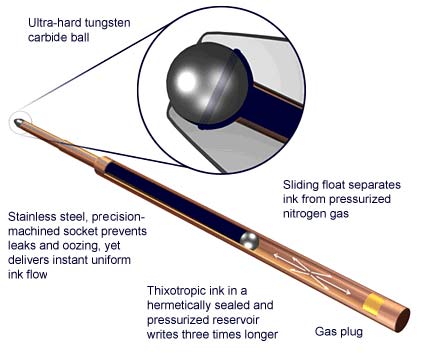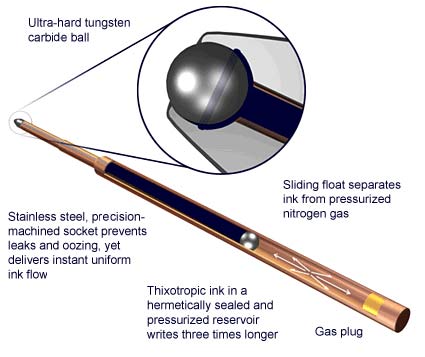 BenchMade uses Fisher Space Pen (Fisher Pen Company) cartridges available in blue and black. Here is a quote from the Fisher Space Pen website detailing the ink cartridges impressive design features:
The replaceable Fisher Space Pen refill cartridges are pressurized at nearly 50 pounds per square inch. This means that ink is continuously fed to the tungsten carbide ball, allowing the user to write at any angle and under any condition. Because the Fisher Pens use a pressurized cartridge, there was a need to develop special ink. The Fisher Space Pen uses visco-elastic ink, with a consistency similar to that of very thick rubber cement. The Fisher Space Pen ink flows as a result of the shearing action of the rolling ball in its socket. This shearing action liquefies the solid gel thixotropic ink, allowing the Fisher Space Pen to write smoothly and dependably in a vacuum, at any angle, underwater, over grease, in hot and cold temperatures and even under water.


This is the second pen I have used that contained a Fisher Space Pen cartridge; it writes/flows extremely well. That in conjunction with the 1210's build and material quality, makes the BenchMade 1210 a very nice pen to write with. That said, this pen is expensive….at $150, it is definitely an extravagance in this day and time. Money aside, the Benchmade 1210 is a very nice writing instrument for those who like larger, lightweight pens.
Some of our links in posts like this one are affiliate links, which means that we may receive a small commission on purchases at no cost to you.
Product Information
Price:
$150
Manufacturer:
Benchmade
Pros:

- Very nice workmanship and materials
- Well made/machined
- Nicely weighted, with a good feel
- Excellent, high-tech ink cartridge included

Cons:

- Expensive
- Might be too large for small hands