We use affiliate links. If you buy something through the links on this page, we may earn a commission at no cost to you. Learn more.

When I read the Spotlight Gadget blurb Julie did on the Benchmade 1100 series pen, I instantly wanted to see/use one in person. Fortunately, the folks at Benchmade were kind enough to send me one to review. Technically speaking they sent me the 1100-4, which means the 1100 series shape, stainless steel body with black ink.

This pen reminds me of combination of a medieval dagger and sword…..very unique looking (if you ask me). But this is just what Benchmade was going for….their catch phrase for the 1100's is 'These Pens are definitely mightier than the sword'.

While it looks like the writing tip should extend out of it the pointy end of the pen, it does not. The writing tip is located under the 1100's cap.

Benchmade engineered the cap to click securely onto either end of the pen. When not in use, the cap is over the pen end and while you are writing, the cap locks into place over the pointy end.

The pointed end is very Old-World looking and dagger-like.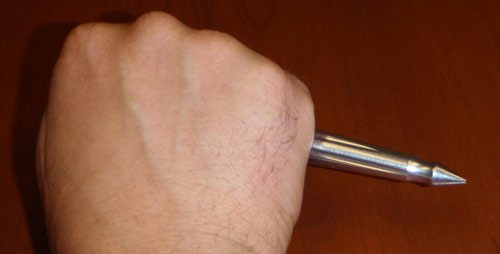 While not ultra sharp, with enough force I am confident that it/you could inflict a great deal of harm/damage to an assailant (if you know what you are doing).

In Mythbusters style, I had to test the stabbing capabilities of this dagger/sword shaped pen on flesh. Where the Mythbusters can readily acquire whole pig carcasses (they most emulate the density of human tissue), I had to go with a pork roast from Costco :D. With very little force, the 1100 easily went clean through the pork roast… surprisingly/scarily so. It was so easy, the Gadgeteer Kid was even able to inflict serious harm to the poor (former) pig. I know the roast does not have skin but I am betting it would make little difference in this case. Not that I am suggesting it, but I can not even imagine how dangerous this pen would be if you sharpened the tip a little.
I have not had the guts to take this pen through airport security to see if they would allow it through or not, and doubt I will; I really like it and do not want to have to give it up.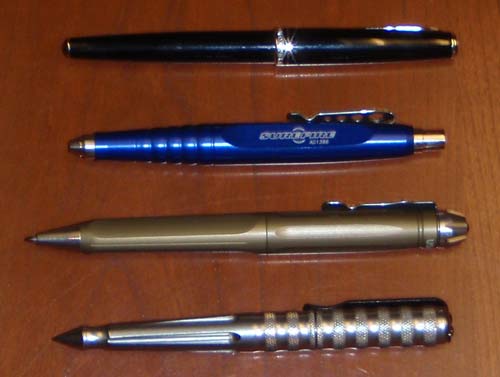 At 3.2oz, the (stainless steel) 1100 (Model 1100-3, -4) is heavy…. Especially when compared to other pens; my Mont Blanc weighs just 0.8oz, the SureFire I & II, I reviewed earlier this year, are 1.6oz and 1.8oz respectively. Even though it is twice as heavy as the Surefire pens and four times the Mont Blanc, I really like the weight and heft of this pen. However, this pen will definitely not lighten the load of your gear/laptop bag.

The 1100 series is also available in anodized aluminum (CNC Machined 6061 T-6 Aluminum (Model 1100-1, -2, -5, -6, -7, & -8)) and in a variety of colors (charcoal, yellow, pink, and red).

The cap and middle of the pen are designed for greater grip. Benchmade has ridged the metal (ergonomic knurling pattern) and then machined a crisscross texturing into those ridges. The pen is very comfortable to hold and write with.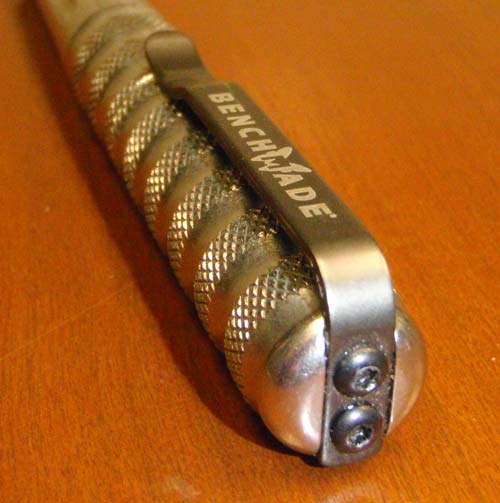 The stainless pen clip (generation II BP-1 coated) is well made and as tough as the rest of the 1100. The clip is rigid and very strong, it will keep the pen where you clip it.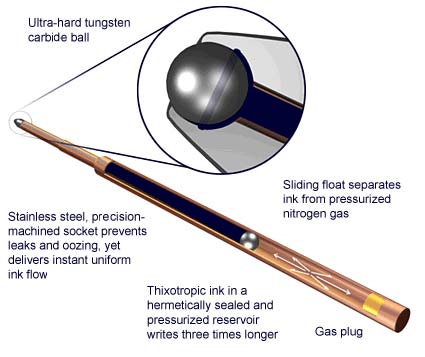 Benchmade uses Fisher Space Pen (Fisher Pen Company) cartridges available in blue and black. This is the first time I have used a pen that contained a Fisher Space Pen cartridge; it writes/flows extremely well. Here is a quote from the Fisher Space Pen website detailing the ink cartridges impressive design features:
The replaceable Fisher Space Pen refill cartridges are pressurized at nearly 50 pounds per square inch. This means that ink is continuously fed to the tungsten carbide ball, allowing the user to write at any angle and under any condition. Because the Fisher Pens use a pressurized cartridge, there was a need to develop special ink. The Fisher Space Pen uses visco-elastic ink, with a consistency similar to that of very thick rubber cement. The Fisher Space Pen ink flows as a result of the shearing action of the rolling ball in its socket. This shearing action liquefies the solid gel thixotropic ink, allowing the Fisher Space Pen to write smoothly and dependably in a vacuum, at any angle, underwater, over grease, in hot and cold temperatures and even under water.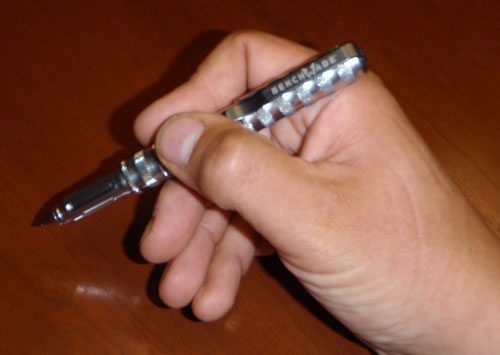 As I stated, this pen is well weighted, comfortable, and a pleasure to write with. However, at $180 ($120 for the aluminum variants), it's very high price tag does cause one to blink, sputter, cough, utter the words 'you've gotta be kidding me….'. Money aside, Benchmade's 1100 series is a very unique writing instrument, mixing Old-World design, a dagger-like quality, comfortable grip and great high-tech ink cartridge.
Product Information
Price:
$180 (aluminum versions are $120)
Manufacturer:
Benchmade
Pros:

Very nice workmanship and materials
Well made/machined
Unique Old-World, dagger-like look
Could be used as a weapon
Good weight and feel
Excellent, high-tech ink cartridge included

Cons:

Expensive
Some people might find the 1100 too heavy