We use affiliate links. If you buy something through the links on this page, we may earn a commission at no cost to you. Learn more.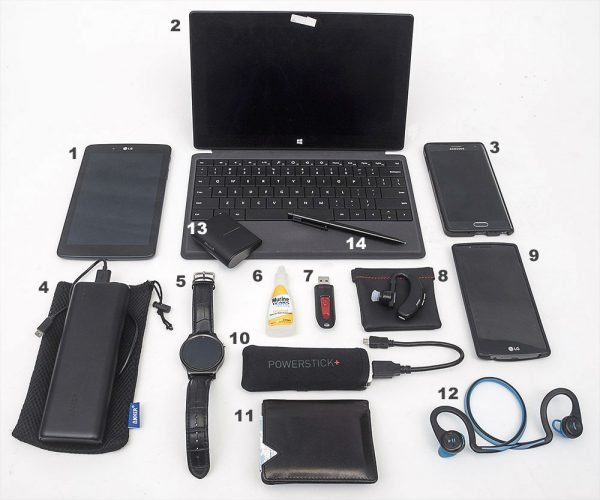 For my everyday carry items, I am just going to focus on my messenger bag since that it what I have with me 5 days a week as well as just some personal effects that I carry on me. If I had to do a list of what is in my camera gear bag then this would be a whole different article in itself since it would be rather lengthy.
1. LG G-Pad Tablet
I mainly use this tablet as my portable teleprompter that I use with my Parrot Teleprompter app. I made a small black sunshade with a plate glass to reflect the G-Pad's screen onto giving me or other people dialogue and lines to read from our scripts.
2. Microsoft Surface Pro 2
I like that this Surface Pro is very compact yet powerful enough for me to tether my Canon 60D to it and take pictures and view them in Capture One when I am doing a photoshoot. I wanted a laptop that was small enough that I could throw in my camera bag but still be able to run desktop software like Capture One or Lightroom. I liked the compact size of tablets but they couldn't run the desktop software I needed.
3. Samsung Note Edge
I liked this phone when it first came out and after researching the specs on this phone I knew I would get one for myself. Even after the Note Edge 6 Plus came out, and after extensive research comparison, for me, I just liked the specs of the Note Edge better. There are just features that the Note Edge had over other phones that appealed to me more.
4. Anker PowerCore 20100
Since I carry LG G4 and Samsung Note phones with me, I definitely need a portable charger that has plenty of juice that can charge my phones at the same time. As a matter of fact, this charger has plenty of juice to charge a 12" inch MacBook.
5. Ulefone GW01 Smartwatch
I like the all black style and design of this watch because It goes with anything I wear. The battery life on it is great also. There are 2 or 3 days that go by after fully charging and I notice that only half the battery power is gone. When I first got the watch I was concerned that it would die on me due to forgetting to charge it. However, the 5 day standby time helps me prevent that. The Ulefone watch works well with my phone and I really like the way they communicate with each other.
6. Murine Tears Original Eye Drops
Throughout the day when I am working on the computer my eyes tend to get dry and need a little refreshing from time to time. So, having these drops helps to re-hydrate my eyes and since I wear contacts my eyes can get very dry from time to time. These eye drops aren't necessarily to get the red out but act as natural tears to help lubricate my eyes.
7. SanDisk 32GB Flash Drive
I think having a flash drive is necessary for anyone that uses a computer. There are times when I have to transfer files from my Mac at work to my PC at home and vice versa. Sometimes I have to transfer video files so having a large capacity is essential. I like the retractable USB because it stays safe inside the housing when not in use.
Never miss one of our posts again. Sent MON, WED, and FRI with the latest gadget reviews and news!
8. MPOW Bluetooth 4.0 Headset
When I am busy editing photos or videos, answering emails, searching the web, or when I just don't feel like holding my phone to my ear, having this Bluetooth earpiece is not only convenient but it is also comfortable. The earpiece is lightweight and fits snug on my ear. The swivel earbud makes it so I can use it with either my left or right ear. Calls are loud and clear and I have never had any Bluetooth dropouts with this MPOW headset.
9. LG G4
I got this phone because I wanted a phone that could take great pictures as well as shoot in RAW and after researching several contending phones I chose the G4 over the others. I love shooting in RAW because it helps me lighten any overly dark shadows or bring down the highlights in a picture or other tweaks that I am used to like like when I use CaptureOne or Lightroom.
10. Powerstick+ USB Drive/Power Charger
This is a charger that I have had for awhile and it has come in handy for me plenty of times when I need my phones charged. I also really like that it has a built-in 8GB flash drive because you never know when you need the extra storage.
11. A-SLIM Chikara Wallet
For years I have carried a wallet that had plenty of pockets because I like to stash things in them. Whether is was business cards, receipts or Emergency cash, I liked pockets. Unfortunately, when you have that extra room you tend to fill it. With the A-SLIM wallet, it forced me to carry the essentials only in a wallet such as credit cards, driver's license, cash, insurance card and business cards. Aside from its quality leather and digital printed lining, I really like the minimalist design that it has to offer.
12. Plantronics BackBeat FIT
I have to say that these are the best form fitting and sounding Bluetooth headphones I have ever owned and I have gone through plenty of headphones. The sound quality on these headphones are awesome. Plus, the low-end frequency on them I couldn't get on other headphones since I like to hear the mid and low ranges of my music. I like to listen to all the ranges in my music especially the low-end rumble. Hearing the high end on headphones are easy, it's the low end that was missing in most headphones that I've had.
13. Microsoft Wedge Touch Mouse Surface Edition
I wasn't sure if I would like this mouse because the reviews on it were that it was too small and was cumbersome. I actually like the small size and it I like the touch to scroll pages instead of a scroll wheel. You just have to try it for yourself to see if you like it. It gets getting used to but I got used to it in minutes. The Bluetooth works well with my Surface Pro 2 and it also works on other devices that you can pair it to such as desktop computers.
14. Kuting Surface Pen for Surface Pro 2
Since I bought my Surface Pro 2 refurbished on Amazon it didn't come with the digitizing pen but I know I wanted to utilize the note taking and drawing features of the Surface Pro 2. SO naturally I opted to purchase this pen. Works perfectly with the Surface Pro 2. But I can tell you it wasn't cheap so I make sure I keep a watchful eye on this skinny pen. It attaches nicely to the magnetic port on the side of the Surface Pro 2.