We use affiliate links. If you buy something through the links on this page, we may earn a commission at no cost to you. Learn more.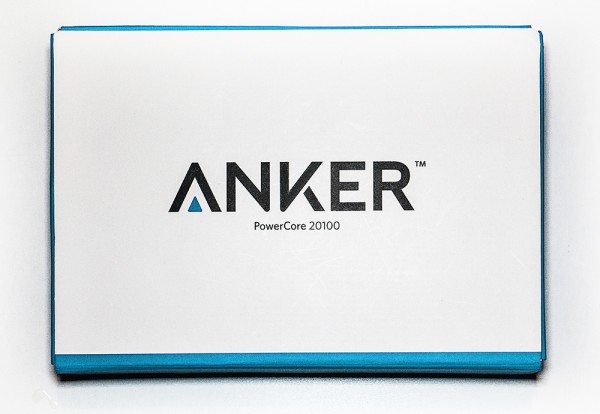 Many people have more than one portable device that they carry with them. And whether they are smartphones, iPhones, tablets, Kindles,  iPads and even GPS units, one thing is for certain and that is that the device will eventually need charging at one point or another. But with all our running around and busy lifestyle, a wall plug isn't always within arms reach.  That's when a portable charger, such as the PowerCore 20100 from Anker, comes in handy.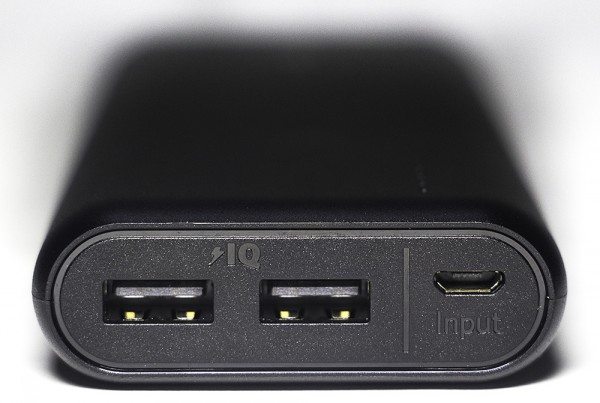 According to the Anker website, the PowerCore has a 20100 mAh capacity which can charge an iPhone 6 seven times, a Galaxy S6 five times, or an iPad Mini twice. The PowerCore comes equipped with two USB ports that can quickly charge devices thanks to each port supplying 2.4 amps. The PowerCore can be recharged in about 10 hours with a 2 amp charger and double the charging time if you use a 1 amp charger. Unfortunately, the PowerCore doesn't come supplied with a charger. So if you have a charger to plug the supplied MicroUSB cable into then your best bet is to use the 2 amp for a quicker charging time. Keep in mind that if you are an iPhone or iPad user then you will have to use the cable that came with your Apple product since there is only the MicroUSB included.
The PowerCore can also power a 12 inch MacBook, however, you will need a USB-C cable to do that.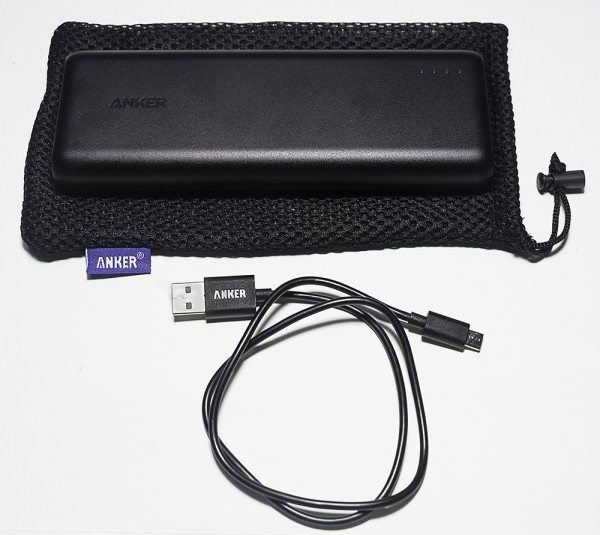 Along with the MicroUSB charging cable, there is a mesh pouch to carry the PowerCore and USB cable in. It is a nice mesh pouch with a drawstring and spring clamp to keep the PowerCore  in the pouch. Because of the PowerCore's matte finish, it slides over the mesh material effortlessly and can easily slide out of mesh pouch if you are not careful. So make sure you use the drawstring with the PowerCore in the pouch if you find that you will stuff it in a backpack or bag where it could tumble around and perhaps slide out from the pouch.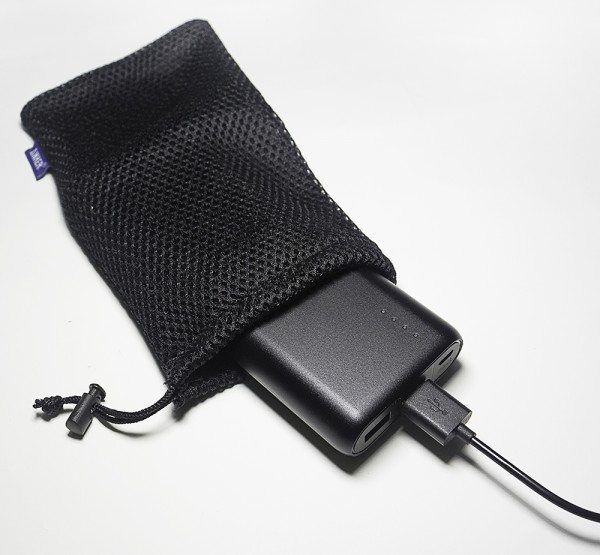 Since this charger has a large charging capacity, it is on the beefy side. Not too big but not anything you can put in your back pocket like the smaller portable chargers. The PowerCore is made of a fire-resistant polycarbonate plastic to help prevent fingerprints and smudges. It is 6.5 x 2.3 x 0.9 inches and weighs 12.6 ounces. There is also a white version available. And let me tell you that the white colored PowerCore looks really nice. If I could have chosen between the black or white I would have gone with the white version. It doesn't seem as drab as the black version and it seems to pop without the flashiness of a solid primary color.  It doesn't make it or break it nor does it affect the performance of the charger it's just a personal preference for me.
The Power Core 20100 comes with a built-in feature, VoltageBoost, which can automatically figure out any non-OEM cable to deliver the most stable current to pass. And along with the VoltageBoost is Anker's PowerIQ. The PowerIQ basically identifies the correct amp charge of the device plugged into the PowerCore. So if you have an iPhone plugged into one port and a Samsung Galaxy S6 plug into the other port, the PowerCore will get the correct amp charge to each phone.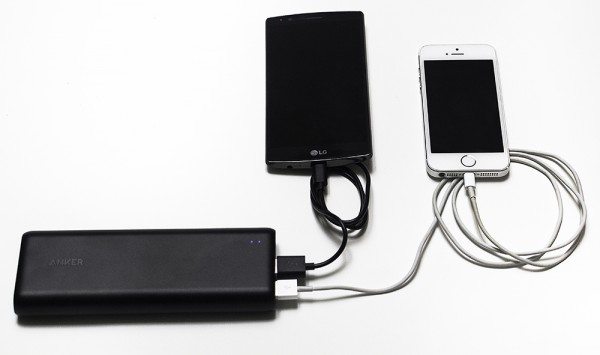 Speaking of charge, at some point you're going to want to know how much charge is available, or how much charge is left on the PowerCore. So, adjacent to the ports on the side is a Status button.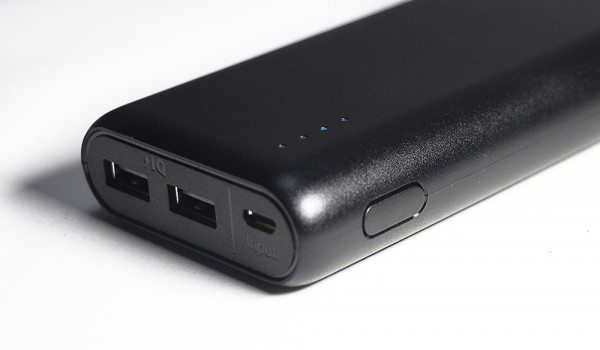 There are 4 LED lights that illuminate to give you the status of the PowerCore. The LED lights also blink to let you know the status of the PowerCore when you are charging it. They will blink while charging and when it is fully charged all the lights will turn off. Seems odd to me that all the lights turn off when fully charged since I am used to seeing the LED lights on other things I have charged to be steadily lit rather than turn off. That doesn't make or break  the PowerCore its just something I noticed.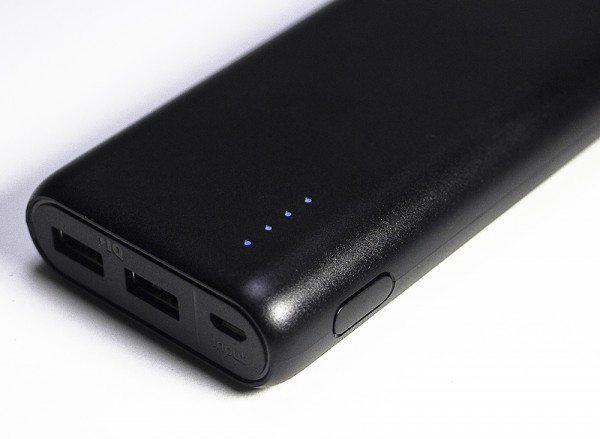 Directly to the right of the USB ports is the input port to charge the PowerCore. Charging takes approximately 10 hours with a 2 amp charger and up to 20 hours with a 1 amp charger. The PowerCore 20100 is one of the most powerful charges I have used and seems to last forever.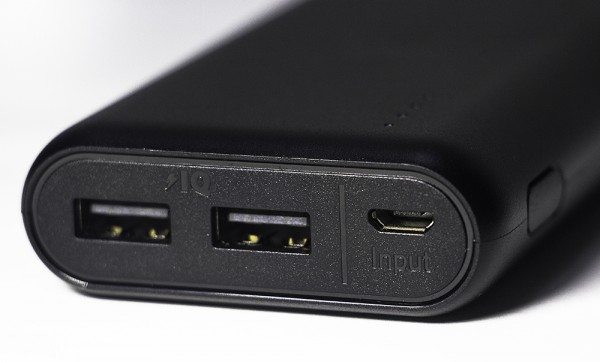 Although the weight is debatable, this isn't a phone charger I would carry in my pocket, or any charger for that matter, but I would definitely carry it in my messenger bag, camera bag or backpack. This is a charger that could go with me everywhere I can bring it. A tiny bit of weight is a small sacrifice for huge charging power with this beast.
Source: The sample for this review was provided by Anker. Please visit their site for more info and Amazon to order one..