We use affiliate links. If you buy something through the links on this page, we may earn a commission at no cost to you. Learn more.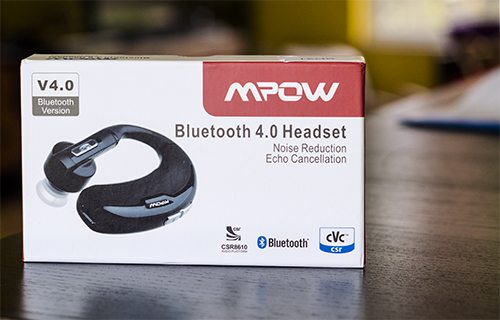 I really like the convenience and features of a hands-free Bluetooth headset, however, when I wear them I can't  get passed the stigma of the hands-free headset sticking out of my ear like a small USB thumb drive.  Nevermind the ones with a boom mic  protruding down the side of my face towards my mouth. Don't get me wrong, there is a time and place for hands-free headsets and some work rather well and have great sound. Just check out the review I did for the Plantronics Voyager PRO. Up until this review for the MPOW Bluetooth 4.0 Headset I have been using the Voyager Pro quite often. But I use it in the comfort and privacy of my home. I just can't see myself walking around in public wearing this headset having a phone conversation with its boom mic. Sure, in the beginning, I would use the Voyager PRO mainly in my car so I could be more of a responsible driver and use a hands-free headset while I was driving. 
But when I received a phone call while driving I would have to see who is calling, grab the Voyager headset, put it on and answer the phone. Now the easiest thing to do would have been to keep the Voyager PRO on my ear while I was driving down the road or kept it in my ear when out in public for that matter.  Fortunately, my conscience wasn't going to allow me to be that guy walking around with a Bluetooth hands-free headset looking like I'm waiting for a phone call. I mainly used the Voyager PRO in my home office if I needed to talk with client , friends, family all the while I continued to work in Photoshop, edit videos, review footage, brainstorm ideas, etc. It definitely kept my hands free when I needed to be on the phone.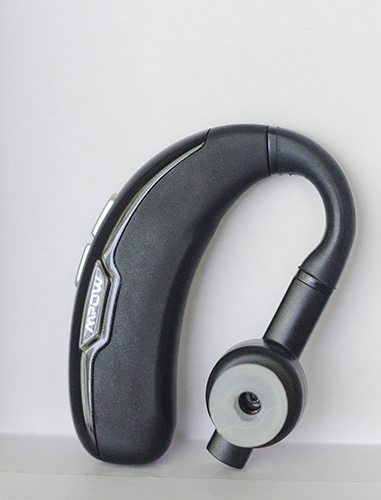 The first thing that caught my eye about the MPOW headset was its look. I liked how the MPOW was worn like a stereo headphone.  The MPOW Headset has an over-the-ear look and feel like my Plantronics Backbeat 906 and Jabra Sport Bluetooth headsets. Having one of these headsets on, while walking down the street, wouldn't make me self-conscious wearing them since they just look like I'm wearing a pair of stereo headphones listening to my music. Same goes with the MPOW headset. It just looks like I'm innocently listening to music and not just wearing a Bluetooth hands-free headset. To me, discreetly wearing the MPOW Headset is a much better look.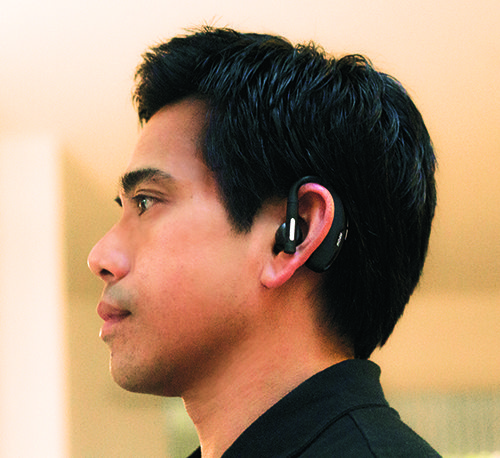 The sound quality on the MPOW is great, partly due to their advanced echo and bi-directional noise cancellation technology. Basically, the MPOW headset cuts out the background noise around you so that you hear and deliver a crisper and clearer sound. I was surprised of the sound quality when I called people on my phone. I asked the person on the other end of the line how I sounded with the MPOW on. Each one said I sounded clear and didn't have an echoey or tinny  sound like yo would hear from many hands-free headsets. There were no dropouts or delays either. A great feature about the MPOW Bluetooth Headset is the ability to pair two devices at the same time. So, if you have two cell phones you can use the MPOW Headset on both phones without having to disconnect the headset from one of the phones to use on the other phone. Right now, this headset is my favorite  hands-free headset to date.
The MPOW Bluetooth 4.0 is actually very simple in its form with its over-the-ear design. It has a soft gel ear piece, and comes with extra ear pieces in different sizes, which make it comfortable to wear for long periods of time.
A nice feature that this headset has is the ability for the earpiece to swivel 180° so that it can be worn either on your left ear or right ear. In conjunction with its simplistic design are two buttons: a volume and a multi-function button which answers and ends calls. Plus the multi-function button is used to start the pairing process and to turn on and off the headset. The MPOW is a Class 2  2.4 GHz Bluetooth 4.0  headset that can be paired to cel phones, tablets, iPads, PC's, Mac's or basically anything with Bluetooth since the MPOW has a A2DP and AVRCP profile. Basically, the A2DP allows stereo audio from your listening device like your Android phone or iPhone to the MPOW Headset. And the AVRCP allows the MPOW Headset to control the PLAY, PAUSE, SKIP, FORWARD, and REVERSE on your phone.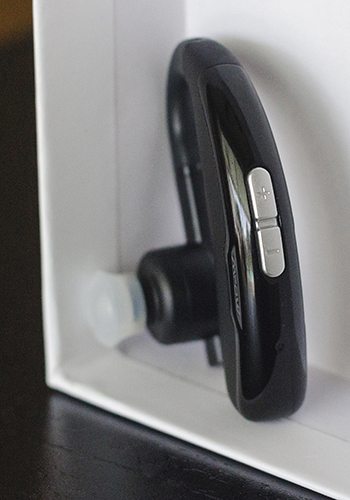 The MPOW Headset has a rechargeable lithium polymer battery that holds around 10 hours of talk-time and 150 hours of standby time. It takes between two and three hours to fully charge the battery. Fortunately, the MPOW gives off an audible low battery warning every minute when the battery needs recharging. I can honestly say that the battery lasted me a few days with moderate use of talk time, music playing and using it to watch Netflix movies.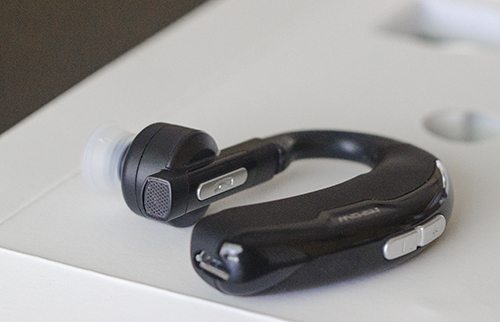 The microphone on the MPOW is just located under the plastic silicon gel earpiece, right at the end of the stem and has a nice subtle conceal to it. With the microphone in this location I was concerned about the microphone's ability to pick up my voice and if it would be clear enough to the person on the other end. Surprisingly, and according to people  I asked on the phone, the microphone did do an excellent job of picking up my voice without my having to raise my voice to hear me. Some feedback I got was that I didn't sound like I was on a hands-free headset or that my voice sounded tinny or echo-ey. People on the other end could hear me loud and clear.
In addition to the Low Battery Warning, the MPOW has other voice prompts to let you know when you have successfully turned it on or off, it lets you know when it has connected to your paired device and it will inform you of the phone number a person is calling from.
For a price range of $29.99 (on Amazon) I really can't list any cons about this headset but I'm sure there may be some features missing that someone would want like the headset announcing the caller's name, two mics instead of one, HD audio, or having a charging case. Features like these can be found in more high-end and expensive headsets like the Motorola Sliver II or Jabra Stone 3. The MPOW 4.0 may not offer the extra features that the more expensive headsets add, but with its minimalist design the MPOW's function is tough to beat.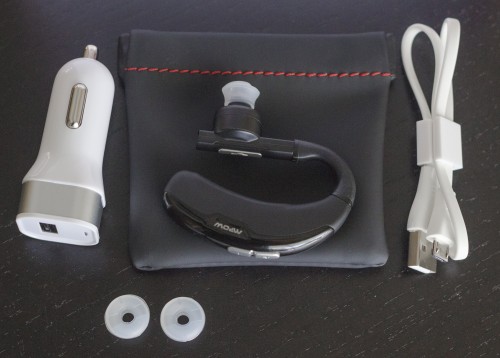 The  MPOW 4.0 Headset comes with a microUSB charging cable, a car adapter with a USB port, 2 extras sets of silicon earbuds and a carrying pouch. I wasn't sure if the pouch was for the extra accessories or the headset itself. Either way, I use it to carry the MPOW headset since it can fit nicely into the pouch. Plus, it gives me a sense of security that it won't get beat up when I place it in my messenger bag or camera bag.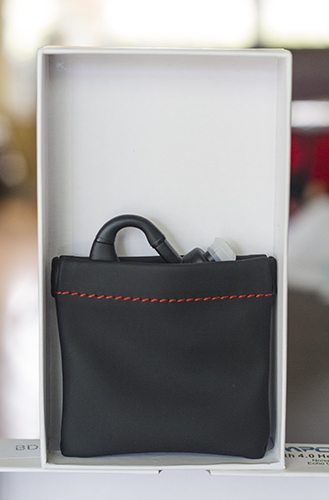 So right now, this is my go to headset since I can use it for phone calls, or listen to music or watch Netflix on my phone, with no problem switching back and forth and I like the low-profile design. In addition, I can hear what's going on around me and it doesn't really feel like I'm wearing a hands-free headset since it only weighs 0.3 ounces.
Update 02/19/15
I love using this headset. It is comfortable to wear and the sound is loud and clear. When I first started using it I was hooked. Late at night when I am editing photos, I can put it on and listen to music from my phone or listen to the audio from YouTube videos on my computer. This way I can listen to my music, hear my surroundings and not bother or wake anyone in the house as they sleep. If I am listening to music late at night, it gives me peace of mind to be able to hear things going on around me. Believe me, when I've been editing pictures after everyone has gone to bed, everything sounds louder in the wee hours of the evening. And I'm sure everyone thanks me for using the headset during that time.
The sample for this review was provided by MPOW. Please visit their site for more info.