We use affiliate links. If you buy something through the links on this page, we may earn a commission at no cost to you. Learn more.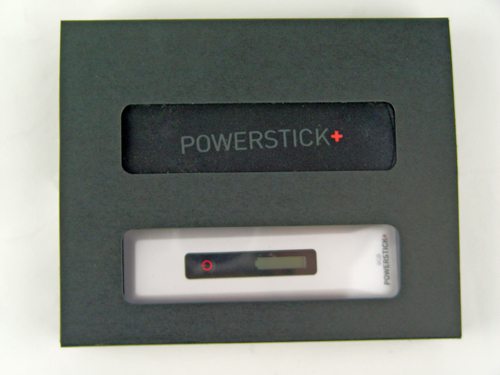 Since many of us carry around mobile devices such as smartphones, iPhones, handheld games, digital cameras, MP3 player, and the like, having emergency backup power is almost a necessity when it comes to preventing your device  from shutting down when a power outlet is out of reach. Powerstick+ from Ecosol is a portable charger that can keep your devices charged.  But I like gadgets that do more than one thing, because that's what makes them unique.  The Powerstick+'s unique feature is that it is also a USB flash drive.
When unboxing the Powerstick+, I was surprised at the size of the device. I guess I was expecting it to be smaller than it is. The dimensions of the Powerstick+ are 4.6″ x 1.3″ x 0.7″. However, since this is also a power charger, I can overlook the size of this device in terms of a flash drive . It is actually pretty slim in comparison to some other portable chargers, such as the Duracell Powerhouse I previously reviewed. With its slim lines, it can fit in nicely in your backpack, briefcase, or purse. It could even fit into your pocket if you really need it to. On a side note, it comes in a nice, simple black packaging. It looks almost like a gift box giving it a clean sophisticated look.
It comes with a soft carrying case to hold and protect the Powerstick+ and cable/tips.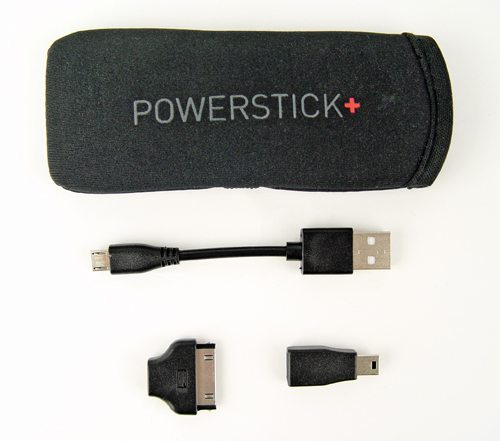 The Powerstick+ comes with three connector tips: a microUSB, a miniUSB, and an Apple 32-Pin connector. To use the miniUSB or the 32-Pin, you connect an adapter tip onto the microUSB short cable. To me, the USB cable seemed rather short and rather stiff, not allowing any flexibilty of a standard USB cable. Basically, whatever the Powerstick+ is plugged into, it will just be an extension of your device since the USB cable is stiff and won't keep a bend in it.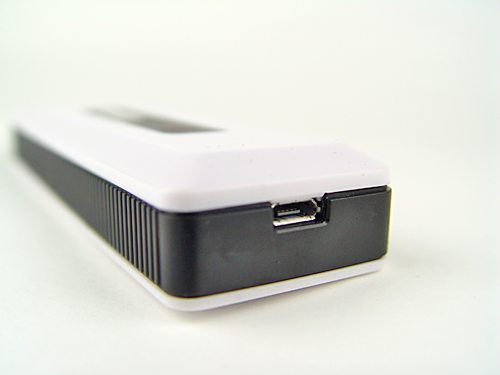 To charge the battery, you just connect the microUSB end to the Powerstick and plug the USB end to any USB port on your computer.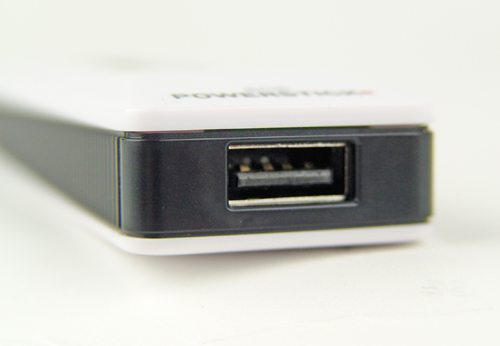 And when you're ready to use the Powerstick+ as a charger or to access the flash drive just switch the cable to the other end and use the connector tip of your choice.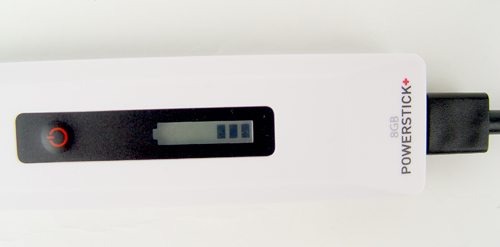 There is a power button located at the top of the Powerstick+. Next to that is a LCD window that displays a progress bar indicating charge and battery status. Eight bars tell you that it is fully charged.
The included quick guide says it takes about two hours for the battery to charge and 90 minutes to discharge. I found these statements to be fairly accurate. It took over an hour and a half to fully charge the Powerstick+. The battery is a 2300 mAh capacity Lithium Polymer battery. The Powerstick+ website claims that it has 1000 charge/discharge cycles.
Never miss one of our posts again. Sent MON, WED, and FRI with the latest gadget reviews and news!
With the Powerstick+'s lithium-polymer battery, it can power many portable devices such as MP3s, iPhones, smartphones, GPS units, iPads, and some tablets.  However, when I tried the Powerstick+ with my Galaxy Tab 10.1 tablet, I found my tablet seemed to need more power than the Powerstick+ can push out.  Typically, when my Galaxy Tab is plugged into the wall and charging, a battery with a lightning bolt icon appears in the status area to notify me that the tablet is charging.   When I plugged the Powerstick+ into my tablet, I saw a battery with a red X icon in the status area. I checked the status, and it had a notice saying "charge suspended". Seems to me that there was trickle charge happening since the battery icon popped up at all.
The Powerstick+ has a capacity of 2300mAh and a maximum output voltage of 5 volts and has a discharge time of up to 90 minutes. The Galaxy Tab is rated around 7000 mAh.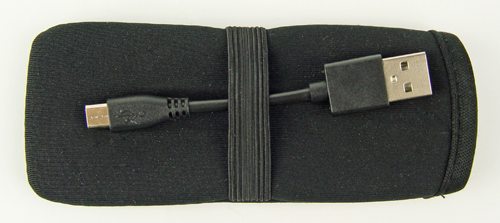 My only real issue with the Powerstick was the short and rigid USB cable plus the fact that the case didn't have a place to store the cable itself so you are left with the USB cable just lying around and having a chance of getting lost in your bag. However, there is a strap on the case where you can hook the cable onto but it still seems like a "quick fix" rather than a solution. I think a pocket would have been a little more ideal if not for a better aesthetic appeal.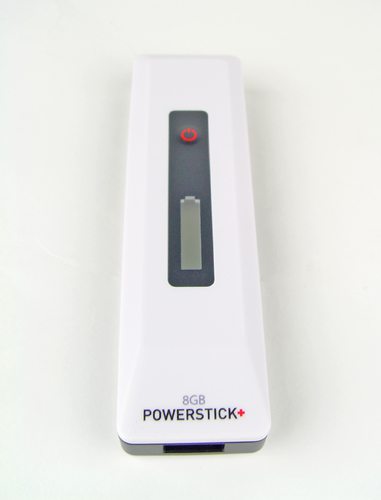 All in all, the Powerstick+ is a straightforward charger/flashdrive. With it being a 2.0/1.1 interface USB, the transfer rate was standard to most 2.o USBs. I didn't really have any kind of software to measure the transfer rate accurately, but when I copied large RAW files from my computer  to the Powerstick+, I didn't notice any bottlenecking during the transfer. It copied over just fine without any hiccups.
The Powerstick+ is available in a 4GB and a larger 16GB. The price ranges from $79.00 t0 $99.00.
Product Information
Price:
$79.00
Manufacturer:
Powerstick/Ecosol Technologies
Pros:

Handy flash drive.
Additional power charger for mobile devices.
3 included connectors.
Status window.
Neoprene case.

Cons:

Slightly over-sized compared to other chargers and flash drives.
Short USB cable.
No pocket or place to store USB cable.
Not USB 3.0 compatible.