We use affiliate links. If you buy something through the links on this page, we may earn a commission at no cost to you. Learn more.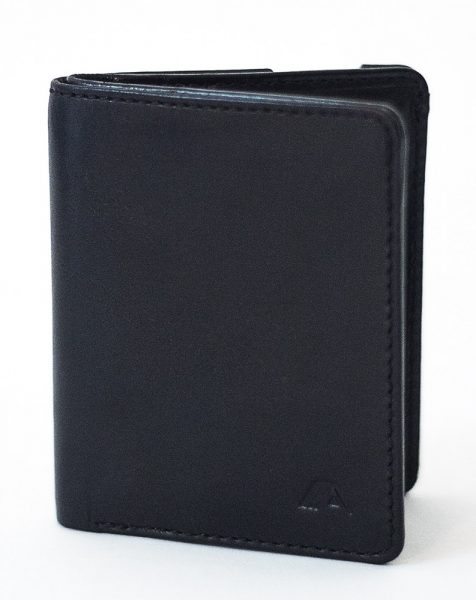 I had a chance to review a great little wallet from A-SLIM, the Sapphire Black Chikara. After using the wallet in real world situations I can say that this wallet is exceeding my expectations when it comes to the smaller slimmer thin billfold wallets.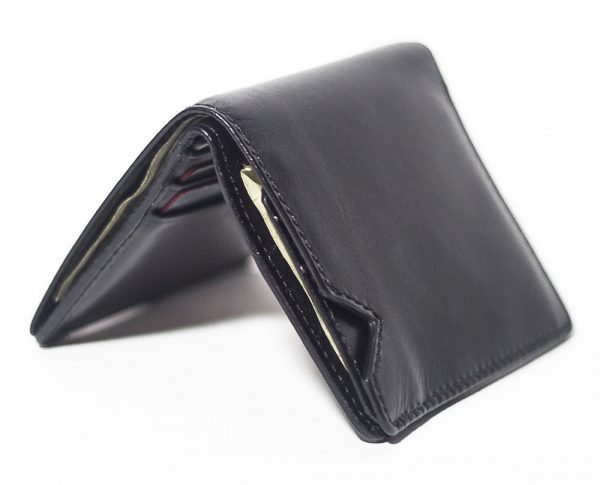 First of all, the wallet's name, Chikara, is the Japanese word for "Power" and according to A-SLIM this wallet is for the power user or that person who is always on the go. It is made from premium full grain leather and 4 ply viscous thread.  The wallet has six interior slots and one exterior slot and is designed to hold up to nine cards. However, I only used one card per slot so I only have six cards inside the wallet. I keep business cards in the outer compartment.   Maybe if you doubled up two cards in one slot then you can reach the nine card capacity but I didn't opt to do so. Unlike the interior slots of the wallet, the outer compartment is not RFID protected.  You would keep the cards you want protected by the RFID, such as debit cards, credit cards, smart cards, or pay cards, inside the wallet.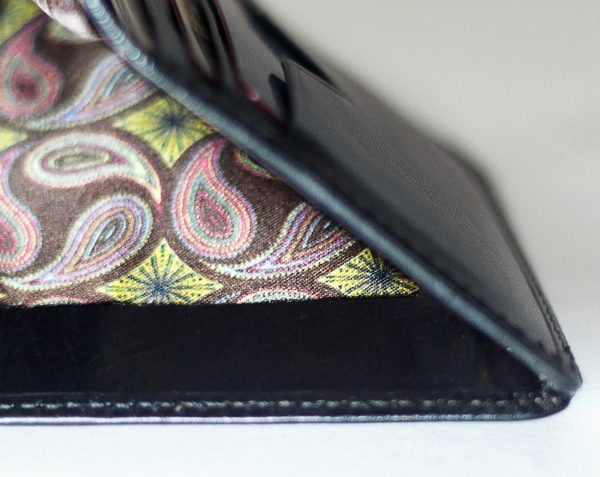 Inside the bill compartment is a digitally printed lining. I really thought this lining was a nice touch and gave an aesthetic look to an otherwise dull and common compartment. Typically, the wallets I've owned never had a printed lining, digital or otherwise. I really like the look of it.  At first, I was unsure if the paper bills would fit inside the money area without having to fold the bills. Surprisingly, the paper bills can fit inside the compartment fully open without having to be folded. I mention this because A-SLIM's other line of wallets, the Super Slim Fit Wallets, can't have fully open bills in their money compartments. The bills need to be folded to store them in the money compartment.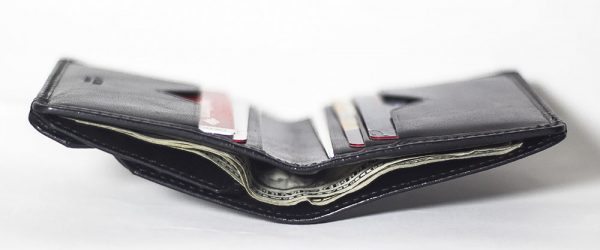 The Chikara comes in 4 other colors: Mahogany Brown, Raw Brown, Havanna Tan, and Rainforest Green. The Chikara is also part of their Regular Fit models since they have other wallets that range from Slim Fit to Super Slim Fit. A-SLIM also offers travel wallets for passports as well as other accessories like keychains and business card holders.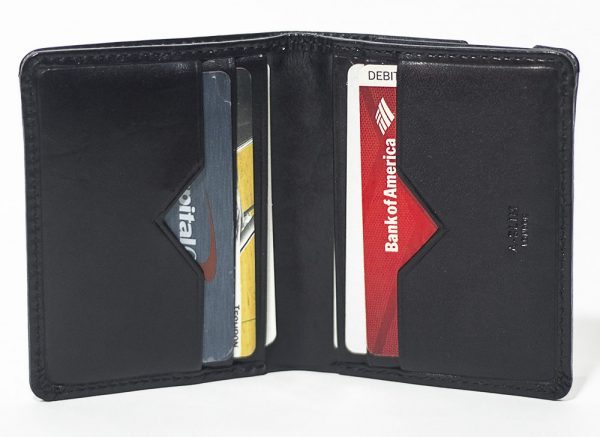 Even though the Chikara is not in any of their Slim lines, I found this wallet to be slimmer than wallets I have owned in the past. In fact, with 2 bank cards, a credit card, drivers license, insurance cards, and an electronic key access card, I have to check every now and then that the wallet is in my back pocket because it doesn't feel like a typical bulging wallet in my back pocket to remind me that the wallet is there.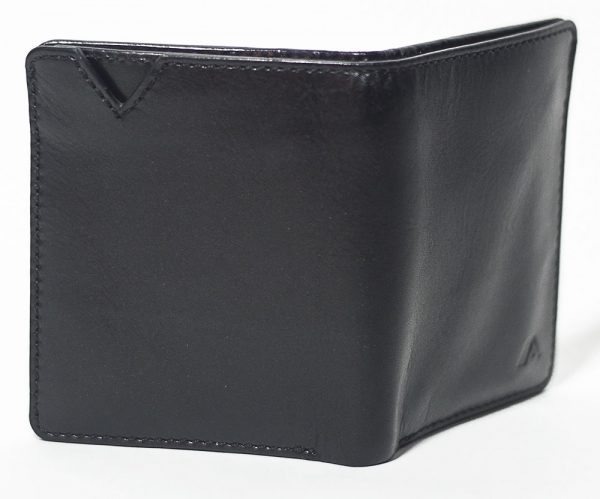 Another aspect that I noticed about this wallet, and that I really liked, is the ease of taking cards out from the slots. I have purchased "slim" wallets in the past and one thing that I could not stand is the fact that I had the hardest time taking out a card from the slot. I think because they were labeled as "slim" or "compact" those wallet makers made the sleeves and slots smaller thereby making the cards too tight to slide in and out of their slots or sleeves. It drove me nuts trying to pull a card out when it was jammed in one of the slots. I thought over time the slot would stretch out but it was never soon enough.
Never miss one of our posts again. Sent MON, WED, and FRI with the latest gadget reviews and news!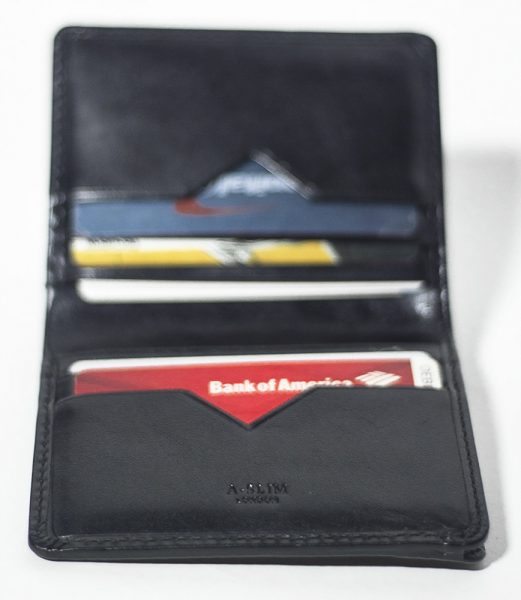 With this A-SLIM wallet, I could slide in and out my cards with little or no effort. I found that this was a huge factor for me when it comes to wallets. I actually mailed back a wallet I purchased on a road trip vacation that had several pockets, sleeves, and storage. But the fact that I had to struggle so hard to get a card out I just threw up my hands and said "forget it". I really wanted to make that wallet work but since it took me an insanely amount of time just to take a debit card out so it wasn't worth the frustration. With the Chikara wallet I found that I could even slide out a debit card with just my thumb.  It can't get any more simpler than that.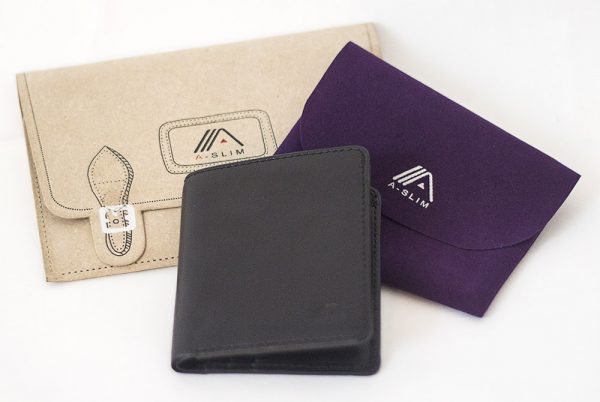 What I like is when companies package their products well. It shows a little thought and care of their product's presentation and A-SLIM is a company that is no stranger to this concept. When I received the Chikara wallet I was greeted with a small decorative packaging pouch and inside that pouch was another yet smaller velvet pouch. Finally, inside that small velvet pouch was the Chikara wallet. It seemed to me that A-SLIM kept the wallet cushioned and protected until it gets into the buyer's hands. This was a nice touch considering there are no parts on a wallet that would constitute extra padding but the presentation was all there. A-SLIM uses recycled leather for the packaging to reduce the impact on the environment.  They even include a small thank you note/care instructions as well. I thought that was a nice personal touch from the company. Plus, they offer a 4 year warranty.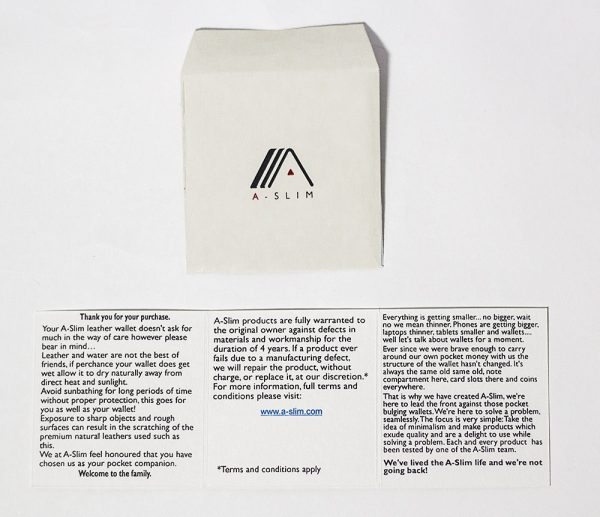 A-SLIM must be doing something right since they have been in the leather industry for over 50 years.  And with the quality and craftsmanship I see in their wallets I can see the company lasting another 50 years. The Chikara wallet from A-SLIM is a wallet that I will surely keep for years to come. It has a been nice change from my original wallet, which is bigger than the Chikara, to a much slimmer wallet that essentially holds the same credit cards, debit cards, access key card, and bills that I carried everyday in my old wallet. So, naturally I will be sporting the Chikara wallet and because of it's slim size I have to option of keeping it in either my front pocket or my back pocket which I never really had with my old wallets.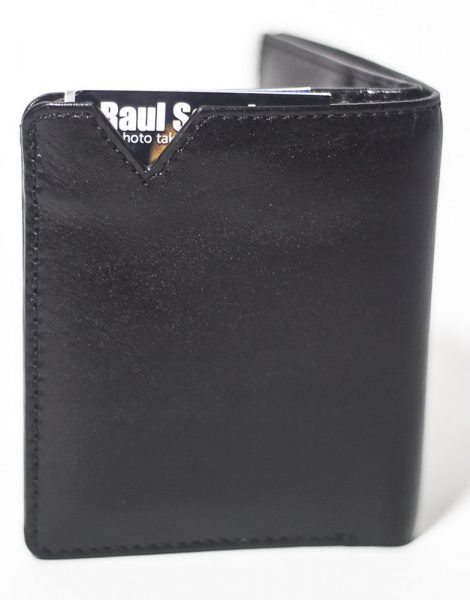 Check out this review:
Source: The sample for this review was provided by A-SLIM. Please visit their site for more info and also check their Etsy shop and Amazon.