We use affiliate links. If you buy something through the links on this page, we may earn a commission at no cost to you. Learn more.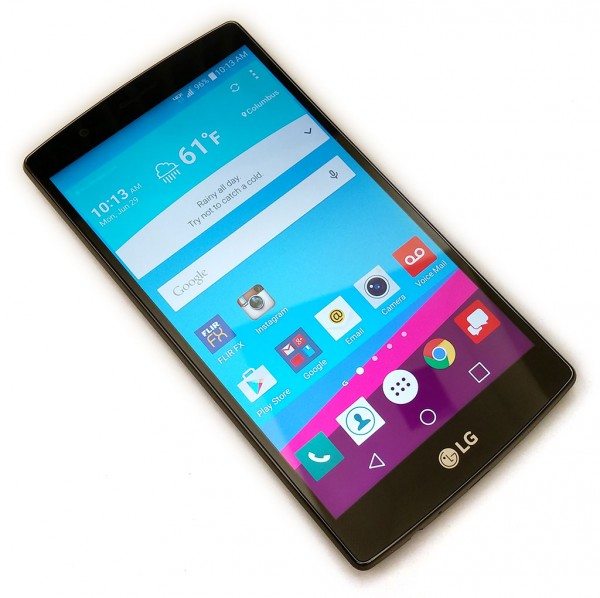 Even though I'm the Gadgeteer, I don't upgrade my personal phone every few months like some people might expect. I'm still using the LG G3 that I purchased last August. That means that in a few short weeks that I'll have been using the same phone for an entire year. Are you shocked? That doesn't mean that I don't drool over new phones, but since I am lucky enough to have an opportunity to try out everything Verizon Wireless has to offer, I don't feel too compelled to upgrade every time something new comes along. Having said that, I've been especially looking forward to the arrival of the LG G4 because the G3 has been a great phone for me. A new model means new features and the temptation to upgrade, right? Let's find out.
Note: Images can be clicked to view a larger size.
Hardware Specifications
Processor: Qualcomm® Snapdragon™ 808 processor with X10 LTE, 1.8GHz 64-bit Hexa-Core CPU
Operating System: Android 5.1 Lollipop
Memory: 32GB on board memory + 3GB RAM/Supports up to 2TB microSD Card (sold separately)
Network: CDMA/GSM/WCDMA/LTE
Frequencies: GSM 850/900/1800/1900 MHz, CDMA 1.9 GHz CDMA PCS/800 MHz CDMA, LTE Bands 4/13/2
Data Transmission: EVDO, EVDO Rev A, 1xRTT, LTE
Display: 5.5″ IPS Quantum display with Quad HD Resolution (2560 x 1440); 538 ppi and 500 nit; Corning® Gorilla® Glass 3 Protection
Camera (rear): 16 MP, f/1.8 aperture, 1/2.6" sensor, RAW capture
Camera (front): 8 MP, f/2.0 aperture
WiFi: 802.11 a/b/g/n/ac, Bluetooth 4.1 BLE, NFC
Headset: 3.5mm Audio Jack
Battery: 3000mAh (Removable Battery)
Dimensions: 5.86"(H) x 3.00"(W) inches
Weight: 5.46 oz
What's in the box?
LG G4 smartphone
Battery
AC adapter & micro USB cable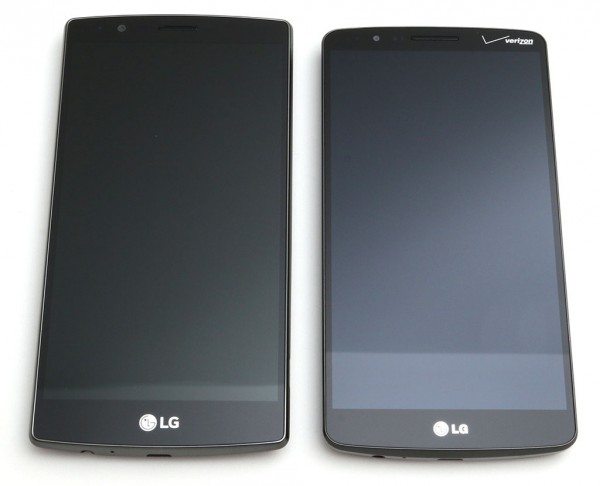 Physical design features
At first glance, the LG G4 has a few subtle changes in appearance that differ from the older model G3. You can see the LG G4 in the image above next to my LG G3 on the right. As you will notice, the G4 is slightly taller and has sharper corners. The sides are also beveled instead of more rounded like the sides on the G3. The front of the phone is completely black except for the LG logo at the bottom.
The display is bright, vivid and crisp. Is it better than the G3? I really can't see a huge difference. If the brightness is turned to the max on both devices, the G4 is slightly brighter than the G3, but I rarely set the brightness that high because it impacts battery life. These days I think it's tough to find flagship phones from any of the main brands that don't have a fantastic display.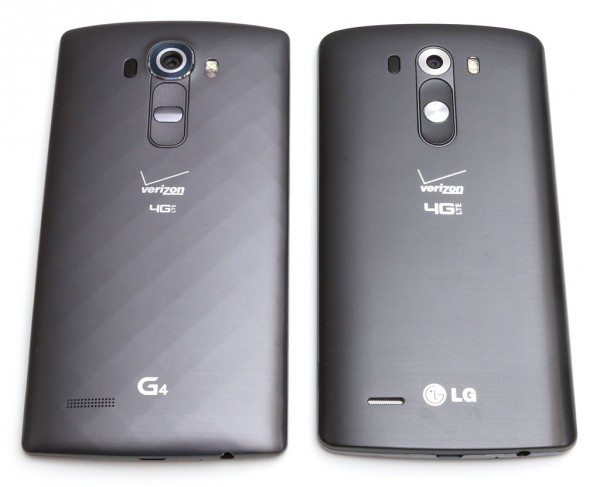 If we flip the phones over, you can see that LG G4 has retained its unique location for the power and volume buttons that we had on the G3. The camera lens, LED flash and speaker are also all located in the same places as before. The LG G4 that was sent to me came with the metallic gray cover with the slightly raised diamond pattern. Verizon also offers the LG G4 in Ceramic White and Genuine Leather Black. I was a little bummed that I didn't get the leather version to try just because – leather.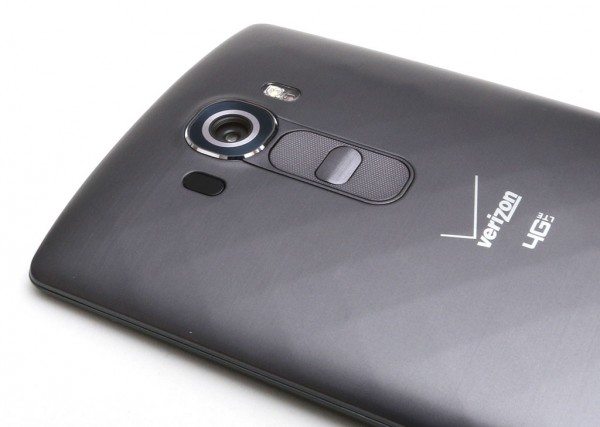 I had no issues with the rear keys on the G4. I've grown very comfortable using them and miss them when I am using other phones. They are perfect for turning pages while reading ebooks. The slightly redesigned shape of the buttons on the G4 were a non-issue.
While the majority of new phones these days are no longer offering user replaceable batteries or micro SD cards, LG did not remove that feature from the G4, which in my opinion, gives it a nice advantage over the Samsung Galaxy S6 and Samsung Galaxy S6 Edge.
It's also nice that the back cover is removable so that there's still an option to add wireless charging. That said, I was disappointed that LG didn't add that feature to the G4 as a default option.

The sides of the phone are smooth with no buttons or switches. But do you notice anything unusual?

How about now? Can you see it? The LG G4's display has a slight curve. It's supposed to make the phone more comfortable to hold. I think it's just a gimmick though because the curve is so shallow that you really don't notice it at all in either looks or feel.

The bottom edge of the phone has a headphone jack and a micro USB charging port. The top edge has a microphone and a IR transmitter so that you can use the phone as a TV remote using the included application.
When it comes to look and feel, I think the LG G4 is just as nice as my LG G3. But it doesn't have the premium feel that the new Samsung Galaxy S6 devices have. My opinion might be different if I were able to try the leather version, but as is, the G4 is a solid phone that doesn't have any problems passing my patented (in my own mind) Gadgeteer squeeze test.
Camera
So far the updates to the G4 that I've talked about have been aesthetic. The updates to the G4's camera are not just for looks. The LG G4's 16MP camera has a better lens with an f/1.8 aperture and the ability to capture RAW image files. What the heck does that mean? Most people probably won't care about the RAW feature, but an f/1.8 aperture allows the camera to take better images in lower light, which is always a welcome improvement.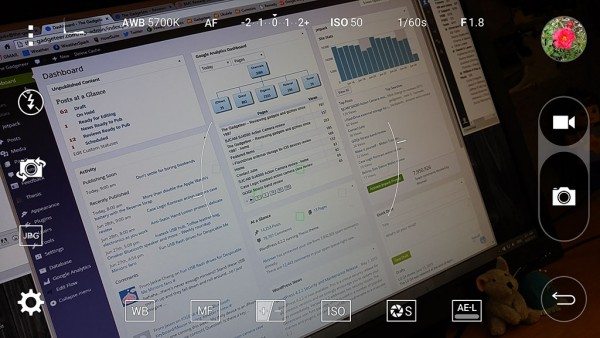 A full manual mode gives you control over every setting from ISO, to shutter speed, white balance and more. And if you're a perfectionist, capturing images in RAW mode will allow you to do even more with your photos. But there are a few caveats. First of all RAW capture mode just means that you're saving the image with a LOT more data. According to eWiki:
Like a photographic negative, a raw digital image may have a wider dynamic range or color gamut than the eventual final image format, and it preserves most of the information of the captured image. The purpose of raw image formats is to save, with minimum loss of information, data obtained from the sensor, and the conditions surrounding the capturing of the image (the metadata).

Raw image formats are intended to capture as closely as possible (i.e. at the best of the specific sensor's performance) the radiometric characteristics of the scene, that is, physical information about the light intensity and color of the scene.
So in a nutshell, because the information isn't compressed with RAW files, you're able to produce higher quality images, as well as correct problems that would be impossible to fix if they were shot in JPG format. Sounds great right? Well, like I said, there are caveats to capturing images in RAW format. First of all you have to switch to manual mode which means you will be the one controlling the settings and not the camera. Also the RAW images are saved as DNG files that you have to hunt for using a file explorer on your phone because they don't show up in the gallery, just the JPG version of the image (it saves two files for each RAW image that you capture) will be saved to the gallery. If you want to edit the RAW files, you'll have to find an app that supports RAW image editing. I don't know of one off the top of my head, which means you'd probably want to copy them to your PC to do the editing in applications like GIMP and Photoshop. Then there's the fact that DNG files take up significantly more space than JPG files. For example, a max resolution (5312 x 2988) JPG image that takes up about 6MB, will have a DNG RAW file that takes up about 20MB.
Being able to shoot in RAW sounds good in theory, but I can't really see most people doing it. If it's me, I'm going to shoot in auto mode because it's fast and requires no thinking on my part to get a good image.
Let's check out a few images taken with the G3 and the G4 to see how they compare. These photos were shot in auto mode and copied straight from the camera with no edits. The only thing I've done is change the file name. Click for a larger view.
Left: LG G3 photo, right: LG G4 photo, image taken in office setting with incandescent lighting.
Left: LG G3 photo, right: LG G4 photo, image taken in office setting with LED and CFL lighting.
Left: LG G3 photo, right: LG G4 photo, image taken in low light setting, no overhead lights.
Left: LG G3 photo, right: LG G4 photo, image taken outdoors in sunlight, no flash.
There isn't a huge difference between the images at least not to my eyes. Both phones have quality cameras that take quality shots.
Software
The LG G4 comes with the latest version of the Android operating system installed. My LG G3 has been updated to Lollipop too, but the new G4 has a few changes such as the Google Now style card interface for the home screen.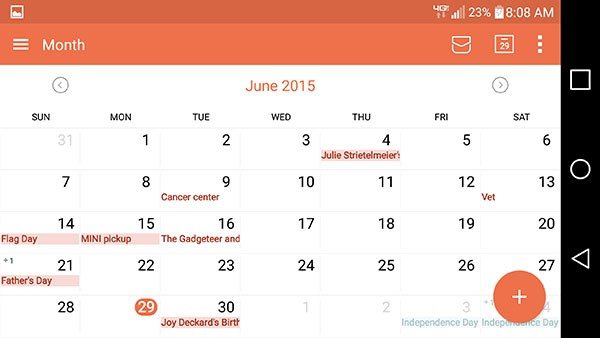 The calendar app has been updated to show the actual appointment descriptions in the monthly view. I really like this update as most stock calendars just have a dot to signify an appointment on that date. The full text makes it much easier to see what you have going on for a given month.
Verizon has added several apps to their normal Verizon bundle which includes: mobile hotspot, messaging, VZ navigator, cloud, account management, NFL mobile, Slacker, etc. Also included are games like Cookie Jam (which I've been addicted to on my Samsung Galaxy S Tab 10.5 for months now), Panda Pop, Hotels.com and a game called Empire which I never launched.
Using the LG G4 for phone calls
I didn't have any complaints from people I talked to using this phone. Conversations on both sides of the call were clear and with ample volume. I also did not have any issues with dropped calls while testing the G4.
Overall performance and battery life using the LG G4 for day to day tasks
Again, I had no complaints with performance and battery life. I can't say I experienced noticeable improvements over and above what I've been experiencing with my LG G3. No improvements in both these areas is not a bad thing as I've been happy with performance and battery life with the older version of the phone. Apps launch quickly on the LG G4 and pages scroll smoothly.
Final Thoughts
Do I recommend the LG G4 to an LG G3 owner like myself? No. Well, only no if there's nothing wrong with your G3. If it's on its last leg and you're ready for a new phone, then yes, buy the LG G4. Otherwise, I would just stick with the G3 for awhile longer. That's what I plan to do. But the LG G4 is definitely the phone I would buy if I needed a new smartphone right now. The fact that the battery can be replaced and there's a microSD card slot for expanded memory is a significant advantage over Samsung Galaxy S6 phones. The improved camera is just icing on the cake. LG makes quality Android smartphones so I don't think you'll be disappointed.
Source: The phone in this review was a temporary loaner provided by Verizon Wireless. Please visit their site for more info.

Product Information
Price:
$199.99 w/2yr contract, $549.99 w/o contract
Manufacturer:
LG
Retailer:
Verizon Wireless
Pros:

User replaceable battery
microSD card
Camera can capture RAW images
Improved front facing camera

Cons:

Wireless charging is not built in