We use affiliate links. If you buy something through the links on this page, we may earn a commission at no cost to you. Learn more.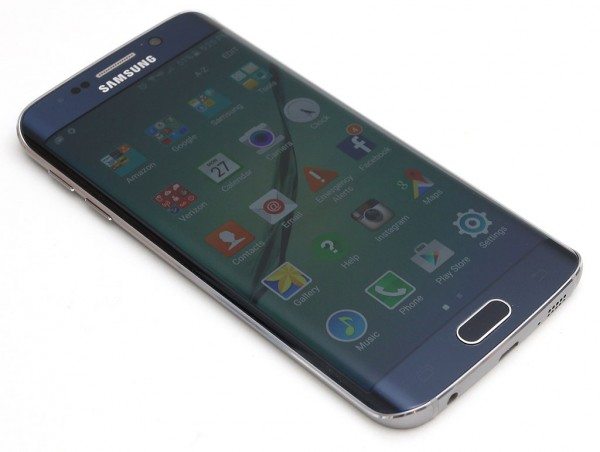 Samsung's latest Android smartphones include the Samsung Galaxy S6 and the S6 edge. Both of these phones are essentially the same except that the S6 edge has a display with curved edges and the S6 does not. The curved display isn't a new feature though, it was first introduced with the Samsung Galaxy Note Edge which I reviewed a few months ago. However, the Note Edge only had one curved edge which annoyed me due to its lack of symmetry. Verizon Wireless recently sent me the Samsung Galaxy S6 edge for a two week loan. Did I find out that two curved edges are better than one or is this feature just a novelty? Let's find out.
Note: Images can be clicked to view a larger size.
Hardware specs
Processor: 2.1GHz, 1.5GHz; Octa-Core
Operating System: Android 5.0 (Lollipop)
Memory: 32GB, 64GB or 128GB on board memory
Network: LTE Band 13/4 (700/1700 MHz), CDMA/1xEVDO Rev. A (800/1900 MHz)
Display: 5.1 Quad HD Super AMOLED Corning® Gorilla® Glass 4 display (2560×1440), 577ppi;
Camera (rear): 16MP
Camera (front): 5MP
Wi-Fi, Bluetooth 4.1, NFC
Headset: 3.5mm Audio Jack
Battery: 2600 mAH Non-removable Lithium Ion fast charging
Dimensions: 2.76 in x 5.59 in x 0.28 in
Weight: 4.66 oz (132g)
What's in the box?
Samsung Galaxy S6 edge
Pre-installed SIM Card (4FF NFC)
SIM Removal tool
AC Adapter
USB Cable
Stereo Headset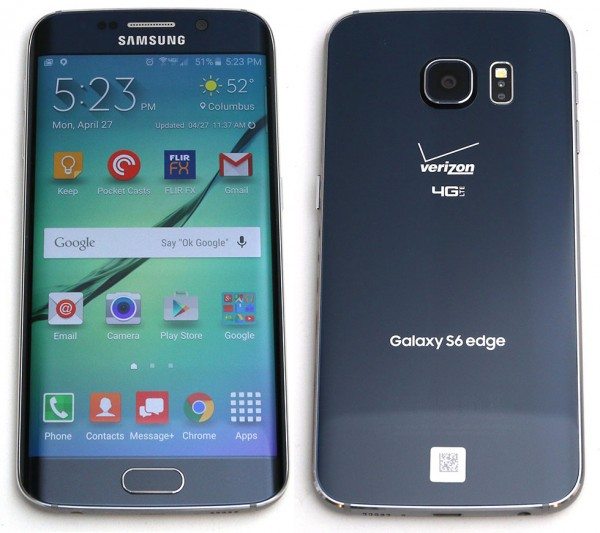 Physical design features
Samsung has really upped their game with this latest smartphone. The aluminum frame with a glass front and back give this phone a premium look and feel that will remind a lot of people of phones from that other popular phone maker – Apple. It's obvious that Samsung has been inspired by the design of the iPhone 6.
The front of the S6 edge features a bright vivid 5.1 inch display with curved edges on both sides. I'm a big fan of Samsung displays and the S6 edge display does not disappoint. It's even viewable outdoors if you pump the brightness to the max. Below the display is a centered home button that doubles as a fingerprint scanner. I'm a big fan of the dedicated home button and as far as the fingerprint scanner is concerned, I found this one easier to use than the fingerprint scanners on previous Samsung devices. The scanner is not quite as good as the Apple iPhone 6 or iPhone 6 Plus, but it's close.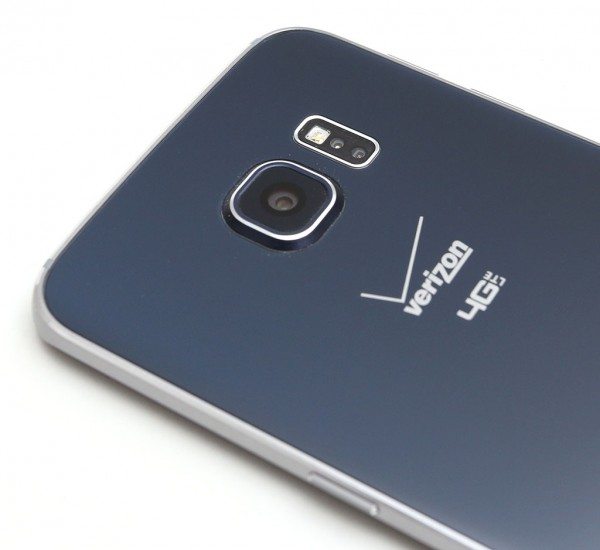 The back of the phone is a slab of glass with a raised camera lens and an LED camera flash with heart rate sensor. The back of the S6 edge is sealed. That means that the battery is no longer user replaceable and the micro SD card slot is absent as well. Both of these omissions are a disappointment to long time Samsung fans – myself included. Although I have never had the need to swap batteries, I do use a micro SD card in my phone to back up my pictures and other files. I guess this isn't a huge deal given the fact that you can back up your images to a Google Photo account and the S6 is available in 32, 64 and 128GB capacities. But the battery issue is a big deal to a lot of people. Sadly sealed smartphones seem to be the norm these days. It makes me wonder if this trend is just a way for phone manufacturers to make consumers upgrade more often. Diminishing battery life is often one of the first problems people notice after a phone has some age on it. In the past it's been a relatively simple matter of ordering a new battery and doing a swap. Not anymore…
On a brighter note, Samsung was nice enough to add wireless charging as a built in feature with the S6. The phone includes both Qi and PMA wireless charging capability. I didn't have a PMA charger to test with the S6, but I did test with two of my Qi chargers. The S6 worked perfectly with my TYLT VU charger, but I can't say the same about my Nokia DT-910 charger which didn't work at all. I have two of each of these chargers and both Nokias did not work at all. I'm not sure why as they work fine with my other Qi enabled phones and tablets.
Also note that if your phone freezes, you can't just pop out the battery to do a reset. Instead you have to press and hold the power button and the volume down button at the same time for seven seconds. A special menu will popup that will let you restart the phone.

The right side of the Samsung Galaxy S6 edge you will find the power button.

The left side has individual volume up and down buttons. All of the side buttons stick out enough from the frame to allow your fingers to easily locate and press them when needed.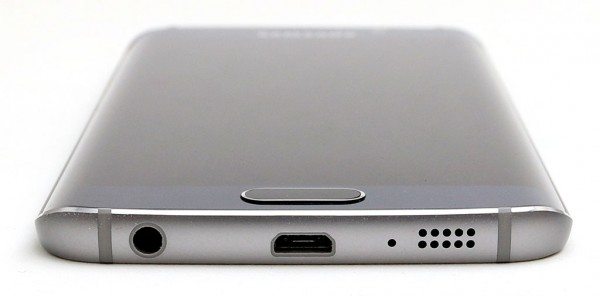 The bottom of the phone has a 3.5 mm headphone jack, micro USB port, microphone and speaker.
Those of you with an iPhone 6 or iPhone 6 Plus, compare the bottom edge of your phone with the picture above. There's an uncanny resemblance isn't there? Imitation is the sincerest form of flattery right?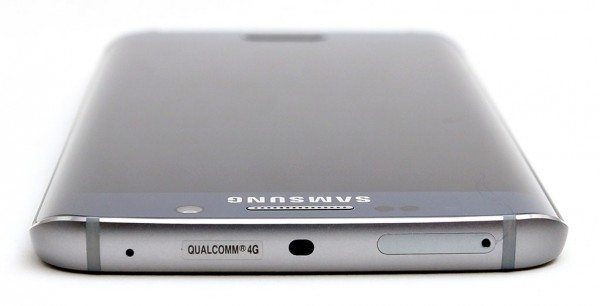 On the top edge of the phone you will find another microphone, IR transmitter, and the SIM card slot.
The Galaxy S6 edge is a nice sized phone that fits well in your hand and your pocket. It feels like it's been carved out of a block of glass and metal. My sample had zero problems passing the Gadgeteer squeeze test. This phone does not flex, rattle or creak no matter how much of a death grip you can put on it. I've been carrying an LG G3 since last August and didn't think I'd ever go back to a smaller phone, but I really liked the size and shape of the S6 edge.
The edges of the edge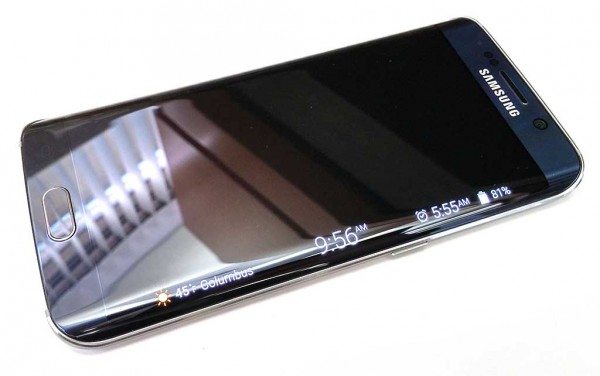 After reviewing the Samsung Galaxy Note Edge, I was looking forward to seeing what edgy (see what I did there?) features the S6 edge would offer. I was disappointed to find out that all the useful features from the Note Edge are not included with the S6 edge.
The S6 edge uses the same edge swipe gesture to show the time, weather and battery status when the screen is off.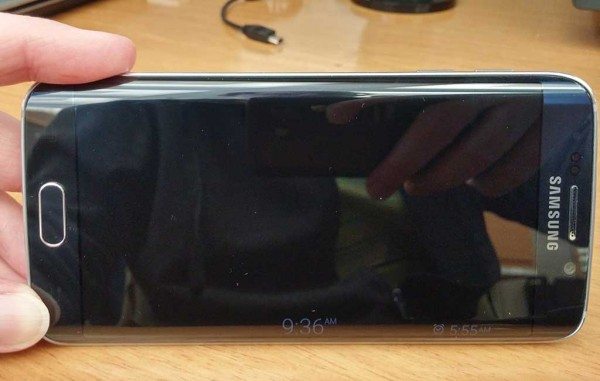 It also has the night clock feature that will let you specify a time block where a dim clock will display on the curved edge of the phone. The idea is that you can pick up the phone in the middle of the night to check the time and not be blinded by turning on the phone's bright display.
But that's where the Note Edge features end. The S6 edge lacks the best features of the Note Edge… It doesn't have an app launch bar and it also does not display incoming text messages and email info. Not having these features pretty much makes the curved edges more of a design feature than a useful feature in my opinion.
Instead of an app launch bar, there's a favorites calling bar that will become visible when you swipe from the edge to the center of the phone. You have the ability to set the contacts and their order. Notice in the image above on the left, see the red arrow pointing to the gray bar on the right side? That's where you slide to display the favorites bar.  Then touching a contact will dial the associated number.
Missed calls will show another bar on the edge in the color associated with the favorite contact. You can swipe that bar to show the details of the missed call.
Also note the color associated with the favorite contact. If your phone is lying face down and one of your favorites calls, the curved edge of the phone will light up in that color so you can see who's calling. If you don't want to answer the call, you can place your finger over the flash/heart rate sensor to reject the call. I find that an odd feature. First of all, who leaves their phone upside down all the time? Secondly, the color flashing feature can be difficult to see / notice depending on the surface the phone is resting on. Isn't easier to just leave the phone face up so you can actually see who is calling instead of having to remember a color?
Here's a quick video showing the edge features in action:
What do you think, would you use these features? While I was working on my review, I had to make myself remember to use them because the features are out of sight, out of mind, unlike with the Note Edge.
Camera
I really like the S6 edge camera and was impressed by the images I captured while reviewing it. From what I'm reading elsewhere, this camera does a better job than the iPhone 6 and 6 Plus.
Double clicking the home button starts the camera app very quickly with little to no lag so that you won't miss those important shots.
Here are a few sample pictures: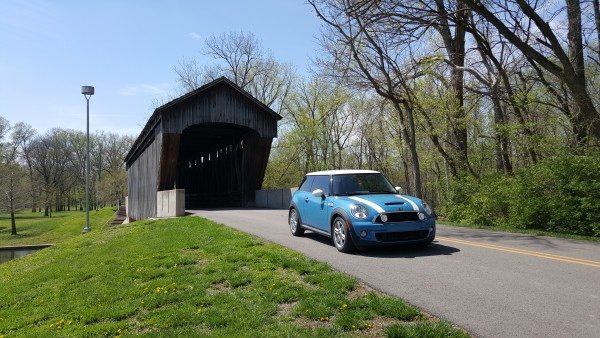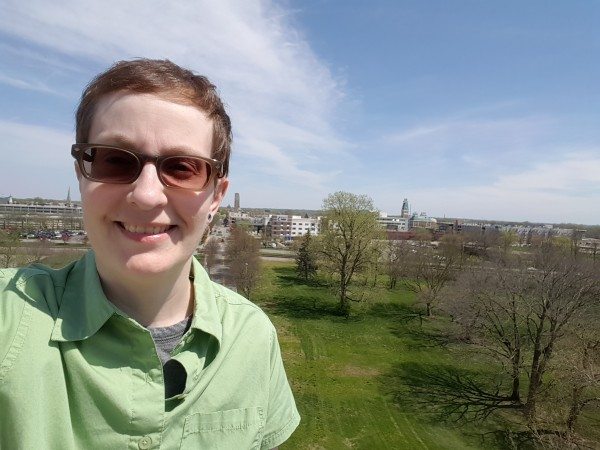 The image above is a selfie using the front facing camera. If I had this phone, I wouldn't carry a separate compact camera with me on vacations. I think I'd be perfectly happy using the S6 edge as both my phone and my camera.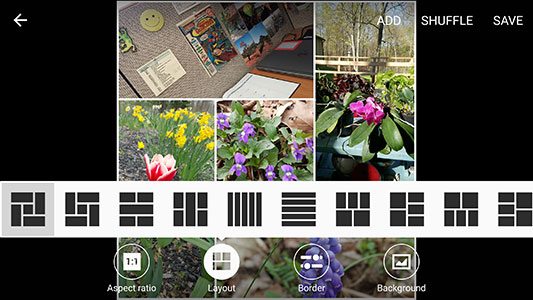 The camera app even has a built in layout tool that will let you create image collages.
Software
In the past Samsung has dumped a lot of their own apps on their phones which we fondly like to call bloatware. I'm happy to report that Samsung seems to have heard user's complaints and has toned it down quite a bit with the added apps on the S6.
S Health is still included, which I actually like. This app is a nice alternative to activity trackers like the Fitbit Charge HR and others. And don't forget that there is a heart rate sensor on the back of the phone that will help you measure and track your pulse.
The S6 also includes a TV remote app that is used with the IR transmitter on the top of the phone. This app features a TV guide and a universal remote control.
Other apps include is Milk, a radio streaming application powered by Slacker Radio,  Booking.com for hotels, Uber car app, Cookie Jam, Candy Crush Soda and Panda Pop. Thanks to Samsung I've become addicted to the Cookie Jam game.
Using the Samsung Galaxy S6 for phone calls
I didn't have any problems making or receiving calls with the Samsung Galaxy S6 edge. I didn't experience any audio problems or dropped calls during the time I was reviewing this phone. Volume on both sides of the conversation was more than adequate. And if you haven't turned on Verizon's advanced calling feature (look in your settings), it really does make calls sound better than they ever have. Advanced calling is only available with 4G and gives you HD voice and data calls at the same time:  http://www.verizonwireless.com/support/advanced-calling-faqs/
Overall performance and battery life using the Samsung Galaxy S6 edge for day to day tasks
The S6 edge is a peppy phone. I didn't notice any problems with lag or sluggishness when loading apps, switching between them, surfing, playing games, reading books, etc. I did find that battery life felt a little on the short side compared to my LG G3. I was still able to make it through a whole day of normal tasks that consisted of a few calls, several texts, streaming audio on my drive to and from work, watching a youtube video or two, reading ebooks, a few rounds of Cookie Jam, etc. By the end of the day the battery would be down to about 30% capacity.
The S6 has a fast charging feature that will charge your battery from zero to up to 50% in about 30 minutes when using the included USB AC adapter.
Final thoughts
When it all comes down to it, even with the lack of a replaceable battery and microSD card slot, I really like the Samsung Galaxy S6 edge. However I am disappointed with the fact that the curved edge features are pretty much an after thought. It seems silly to have two different models of the S6. If I were picking one of them right now, I'd go with the regular S6. That said, either S6 is an excellent Android smartphone. I'm very tempted to upgrade to one from my almost 1 year old LG G3 which has been having some issues lately.
Which model S6 would you choose? Do you think the S6 edge really matters?
Source: The sample for this review was a temporary loaner provided by Verizon Wireless. Please visit their site for more info.
Product Information
Price:
$299.99 with 2 yr contract, $699.99 without contract
Manufacturer:
Samsung
Retailer:
Verizon Wireless
Pros:

Premium look and feel
Excellent camera
Built in wireless charging

Cons:

Battery life feels a little short
No longer has a user replaceable battery
No longer has a microSD card for memory expansion
Not waterproof like previous model