We use affiliate links. If you buy something through the links on this page, we may earn a commission at no cost to you. Learn more.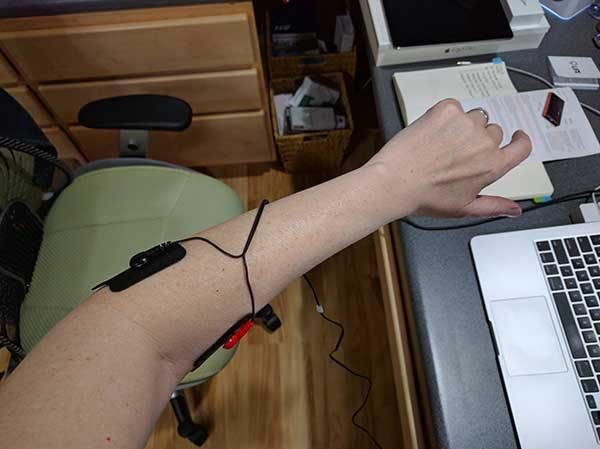 I've been dealing with tennis elbow for months now. The funny thing is that I don't play tennis. I've tried not doing any type of arm exercises during my workouts and that has helped, but when I was asked if I would like to review the U-GYM Pro TENS device, I thought I'd give it a shot because I have heard that TENS devices can be effective in helping to alleviate pain and can also provide warm up and cool down massaging benefits pre and post workout.

DISCLAIMER: I don't claim to be a medical expert. This device should only be used as intended and all precautions outlined in the manual should be followed. I'm not responsible if you buy a TENS device and put the electrodes on your chest and stop your heart or something equally stupid.
What is it?
The U-GYM Pro is a portable battery powered TENS device that uses medium frequencies (above 1kHz) to provide an effective, professional deep-tissue massage. What is a TENS unit?
Transcutaneous electrical nerve stimulation (TENS or TNS) is the use of electric current produced by a device to stimulate the nerves for therapeutic purposes. TENS, by definition, covers the complete range of transcutaneously applied currents used for nerve excitation although the term is often used with a more restrictive intent, namely to describe the kind of pulses produced by portable stimulators used to treat pain. The unit is usually connected to the skin using two or more electrodes.
What's in the box?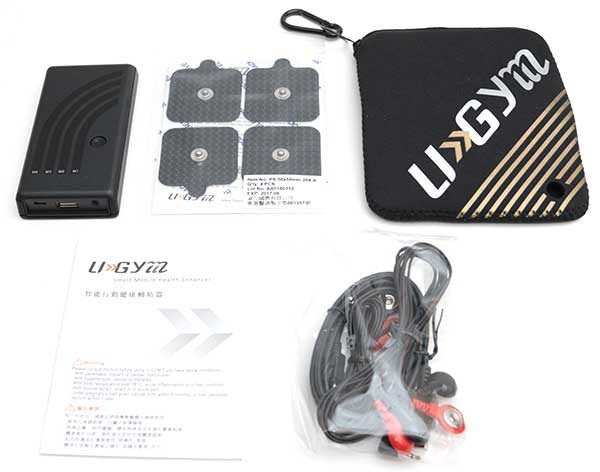 U-GYM Pro TENS unit
4 and 2 electrode cables
4 electrode pads
Carrying case
Instructions
Design and features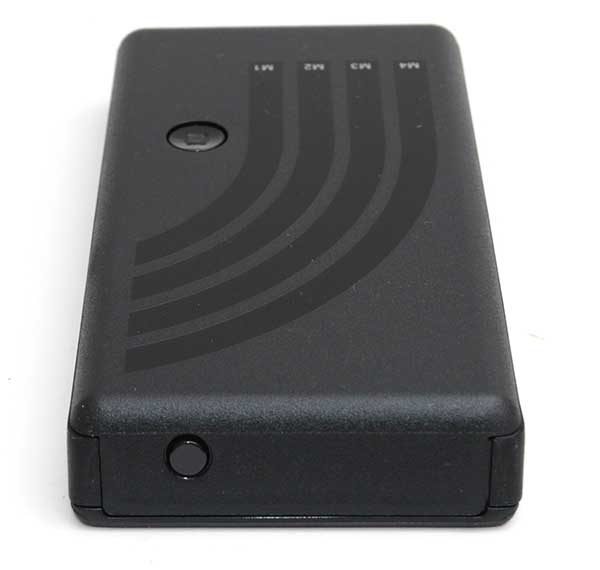 The U-GYM Pro is a portable unit that that could be mistaken for a backup battery that you might use to provide extra battery life for your smartphone. The funny thing is that it can actually function as a backup battery.
The unit has a power button on the top edge that is used to toggle the device on and off by pressing the button for several seconds.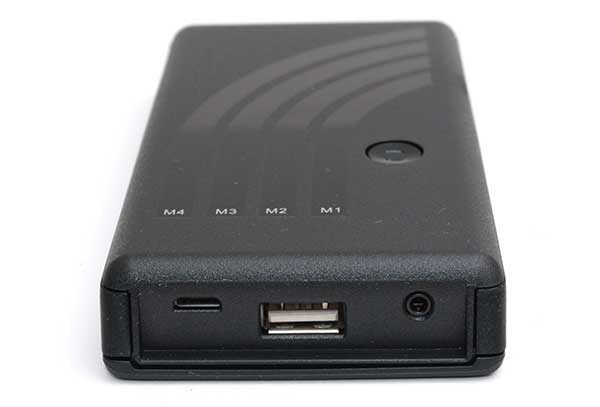 On the opposite edge is a micro USB port that is used to charge the U-GYM Pro's internal 3100mAh rechargeable lithium ion battery. Note that you can't use the device while it's charging. Fully charging the U-GYM Pro will provide up to 8 hrs of use.
There's also a full-sized USB port that you can use to plug in your phone for the backup battery feature. You can not use the backup battery feature while the U-GYM Pro is charging.
The connector to the right of the USB port is used for the electrode cables.

On the side of the U-GYM Pro, you will find a rectangular reset switch and +/- intensity buttons.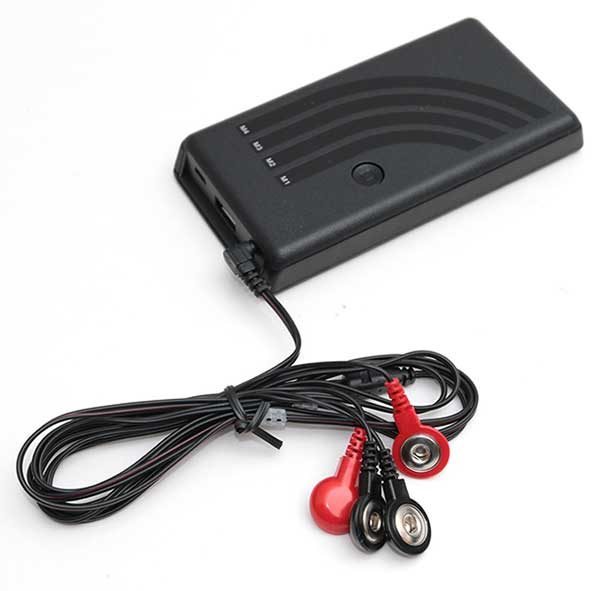 The button on the top of the unit is the massage mode selection button. This button has a segmented LED around it that provides battery capacity and charging status.
There are four massage modes that can be used: M1 – M4. According to the instructions included with the unit, the M1 mode is used to relieve pain and fatigue by providing a deep tissue massage. M3 is mainly used to relieve muscle stiffness.
As you select the massage mode, a blue LED lights up to show which mode is selected and as you press the +/- keys on the side of the U-GYM Pro, more LEDs will line up in the row to show the intensity.
Using the U-GYM Pro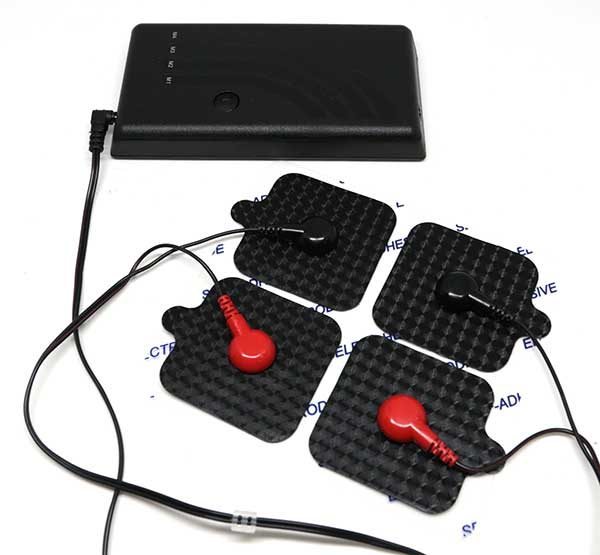 The U-GYM Pro is available in a Bluetooth version that can be controlled with a smartphone app on your iPhone or Android device. They also sell the same TENS unit without Bluetooth and that's the one that they sent to me.
To use it, all you have to do is decide if you want to use 2 electrode pads or 4 pads. Then you plug in the appropriate electrode cable and snap the red and black ends on the included electrode pads.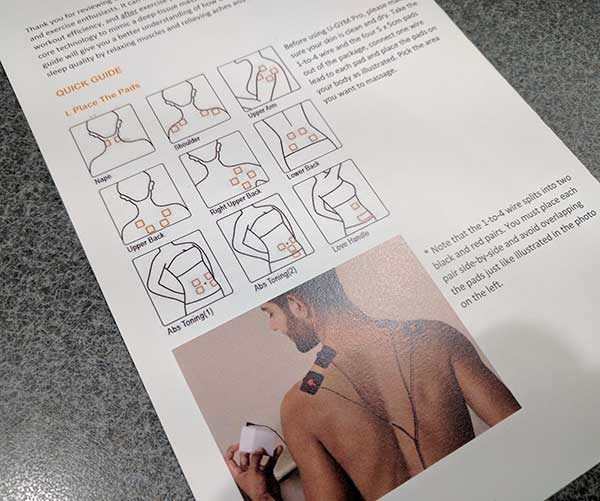 You can place the pads on different parts of your body including but not limited to some of the areas shown in the included instruction manual.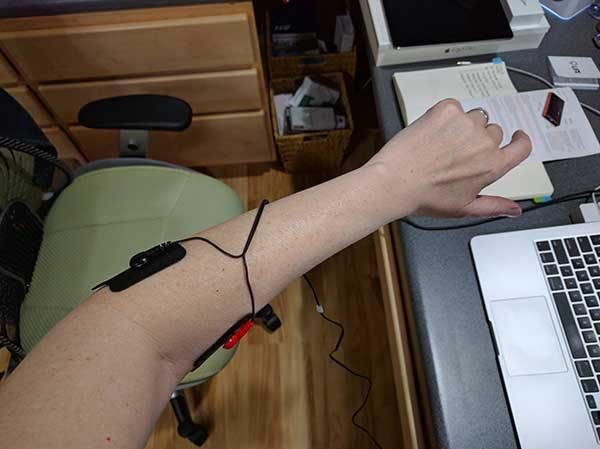 The first test I did was by placing two pads on my elbow area of the arm with the tennis elbow issue.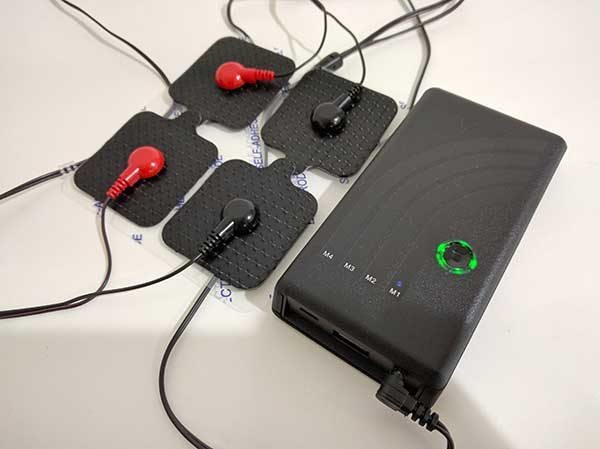 Then I turned the unit on and pressed the massage mode selector button to cycle through the different massage modes. At first I thought the unit was defective because I couldn't feel anything.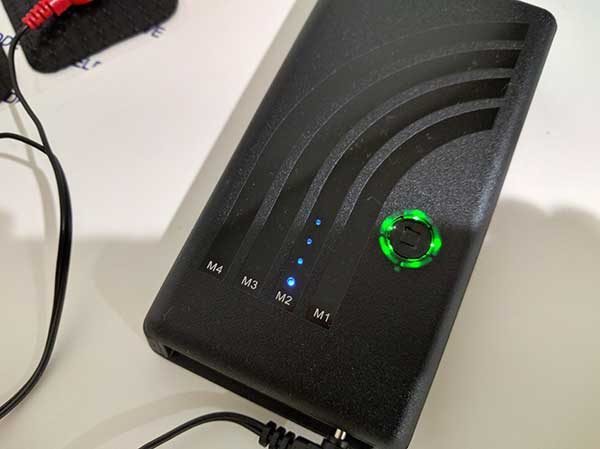 I didn't start feeling the effects until I increased the intensity to the 3rd or 4th level. At that point, I could feel a buzzing or pulsing sensation. Each massage mode has its own rhythm that it repeats over and over for 30 minutes per session. The U-GYM Pro will automatically turn off after 30 minutes.
After using the M1 massage mode on my arm, it did feel quite a bit better for the rest of the day. I've used it several times and can say that it does help with the pain I experience in my elbow area.
My next test was to see what it would feel like to work my ab muscles with the U-GYM Pro.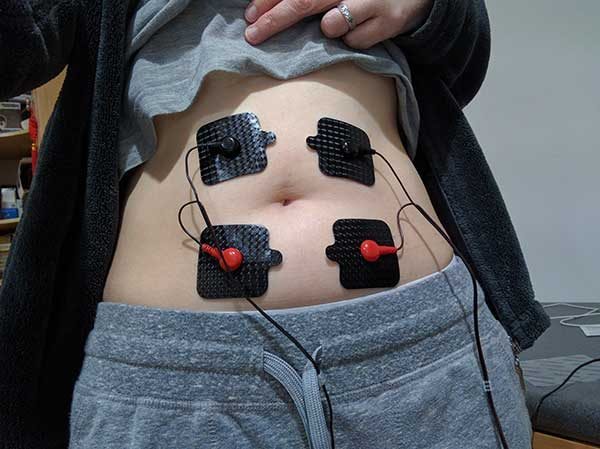 I hate doing ab crunches, so I had high hopes that I could watch TV while the U-GYM Pro would work my abs. There is one thing I hate about the electrode pads though. The gel adhesive is freaking cold! I dread sticking them on any part of my body. I have to psych myself up to do it. I know I'm a wimp… but I have issues with my internal temperature "module". I get cold easy and those electrode pads break me out in goose bumps when I first put them on.
Note that the electrode pads do not last forever. When I asked about their longevity, this is what the folks at U-GYM told me:
Q: How long should the pads work and where do you buy more pads? Will any brands of the pads work with your device?
A: Depends on how you use the pads. If you always keep skin dry and clean to use, the pads should last for 3 weeks.
Another way to extend the use of pads is to wash it with clean water and air dry it. That may last for another 10-20 uses.
If you feel the pads is less sticky or you need to increase the intensity much higher than used to, that means pads need to be replaced.
It's compatible with most medical pads out there. Only to make sure the button clip size matches.
Have I gotten 6-pack abs yet? No, not even close as you can see in the image above. But I do think it this device can help because after just a few minutes of using it my abs feel more of an intense contraction than when I do normal crunches. I could actually see the muscles tense and after the 30-minute sessions they feel tired. And the best thing is that I can multi-task while a machine is working my muscles for me which is really pretty darn cool.
I've also tested the U-GYM Pro on my biceps and triceps and thighs. I wish I had another unit so I could work abs and legs at the same time. I probably would not use this device for arm toning only because it causes your arm to flex so multitasking on a computer while toning would not work out very well.
Final thoughts
You have to realize that the U-GYM Pro TENS device is not going to build muscle because you have to tear muscle fibers to do that and the TENS device isn't strong enough to provide that intense of a contraction. That said, you can use the TENS device while working out which can increase the effort and potentially help you build muscle quicker.
Since this the first time I've tried a TENS device, I can't comment on whether the U-GYM Pro is better or worse than other TENS devices. From what I've seen with a quick Google search, the price is a little higher than other devices. Amazon has many TENS devices for less than $50, but I don't know if they can cause the same type of muscle contraction like the U-GYM Pro though.
Source: The sample for this review was provided by U-GYM. Please visit their Indiegogo InDemand page for more info and to order.
Product Information
Price:
$199 for Bluetooth version, $149 for non-Bluetooth version
Manufacturer:
U-GYM
Retailer:
Indiegogo InDemand
Pros:

Easy to use
Does help with pain
May help with toning

Cons:

Electrode pads have to be replaced