We use affiliate links. If you buy something through the links on this page, we may earn a commission at no cost to you. Learn more.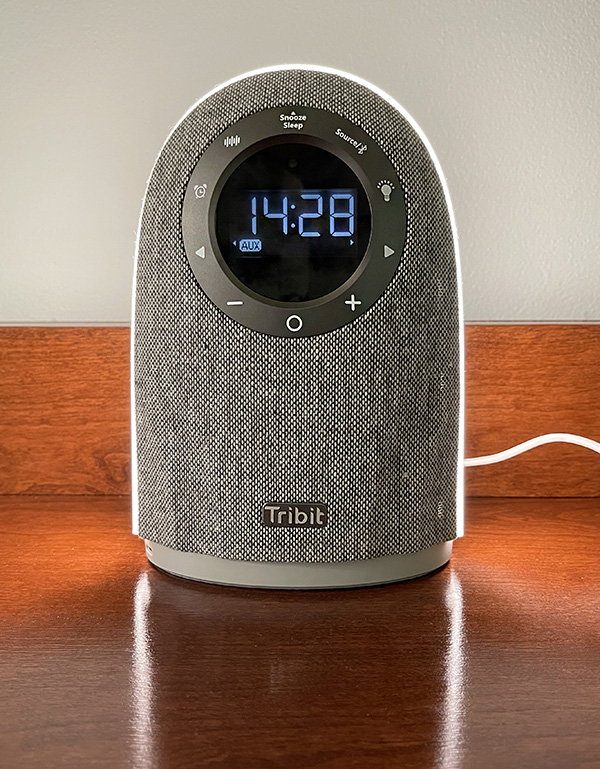 REVIEW – It's always fun when a smaller audio company comes from seemingly nowhere and begins besting the bigger boys in both price and audio quality. Case in point: Tribit. I've reviewed some of their Bluetooth speakers and headphones and been impressed by both—the speakers more than the headphones. The Tribit line of speakers looks and sounds more expensive than they are. I even called the Tribit Micro StormBox the audio bargain of the year—and I still think that. 
Tribit has not rested on their growing success. They just released the Tribit Home, a Bluetooth speaker, FM radio, Snooze/Alarm clock, white noise/nature sounds generator, SD card reader (for audio), phone charger, and disco machine! Is there anything the Home speaker won't do?
What is it?
The Home speaker is Tribit's latest speaker designed for home (not portable) use. Its main purpose is an alarm clock/music player but also works as a tabletop or kitchen speaker/FM radio. Since the Home speaker needs to be plugged in (no rechargeable battery), it can charge a smartphone/tablet at any time via its side USB A or USB-C ports. An SD card can be inserted into the back of the speaker for music or any recorded audio. 
The front-facing clock doubles as a snooze alarm or timed player that can shut down in a designated time period. The outer edge of the speaker has a built-in LED light that can glow either white, slow color-changing, or a faster rainbow of colors that pulse to the music being played.  

Specs
One 3″ mid-bass speaker; One 1.2″ tweeter
Power: 25 watts
Bluetooth 5.0
Range: Up to 98 ft.
Weight: 2.6 lbs.
Size: 8.6 in. x 5.9 in. x 3.6 in. (H x W x D)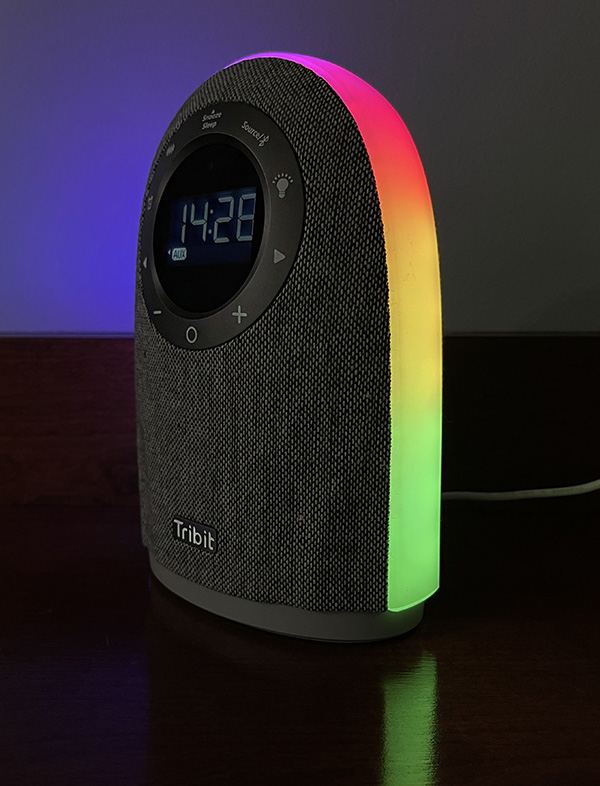 Design and features
The Tribit Home Speaker doesn't follow the design ethos of other Tribit speakers. Its gray cloth exterior is bordered by an LED multicolored light band that can be set in a tasteful white mode or in garish rainbow/disco hues that can even flicker to the beat. I'm glad that can be turned off. The gray cloth is also tasteful and rugged feeling—like other Tribit speakers. Since this speaker is designed to be left on a table or nightstand, it should hold up longer than a portable speaker that is handled much more.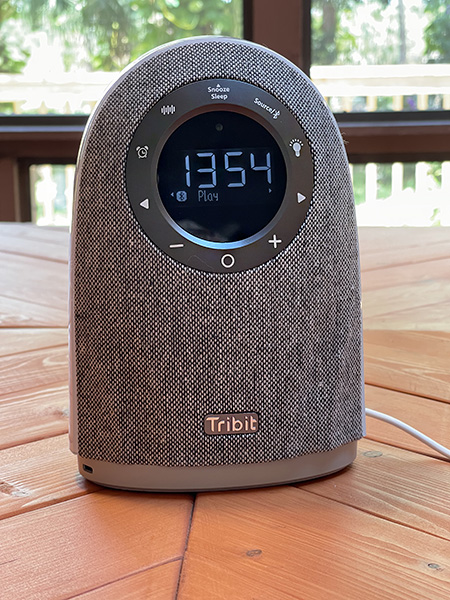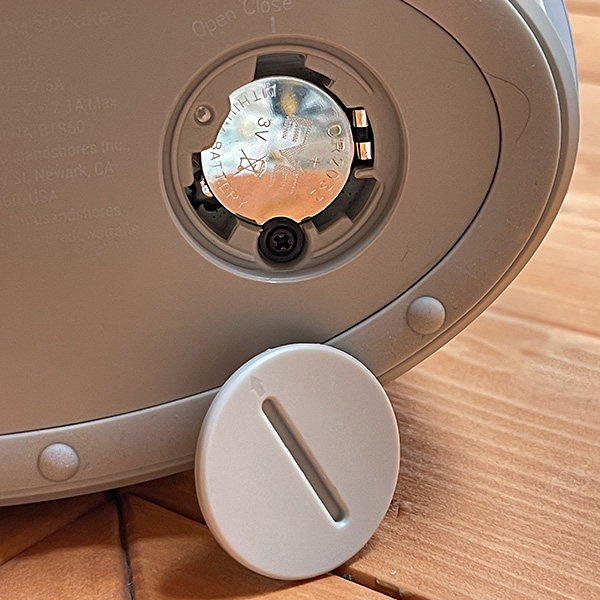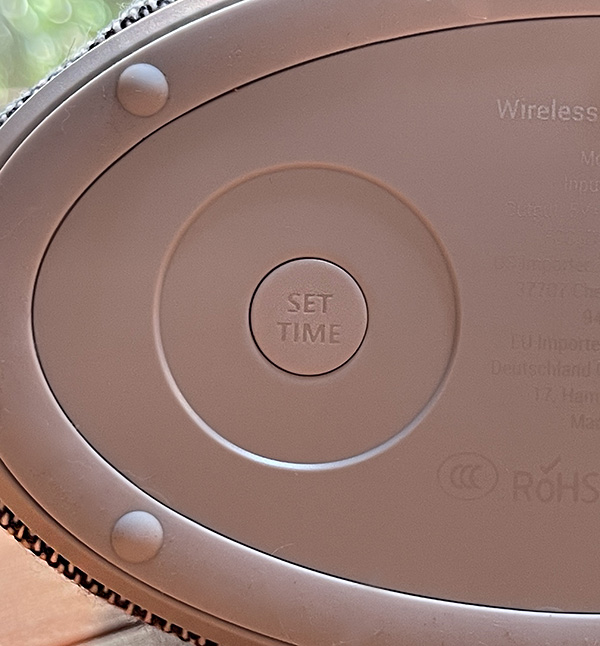 The speaker is an unusual vertical ghost-like shape that sits on a flat base. A large, easy-to-read clock face is surrounded by a ring of capacitive touch buttons. The back of the speaker has an indent for carrying. There are ports along the bottom for various connections: Micro SD card slot, AUX/FM antenna, Power, and two USB charging ports—USB A and USB-C. The underside has a compartment for holding a thin wafer battery. This allows the clock to keep working during a power outage or if the speaker is unplugged. There's also a clock reset button hidden on the bottom.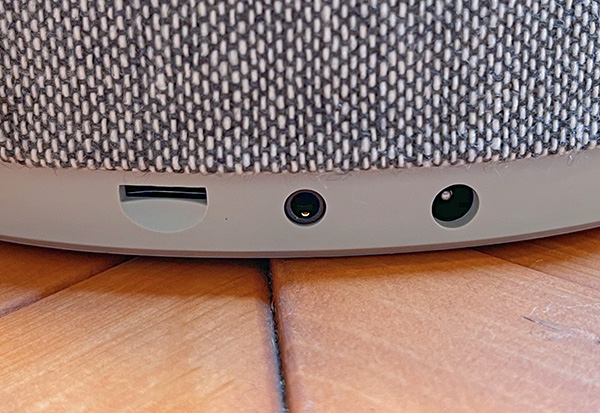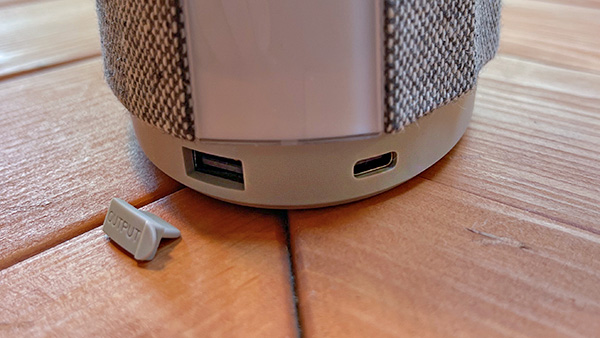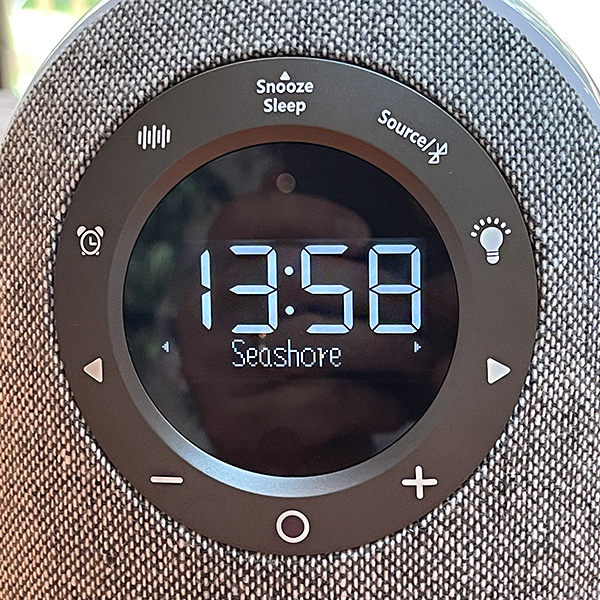 The capacitive touch buttons that ring the clock are sometimes a bit too sensitive making it too easy to change a setting, mode, or volume by accidentally touching the area. I prefer physical buttons that click, so I know if a button has been touched. I've hit the buttons many times just handling the speaker.
Buttons in this circle arrangement are (from the 12:00/noon position):
Snooze/Sleep. This button allows you to set music to play as you fall asleep. It can be timed from 15–90 minutes in 15 min. Increments. 
Going clockwise around the circle brings up the Source button. This switches the home speaker from Bluetooth–AUX–FM radio and SD card. Bluetooth defaults to Pause mode, so it needs to be pressed twice to start the music. The sources are:
Bluetooth is the newer 5.0 with its extended range. Music streaming from a (newer) smartphone will play from across a large room or from another room in the house with no dropouts. 
AUX-In is a mini-plug port that will accept any hard-wired source such as an older iPod or similar source. With today's improved Bluetooth however, AUX is becoming a dinosaur. There is no AUX out, so earphones or headphones cannot be used. The AUX port doubles as a place to connect the included FM antenna.
FM radio is included (no AM). The signal is strong, but I live in an urban area with a lot of radio stations. Some are strong and some are weak. Tribit included a flexible wire antenna that plugs into the AUX port. Unfortunately, the wire antenna doesn't help much with the weaker stations, but it does improve signal strength with stations already providing a stronger signal.
SD will play music (or whatever audio file you have) from a micro SD card inserted into the SD slot on the back of the speaker. If you have a multi-gigabit card, that's a lot of music to play in better audio quality than streaming or FM can ever supply. This slot doesn't seem to be all that necessary. When I pointed out this feature to a friend, his response was, "So what?"
Next up is the Light button. The Light function is a good idea that's not implemented very well—at least on the Home speaker I have. With the white light on, holding down the light button while simultaneously touching and holding the – and + buttons should brighten or dim the light. However, it only occasionally worked. Mostly, it didn't do anything. Plus, pressing—and holding—the left or right arrow buttons while the light is in color mode is supposed to change the color scheme. Nope. Again, only worked occasionally. Also, if you're not touching and holding the light button correctly, pressing the other buttons can change volume, skip tracks, or whatever. I started wishing that the light was just an on/off night light without all the disco effects or other settings.
Going further around the circle, are the Volume up, Forward/next track, Pause/multifunction, Backward/previous track, and Volume down buttons. The additional functions of these buttons are explained throughout the review.
The next button is Alarm. Pressing and holding this button allows you to set the alarm time, audio mode (FM, Bluetooth, Nature sounds), and volume. It's nicely customizable and the manual does a good job of explaining the process. 
Lastly, is the Sleep Music button which ironically, does not play a lot of music. Pressing the button repeatedly will play white noise, Seashore, Light music, Rain, or Bird sounds. White noise is good for a constant background noise to aid in sleeping. Seashore and Rain are relaxing, but I find the Bird sounds a bit distracting—too much harsh chirping. The Light music is a bland, generic-sounding mix of "music" that makes me yearn for true elevator music. Skip this one.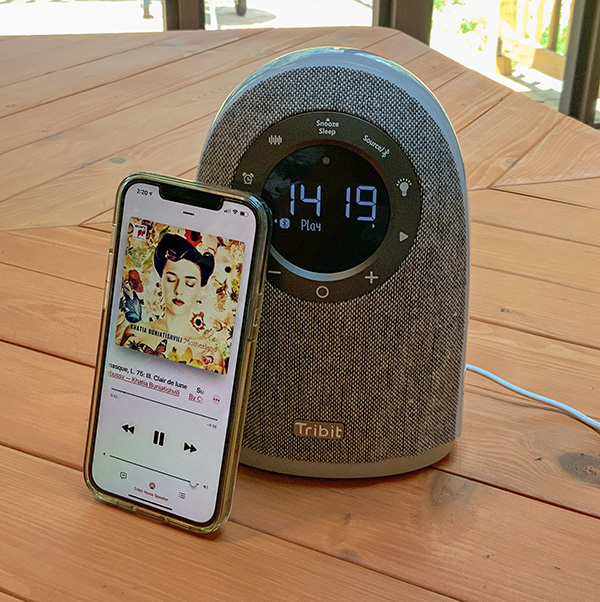 When playing music from either Bluetooth, AUX, or the SD card slot, the audio is up to Tribit's high standards. The speaker doesn't sound as good or as full as Tribit's own StormBox Pro speaker, but then that speaker has a more robust setup—and it costs more. However, the Home speaker sounds better than many alarm/radio speakers available—some that cost more.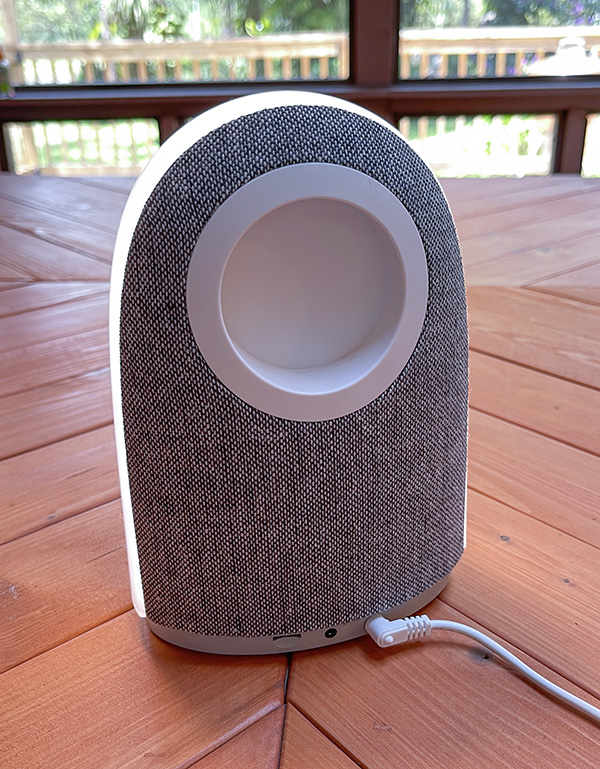 There's plenty of bass and midrange from its 3 in. driver accented by a 1 in. high frequency tweeter—all powered by a 25-watt Class-D amplifier. That's not too shabby coming from a clock radio/speaker! Plus, Tribit uses what they call "Adaptive Bass Linearization" which is said to eliminate distortion at all volumes. I don't know whether that's true or not,  but I didn't experience distortion at the volumes I played with my music.

Then there's true wireless stereo (TWS). TWS is what it says—left/right stereo from two speakers. It does require two identical speakers to work. One speaker becomes the left and one becomes the right speaker—true stereo! Tribit has incorporated this into many of its Bluetooth speakers. When activated, there's almost an invisible third center speaker created and the effect is mesmerizing—much better than a single speaker or two speakers playing mono side by side. You have to hear it to appreciate it. Except … For some reason still to be determined, implementing TWS with the Home speakers on a Mac was problematic. One day, it wouldn't pair in TWS stereo. When both speakers were finally able to be paired, there was no volume. To be fair, I never had that issue with my iPad or iPhone and I've never had great luck with Bluetooth on a Mac. YMMV.

What I like
That Tribit sound
Well built
Many audio options
Easy-to-read clock
What I'd change
Do away the disco lights
Light Music nature sound is worse than elevator music
Capacitive buttons are too sensitive
Mac pairing issues with TWS

Final Thoughts
Tribit has taken a bit of a detour with its Home speaker. It looks different from their other speakers and has some "features" I could do without. But it sounds like a Tribit, is built like a Tribit, and is priced like a Tribit. That's all you need to know.
Price: $89.99 US
Where to buy: Amazon
Source: The sample of this product was provided by Tribit.