We use affiliate links. If you buy something through the links on this page, we may earn a commission at no cost to you. Learn more.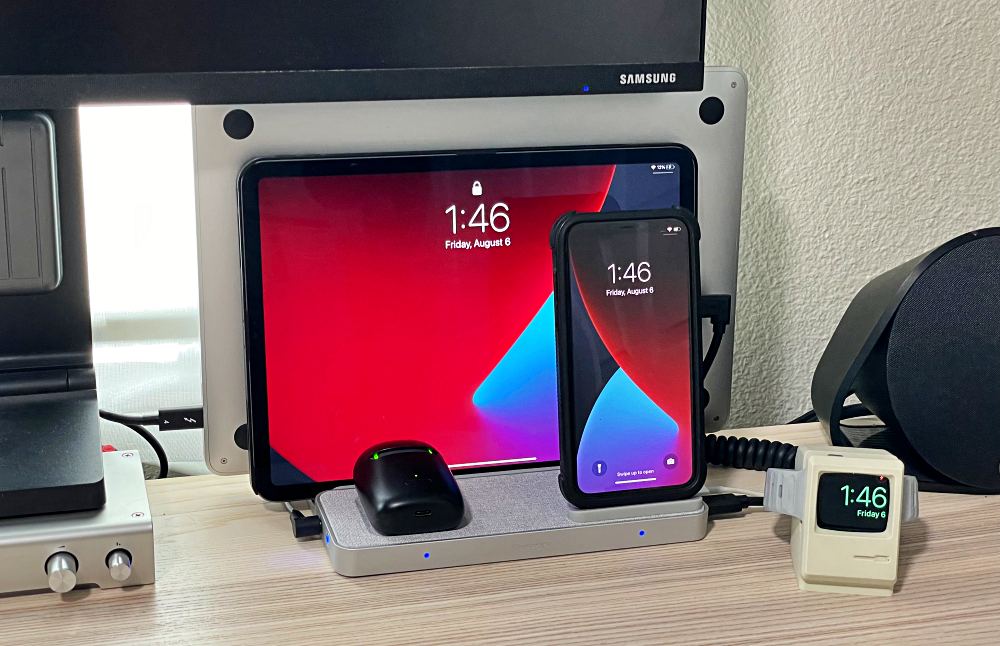 REVIEW – How's your desk organization game? Mine seems to ebb and flow with the phases of the moon, or maybe it's just when inbound review products start to gang up on me. Regardless, I strive to keep my desk clean whether it's cables, chargers or where my laptop sits. Kensington has a new solution to help with this exact scenario. It's called StudioCaddy and while designed exclusively for Apple devices it's aimed squarely at helping those of us running a closed laptop connected to an external monitor, a USB-C tablet, and Qi charging compatible phone and wireless earbuds.
What is it?
Kensington's StudioCaddy combines a laptop/tablet stand that's magnetically attachable to a dual Qi device charger allowing you organize and charge your Qi and additional USB powered gear neatly.
What's in the box?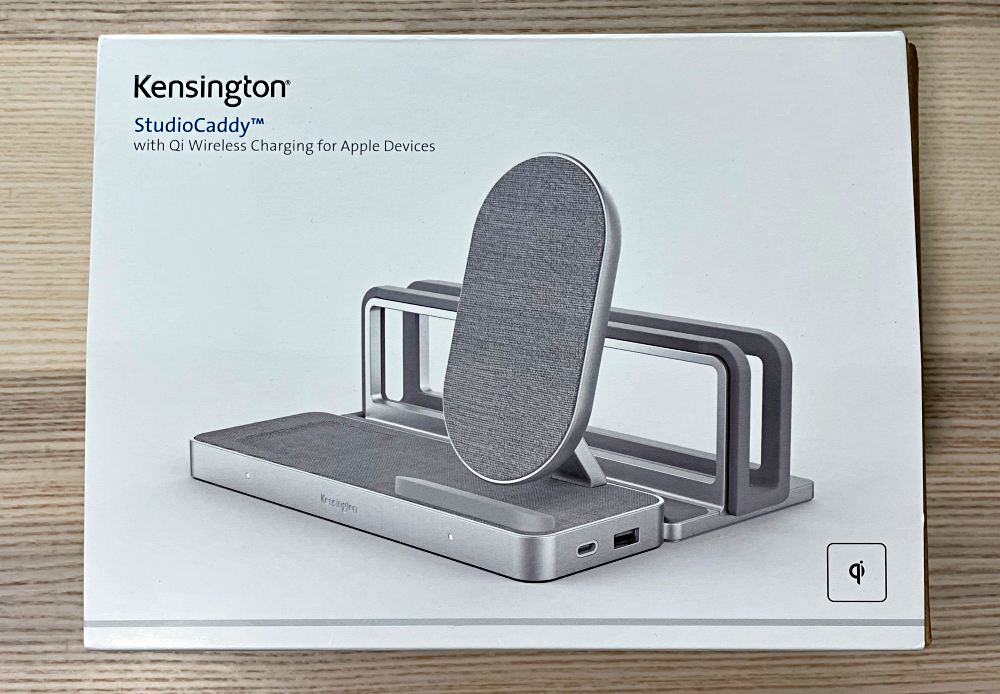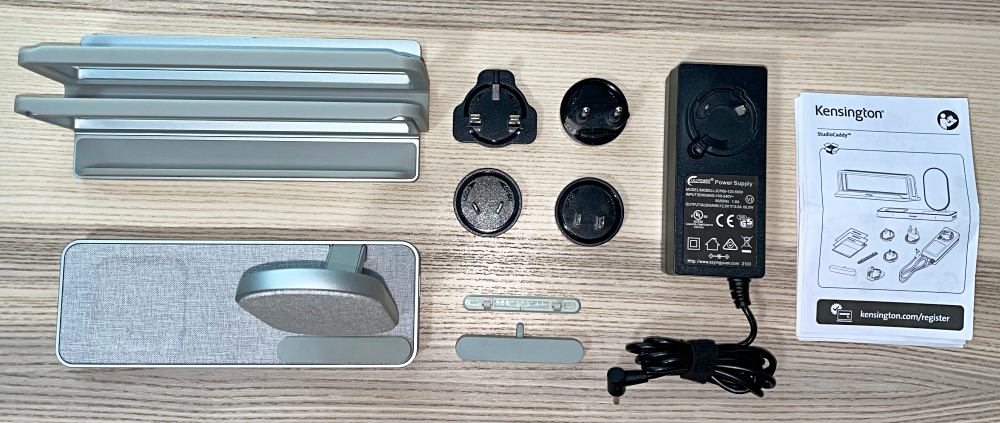 Laptop and Tablet rest
Dual Qi charger
Power adapter with selection of interchangeable international wall prongs
2 device rest sizes for phone stand + cable clip for the extra
Assorted instruction and regulation pamphlets
Hardware specs
USB Charging: Power only (no data)
1 x USB-A up to 12W (5V/2.4A)
1 x USB-C up to 20W (5V/3A or 9V/2.25A) (Both power only)
Apple Device Compatibility:
Most MacBook models
All iPad models (USB charging with your own cable)
All Qi compatible iPhone models
All wireless charging AirPods and AirPod Pros
Apple Watch (charing and placement with your own cable)
Non-Apple Device Compatibility:
Laptops up to 17mm thick
Tablets up to 21mm thick (USB charging with your own cable)
Qi charging compatible phones
Qi charging compatible earbuds
USB powered devices (with your own cables)
Design and features
StudioCaddy is designed to hold up to 4 devices simultaneously while saving some precious space on your desk. It's made up of two parts; a fabric wrapped dual Qi charger for your phone and compatible earbuds…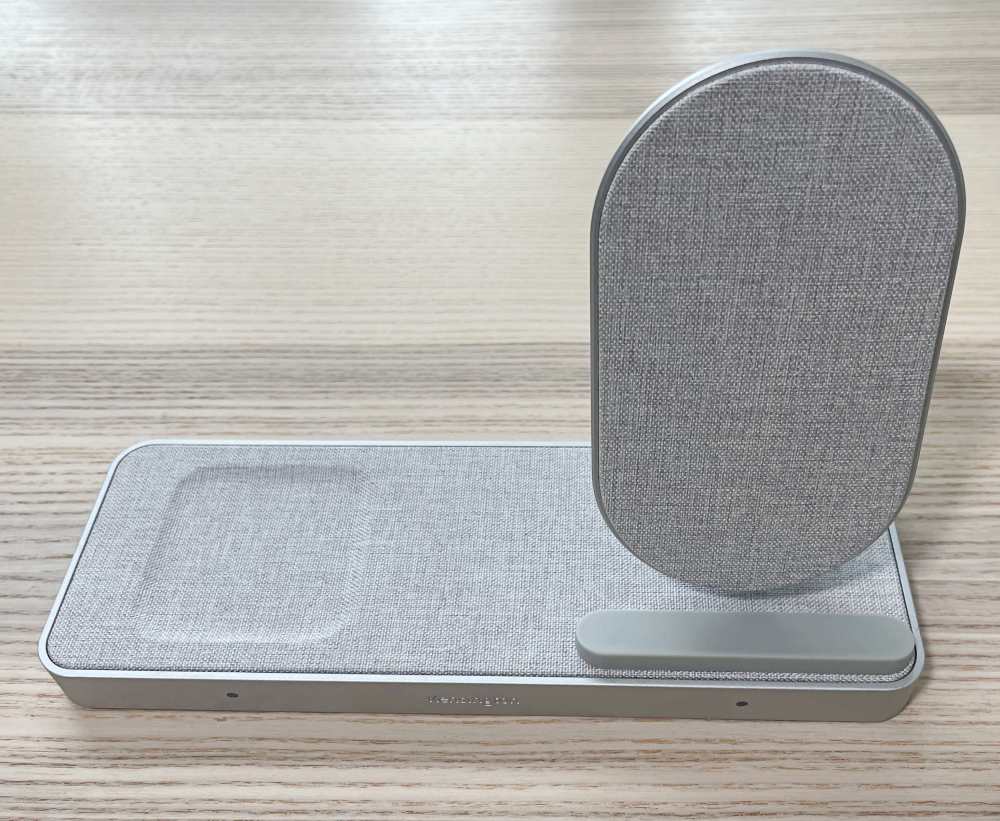 And a laptop/tablet stand that magnetically attaches to the back of the dual Qi charger for easy separation if needed.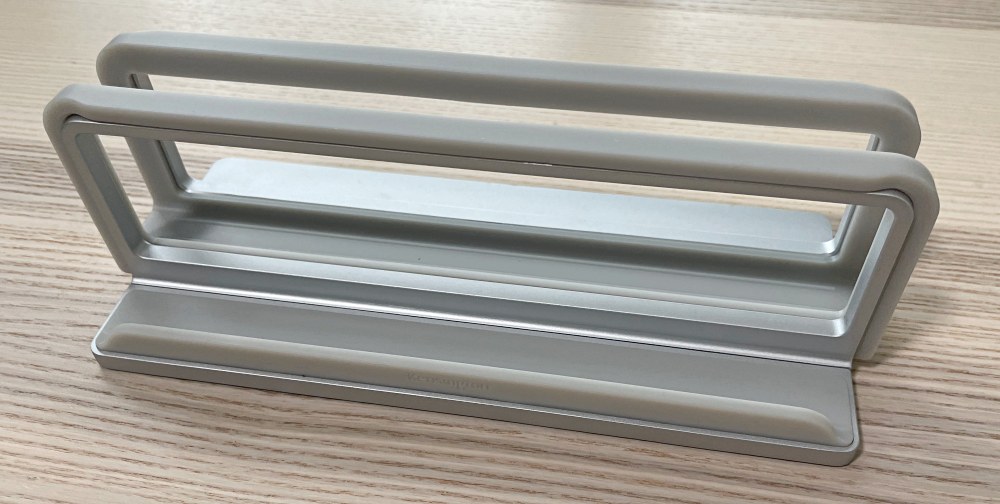 A phone and earbud case can charge wirelessly from their positions while tablets and other devices can charge if you bring your own cables.

Weighty construction and non-slip silicone underneath both parts ensures solid footing.

Setup
Step 1: Clean up your desk to make room for StudioCaddy
Step 2: Pick your location, keeping these things in mind…
You may want to place it for your dominate hand if you'll actively use your phone while charging.
Set up the laptop stand separate from the charger if you want to be able to actively use a tablet that's rested on the stand.
Bring your own USB cables to power anything from the USB-A or USB-C ports.
Step 3: Assuming you're all situated now, install the appropriate prong on to the wall adapter with a clockwise turn until it clicks (unturned in photo) and then connect the power adapter to the wall and to the power port on the left side of the dual Qi charger.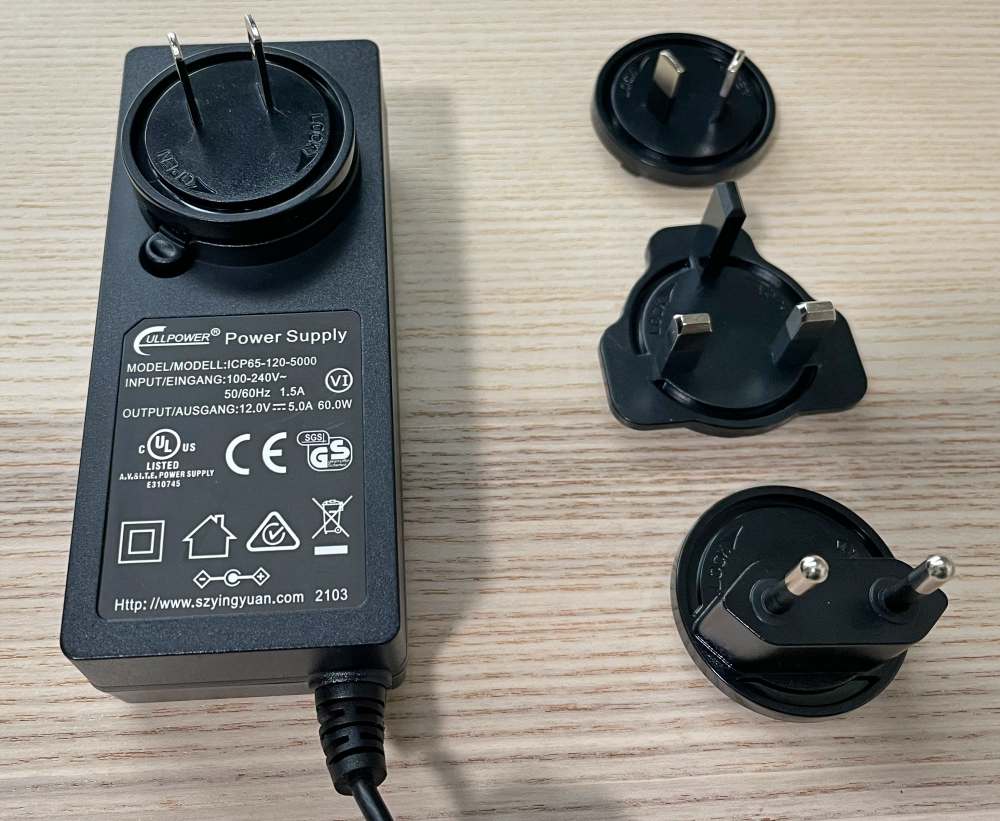 To use either the phone or earbuds Qi chargers, you'll need to press the power button on the left side. This also controls power to the two USB ports. When devices are charging the LED indicators light up blue. More on this in a bit.
Now you're good to place your gadgets and get to charging.
Performance
The StudioCaddy is a unique solution in that it provides a home for all your key computing gear in a single solution while still allowing some flexibility as to how you use it. A cool magnetic design allows the two parts to snap together as a unit…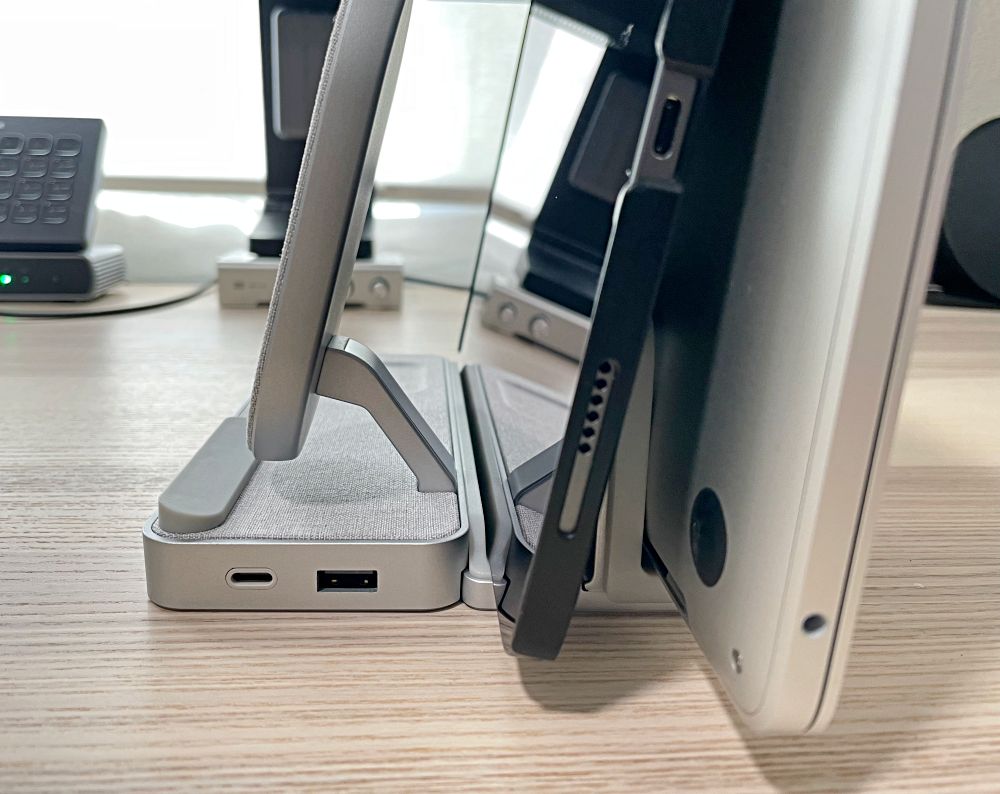 Or split up to be used in separate areas of your desk.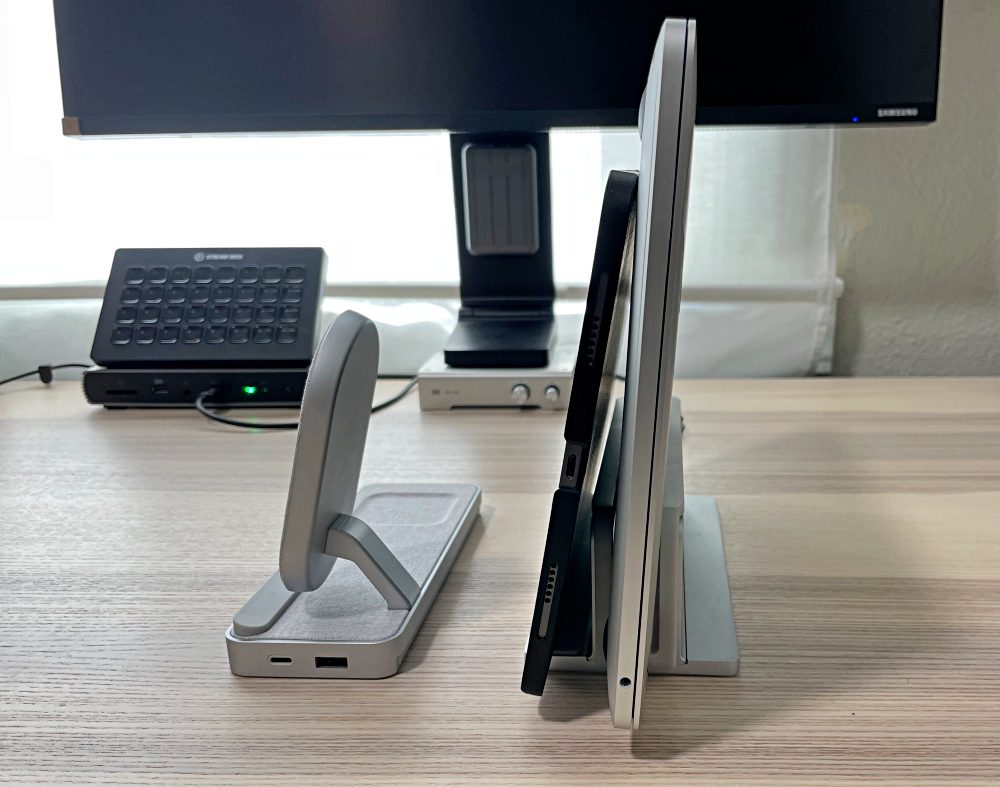 In my case, I recently switched back to a non-ultrawide monitor and go back and forth between wanting/needing my M1 Macbook open as a second screen or closed and out of the way. I setup the StudioCaddy on the right side of my screen where I can easily get to my phone and charge my Qi hearing aids. The whole unit is pushed to the very back edge of my desk where my MacBook sits just behind my screen in the stand, keeping my desk nice and tidy.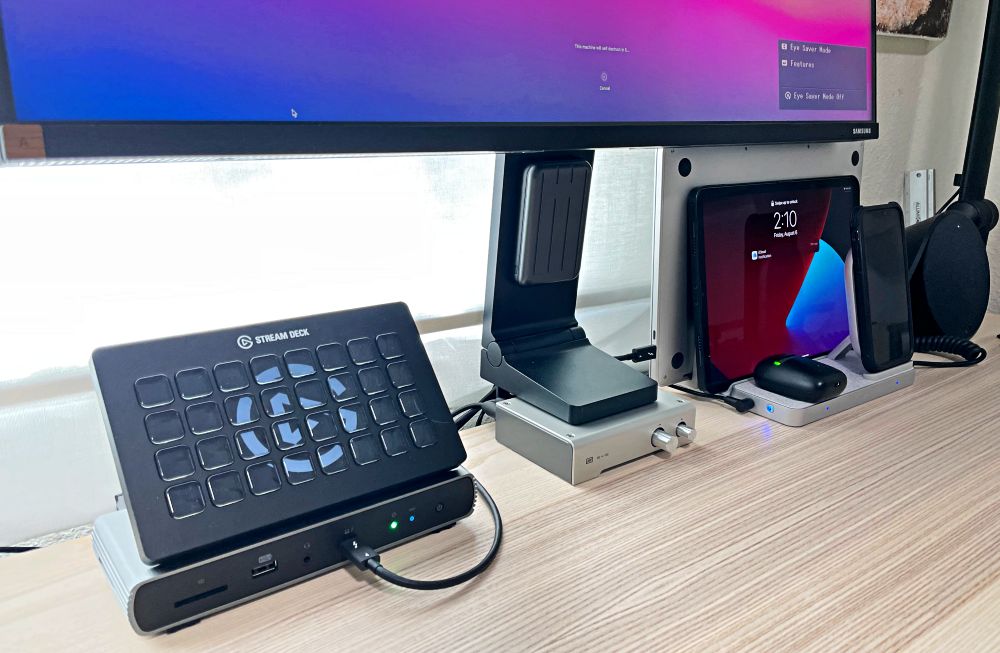 I'm still using the Kensington SD5700T Thunderbolt 4 Docking Station that I reviewed back in Feb, 2021. I've got that placed on the left side of my screen with a long enough cable that my Mac can sit closed in the stand or open right in front with the screen neatly sitting below my main screen. My iPad is either charging in StudioCaddy's stand, or I've got it set up actively in use on the left side of my desk
My favorite feature is that all the charging can be turned off with the power switch on the left side of the unit. The angle of the stand is near perfect and it's great to be able to use that all day long and only turn on the charging function when I actually need it. If I am charging earbuds or something from the USB ports, I can always place the bottom of my phone on the table instead and still lean it against the rest without it charging.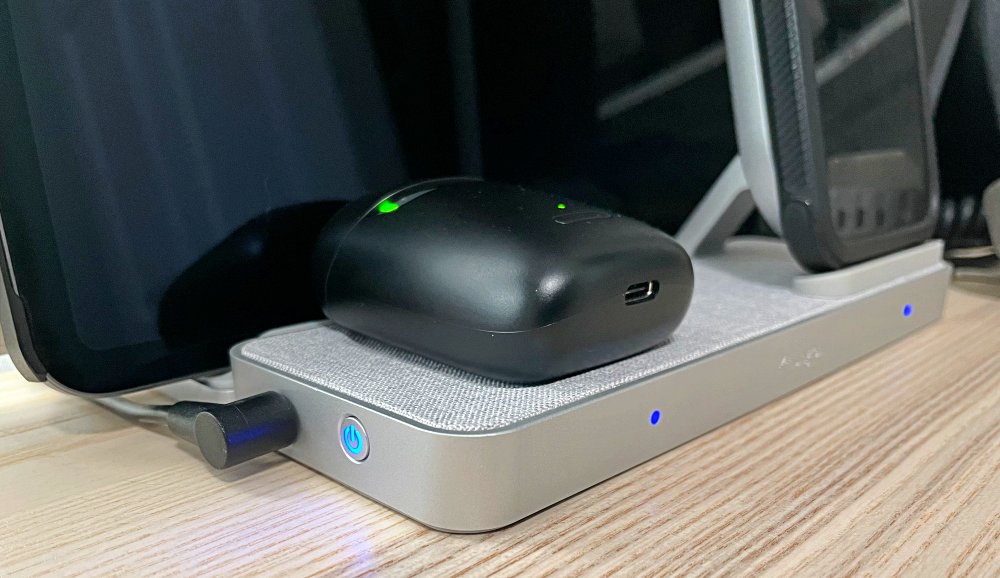 As for the USB ports, there's both an A and a C. I'm using the A for an Apple Watch charger and the C for charging my iPad Pro.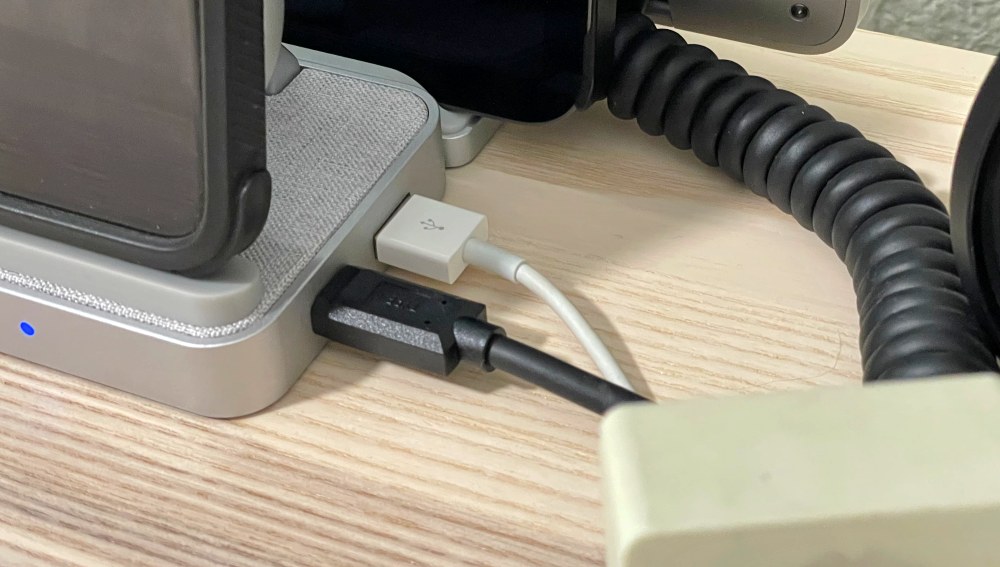 I picked up a burly coiled C cable to make it easy to charge the iPad or even my MacBook in overnight slow charge mode.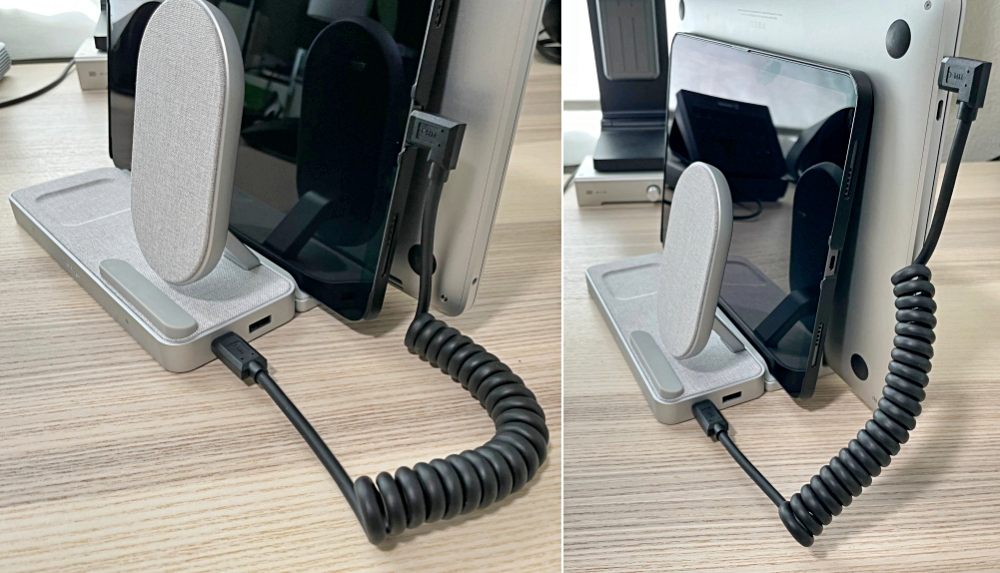 The laptop stand is potentially the weakest part of the equation for two reasons.
First, it requires that your laptop be closed. This is a non-issue if you already work that way, but if you're used to using your laptop as a second screen with your external monitor, you'll need to learn to like a single screen or set up a second monitor (not possible for M1 MacBook users like myself).
The second reason is that your tablet really isn't useable if the stand is docked behind the dual Qi charger as that blocks a good portion of your screen. Similarly, not a big deal if you're just charging or if you're using the two StudioCaddy components separately on your desk.
You will notice that the laptop dimensions are definitely intended for MacBooks, so you're limited to laptops with a max thickness of ~17mm. The angle of any tablet you rest in the front groove will depend on the thickness of any case you're running or how vertical a laptop sits in the spot. Anything larger than ~21mm total might have trouble fitting there.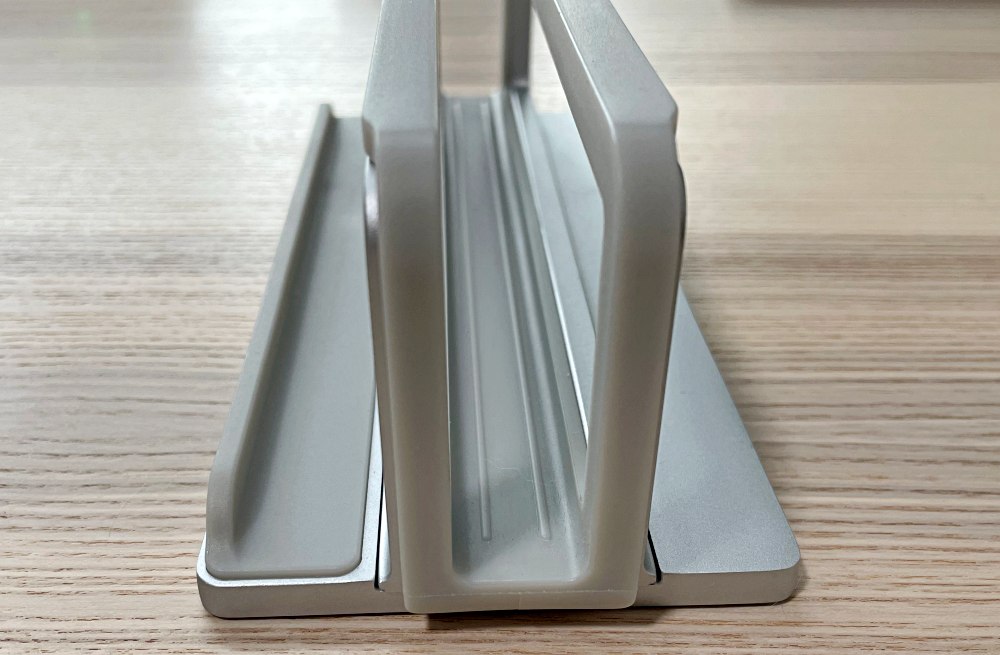 The last thing to mention is that the wall adapter is pretty big for direct plug in and is likely to keep you from using a neighboring outlet on a power strip. Would prefer to see a power brick with cords on both ends or better yet a smaller GaN charger.
What I like
Great dual Qi charger with on/off power control
Laptop and tablet stand that can be separated and used individually
Nice weighted design with non-slip traction for staying put
Clean grey aesthetics with durable fabric wrap on charging surfaces
What I'd change
Laptop stand might not be deep enough for some non-Mac laptops
Tablet rest very vertical, and increasingly so with cases
Power adapter is oversized for a direct plug in
Final thoughts
There are plenty of Qi chargers for phones and earbuds, and lots of laptop stands, but very few integrated units and certainly none with the flexibility that Kensington has designed into StudioCaddy. It's clear this was designed for Apple products but they're missing an opportunity for anyone that has a laptop that can drive a monitor when closed and a compliment of compatible products. The flexibility of how you can set it up and what you can charge combined with space savings creates a product that can create a clean, functional workspace.
Price: $179.99
Where to buy: Amazon or Kensington
Source: The sample of this product was provided by Kensington