We use affiliate links. If you buy something through the links on this page, we may earn a commission at no cost to you. Learn more.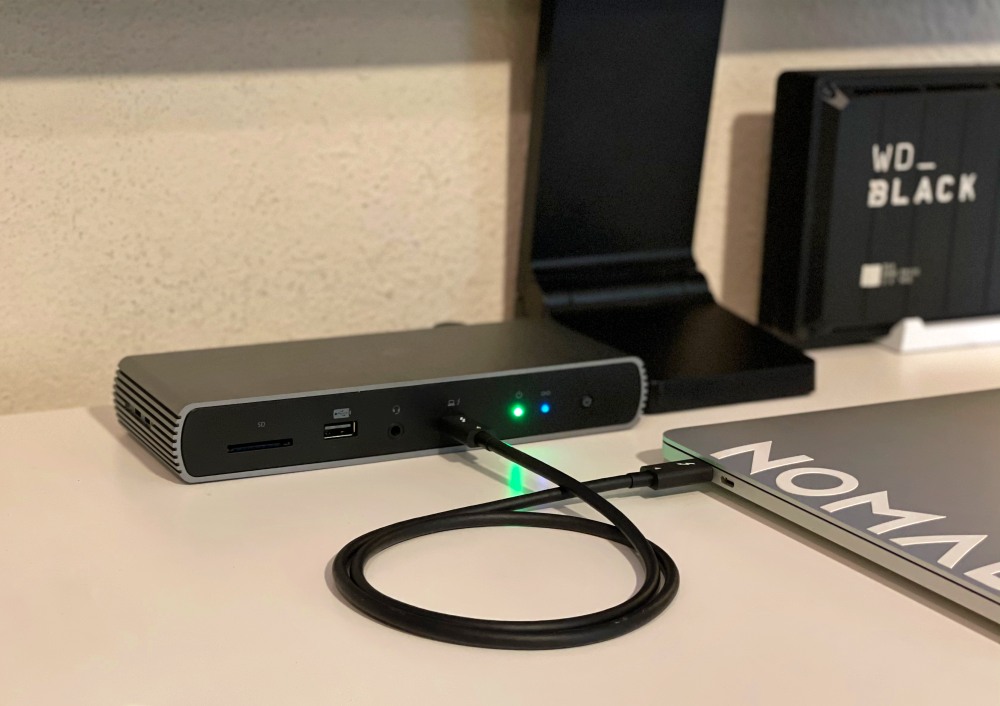 REVIEW – Until laptops start adding ports back (and maybe still even when they do) it's necessary, or just super helpful, to be able to connect all your accessories to a dock. That way you're only plugging in a couple cables or in the case of Kensington's new Thunderbolt 4 Dual 4k Dock, just one. Thunderbolt 4 is an updated standard that raises the minimum specs of the Thunderbolt 3 standard while retaining backwards compatibility. Let's take a look at this new model.
What is it?
The SD5700T Dock from Kensington is a dock for Thunderbolt equipped computers that expands the number of ports you have available and simplifies connecting your laptop if you have multiple monitors and connected devices.
What's in the box?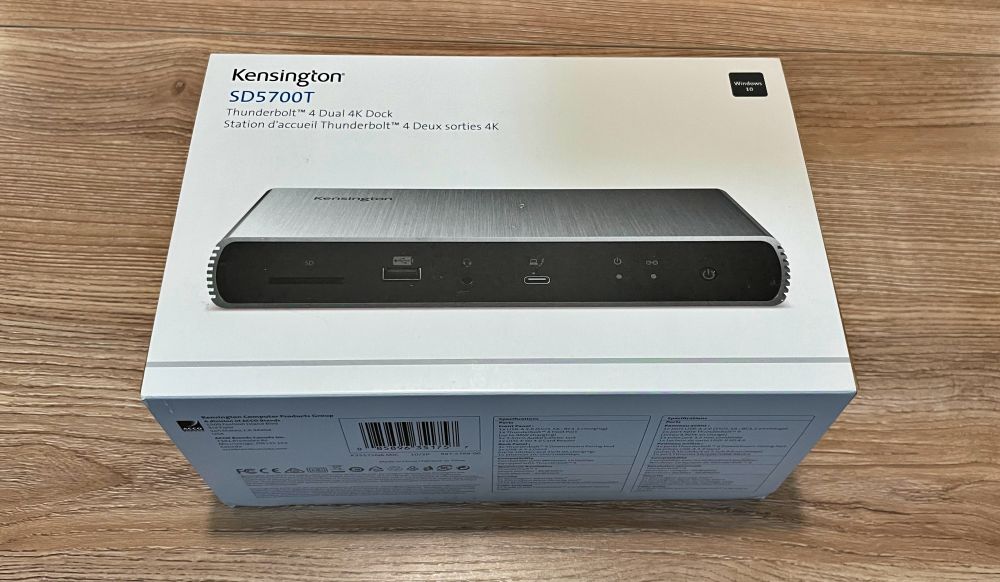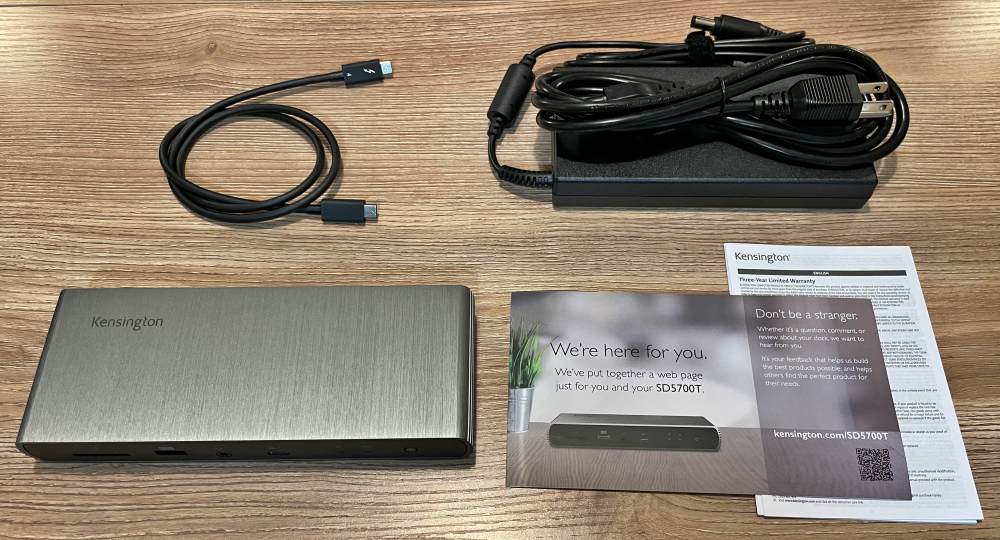 SD5700T Dock
Power supply
Thunderbolt 4 cable
QuickStart and warranty info
Hardware specs
Compatibility: Thunderbolt 4 machines running Windows 10 or  macOS 11 (and on)
Technology: Thunderbolt 4 – Single driverless connection w/ 90w Power Delivery to connected computer
Thunderbolt 4 Ports: 1 x upstream (front) and 3 x downstream (rear)

Video Ports: 2 of above Thunderbolt 4 ports

Max Resolution Supported: Single 8K 30Hz or Dual 4K 60H

USB A Ports: (1 front) USB 2.0 with 5V/1.5A fast-charging & (3 rear) USB 3.2 Gen2 supporting 5V/0.9A

SD Card Reader: UHS-II, SD4.0

Audio: (1 front) 3.5mm Combo Microphone & Headphone Port

Ethernet: 1000, 100, 10 speeds

Data Transfer: Supports up to 40Gbps data transfer speed

Security: Kensington Security Slot, Kensington Nano Security Slot

Mounting: Optional Docking Station Mounting Bracket (K34050WW)

Warranty: 3 years
Design and features
Kensington's new SD7500T dock is a powerhouse in a compact rectangular package.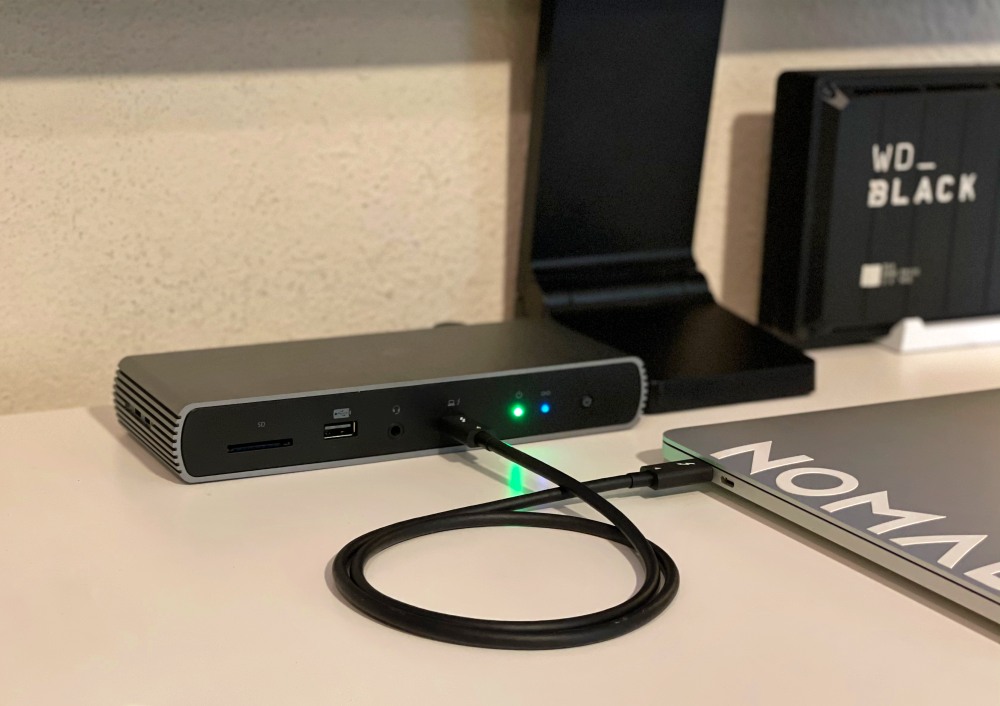 Built to work with newer computers that support the Thunderbolt 4 standard, it also works with previous generation Thunderbolt 3 machines.
The front has support for SD cards, USB-A (1), Thunderbolt 4 connection to your computer, LED indicators and a power button.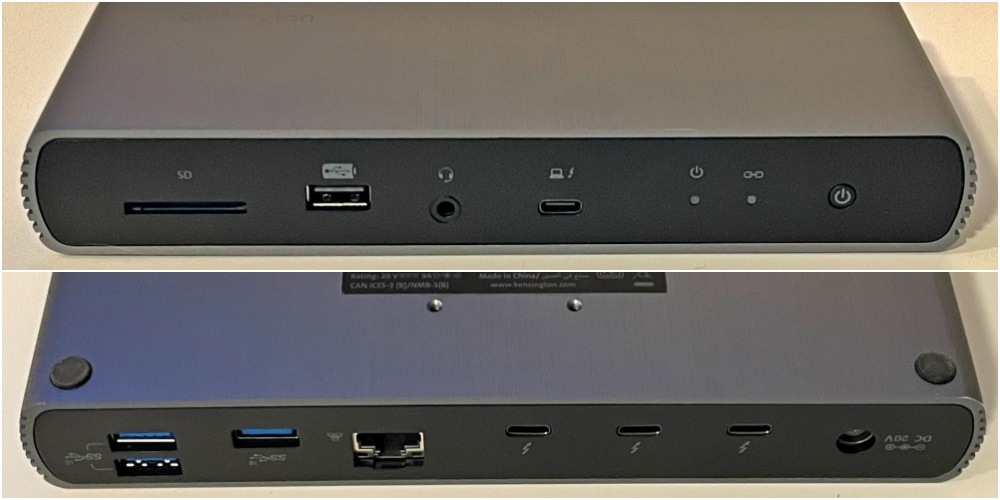 The back panel has ports for power, Thunderbolt 4 (3), Gigabit Ethernet, and USB-A (3). The bottom has four feet to help keep it from skidding around as well as two small threaded holes for attaching an optional mount.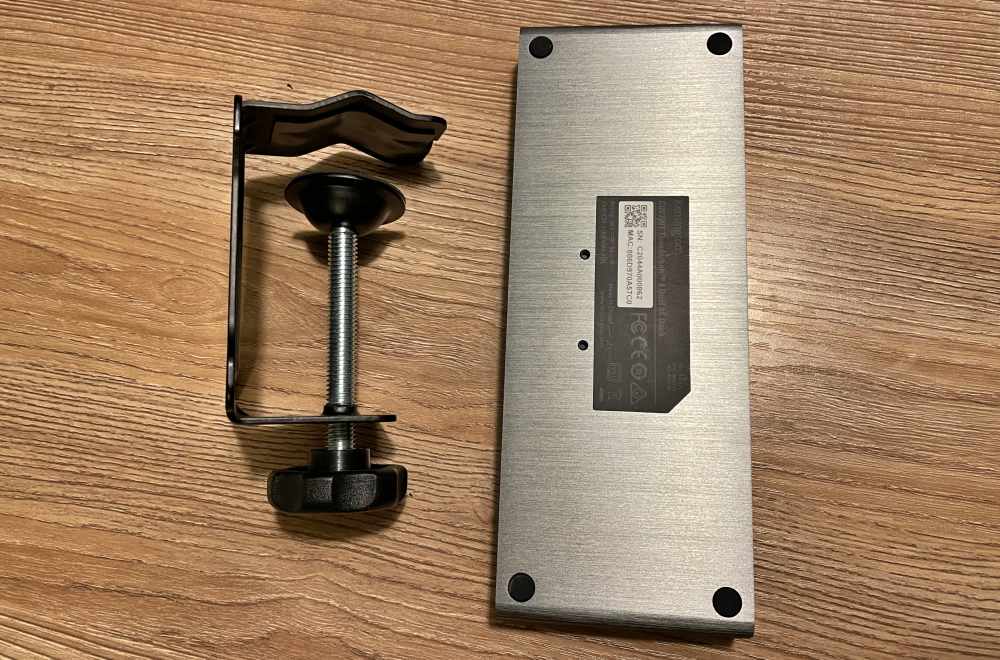 If you're using it in more of an office environment (struggling to remember those) the left side supports Kensington's Security and Nano Security Slots where you can lock it to your desk with a cable.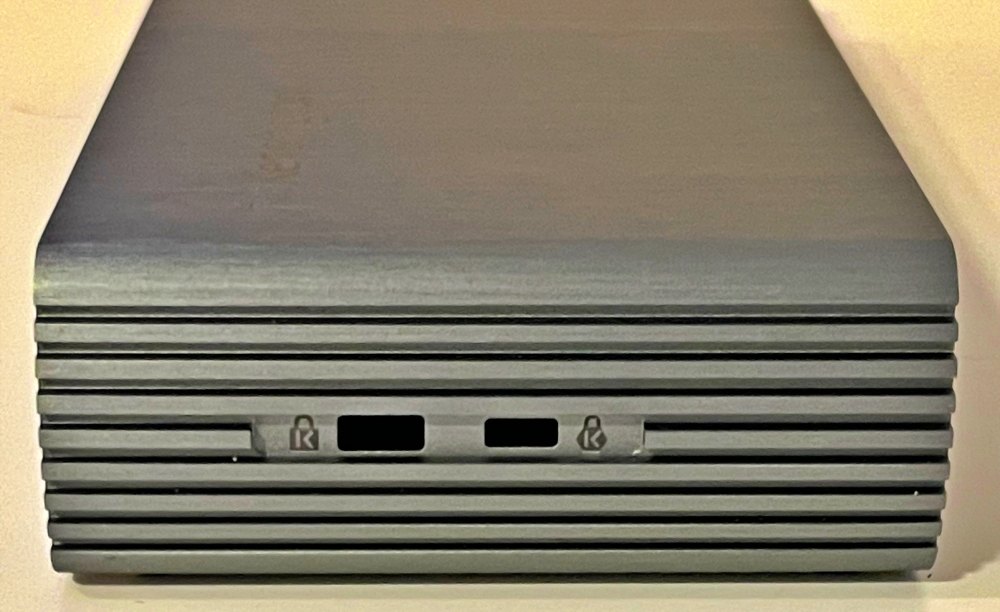 Setup
The SD500T truly is plug and play, so all that's required to get it set up is connecting the cables you need. Routing those is the hardest part depending on how organized you want to be.
First connect your power supply between the dock and the wall outlet to make sure you have power. Then figure out where you're likely to place the dock in your setup.
The included Thunderbolt 4 cable is meant to connect the dock to your computer and unlike a lot of other docks, connects to the front of the dock.
Next you'll want to connect your external monitor. You'll probably need a new cable for this connection as all the video output ports are Thunderbolt 4. These are backward compatible with Thunderbolt 3 and you should be able to find a few variants from your favorite store. I had picked up a couple Thunderbolt 3 to DisplayPort cables previously for some prior setups and they worked perfectly.
Last you'll want to connect any USB devices like external mics, speakers or drives and you should be up and running.
I picked up Kensington's mounting bracket from Amazon to get the dock off my desk and up on to my monitor arm.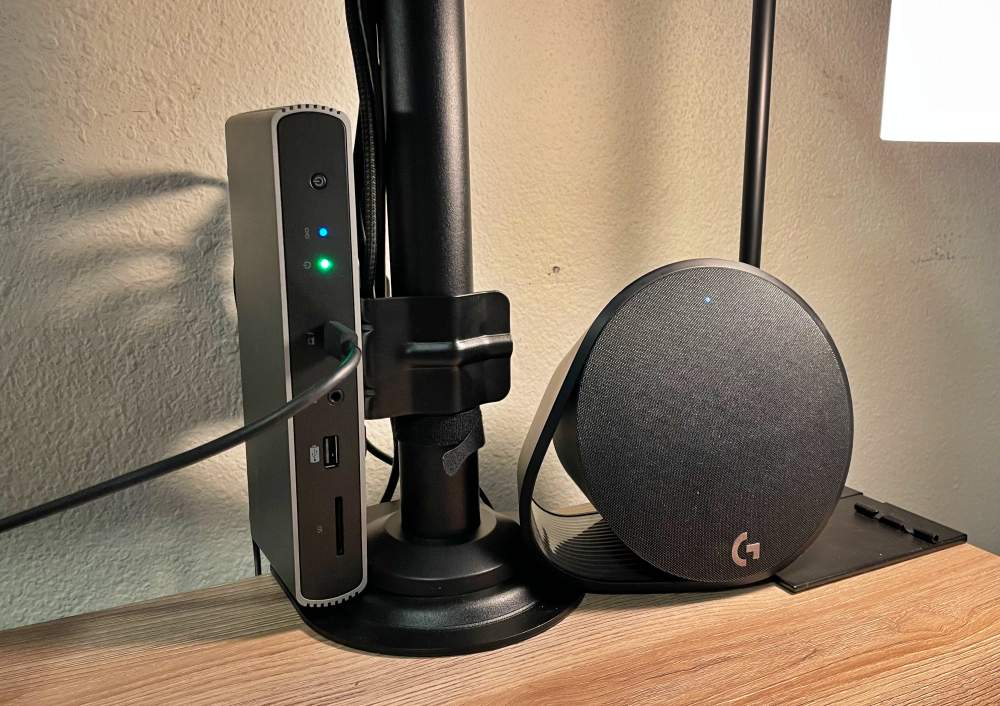 It's pretty handy and allows for mounting on the edge of your desk as well which is where I think I like it best.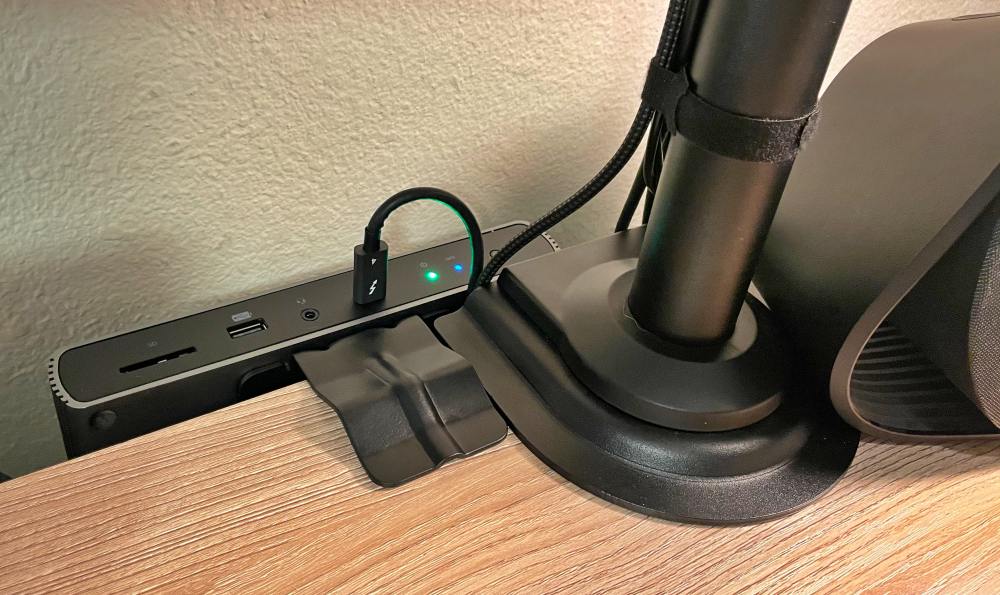 Could be super useful if you've got a smaller desk and is one of the cooler features on the unit.
Performance
Docks can be quirky, especially when it comes to OS updates, monitor voodoo, device specific issues and cable compatibility. I can attest to many setups being so frustrating that I've abandoned docks before. I can happily say that I have not seen a single issue with this dock. It's worked from the moment I plugged it in and has been 100% reliable. That means a lot as far as I'm concerned, and definitely helps to justify the lofty price.
One unique feature that I haven't seen on any of the previous docks I've used is the addition of a power button. It not something that is required by any means, but it's definitely useful. I've got an external mic and a Stream Deck connected, both of which have a number of LEDs. It's pretty cool to be able to hit that power button and have all those LEDs go dark at once. I've sat down to work a couple of times only to have my keyboard and mouse not wake up my computer and monitor, resulting in a few moments of "what now?" only to remember… "right, that power button!" Short learning curve aside, I'd rather have it than not have it.
I was able to connect my new M1 MacBook Pro to it and the one 4k monitor I have. It worked flawlessly. Dual monitor support worked great on my 2017 MacBook Pro through the one Thunderbolt cable connecting to the same 4k monitor and an Alienware at 3440 x 1440. Sadly I was able to confirm my M1 machine is limited to a single external display even if using a killer dock like this. Definitely an M1 limitation at the moment. I don't have an 8k monitor to try it out with so checking that out will have to wait.
The front port for connecting your laptop is great, if you work with your laptop open. If you run it closed or use a Mac Mini or other desktop machine you may wish this port was on the back to keep your set up cleaner.
I occasionally need more than 3 USB-A ports. Daisy chaining hubs has caused problems with other docks, but I was able to connect the SD500T to my Alienware's built in hub and got 4 additional USB-A ports that all seem to function just fine.
What I like
Sturdy build and compact form factor
Good suite of ports plus Power Delivery eliminating need for a laptop power supply
Mountable option is useful
What I'd change
Don't dig the high price, but when I consider the cost of the monitors and laptop I'm running…
Not sure I dig the front host port. An either front or back option would be better.
Final thoughts
Docks can be expensive and this one is no exception, but if you've got a new computer that supports Thunderbolt 4 there aren't many options out there yet and this one will let you take full advantage of what your computer is capable of.
Price: $319.99
Where to buy: Amazon
Source: The sample of this product was provided by Kensington