The Gadgeteer is supported by readers like you! If you buy something through links on our site, we may earn an affiliate commission at no cost to you. Thank you! Learn more.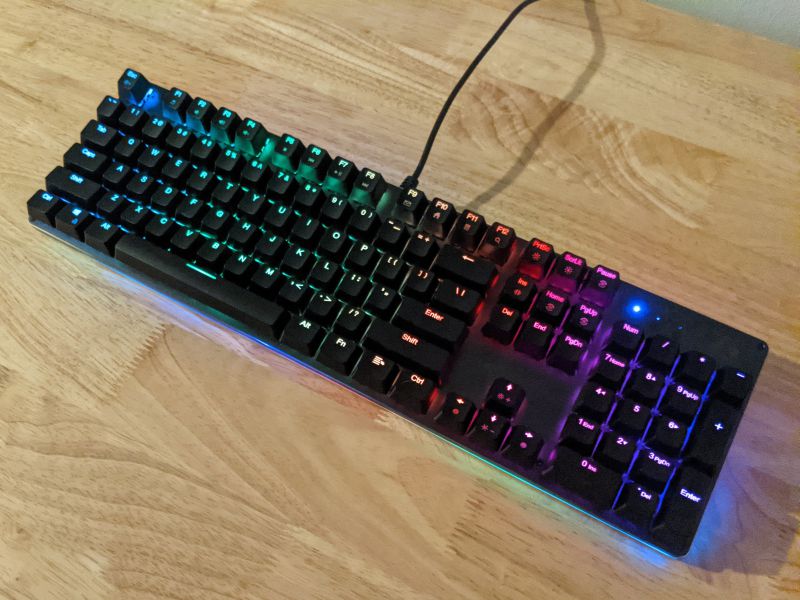 REVIEW – Working from home has brought about some serious challenges for a lot of people. Along with those challenges are some headaches that just aren't quite as severe, but annoying nonetheless. For those of us who split our time between working and playing on the same computer, trying to find a setup that works for both scenarios is one of those lesser worries. I am constantly on the search for peripherals that are both reliable and conventional enough to use for work, yet fun and customizable enough to live that #RGBlife that most gamers are always chasing. If I can, I also like to acquire those peripherals without breaking the proverbial bank. Luckily, the AUKEY KM-G12 Mechanical Gaming Keyboard is an inexpensive way to live in both worlds.
The KM-G12 doesn't scream gamer and looks at home on an office desk, but it has plenty of the macro and RGB options that gamers love. There are some shortcomings with the AUKEY G-AIM software, and the KM-G12 is not as customizable as some higher-end keyboards, but for just over $40, this aluminum alloy-framed RGB keyboard is a great option for the budget-conscious work-from-home crowd who moonlight as gamers.
What is it?
The AUKEY KM-G12 is a USB-wired mechanical gaming keyboard with customizable RGB backlighting, an aluminum alloy frame, and removable ABS keycaps. The mechanical part of the KM-G12 refers to its key switches. The key switches give mechanical keyboards their distinctive click-clack sound and they are highly coveted by gamers.
I tested the version of the KM-G12 that comes with AUKEY (Outemu) Blue key switches, but it is also available with AUKEY (Outemu) Red key switches as well. The choice between the two is a personal preference with the AUKEY (Outemu) Blue key switches being tactile and clicky while the AUKEY (Outemu) Red key switches are linear and smooth.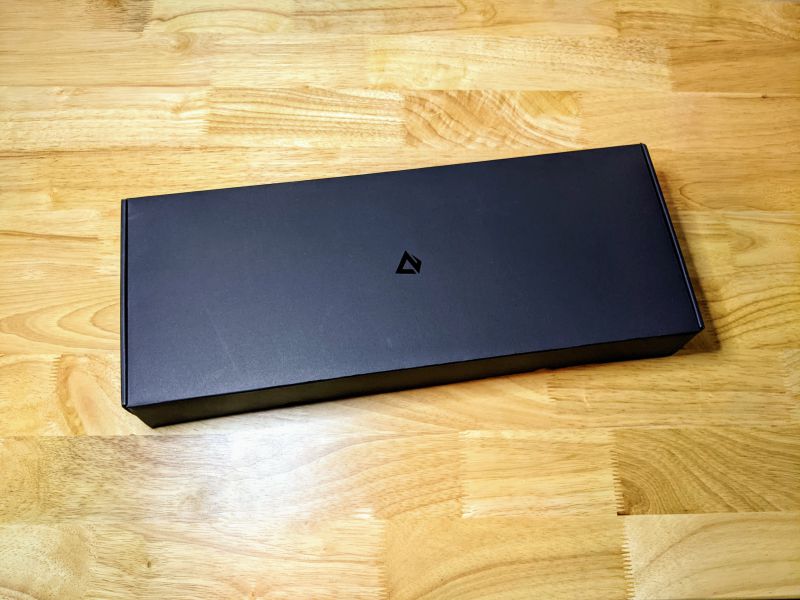 The KM-G12 arrives in a slickly designed black box adorned only with the AUKEY logo. Great presentation for such an affordable keyboard.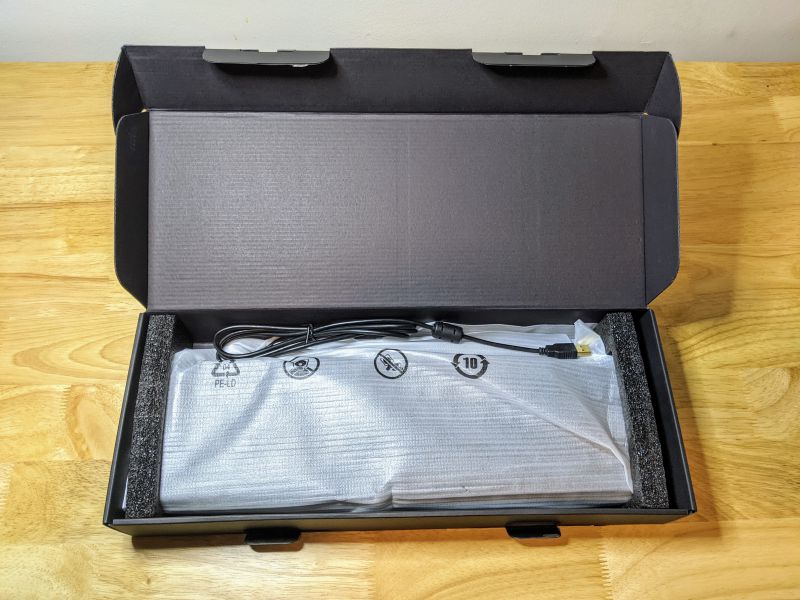 What's in the box?
AUKEY KM-G12 Mechanical Gaming Keyboard
Keycap Removal Tool
User Manual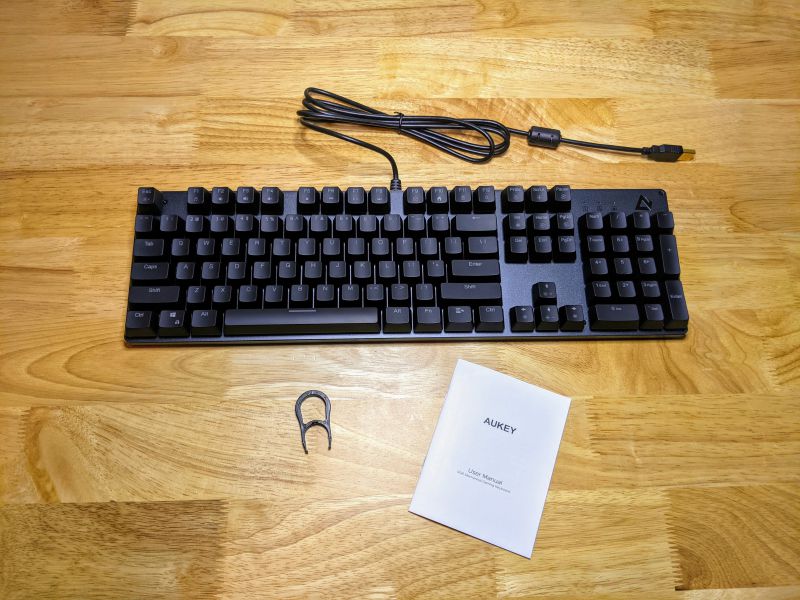 Hardware specs
Keyboard Layout: ANSI
Number of Keys: 104
Built-in Lighting: RGB Backlighting with 7 color and 12 lighting presets
Keycap Material: ABS
Key Switch Type: AUKEY (Outemu) Blue
Key Switch Estimated Lifespan: 50 million keystrokes
Actuator Travel: 4mm ± 0.2 mm
Actuation Force: 54cN ± 20cN
Input: DC 5V 200mA
Interface: USB 2.0
Operating System Compatibility: Windows, Mac OS, Linux
Materials: Aluminum Alloy, ABS
Cable Length: 5.25' / 1.6m
Dimensions: 17.1″ x 5″ x 1.5″/ 433 x 126 x 37mm
Weight: 2.2lb / 1kg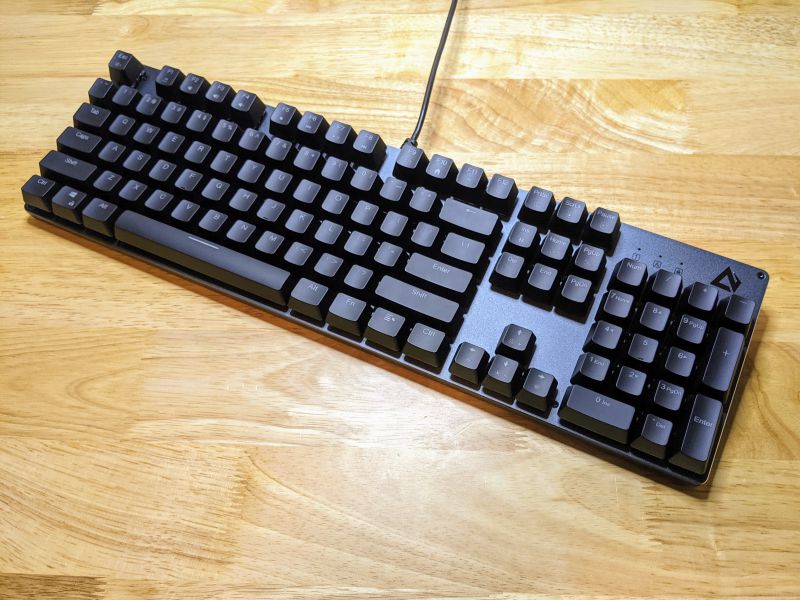 Design and features
I was really impressed with the build quality of the KM-G12. The heft of the aluminum alloy body and the seamless integration of the RGB sidelights both suggest a high priced keyboard, which the KM-G12 certainly is not.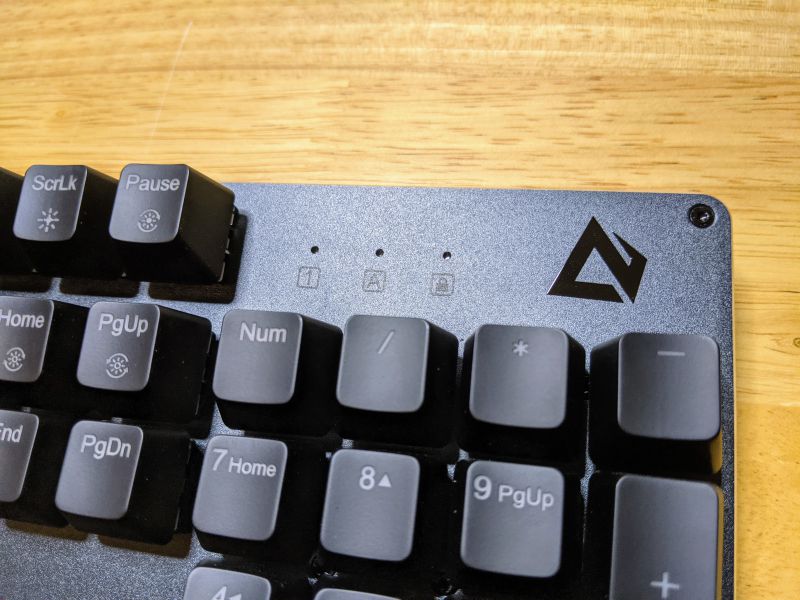 I love the rounded edges and industrial feel of the aluminum alloy and exposed screws.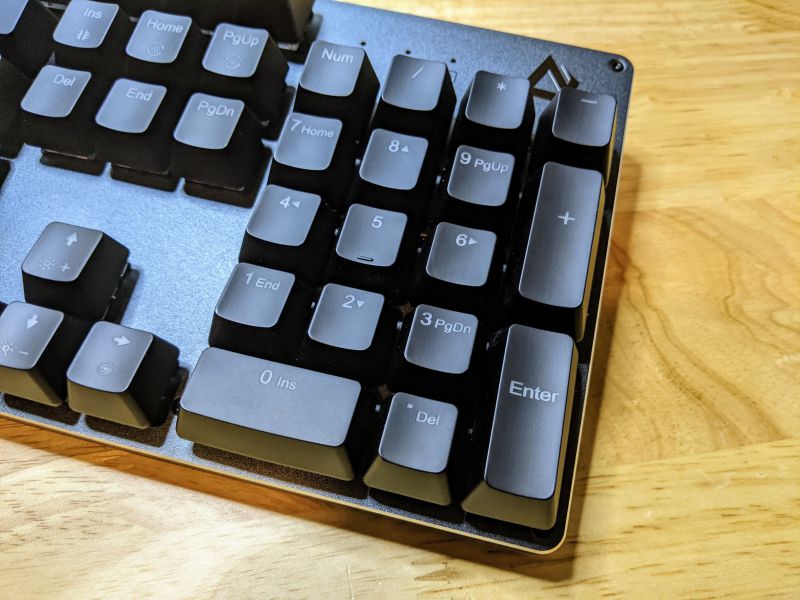 Going around the KM-G12 it's hard to miss anything since there aren't any USB ports and the USB-A cord is hard-wired to the unit.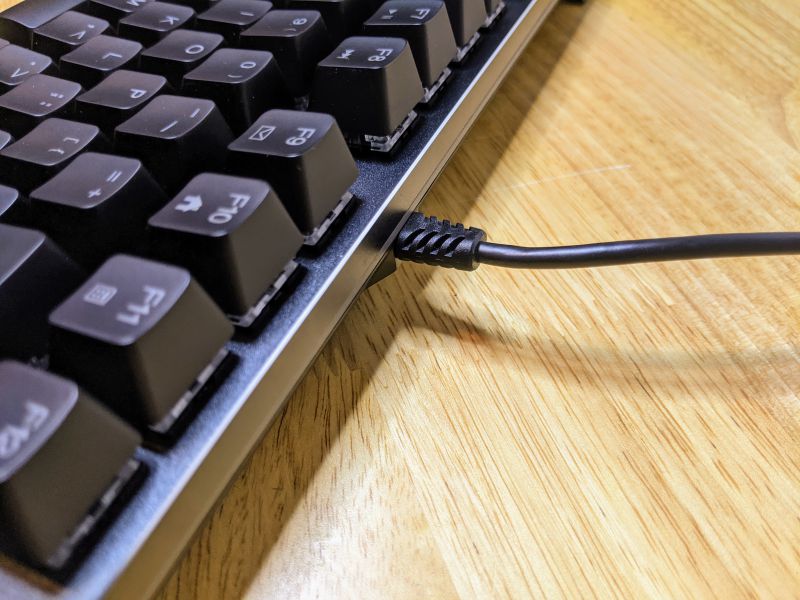 Flip the KM-G12 over and you'll find that the bottom is made of textured matte plastic.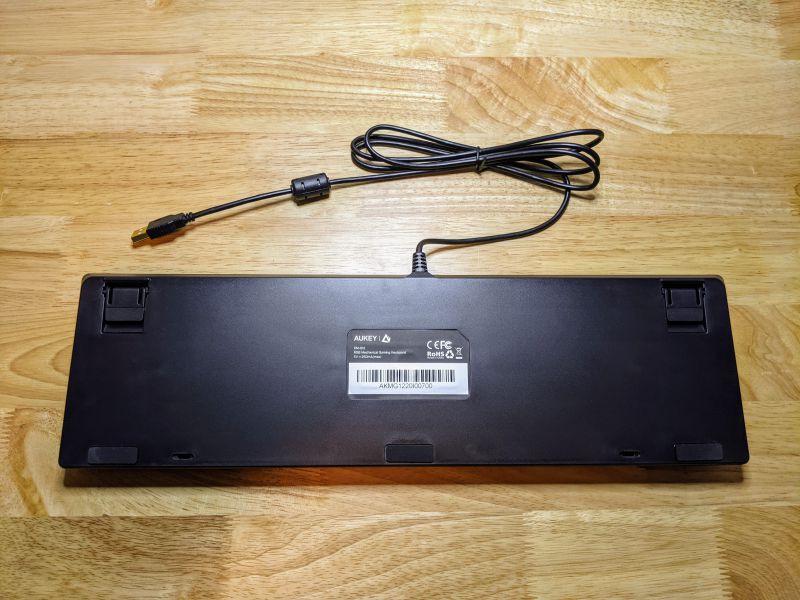 The underside of the KM-G12 also reveals some great grippy rubber feet on the front and two adjustable legs towards the back.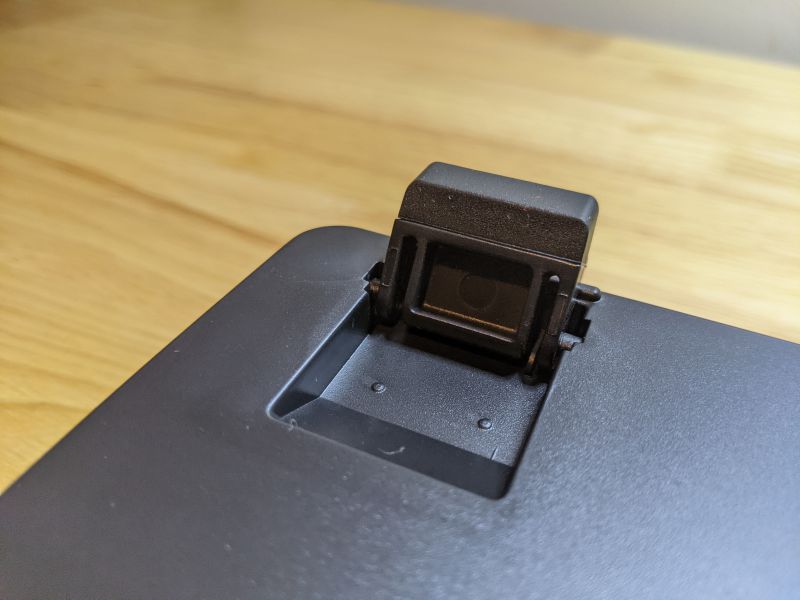 The adjustable feet flip up and lock into place to give the KM-G12 a higher angle on your desk.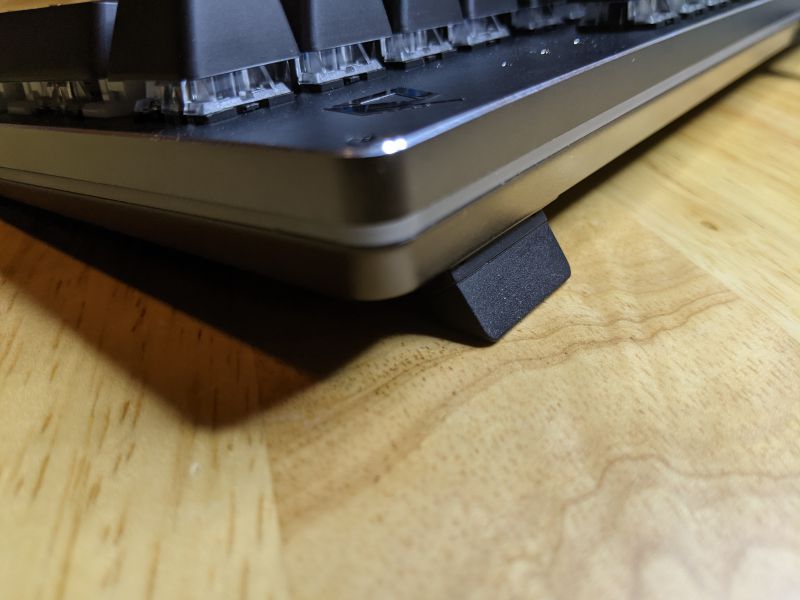 The ABS keycaps have a nice smooth feel to them without being too slick.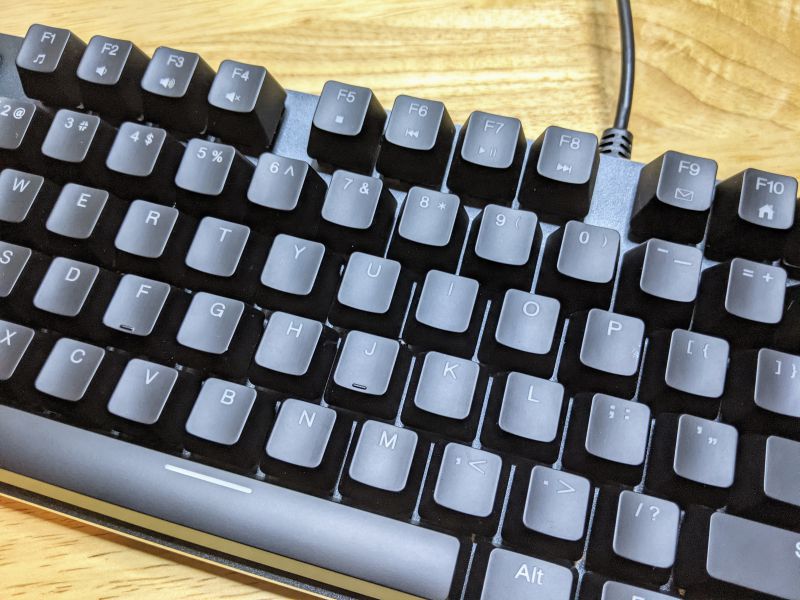 I like the look and feel of the keycaps, again leaning toward a conservative design that would work in an office setting.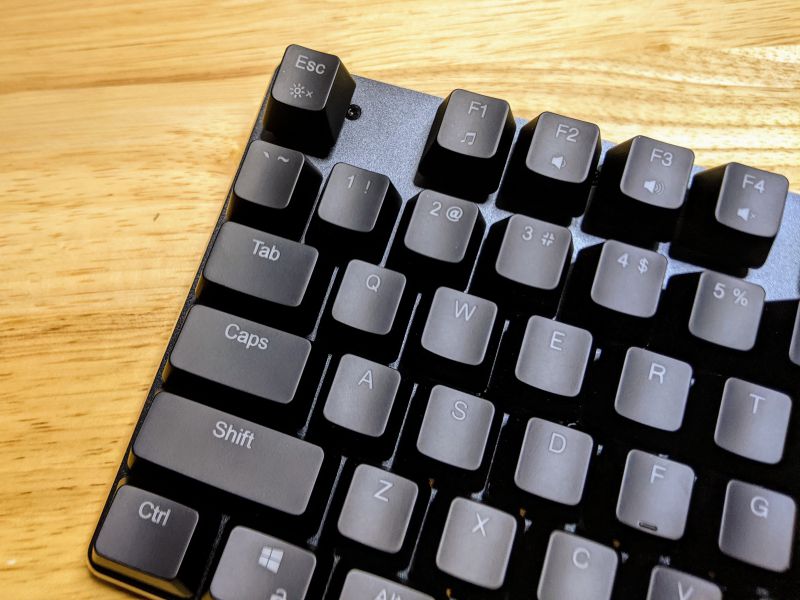 You can use the included Keycap Removal Tool to pop off the ABS keycaps and replace them with aftermarket ones to style the KM-G12 to your liking.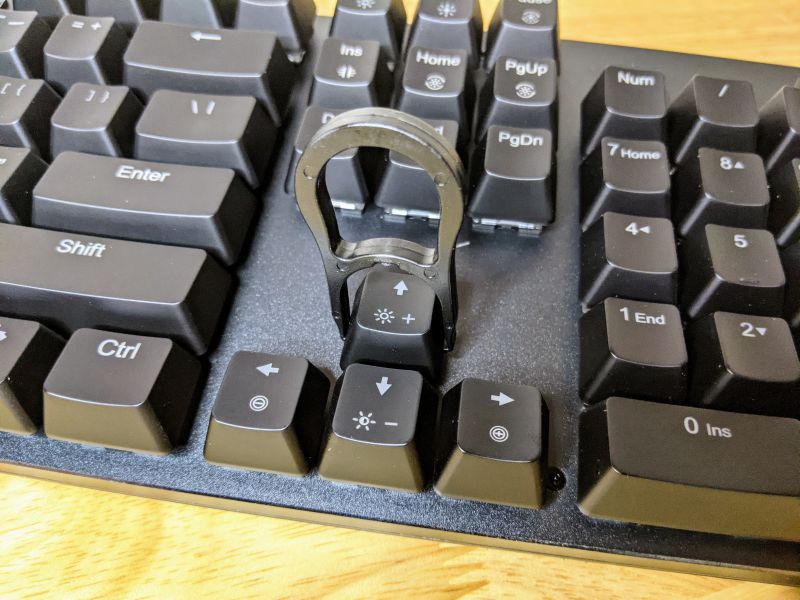 Push down on the removal tool and it will click once it's locked onto the keycap, then just carefully pull up and the keycap will come off.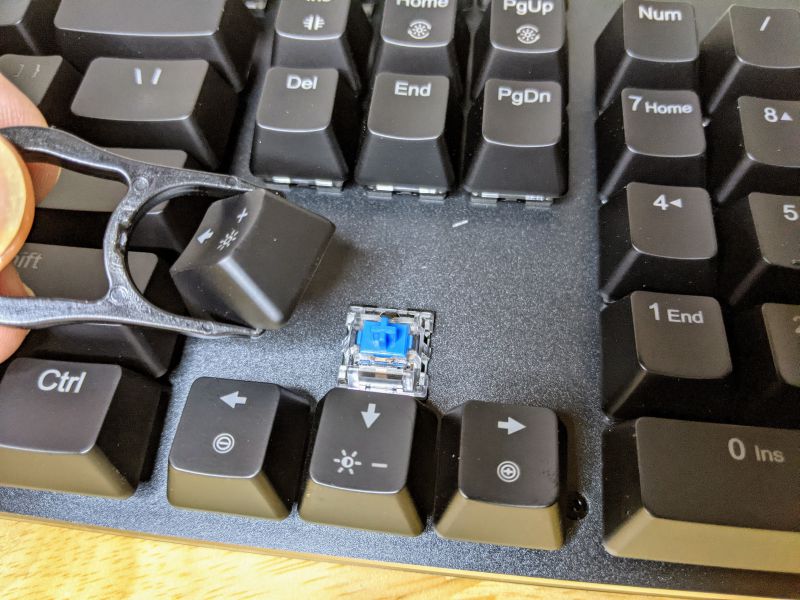 Once a keycap is removed you can see the blue coloring of the AUKEY (Outemu) Blue key switch which mimics the classic, more expensive standard in mechanical key switches, the Cherry MX Blue made by German peripheral manufacturer Cherry.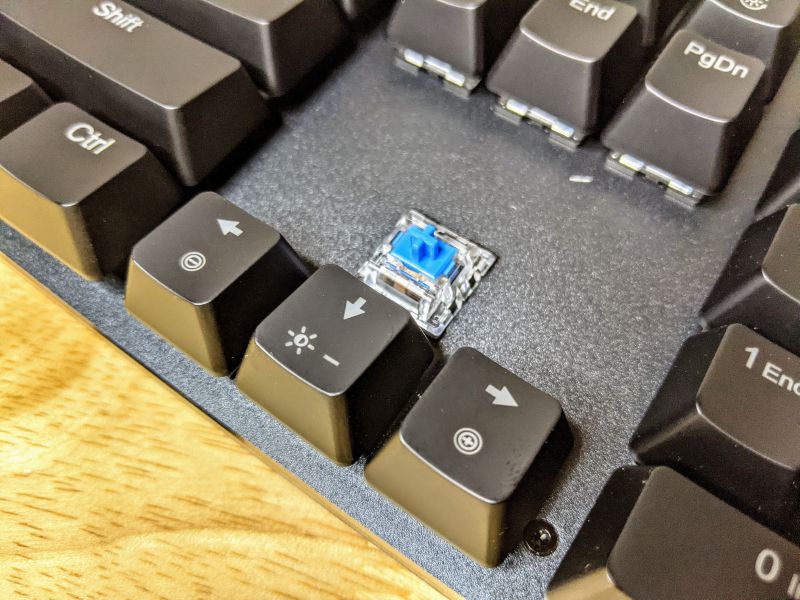 The AUKEY key switches are made by Outemu, a Chinese company like AUKEY, that specializes in budget-friendly Cherry key switch clones.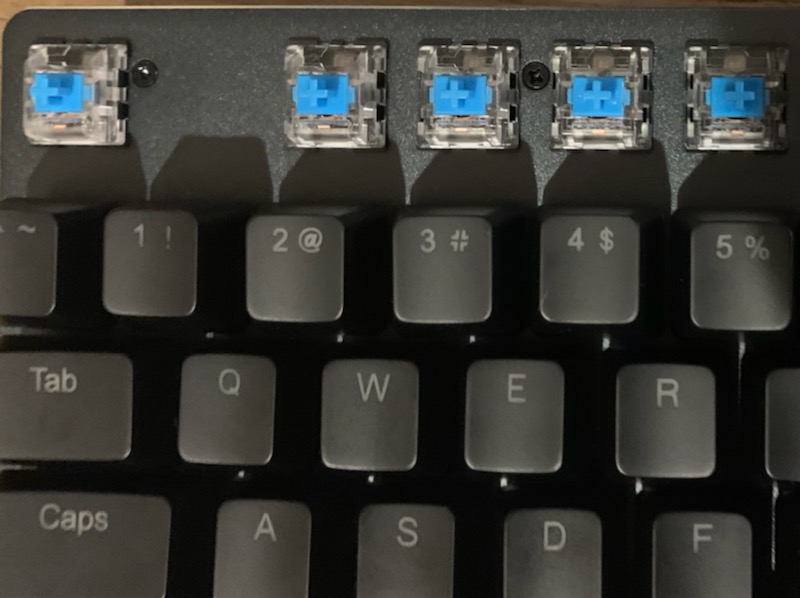 The Outemu key switches are a little looser and don't have the long term durability of Cherry key switches. Cherry key switches are rated for around 100 million keystrokes whereas the Outemu ones are rated for about half that. The Outemu key switches are fine in my opinion though, especially since they help keep the cost of this keyboard really low.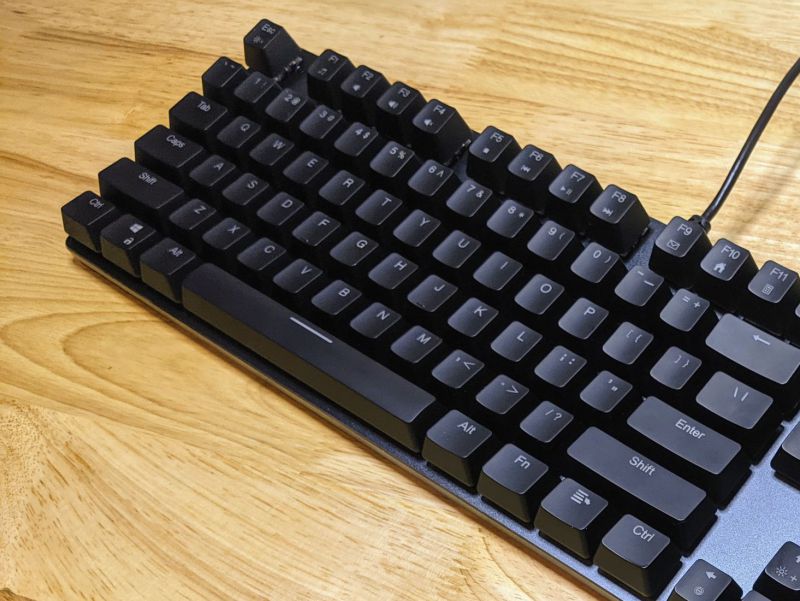 Aside from the key switches, the KM-G12 keyboard also has Full N-Key Rollover. Full N-Key Rollover means that each key is scanned independently by the keyboard so that every keypress is correctly detected regardless of how many other keys are being pressed at the time. This is great for gamers who are often mashing or inputting a lot of keys at once.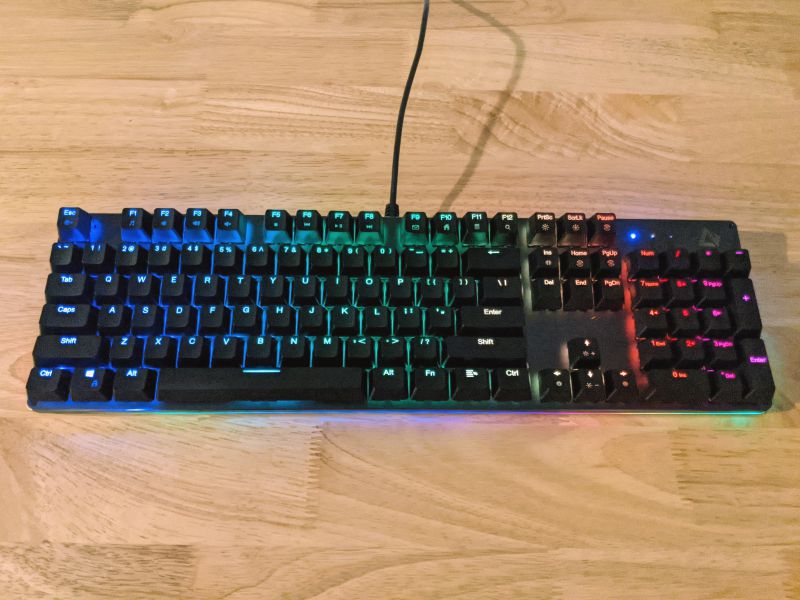 Now for the fun stuff, the RGB lighting. The RGB LEDs on the KM-G12 are really bright and responsive. I'll get into the presets and functionality in the Setup section, but as for design, I love the way the lights look on this budget keyboard.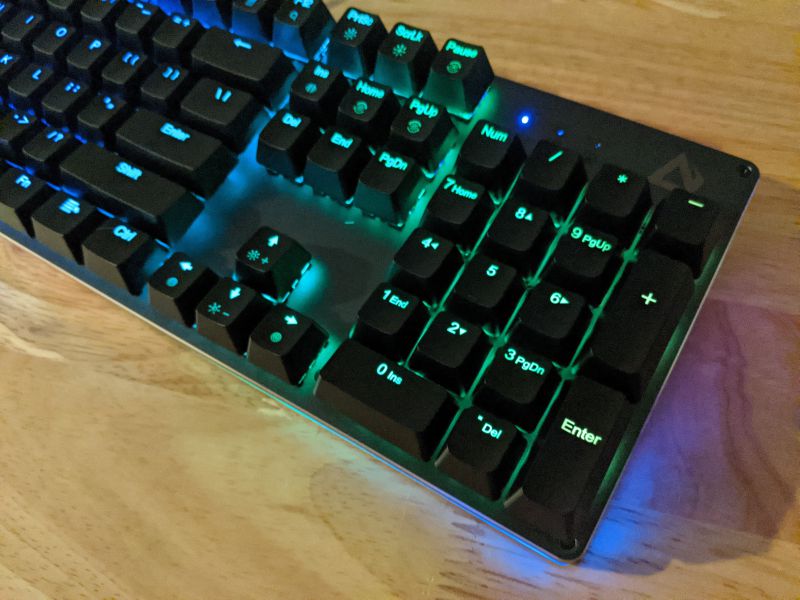 Each key is capable of displaying colors independently of the other keys. This allows for a lot of fun effects as well as total keyboard customization.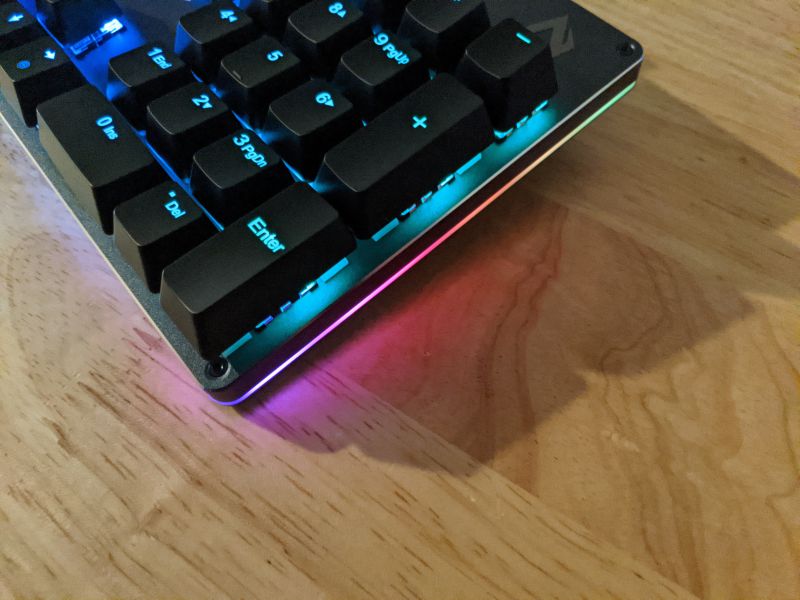 Sandwiched between the aluminum alloy frame and the plastic bottom is a strip of LED sidelights.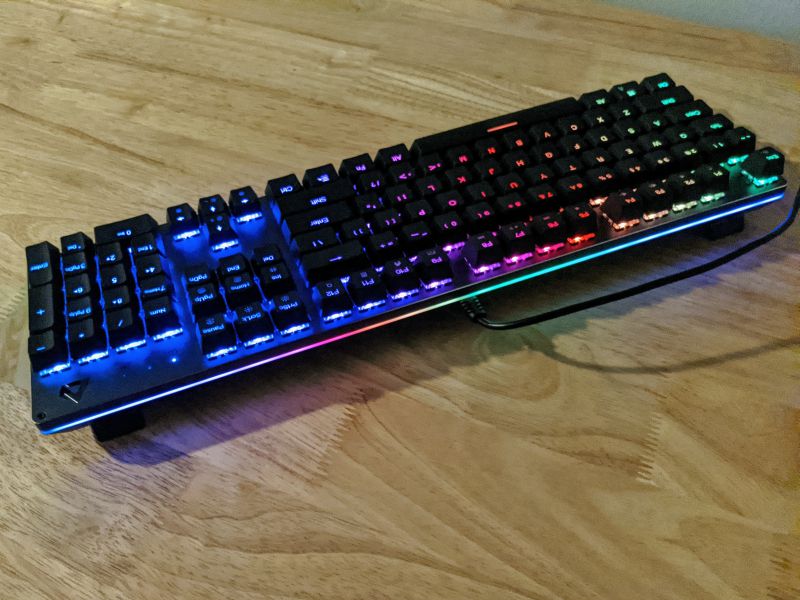 The sidelights go all the way around the KM-G12 and provide a really cool aesthetic that is usually only available on more expensive keyboards.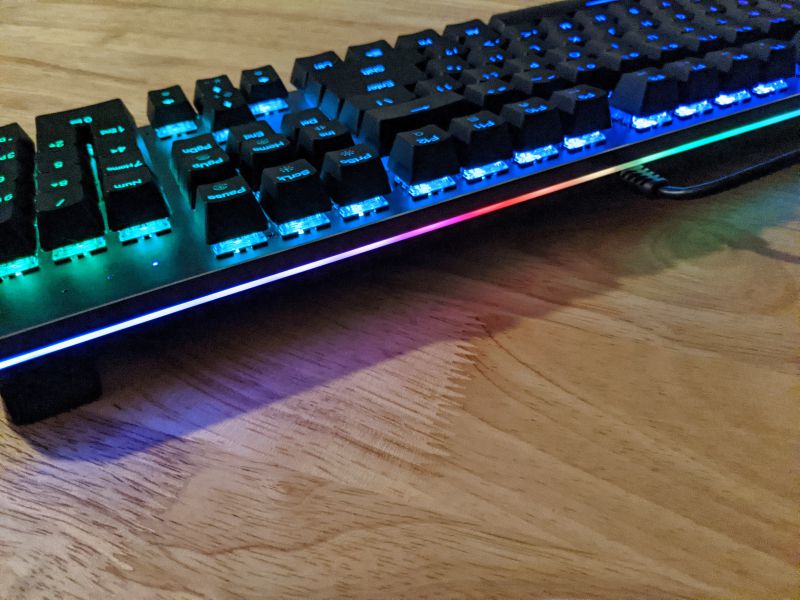 You can cycle through different effect presets for the sidelights separately from the presets for the whole keyboard using the function keys or the G-AIM software.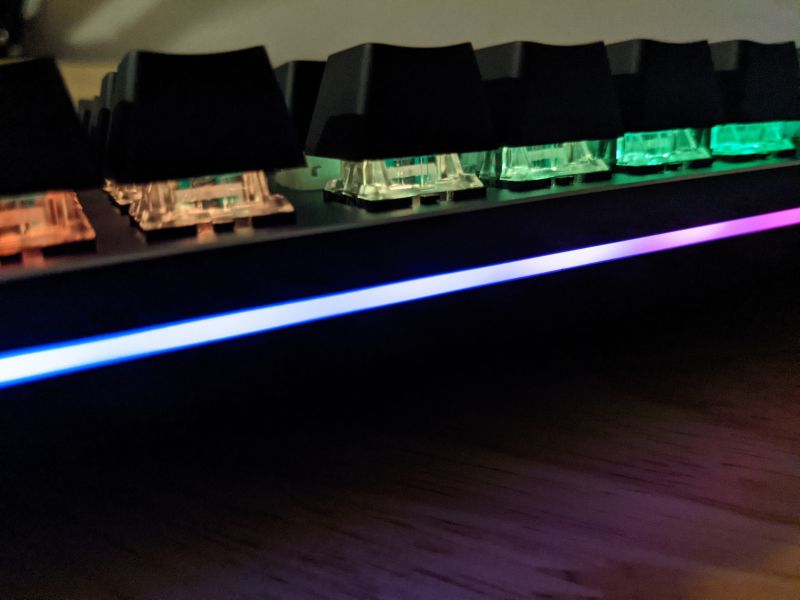 Or you can just shut the sidelights off completely if that's your thing. But, they're so cool looking, I don't know how you could think of doing that.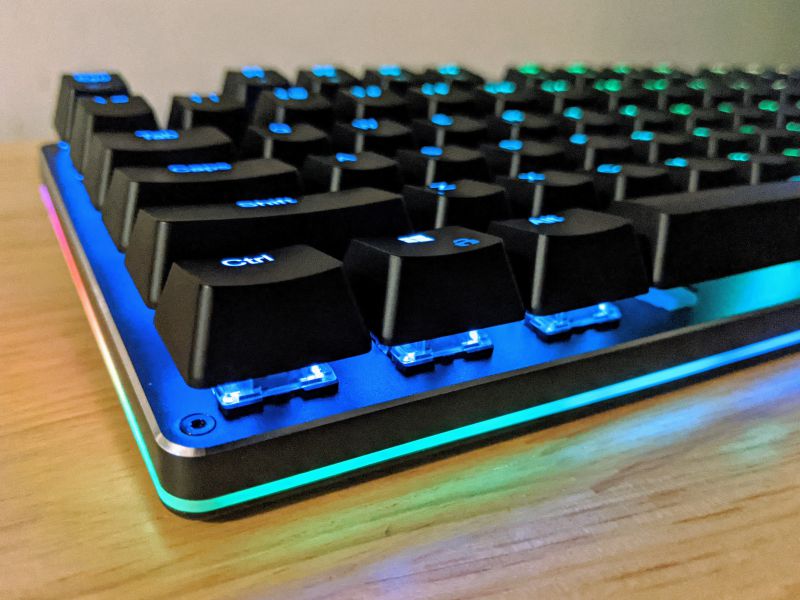 Along with all of the other features, I think the inclusion of the sidelights really puts the KM-G12 ahead of other keyboards in its price range.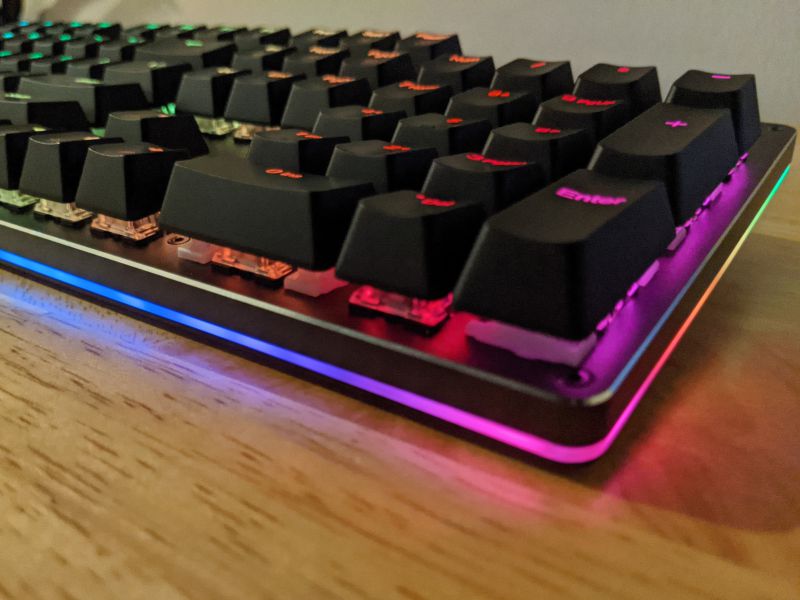 The RGB presets for both the sidelights and the 104 keys are fun and expansive, even if figuring out the control scheme is a bit of a chore.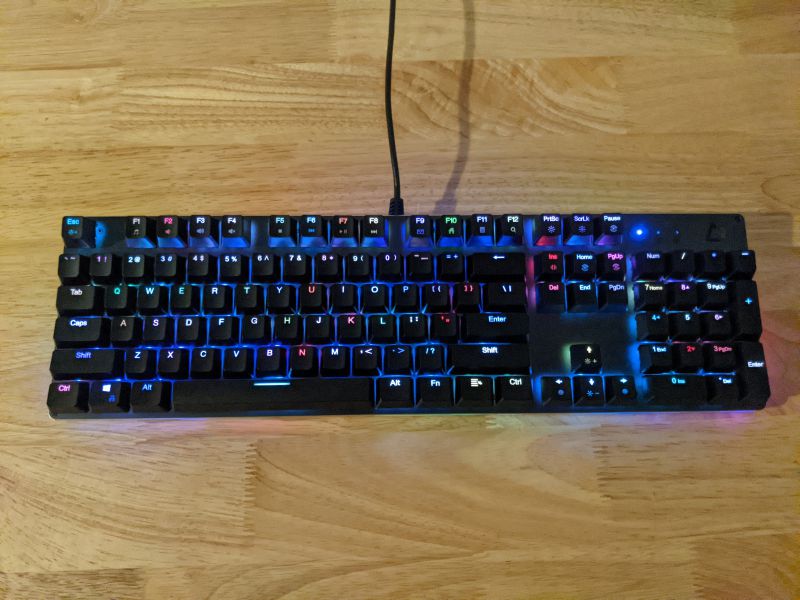 Setup
If you don't want to use the macro or RGB functionality of the KM-G12, setup is as easy as simply plugging it into a USB port on your computer.
But if you really want to get your money's worth, configuring the RGB and macros take a little bit of work. There are two options for configuring the KM-G12, using the function keys or using the AUKEY G-AIM software. Warning, both are problematic in some way. The function keys only allow you to change the keyboard and sidelight lighting, they don't allow you to program macros. The G-AIM software allows you to program both the RGB lighting and set up macros, but it's just really clunky and unintuitive, and that's even if you can find a link to download it from.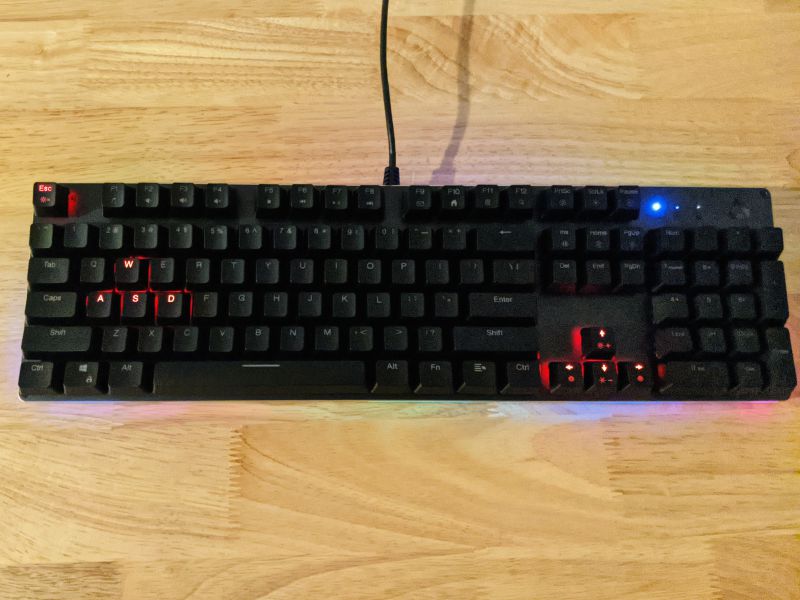 For lighting control using the function keys, the rules are pretty basic, you just have to get used to doing it. I list all of the function key commands below, but the basics are; use FN + PrtSc to cycle through keyboard presets, FN + PgUp to cycle through sidelight presets, and FN + ScrLk to edit and save custom setups. By using FN + ScrLk for custom setups, you can change and save one of the five preset gaming configurations to whatever your gaming style demands.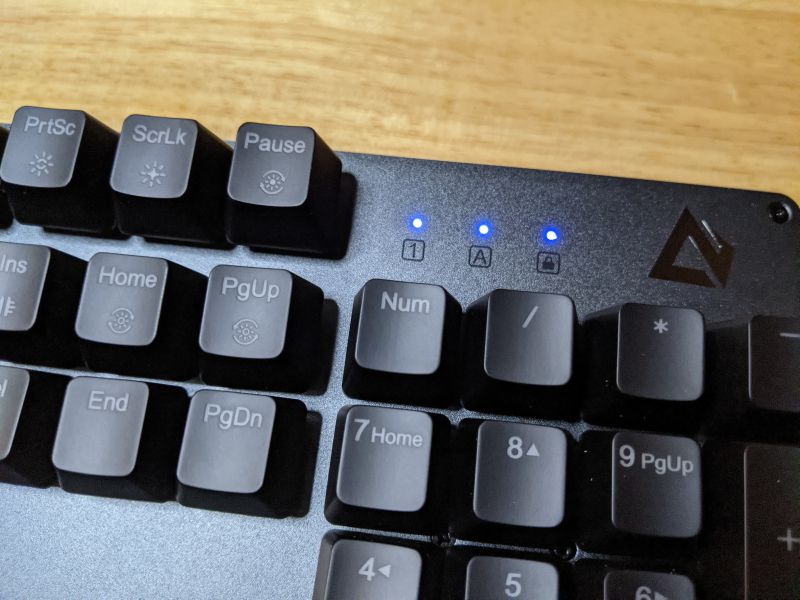 Hitting FN + ScrLk will put the keyboard in setup mode and the three keyboard lights will blink. Then you can edit the layout as you like by clicking on keys repeatedly to choose their color. Once you like what you have, hit FN + ScrLk again to save your setup.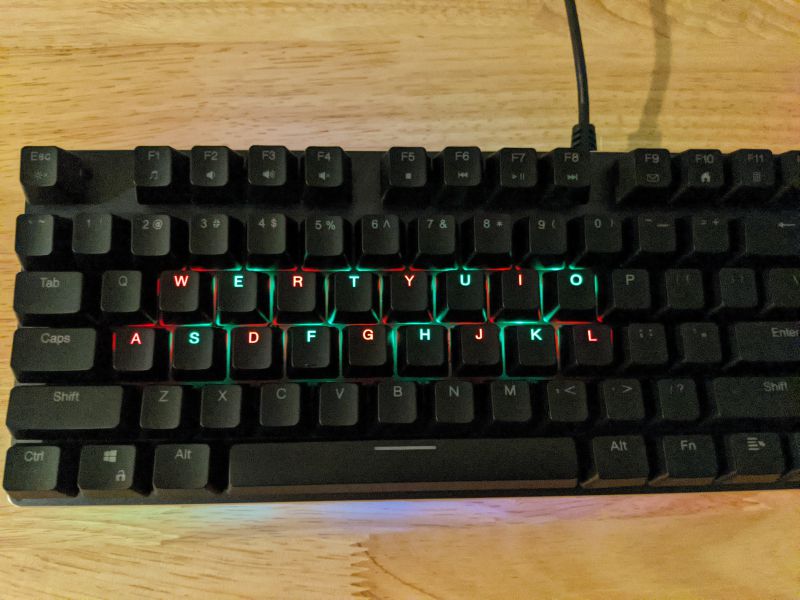 It's pretty cool, and time-consuming, to program every single key yourself, but it's also a level of control that some gamers demand. And if you mess something up or want to start over you can always hold FN + Del for three seconds to reset all of the keyboard settings.
Function Key Commands
FN + F1: Open the media player
FN + F2: Volume –
FN + F3: Volume +
FN + F4: Mute
FN + F5: Stop
FN + F6: Previous track
FN + F7: Play / Pause
FN + F8: Next track
FN + F9: Open e-mail
FN + F10: Open Internet browser
FN + F11: Calculator
FN + F12: Search
FN + ↑: Brightness +
FN + ↓: Brightness –
FN + ←: Lighting effect speed –
FN + →: Lighting effect speed +
FN + PrtSc: Cycle through the 12 lighting effects
FN + Home: Cycle through the 7 color settings
FN + Ins: Turn off / cycle through the 3 sidelight effects
FN + PgUp: Cycle through the 7 sidelight color settings
FN + Pause: Cycle through the 5 gaming lighting effects (FPS, CF, COD, LOL, racing games)
FN + ScrLk: Edit / save custom lighting effects
FN + Esc: Turn lighting on / off
FN + Windows: Windows key lock / unlock
FN + Del: (Hold for 3 sec) Reset all keyboard settings
Now for the G-AIM Software. To start with, the link directing you to the AUKEY G-AIM software that is listed on the AUKEY site does not work at the time of this article's posting. This is a HUGE fail on the part of AUKEY. They mention it repeatedly, but you have to search the site for the link, then when you find the link, it doesn't even work, returning a 404 error. I don't even feel comfortable posting the link I eventually did find for the software because it was on a message board and I don't want to be responsible for someone downloading malware.
Anyway, when, and if, you do get the G-AIM software, prepare to be underwhelmed. Aside from the clunky-looking interface and garish color scheme, the software is not very intuitive at all and offers little guidance.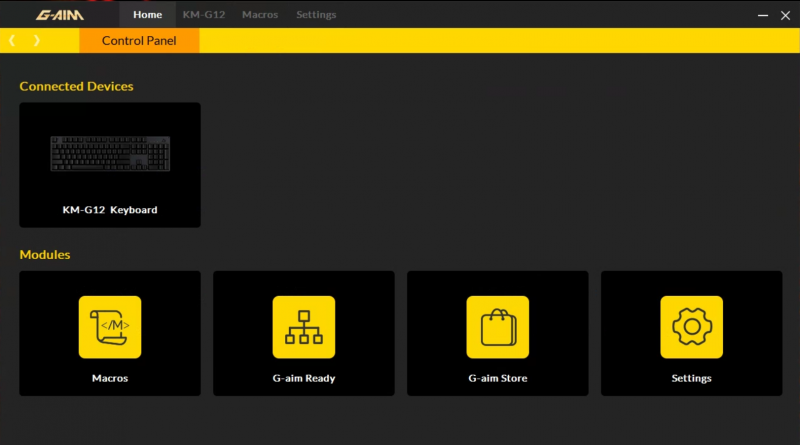 After much trial and error, I was able to customize and program a few basic gaming macros as well as edit and save some different lighting schemes.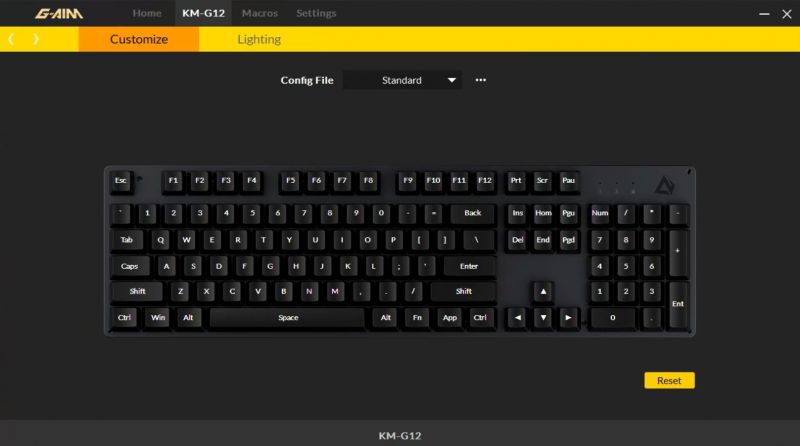 Honestly, I could do without the macros and feel fine using just the function keys to modify my lighting setup. Again, I can't ask too much of a keyboard priced this low, but if AUKEY is going to offer up the G-AIM software as an added feature, then they should at least do their due diligence to make sure it's user friendly and accessible.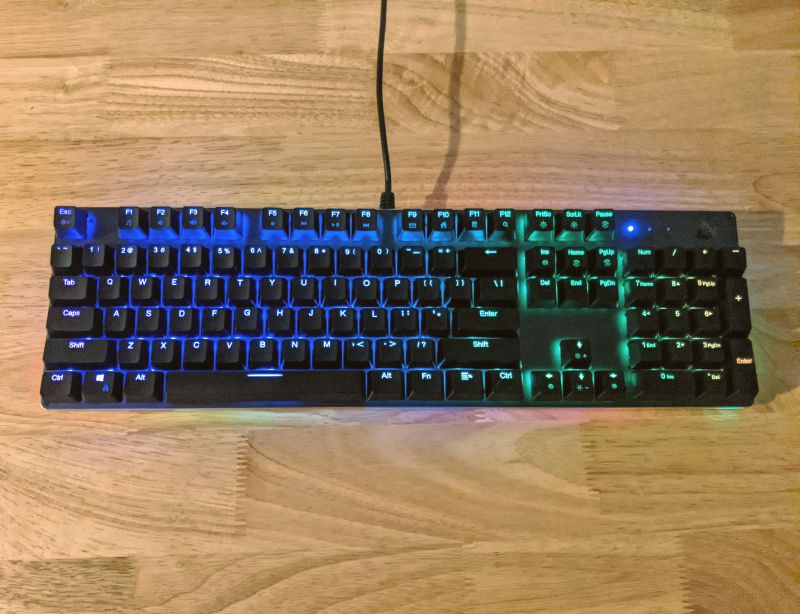 Performance
I used the KM-G12 in various scenarios over a few weeks and really enjoyed its feel and responsivity. The keys responded just as well as both my expensive Razor Blackwidow Elite and my Cherry MX keyboards. Whether gaming or working, I felt like the KM-G12 was definitely fighting above its weight. I did find myself looking for an extra USB port occasionally though, which was frustrating.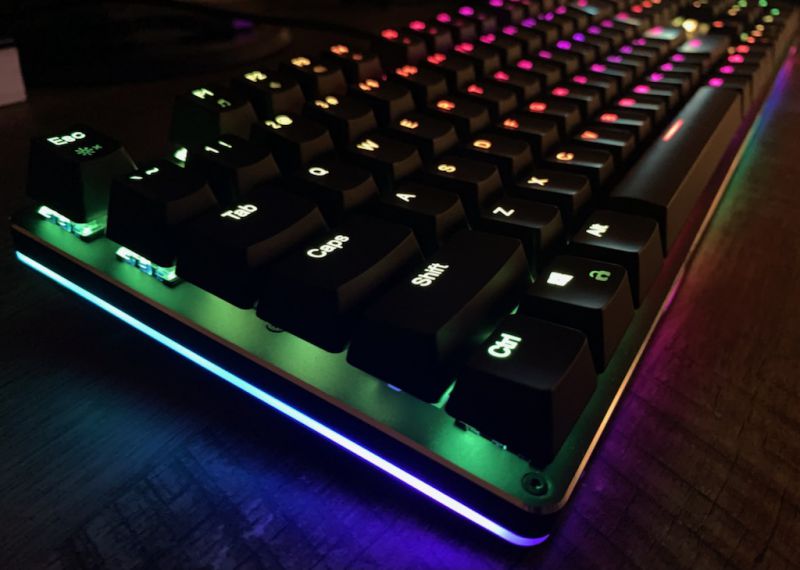 To make sure I was covering all the bases, I also loaned the KM-G12 to a 13-year-old hardcore gamer to really put it through its paces.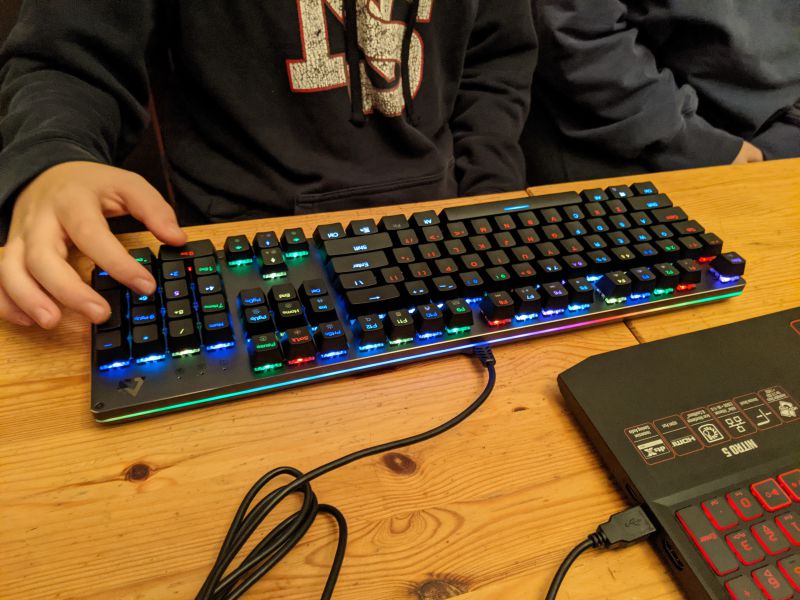 Once trained in the proper way to set up the KM-G12, my tester immediately got to work customizing it to his specific preferences. The gaming presets were OK in his opinion, but they definitely needed a little tweaking. After configuring the KM-G12, he ran it through some marathon gaming sessions in games like Fortnite, Call of Duty: Warzone, and Rocket League. He quickly became adept at customizing the KM-G12 for his playing styles in different games using both the function keys and buggy G-AIM software.
Like a true gamer, he had the same gripes about the KM-G12 that I did, along with the fact that it wasn't available in any other body colors besides gray.
We both really enjoyed changing the RGB lighting presets when not using our gaming setups though. I recorded some short videos showing our three favorites presets.
I really like the slow snakeline progression of the Tumbling preset.
My gamer really dug the randomness of the Rain preset.
And we both really dug typing using the Ripple effect.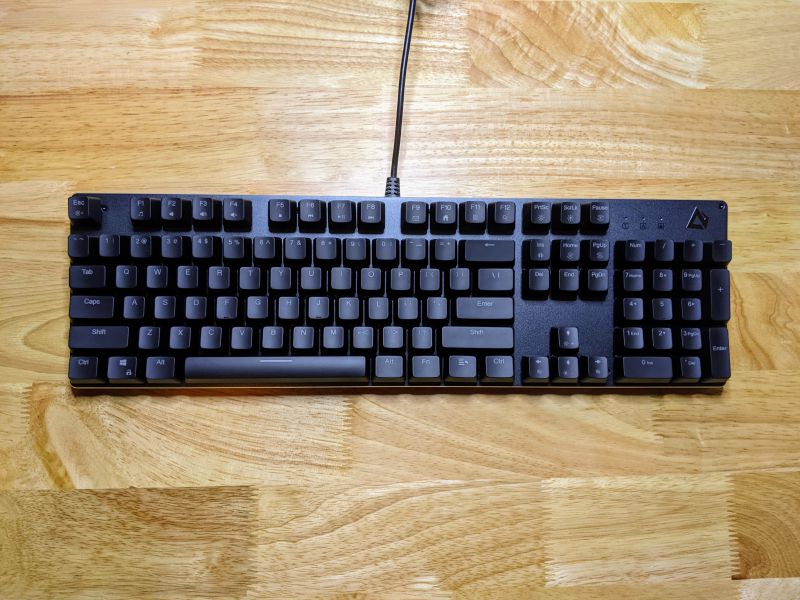 After testing the AUKEY KM-G12 extensively as well as having it run ragged by a hardcore gamer, I can honestly say that it more than lived up to its expectations.
What I like
Sturdy aluminum alloy frame and grippy rubber feet
Very affordable for feature-set
Bright customizable RGB LEDs
What needs to be improved
AUKEY G-AIM software buggy and inconsistent
No extra USB ports or dedicated media keys
Can't remove USB cord and would've preferred a braided cable
Final thoughts
The AUKEY KM-G12 Mechanical Gaming Keyboard is really a terrific keyboard for the price. For just over $40, this sturdy, aluminum alloy-framed keyboard has the look and feel of keyboards that cost significantly more. There are some hiccups when it comes to design, like the lack of extra USB ports and a braided cable, and the software is inadequate, but for all the functionality and style it delivers, the KM-G12 is a good buy for gamers, those working from home, and hybrids who live in both worlds, like me.
Price: $42.49
Where to buy: Amazon
Source: The sample of this product was provided by AUKEY