We use affiliate links. If you buy something through the links on this page, we may earn a commission at no cost to you. Learn more.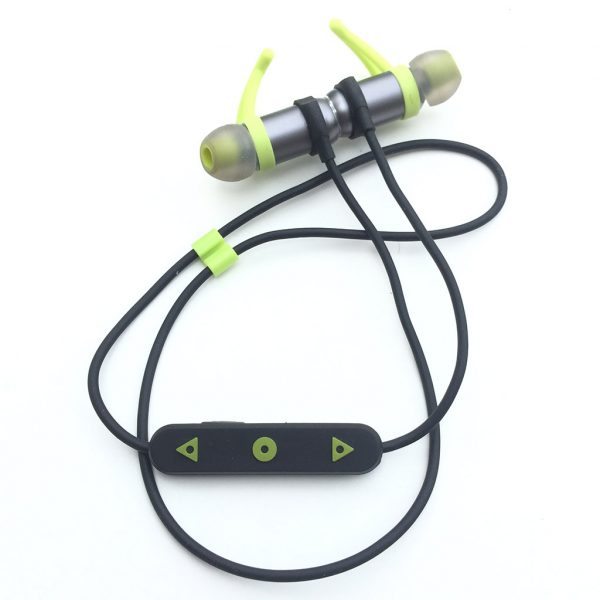 I've been on the hunt for a set of wireless headphones for quite a while, even before Apple declared is "war on wires" (my words, not theirs) with their latest iPhone 7 models. My main criterion for wireless headphones was that I could wear them while working out, meaning that they wouldn't be negatively affected by sweat (which I do a lot) and they wouldn't fall out of my ears (I work out pretty hard). I've tried a few other pairs that unfortunately didn't quite fit my needs. However, the PureGear PureBoom Bluetooth Wireless Earbuds looked promising. Let's check them out! Gadget on!
Packaging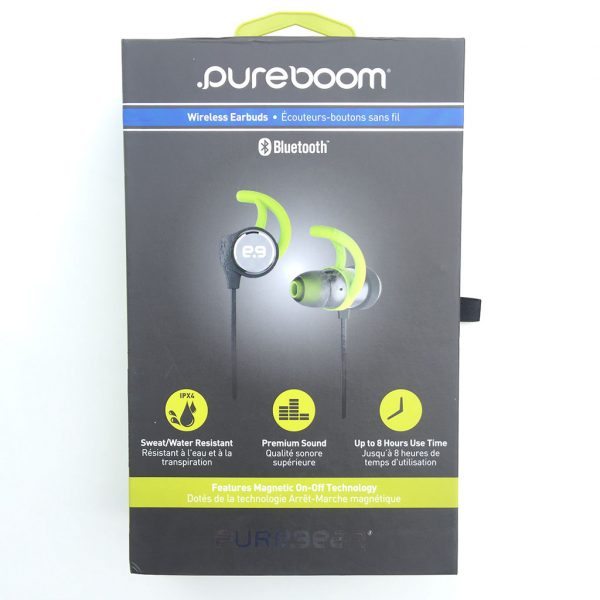 The exterior of the PureBoom packaging has some nice visuals of the product inside, along with info about features and functions of the product.  The box itself is very sturdy and seems very able to protect the product contained inside from being damaged.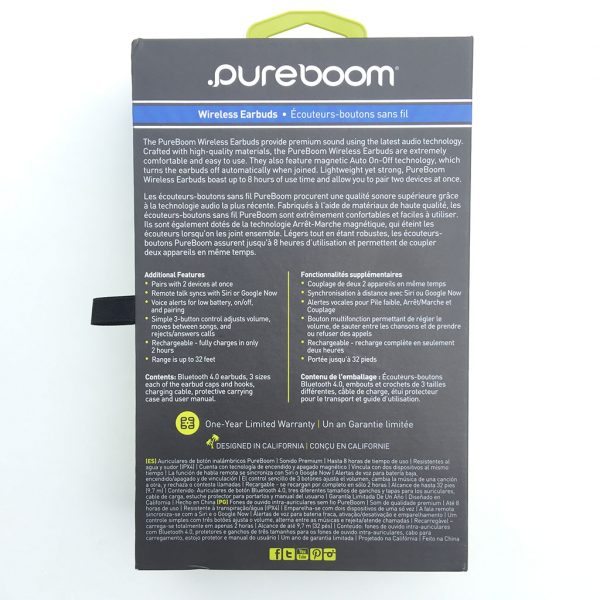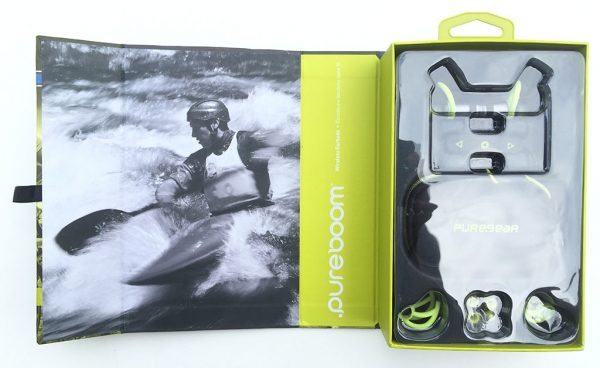 One of the features of the PureBoom packaging that I like is that the front cover folds open (it has a magnetic closure) to reveal the components inside.  I like this because it gives a prospective buyer a good view of the actual product contained inside.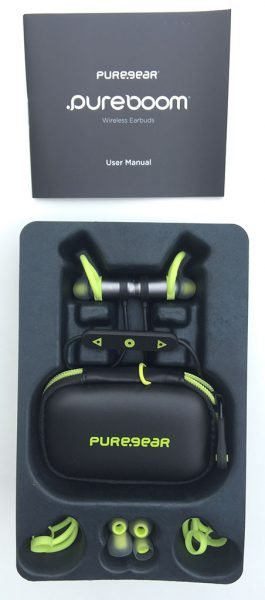 All of the components included with the PureBoom are held securely in various cavities in a cardboard tray as seen in the image above along with the instruction booklet.
Contents

The PureGear PureBoom includes all of the items shown in the image above, which are:
PureBoom Bluetooth Earbuds
Small, Medium and Large sized silicon tips
Small, Medium and Large sized ear hooks
Cable clip
USB to micro USB charging cable
Carrying case
Instruction manual

I've included the above image as well to give a closeup of each of the three sets of earbud tips and ear hooks, both in sizes small, medium and large, as well as the cable clip.  The tips and hooks are silicone and quick and easy to swap so as to find the best fit for you.
Features, Functions and Performance

One of the first things that I noticed about the PureBoom earbuds were the construction.  The earbuds themselves are made from a main body of aluminum with a matte finish, which is both visually pleasing and also provides increased durability.  However, the aluminum material does make these earbuds a bit heavier than if they were made from plastic like many sport-type earbuds, and unfortunately, I think this material's weight might have contributed to them falling out of my ears while exercising (more on this later). Additionally, the PureBooms also includes a pair of "ear hooks."  In theory, these ear hooks are intended to curl up into the crevices of your inner ear and help hold them in place.  In practice, they worked OK for me while sitting at my desk or during light activities, but for strenuous exercise (my typical style), they didn't really help.  Again, more on this later.

The PureBoom's controls are simple and easy to use.  As seen above, there are three buttons on the inline remote: an up arrow, a down arrow, and a center circle, called the Multi-Function Button (MFB) each button performing various functions depending on the mode that the device is in.  The MFB can pause/restart music, accept/reject a call or put the device into pairing mode, or manually turn them off. The up and down arrow can adjust volume or move between songs.  In addition, there are voice prompts that indicate when the PureBoom is switched on or off, when the battery is low or when it is in pairing mode.  Speaking of pairing, it was a snap.  I was able to pair the PureBoom with several devices, including my iPhone 6 Plus, my iPad Gen 3, my Lenovo work laptop and my son's iPhone 5s.  Additionally, the PureBoom is capable of being paired with 2 devices simultaneously, which was particularly useful to me.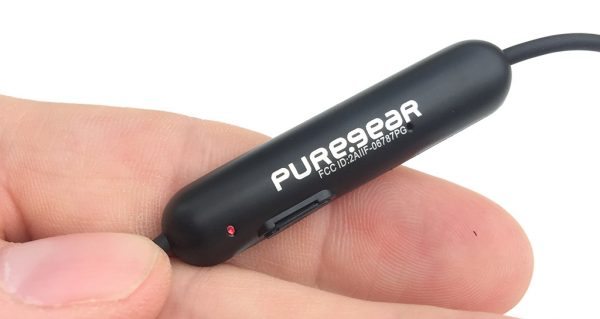 On the back side of the inline remote are two features to note.  One is a tiny LED that acts as an indicator for various modes or activities.  For example, while charging, the light is blue, and once charging is complete, the light turns off.  The other feature to note is a tiny hole (look under the last "R" in the Pure.Gear logo) that is the microphone port used for phone calls.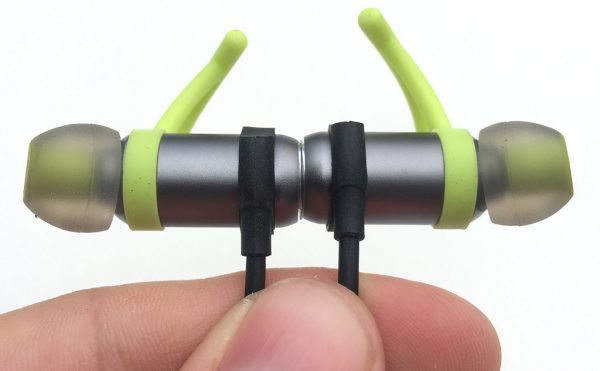 The PureBoom earbuds have a feature that is becoming increasingly common with earbuds and that is a magnetic connection that holds the earpieces together when not in use.  However, with the PureBoom, this magnetic connection has an additional function: it acts as an automatic on/off switch.  When the earpieces are attached together via the magnets as shown above, the PureBoom is switched off.  Once the earpieces are separated (as in the image below), the PureBoom is switched on.  This seemed like a pretty cool feature initially, but I did have some difficulties with it.  More on this later.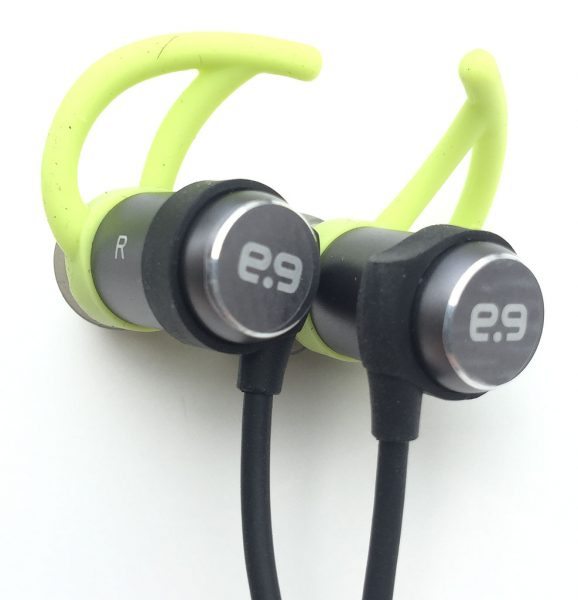 One of the main features of the PureBoom earbuds is their water- (and sweat-) resistance.  They are rated to IPX4, which basically means that it is rated to protect against splashing fluids from any direction for at least 5 minutes.  I found that the PureBoom earbuds made good on this claim.  I most frequently wore them during exercise, and I don't really exercise lightly.  I often do a lot of full-body, PT-style movements in rapid succession, resulting in a lot of motion and a lot of sweat.  And the PureBoom earbuds held up quite well against all this.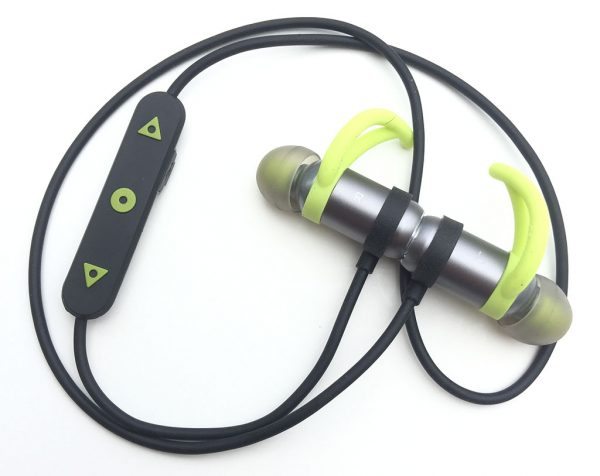 The PureGear site touts the PureBoom's range as 32 feet.  I found this to be fairly accurate.  On several occasions, I would leave my iPhone at one end of the gym, then go to the other end of the gym to do some exercises, and I'd estimate that it was at least 30 feet before the signal started to break up a bit.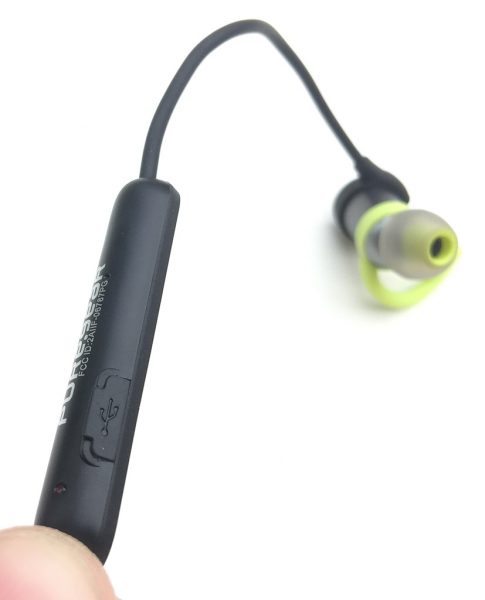 One end of the PureBoom's inline remote includes a small cover with a USB logo on it.  As you might guess, this is the cover for the charging port.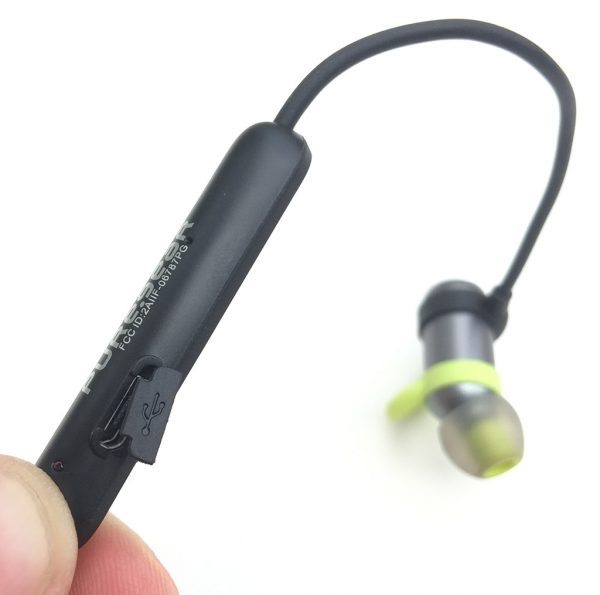 This cover is fairly easy to open with a fingernail, yet it seems to stay secured when closed.  Once opened, it remains attached to the body of the inline remote with a small tether.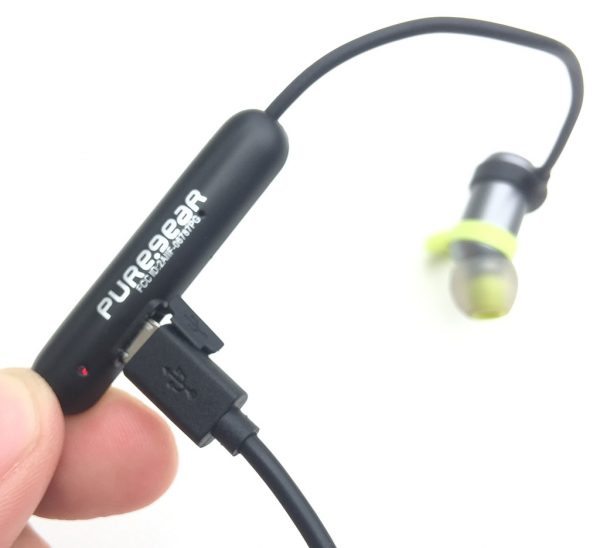 The PureBoom includes its own USB-to-micro USB cable which plugs into the charging port without much difficulty.  Note the charging port cover sits just off to the side during charging, but the tether prevents it from being completely removed and thus getting lost, though the tether does seem fairly fragile.  The PureBoom charged from completely drained to full charge in between 1.5 and 2 hours.  The PureGear site reports that the PureBoom's battery lasts for 8 hours, but I found it to be more like 6 or so based on how many workout sessions I could get through with it.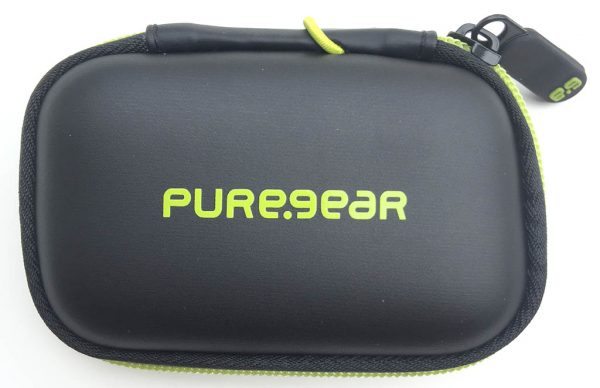 The PureBoom also includes a zippered storage case.  It is a nice size for everyday carry and fit in my pocket fairly well.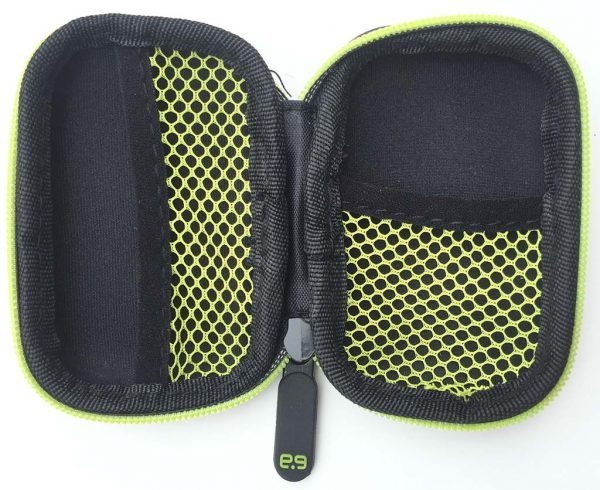 The case is a molded EVA foam type with a semi-rigid outer shell for protection and soft felt-like interior.  It also includes a wrap-around zipper which allows it to lie flat when completely opened.  Inside there are two elastic mesh pockets for accessories.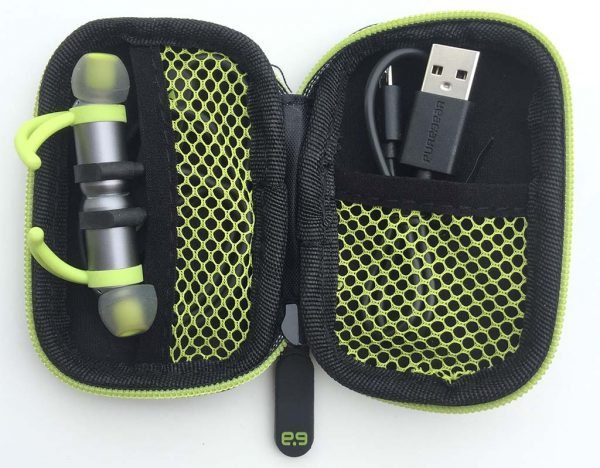 As can be seen in the photo above, although the case is small, it is large enough to hold the PureBoom itself as well as its charging cable easily.  However, I did have an issue here with the magnetic on/off feature.  It was very difficult to place the earbuds into the case, coil the wire and zip the case closed without accidentally having the magnetic earbuds separate and switch the PureBoom back on inadvertently (and unbeknownst to me).  This was pretty frustrating, as it would allow the battery to drain between uses and leave me with little to no charge when I did want to use it.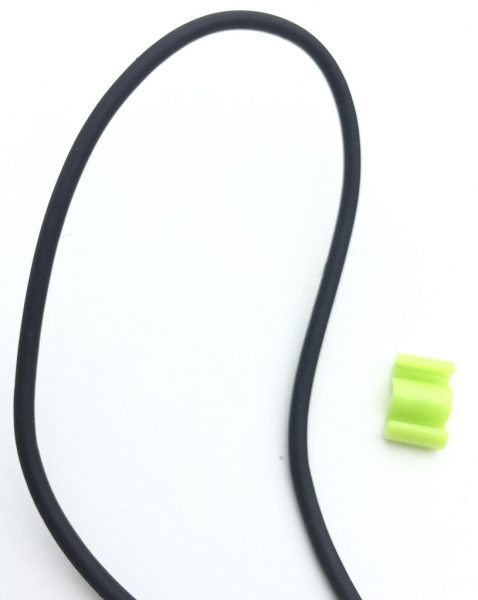 One additional accessory is a small clip that can be attached to the PureBoom's cable. 

The clip can then be used to tighten down some of the slack in the cable, as shown above.  The clip can be slid up or down the cable to adjust the amount of slack.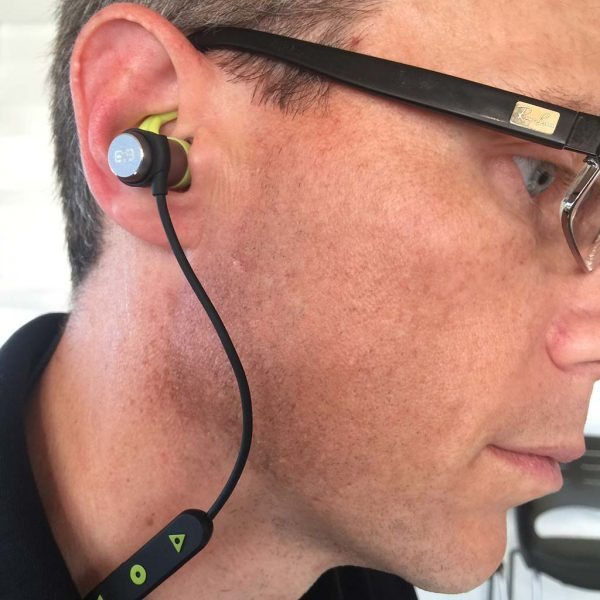 As I've alluded to, the PureBoom earbuds fit and stayed in my ears just fine during light-duty use, for example, activities like working at my desk or walking around.  However, for heavier-duty use, for example, running or PT-type exercises, they fell out of my ears within just a few minutes nearly every time.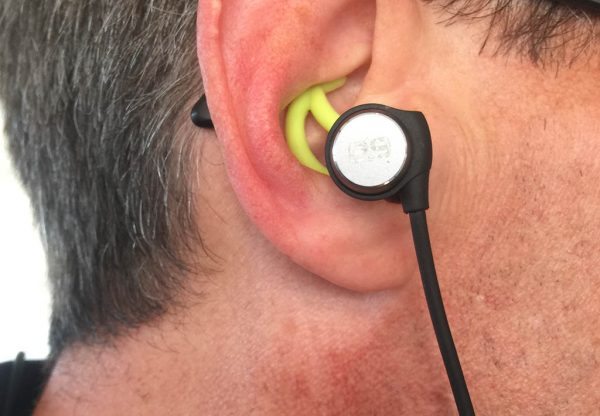 Even the "ear hooks" didn't really help to keep them in place.  Admittedly, I have had this issue with many of the earbuds that I have tried over the years, but I think with the PureBoom earbuds, because their main body is aluminum and not plastic, they are just plain heavier and when this is combined with sweat and inertia, they tended to fall out.  In addition, I noticed that the right earbud seemed to fall out more frequently, which I attributed to the additional weight of the inline remote pulling on it.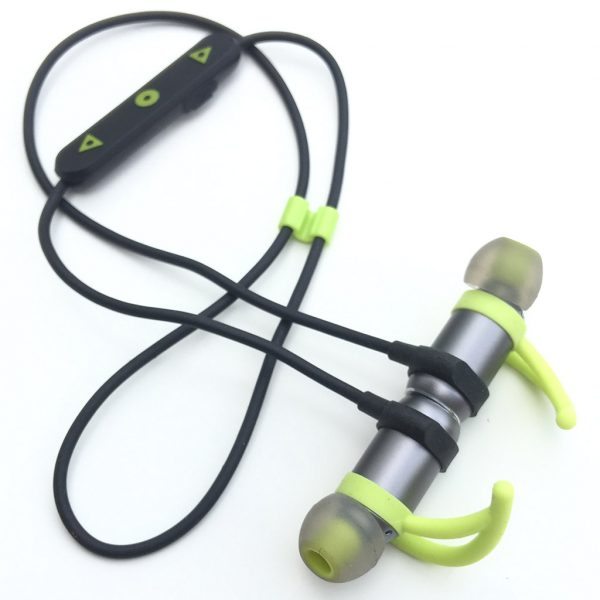 And finally, how does the PureBoom sound?  Pretty good to my ear, though admittedly I am not a hugely discerning audiophile.  It produces a strong, clear sound with some good bass, and for me, it sounded really good.  I mostly use it to listen to music while working at my desk or while exercising, or the occasional video, and it worked well for these activities.
Conclusion
In general, I liked the style and functionality of the PureGear PureBoom Bluetooth Wireless Earbuds.  They look cool and are very easy to pair with devices and to operate, functioning well for playing music or talking on the phone.  However, I did have difficulties with the earbuds falling out during exercise as well as the magnetic on/off separating accidentally and allowing the battery to drain inadvertently.   In fairness, have had a lot of earbuds fall out of my ears, probably due to larger-than-average ear canals, and perhaps I wasn't being careful enough with the magnetic on/off feature.  If you can get past these two aspects, the PureGear PureBoom Bluetooth Wireless Earbuds are worth a look and listen.
Updates 02/25/18
These wireless earbuds actually turned out to be quite durable: my teenage son (who is especially known for destroying things, especially electronics) got his hands on them and started using them for a while, and they miraculously still work. I great testimonial. I still use these from time-to-time, though my preference now leans toward for fully wireless earbuds (with no wire connecting them).
Price: $89.99
Where to buy: Amazon
Source: The sample for this review was provided by PureGear. Please visit their site for more info
.
Product Information
Price:
$89.99
Manufacturer:
PureGear
Retailer:
Amazon
Requirements:

A Bluetooth-capable device
A USB charging adapter

Pros:

Very resistant to water & sweat
Easy-to-use controls
Good sound
Voice prompts

Cons:

Fell out of my ears while exercising
Magnetic auto on/off separates too easily, draining the battery