We use affiliate links. If you buy something through the links on this page, we may earn a commission at no cost to you. Learn more.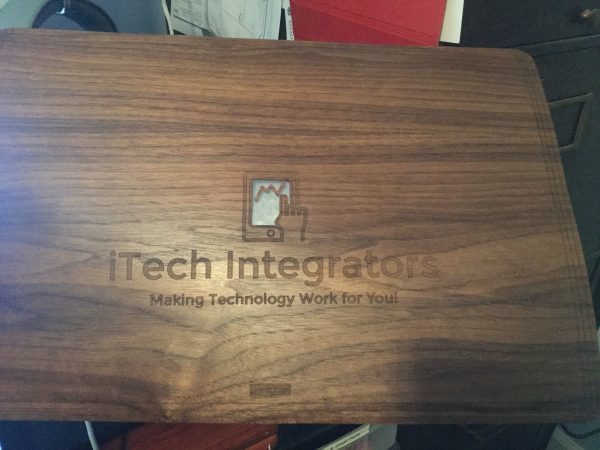 If you work at a company or go to school where a lot of folks have MacBooks or other pretty much identical laptops, you know the feeling: in a class or meeting, there's no way to tell which one is yours. Rather than have the same blank laptop, folks add stickers, decals, or snap-on plastic covers. This usually lets the user's personality shine through a little, but, if you're using your MacBook for business and walk into a presentation with a "Let's Sk-8!" or Metallica or Your Local Brewery sticker front-and-center, there's a chance it may have an impact on how you're seen professionally. And that may have an impact on your company's (and your personal) bottom line. The fine folks at Toast have a way around this mess. How do your individualize your MacBook and yet not have it be inappropriate for work. In a word, wood paneling.
Note: Photos may be tapped or clicked for a larger image.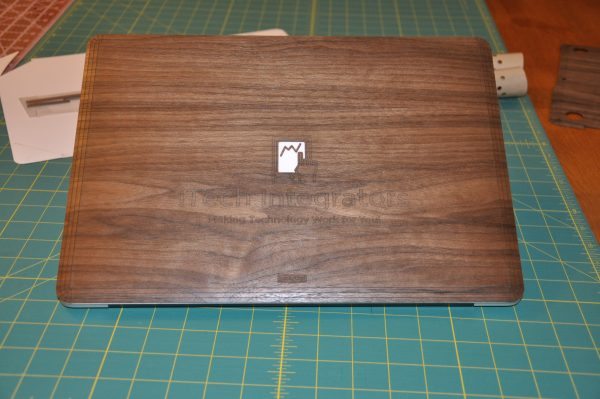 No one doesn't like the finish of fine wood grain, with the intricate, unique whorls and turns. It's as welcome on a park bench during a break in your bike ride as it is in a boardroom during a presentation. We've reviewed several of Toast's covers over the years – for iPad and iPhone, but recently, they offered us a MacBook cover set, and I couldn't wait for the chance. I have just launched a new business, so I asked Julie if I could have them try my logo, and she said "Sure." What arrived just blew my mind!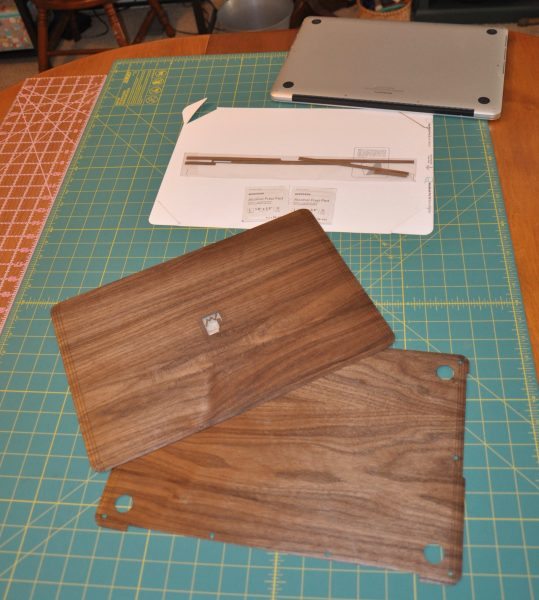 The full set of covers for MacBook Pro with Retina display includes a top cover, a bottom cover, and three side panels (front, and left/right. The back is a hinge). It arrives in a stiffly reinforced envelope with warnings against bending aplenty. Each piece is clearly marked, and there are instructions on how to apply each piece. Additionally, there are alcohol prep swabs to clean all surfaces.
If you want artwork, there are several options to choose from, or you can customize. The Walnut 15″ Retina version I choose, with the bottom cover and custom logo is $129. Their website has an interactive product builder, so you can decide if you want custom text on a standard cover or a complete custom cover. My logo has a space that represents an iPad screen, so they made that part center over the Apple on the lid of my MacBook Pro, so that it lights up when my Mac is in use. The company is extremely easy to work with, and they take obvious pride in their work. A personal note from the person who etched your cover is attached to your order.
I've had this laptop for a year or two, but haven't really taken it out much, since I mostly travel with iPads, but now, I feel it can not only be a productivity tool, but a statement of my business.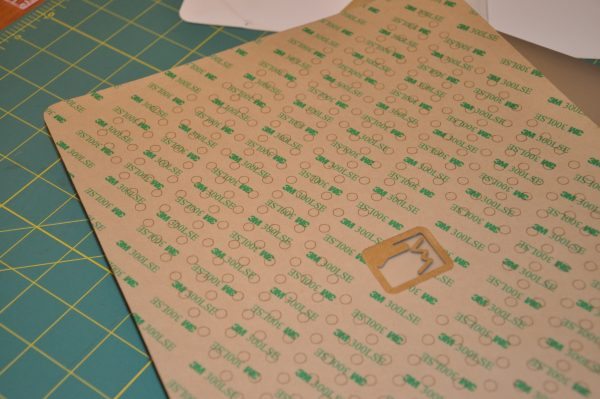 The 3M adhesive that backs the wood veneers has small holes cut into it, in order to lessen the adhesion to your laptop. This is great in case you need to remove the cover for any reason. Each screw hole, port, and bottom cushion is perfectly allowed for, so that your cover looks more like part of your laptop, than an add-on.
Applying is much easier than for the iPad, since there is much less curvature. There are two small marks at the bottom of the top cover which show where the hinge aligns with the cover. On the bottom and sides, there are ports and screw holes to use as guides. The hardest part, to me, is always getting the carrier film off the adhesive. Since it is all precision cut, and the wood is very thin and flexible, it's quite an exercise in patience.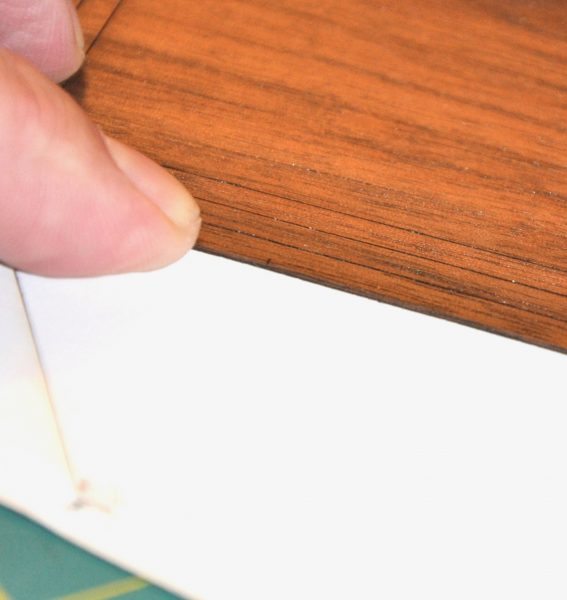 Once the backing is started, you expose about a third, then line up the edges of the hinge with the marks. Make sure the edge is lined up with the back lid of your MacBook, and gently press down. Then peel more of the backing, pressing down and smoothing as you go. It's much like applying a decal or bumper sticker. Done slowly and carefully, it will be nicely adhered and straight. Trying to pull it off if there is a missed angle is not easy, even if you're just lightly tacking it down. Once it's on and cured, you'll need to use a hair dryer to soften the adhesive, and it always destroys the cover.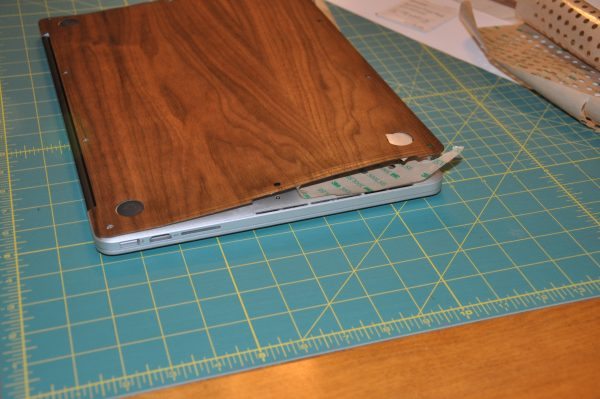 If you have any cutouts in your design, they will be covered with a clear plastic. The backing will also be cut out in these areas, making a rip in the liner pretty easy when applying. Just keep an eye out and don't pull too quickly.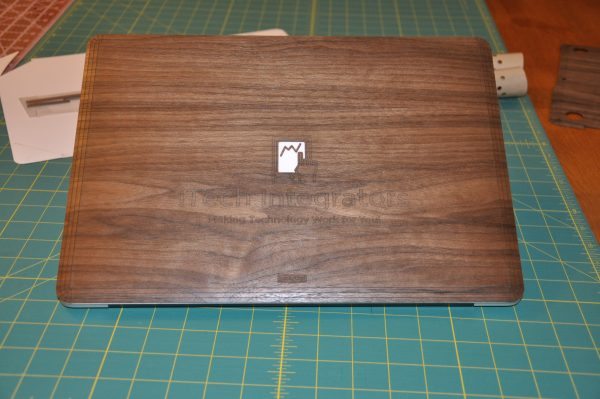 Once it's on, repeat the process with the bottom, then any side pieces you may have. Once it's all applied, gently press the edges of the veneer to make sure they are all sealed. You may notice some unsticking, especially if you're in a cold environment. Just keep pressing the wood in place, and it will eventually stick correctly.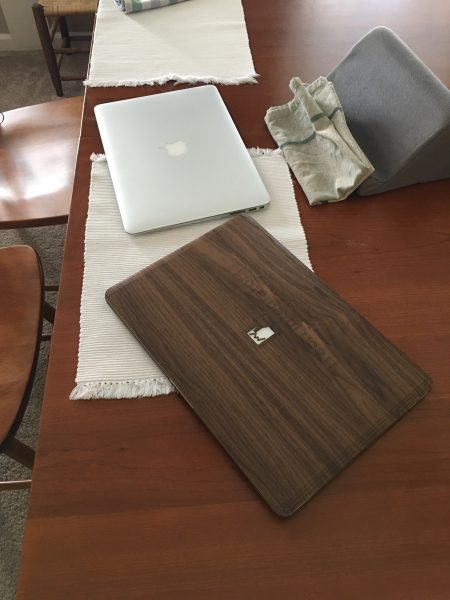 Now, stand back and admire your newly covered MacBook, and rest easy in the fact that you can pick it out of a classroom or conference room with ease!
Source: The sample for this review was provided by Toast. Please visit their site for more info.
Product Information
Price:
various - $130 as shown
Manufacturer:
Toast
Requirements:

Device that needs covering

Pros:

Very sleek and classy
Easy to apply
Can be made as unique as you like

Cons:

Backing it hard to separate from veneer
Cover is destroyed if you have to remove it