We use affiliate links. If you buy something through the links on this page, we may earn a commission at no cost to you. Learn more.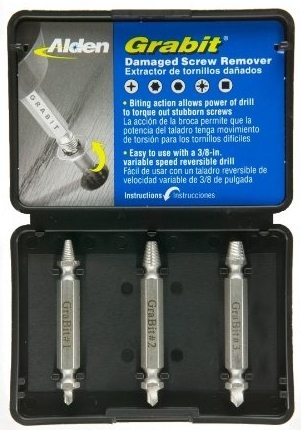 I think that everyone who has ever screwed in a screw has stripped a screw head (or two) at one time or another. When it happens, you can either just leave it alone, muttering to yourself, "Good enough!" Or you can bore out the screw with a drill bit and replace it. There is an easier way to handle this problem. Grabit is a drill bit used to extract those damaged screws. It has two ends.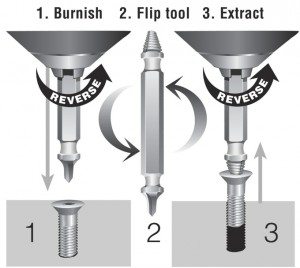 One end is used for burnishing or smoothing out the damaged head preparing it for the next step. The other end is tapered with a reverse thread such that when you run the drill in reverse, the tool will bore itself into the screw head then catch at a certain point (due to the tapering of the bit) after which the screw is extracted as shown in the illustration above.
The Grabit 3-piece extractor kit can be used in quick change chucks and works for screws No. 4-14. It "easily removes most damaged screws such as Hex, Phillips, Torx, Square Drive; from wood, plastic or metal up to 3 inches in length." This kit is available for $13.29 from Amazon. Please see the Alden website for more information.