We use affiliate links. If you buy something through the links on this page, we may earn a commission at no cost to you. Learn more.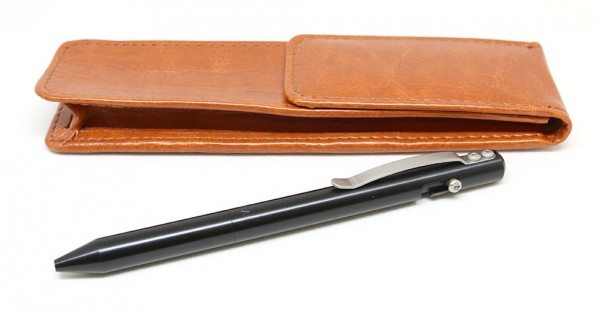 I am currently obsessed with pens. But not just any old run of mill type of ballpoint pens, I'm interested in uniquely designed pens that you can't buy at your local Walmart superstore. I am looking for a combination of good looks, good feel and of course, good writing. The newest pen that I've had the pleasure of reviewing is the  Maxmadco Bolt Action retractable pen. Does it tick all my boxes? Let's find out.
Note: Images can be clicked to view a larger size.

The Maxmadco Bolt Action retractable pen is made of aluminum, so it's lightweight but not too lightweight. It still has a nice balance. As you can see in the image above, this pen is smaller than some of the other pens that I've been reviewing lately. Again, it may be small, but not too small.
The diameter of the pen is 3/8″ with a length of 5.1″ and weight of 22 grams.

Maxmadco sells other versions of their bolt retractable pens, but this one is made of aluminum that has been expertly hard anodized with a smooth matte finish.  The pen has a straight barrel with a stainless steel pocket clip that is attached at the top with two Torx screws. The only markings on the barrel are the letters USA.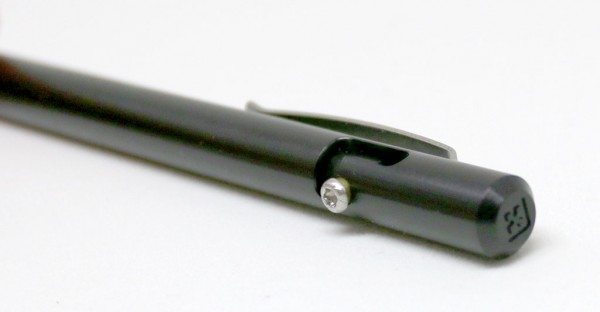 The writing tip of the pen extends and retracts using the bolt action mechanism. Unlike the Karas Kustoms Bolt pen which I reviewed not long ago, the Maxmadco Bolt Action pen actually lets you activate the bolt by sliding it in the J-shaped channel in the barrel of the pen.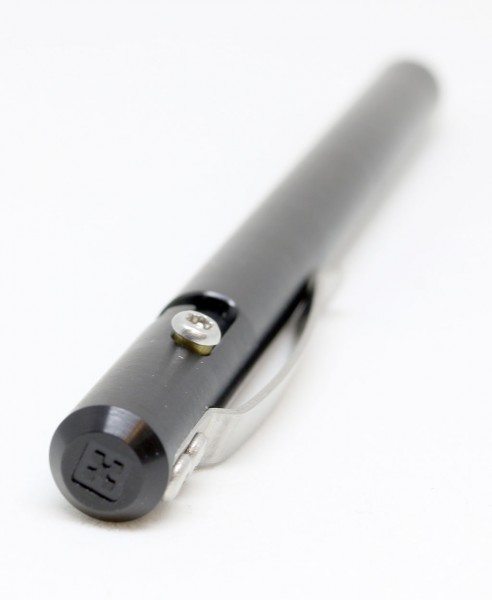 The bolt action has a strong tactile feel with a satisfying spring loaded click sound that can be addictive and probably annoying to people around you if you can't stop yourself from extending and retracting it over and over again.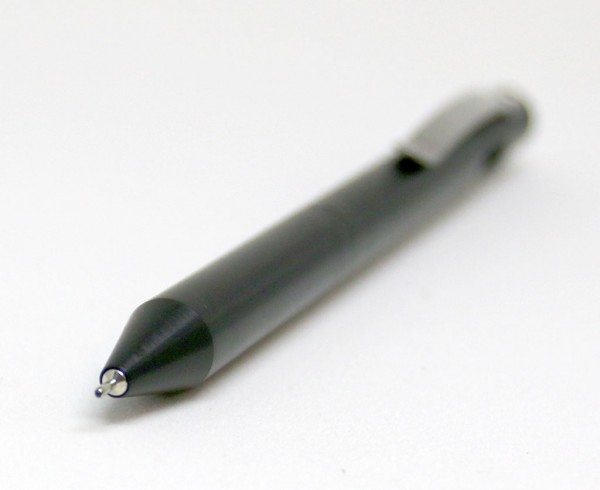 The pen ships with a Itoya, Black Gel 0.7 mm refill. I've never used this refill before and found it to be slightly too wet for me since I'm a lefty. After a long session writing with it, the edge of my hand had a few ink spots. The pen is compatible with Parker G2 sized refills (not to be confused with Pilot G2 refills). I also tried a Schmidt EasyFlow 9000 refill which worked just fine – although it also leaves ink on my hand.

Replacing the refill is very easy. The lower barrel unscrews to remove the refill. Just be careful not to lose the spring.
The Maxmadco Bolt Action retractable pen is a well-made pen that has been designed to last for years. It makes a perfect EDC pocket pen and is lightweight so it won't make your hand cramp after extended writing sessions. I love the bolt action mechanism as it makes the pen more fun to use than other pens. It's also nice that this pen is compatible with Parker G2 sized ink refills. That means there is a large selection of refills that you should be able to find in most stores. Even Walmart.
Source: The sample for this review was provided by Maxmadco. Please visit their site for more info.

Product Information
Price:
$85
Manufacturer:
Maxmadco
Pros:

Small size makes it pocket-friendly
Bolt action is fun to use
Nicely balanced
Compatible with Parker G2 sized refills

Cons: