We use affiliate links. If you buy something through the links on this page, we may earn a commission at no cost to you. Learn more.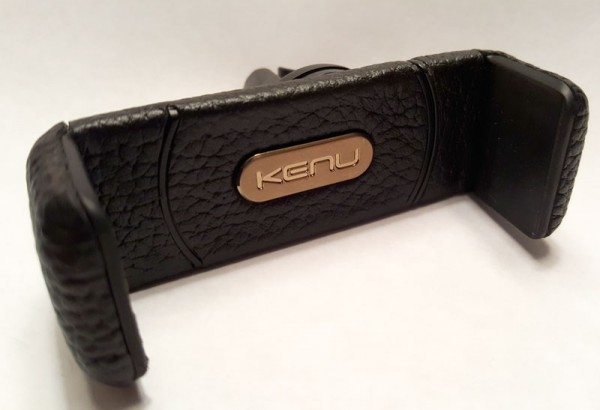 Last year I reviewed the Kenu Airframe+ cell phone car mount.  It made my list of my top gadgets for 2014.  It was the ultimate combination of portability, price, functionality, style, and performance for any car mount I have ever used.  So simple in design, and yet so awesome.  This year, Kenu came out with the new Airframe+.  How could they possibly improve it?  What witchcraft could they possible conjure to exceed the goodness that is the Airframe+?  Let's find out! 
First things first, the specs.  They are the same as last year's model:
Dimensions: W 2.7″ × D 1.9″ × H 1″
Weight:  1 oz.
Materials:  Stainless steel, brass, ABS, TPE, and leather
Yes, you heard me right.  Leather.  Now, when you buy a car that has leather car seats, you have to pay extra.  Leather jackets cost more than regular jackets.  And the Airframe+ is no different.  You'll pay a premium for the Airframe+ Leather Edition.  Last year's edition was $29.95 and the leather edition will set you back $39.95.  In my book, it is still worth the price.
As far as the features and performance, nothing has changed. And that's a good thing because last year's version was awesome.  The Airframe+ is designed for those big phablet phones with screens up to 6 inches.  The front opening of the Airframe+ where the phone sits expands to 3.4 inches wide and it holds my Galaxy S6 Edge+ phablet just fine, as you can see below.  I can insert and remove the Edge+ with one hand using the Airframe+, and the leather covering does just as good a job of cushioning the sides of my phone in luxurious comfort as last year's edition.  Ok, that's a little over the top, but the point is that the Airframe+'s leather covering is soft, so there's no worry about harming your phone in any way.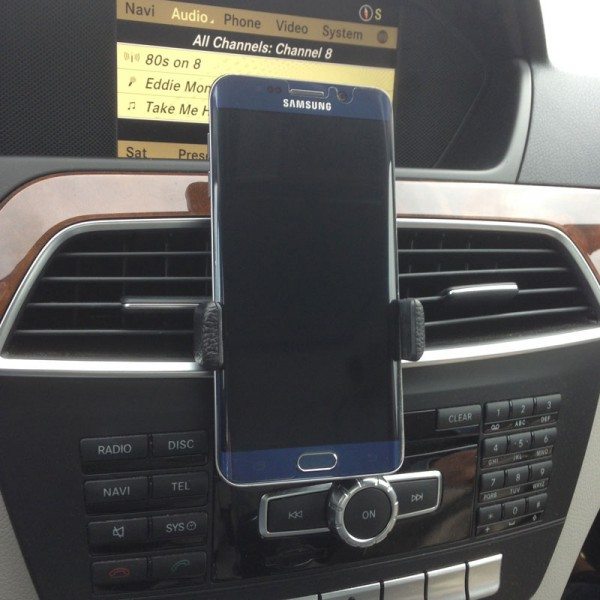 It is so small it can fit in any pocket, even jeans.  In fact, it may be easy to lose since it is so small, but I haven't lost mine yet.  The fingers of the grip on the back that attaches to your car's vents are just as soft and provide you 2 orientations to fit any size car vent slats.  You can see that in the picture below.  The fingers on the back of the Airframe+ rotate so you can change the orientation of your phone from landscape to portrait easily.  You can also see below a comparison of last year's Airframe+ (top) and this year's leather edition (bottom).  NOTE: the top Airframe+ looks like it is smaller because it is farther up on the car vent, which is curving upwards and away from the camera.  They are both actually the same size.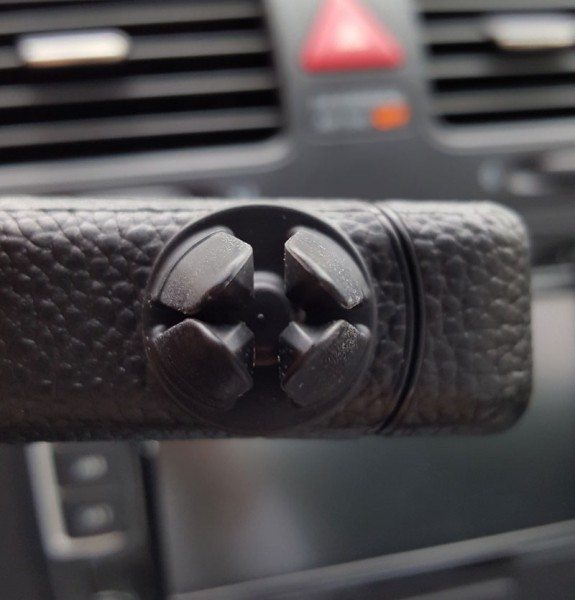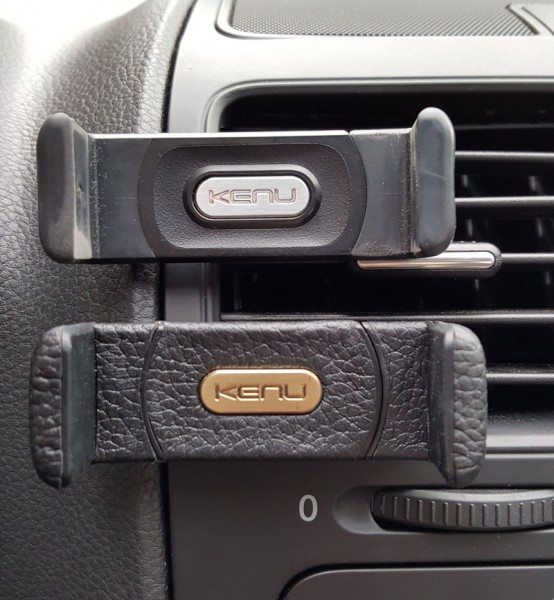 The only downside I can think of is that when the Airframe+ is in place it partially blocks the air vent.  So on those 100 degree days, you may decide to not block the vent.  Same thing with during the winter.  The heat coming out of the vent will not only be blocked by the Airframe+, the Airframe+ will get hot, which isn't good.  That's really the only downside I can find.
Bottom line
If you are looking for a car mount for your phone, stop looking.  Go get the Airframe+.  You'll thank me.  In fact, Christmas is coming up so go get an Airframe+ as a stocking stuffer for every person in your family.  Then they'll thank me.  You're welcome.
Source: The sample for this review was provided by Kenu. Please visit their site for more information and Amazon to order one.