We use affiliate links. If you buy something through the links on this page, we may earn a commission at no cost to you. Learn more.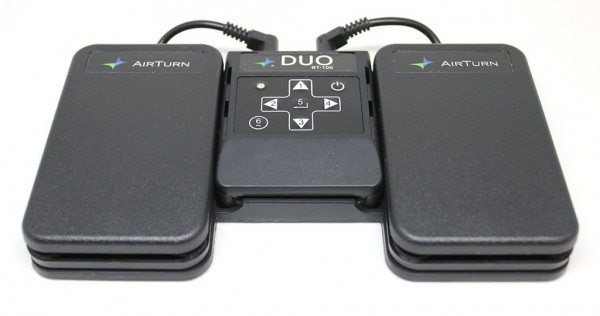 When I play music on my ukulele, I'm usually doing so in front of my computer, which I use to display the sheet music. I have a large collection of songs that are in .PDF and .TXT formats. There's one problem that I have been trying to solve for a long time, how to flip pages without stopping my playing. Printing the music on paper is a solution, but if the song is more than two pages long, it requires too much desk space to arrange the pages. So I went searching and found the AirTurn Duo BT-106 hands-free wireless controller which promises that I can keep my hands on my ukulele while playing an entire song. Let's see if it works.
Note: Images can be clicked to view a larger size.
What's in the box?
DUO BT-106 Bluetooth transceiver on pedal board with two ATFS-2 pedals
USB charging cable
Quick Start Guide
BT-106 product family manual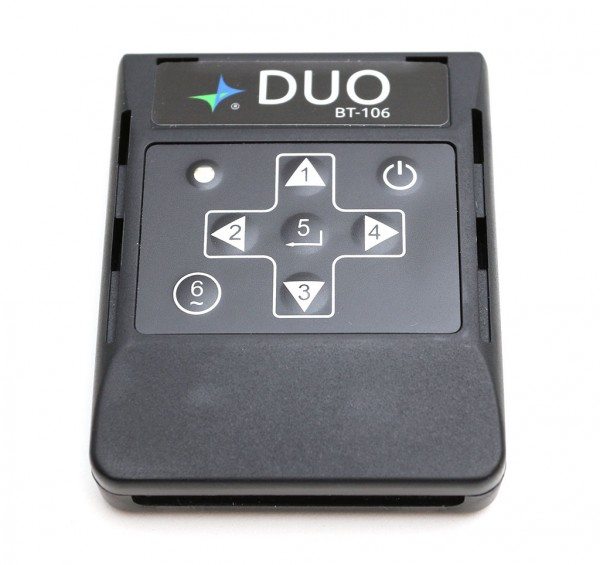 The AirTurn Duo has two parts. The BT-106 Bluetooth transceiver which snaps into the center of the pedal board that has two ATFS-2 pedals attached to it. The transceiver pairs with iOS and Android devices, as well as Macs and PCs. The top of the transceiver has a status LED, power button, and five control buttons. Although my main reason to use the AirTurn Duo is to turn pages, the transceiver can also be used for other tasks like remotely triggering a camera, media player, etc.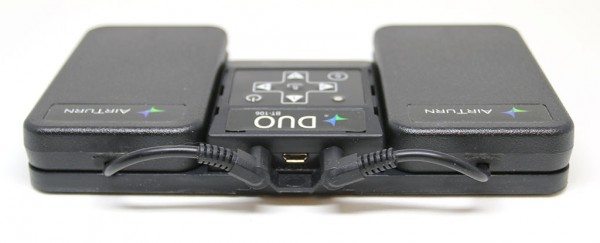 Each pedal has a cable that plugs into the top of the transceiver. A microUSB port is used to charge the device. Note that there's no indicator that the unit is charging if it is turned off. The manual says to charge 1 – 2 hrs using a USB adapter or 6 hours if you want to charge through a USB port on your computer. A full charge will power the AirTurn Duo for up to 100 hours.  When you turn on the AirTurn, the status LED will blink green if the unit is fully charged, yellow if it has less than 25% power and red if the power is under 9%.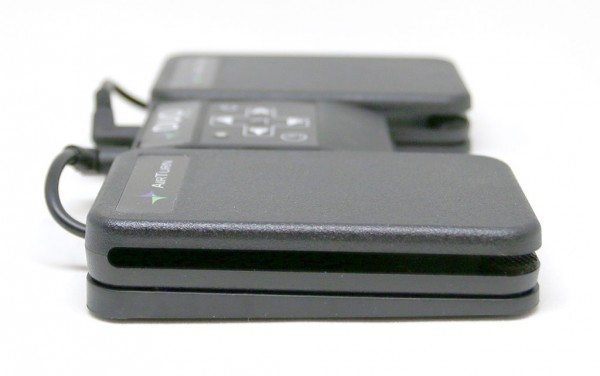 The AirTurn Duo is appropriately named due to the fact that it comes with two pedals. You can purchase additional pedals and Y cables so that you can use up to four pedals with theBT-106 Bluetooth transceiver. The pedals are designed to be completely silent and as such, they don't provide any tactile feedback. The only feedback you'll have is seeing the pages advance forward and backwards when you press the pedal with your foot.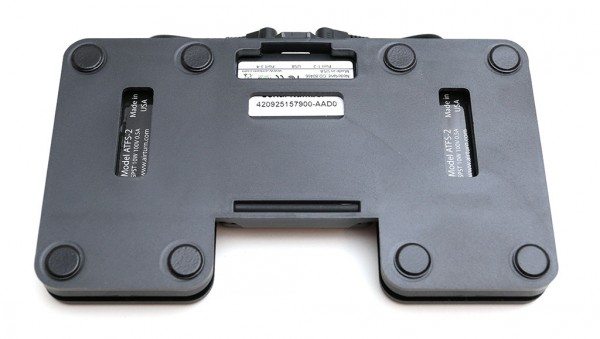 There are eight rubber feet on the bottom of the AirTurn Duo which keeps the unit in one place on the floor and prevents it from sliding around. I tested the AirTurn Duo on the wood floor of my office and am happy to report that it really does stay in one place. It will also work well on low pile carpet.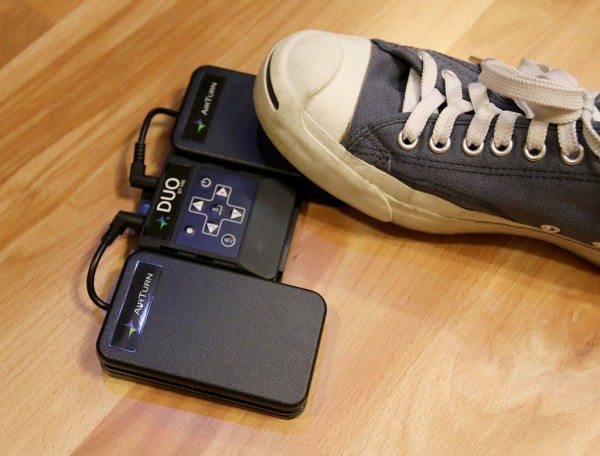 To use the AirTurn Duo, you first need to pair it with an iOS tablet, Android tablet, Mac or PC. Note that you can't pair with multiple devices. You have to reset pairing each time you want to switch devices which could be a pain if you regularly switch between a computer and a tablet.
After you've successfully paired the Duo with another device, you then might need to switch modes. The AirTurn Duo has six modes:
Mode 1: PC/Mac – Turns pages for most office document and PDF software
Mode 2: ProTools – Sample Mode for ProTools
Mode 3: Tablet – This is for most iOS and Android devices. It is the default mode of a new BT-106
Mode 4: Transcription – Signals used in some transcription software
Mode 5: Multimedia – For most media players. iOS cameras use the up arrow on the BT-106 transceiver to trigger pictures and video
Mode 6: Assisted technology
I paired the AirTurn Duo with my MacBook Pro before reading about the modes. I then opened a .PDF file using the Mac's built in Preview app. Pressing the right pedal advanced the document by one line like pressing the down arrow. Pressing the left pedal went the other direction like pressing the up arrow. I really wanted a full page turn, so I changed to Mode 1. After doing that, pressing the right pedal advanced the .PDF file a full page and pressing the left pedal flipped back one page. Success! Or at least sorta. I came to realize that flipping pages isn't an exact action. It really depends on the size of the page you're viewing. If you can view the entire page on the screen, it works very well. But if you're zoomed in and are only viewing part of the first page, when you flip pages, you might show only a portion of the next page, with part of the previous page at the top. If you're using the AirTurn Duo to help you play music, seeing half of a bar of music isn't much of a help 🙂 Here's an example.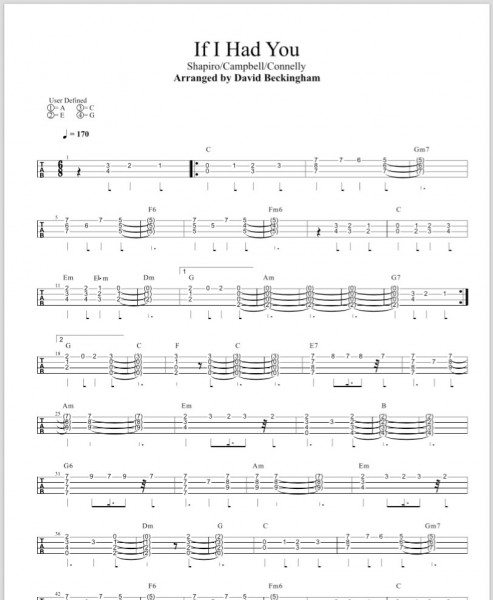 As you can see, the bottom part of the page is only showing one of string of  my 4-stringed instrument. Pressing the pedal to go to the next page…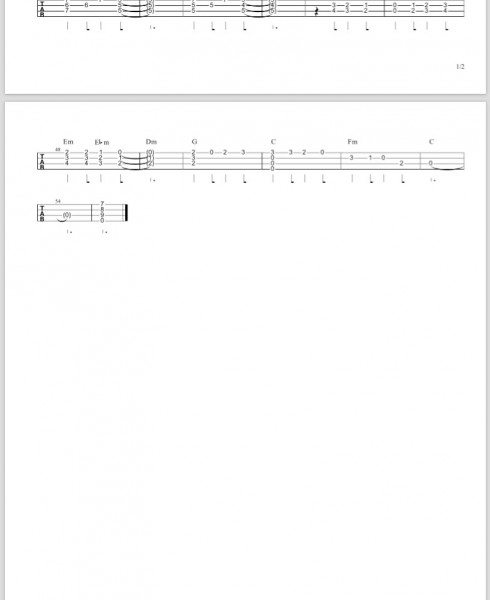 … only shows the next 3 strings of that bar of music and then part of the next page. This isn't the fault of the AirTurn Duo though, it has more to do with the page size and display resolution.
Of course there are ways around this problem if you want to use special software on your PC, Mac, iOS or Android device. This isn't something I wanted to do since I keep some of my music on my hard drive and some online in Evernote. I think I actually prefer using the Mode for tablets on my Mac. That way I can just go down a few lines at a time by pressing the pedal. It's easier for me to keep my place.
So far I like using the AirTurn Duo because it's an easy way for me to play music without having to stop to turn pages or tap the page down button my keyboard. It allows me to keep my hands where they need to me, on the instrument.
Source: The sample for this review was provided by AirTurn. Please visit their site for more info and Amazon to order one.