We use affiliate links. If you buy something through the links on this page, we may earn a commission at no cost to you. Learn more.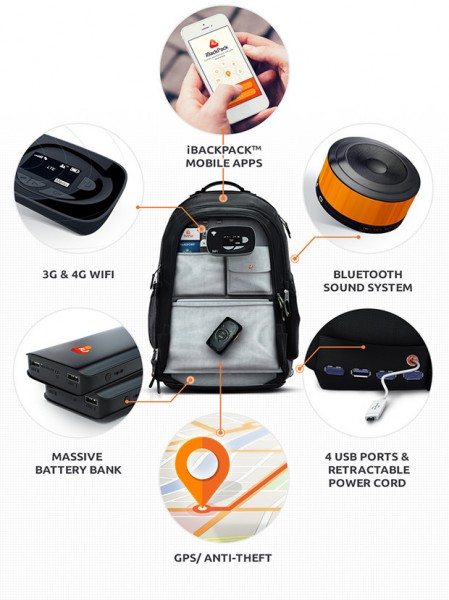 We live in a world where there is a gadget for everything. Need extra power, get a power bank. Need portable internet, use a hotspot. Always losing your things, grab a Bluetooth tracker. Do you like music on the go, get a Bluetooth speaker. Imagine if there was a device that could do all that?
The iBackpack is the Swiss Army knife of gadgets. It can accommodate up to 40,000 mAh of backup battery power and has integrated USB ports capable of charging four devices simultaneously. The iBackpack includes a Bluetooth speaker system to allow you to enjoy your music while traveling. There is even a model that contains a Wi-Fi hotspot which will be eligible for discounted plans from several internet providers.
Additionally, the iBackpack has multiple security features to keep you free from worry. Built-in GPS and a Bluetooth proximity sensor will prevent you from ever misplacing it. If you ever find yourself the victim of a theft, you can activate the iBackpack's alarm and it will repeat, "Stop! Thief! This man stole my bag!" You can then track the backpack through your smartphone.
The iBackpack is an IndieGogo project that has already reached its funding goals. There are several different models available, starting at $99. It should begin shipping in March of 2016. For more information visit the iBackpack's IndieGogo page.