We use affiliate links. If you buy something through the links on this page, we may earn a commission at no cost to you. Learn more.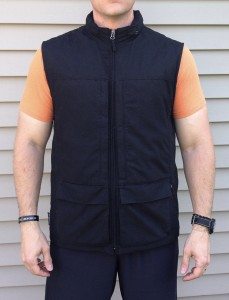 SCOTTeVEST, or SeV for short, has been producing their patented TEC, or Technology Enabled Clothing, since 2000. Included in a now extensive product line, the Travel Vest (the original SCOTTeVEST), boasted 24 pockets designed to hold all sorts of items for travelers, hardcore technology users or anyone with gadgets to carry on their person. SCOTTeVEST has recently taken their travel vest concept a quantum leap in carrying capacity with the introduction of their Q.U.E.S.T. Vest, which nearly doubles the original SeV Travels Vest's pocket count from 24 to a mind-blowing 42. I'd had my eye on several of SCOTTeVEST's items over the years, and had always wondered both if they could really hold as much gear as claimed and if they were worth their relatively high prices. I was recently given the opportunity to answer these questions by trying out the new SCOTTeVEST Q.U.E.S.T. Vest for Men. Gadget on!
Click any image to enlarge.
Background
If you've been a regular here at The Gadgeteer for a while and read some of my reviews, you may have noticed that I'm not only a fan of gadgets in general, but also a big fan of all manner of gadget-hauling items: messenger bags, backpacks, organizer pouches and so on.  But something I've never tried out, though I'd been wanting to for years, was one of SCOTTeVEST's products.  What's a SCOTTeVEST?  The origin of the company name breaks down like this: "SCOTT" = Scott Jordan, the company's founder; "e" = electronics and other gadgety-type stuff; "VEST" = Vest (pretty self-explanatory: its like a jacket but without sleeves).  Their products seemed to me to be a different way to carry items that was less obtrusive and more integrated with the wearer than a bag or pack.  Of course, I expected that the tradeoff would be a reduced carrying capacity, but I was willing to try one to find out.  However, their prices seemed like more than I wanted to pay, so I waited for several years until I was recently given the opportunity to try out not only a SCOTTeVEST product, but their latest flagship in travel vests, the SCOTTeVEST Q.U.E.S.T. Vest, with its 42 pockets.  Yes, you read that right, 42.  This is going to be interesting.
Options
Cut = Available in both men's (reviewed here) and women's versions
Colors = Black (both men's and women's versions), Beige (men's version only)
Sizes = varies depending on what is in stock, by typically S-XXL
Specs
Storage = 42 pockets, the most of any article of SCOTTeVEST clothing
Exterior = 65% Cotton/35% Nylon blend that is Teflon® treated for water and stain resistance, and also anti-static treated
Interior = Tricot
Price = $145
Location of Manufacture = China
Features & Functions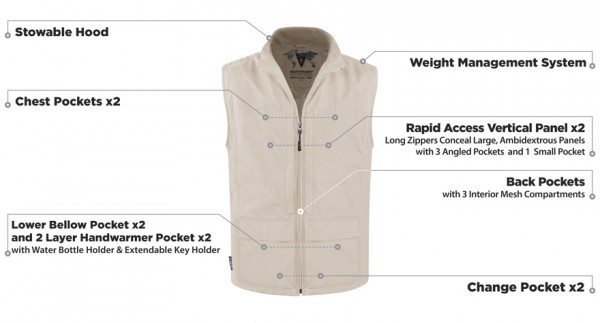 I "borrowed" a few images from the SCOTTeVEST site (hope they don't mind) which illustrate the many features of the Q.U.E.S.T. Vest.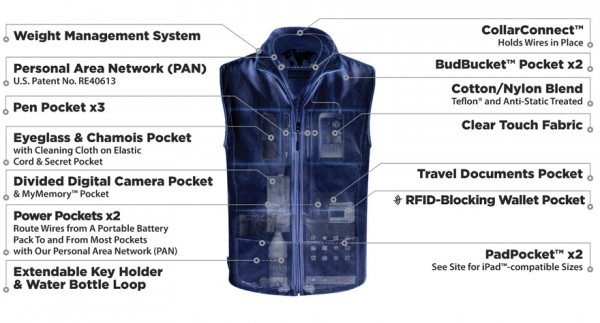 I'll use the two images above to reference the internal and external features of the Q.U.E.S.T. Vest as I describe them below.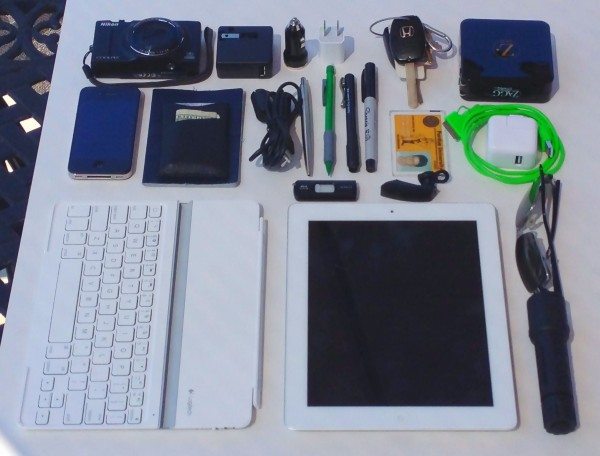 To get an idea of the amount and type of items that the Q.U.E.S.T. Vest can carry, above is a photo of all of the items that I stuffed into it, with the exception of the earbuds (which you will see below).  This doesn't actually represent how many items you theoretically could put into the Q.U.E.S.T. Vest, however, just what I chose to put into it for this review.  Starting with the top left and working right:
Nikon point-and-shoot camera
Nikon camera AC charging brick
Generic double USB car power adapter
Apple iPhone charging adapter
My car keys
Zagg ZaggSparq 2.0 power adapter/battery
Apple iPhone 4S
Charge cable for Nikon camera
Parker Jotter pen
Mechanical pencil
Click eraser pen
Sharpie Twin Tip marker
My old college student ID (Hail Purdue!)
iPhone/iPad charging cable (with hidden micro USB plug)
Apple iPad charging adapter
USB memory stick
Sunglasses
Surefire G2 Nitrolon flashlight
Let's get to it.  I'll explain the pockets and other features, working from top to bottom and front to back.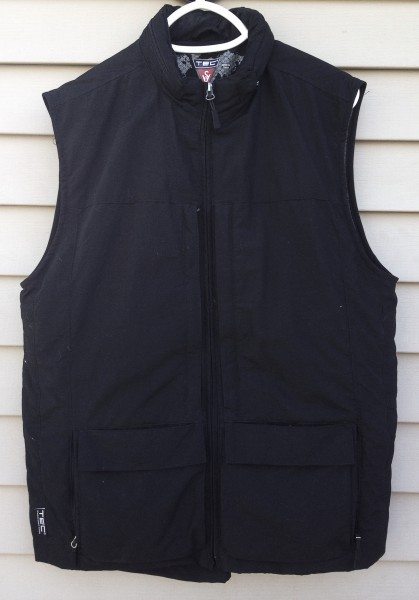 Weight Management System (WMS) – A feature that is not so obvious is the Weight Management System, or WMS.  This is a combination of materials and design in the shoulder area which aids the Q.U.E.S.T. Vest in distributing heavy loads for comfort and with a streamlined appearance even when loaded.
Personal Area Network (PAN) – Another unique feature that is not so obvious is the Personal Area Network, or PAN.  So unique in fact that is patented.  It consists of a series of small portals, basically slits, in the lining of several of the pockets.  These portals allow access to the lining of the vest, which becomes a kind of conduit that lets you route cables from one pocket to another behind the scenes.  So for example, an item like  a portable battery sitting in one pocket can be connected to a phone in another pockets, allowing it to be charged on-the-go, right inside the vest, but without cables getting in the way.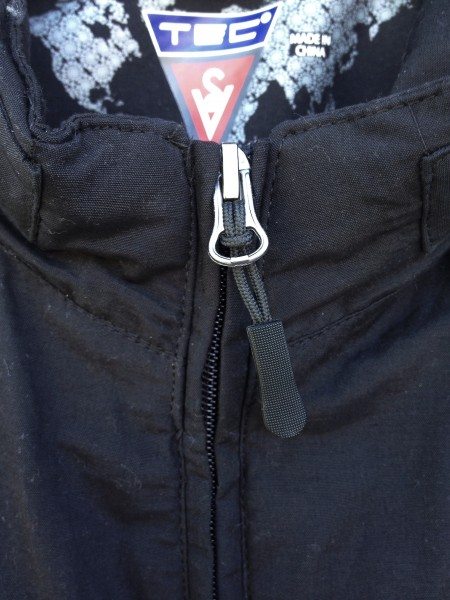 Zipper Pulls – First up, I just wanted to point out the contoured, textured, rubber-tipped zipper pull on the main zipper.  It had a nice feel and was easier to find, grab and pull one-handed.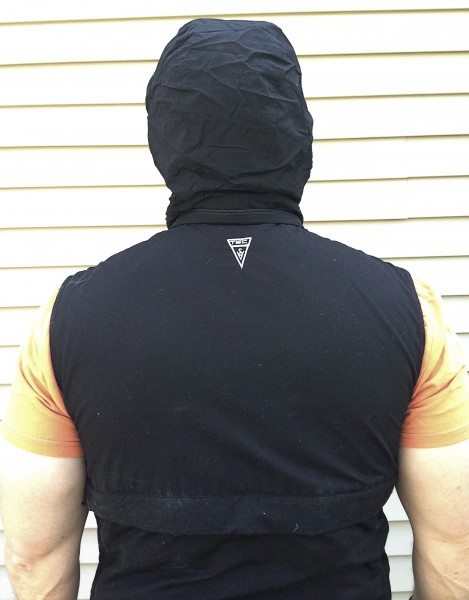 Stowable Hood – I'm not sure if this qualifies as a pocket, but close enough.  At first I wasn't sure about this.  A vest with a hood?  Why would you need a hood, if you don't even have sleeves?  Then I used the Q.U.E.S.T. Vest for a while, and eventually came to the conclusion that it is a good emergency feature for when you may get caught out in nasty weather.  In fact, on an early spring trip back to my alma mater, Purdue University, I wore the  Q.U.E.S.T. Vest and layered a lightweight Nike Dri-FIT sport pullover under it.  It was a cool, windy day and the hood actually came in handy when we were unexpectedly rained upon while walking across campus.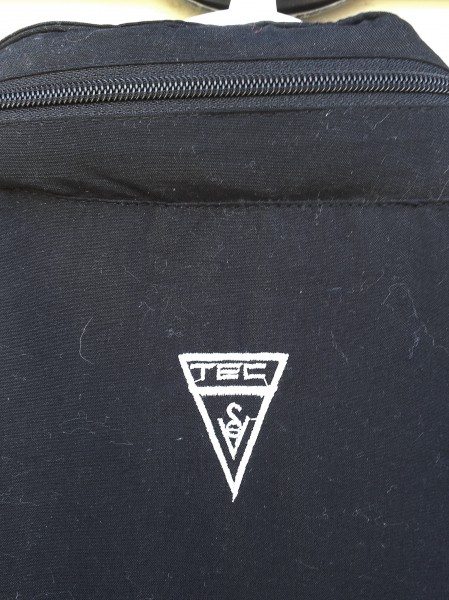 The hood is unlined, probably in order to keep it thin, and it rolls down and stows into the zippered collar as seen in the image above.  As an aside, note  the triangular SeV TEC logo embroidered into the upper back, one of the only indicators of brand on the exterior, which is perhaps a good thing, since advertising that you are wearing a SCOTTeVEST article might tip off would-be thieves that you are potentially loaded to the gills with valuables.  One of the other things to note is that, although the vest's material has a nice soft feel, it seems to be a bit of a lint magnet, which you will see demonstrated in many of the other photos below.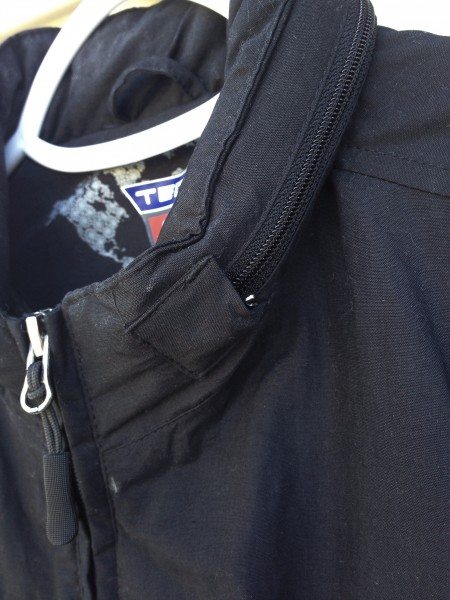 The stowable hood's storage compartment has small flap at the end of the zipper into which the zipper pull can be tucked out of the way.  A nice touch.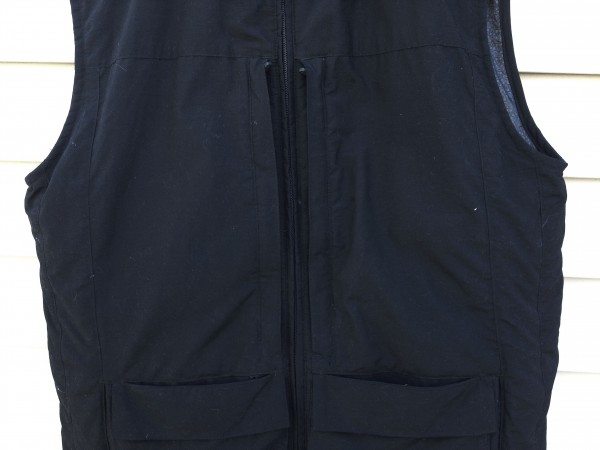 Chest Pockets – The exterior chest area of the Q.U.E.S.T. Vest has some deep pockets, and I mean monster deep—the basically run almost the entire length of the vest from top to bottom.  Located on either side of the vest's main front zipper, these mirror-image pockets are accessible via vertical zippers that run along the zipper of the vest itself.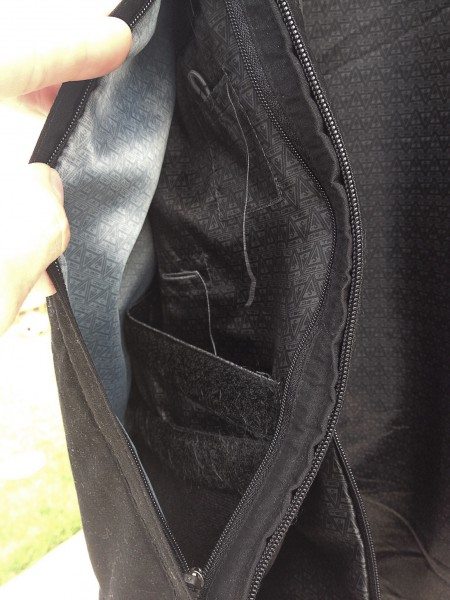 Rapid Access Vertical Panels – Inside the Chest Pockets are what SCOTTeVEST calls the Rapid Access Vertical Panels.  The above photo shows the right Chest Pocket, but what you see here applies to the left one also, as they are symmetrical, and in fact the SCOTTeVEST site refers to them as "Ambidextrous" for this reason.  One thing to note here is that I found a lot of loose threads and fraying edges of material in both of these Check Pockets.  It actually looked pretty shoddy and when I reached in, and I kept getting my fingers caught on them.  I actually found loose threads and fraying material edges at several places (mostly inside pockets, not on the exterior) throughout the product, but inside these Chest Pockets were definitely the worst.  Not what I was expecting from a company with the reputation and almost cult-like following of SCOTTeVEST.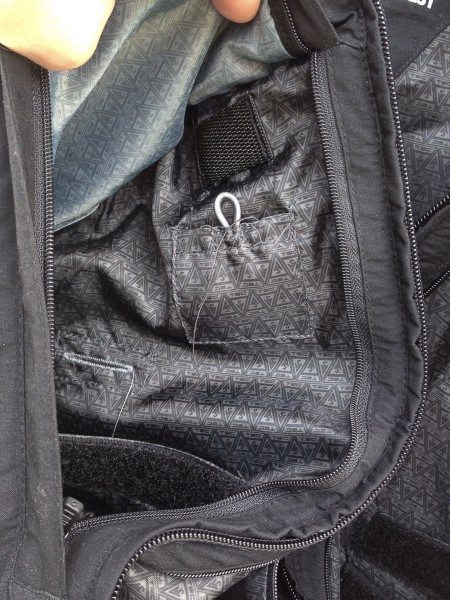 Small Pockets – Starting at the top of the Rapid Access Vertical Panels, there is a Small Square pocket with a Velcro closure and an elastic pull tab to assist with opening.  Just above this small square pocket is a strip of elastic.  This pocket appears to possibly be sized for an SD memory card, or a USB jump drive (with part of the drive sticking out of the pocket and held by the elastic perhaps). It is worth noting here that the elastic in the right pocket (shown above) was sewn down on both sides, while the one in the left pocket was only sewn down on one side.  I can only presume that this was a manufacturing defect and a quality control oversight.  Also visible in the photo above is a portal for the PAN system, to pass power cables through.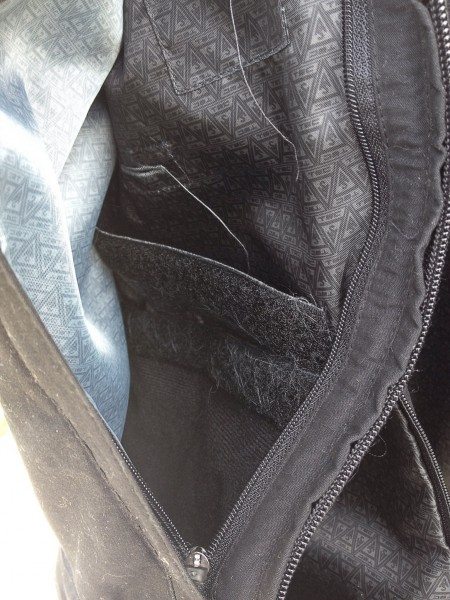 Angled Pockets – Moving downward from the Small Pocket are really the heart of the Rapid Access Vertical Panels. First up are theAngled Pockets.  There are three of these, layered on top of each other and with staggered openings.  In addition, these pockets each have a strip of Velcro sewn to them.  The panels themselves are actually smaller pockets that have Tricot (similar to the inside of a camera bag) fabric strips on the outside to allow hook-and-loop (i.e. Velcro) accessories to be mounted to them.  This could be anything from tactical or military items such as ammunition pouches or conceal-carry holsters to SeV's own Blackout Panels available on their site.  So there is the potential for lots of customization here.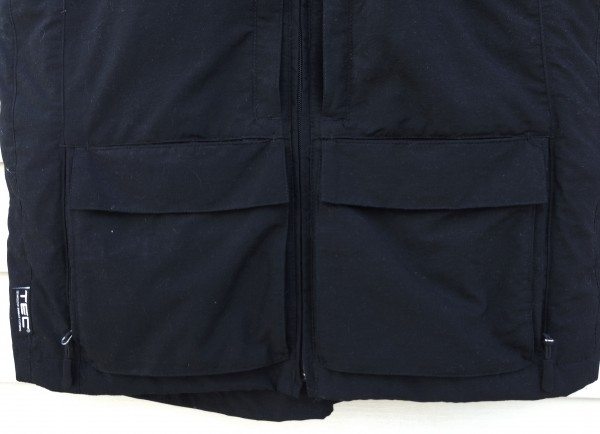 Moving down to the lower section of the front of the vest are actually three sets of pockets that are in fact layered over the top of each other.  Can you see them all in the image above?  In true SCOTTTeVEST fashion (yes, pun very much intended), there are more pockets here than meets the eye.  Let's check them out one at a time.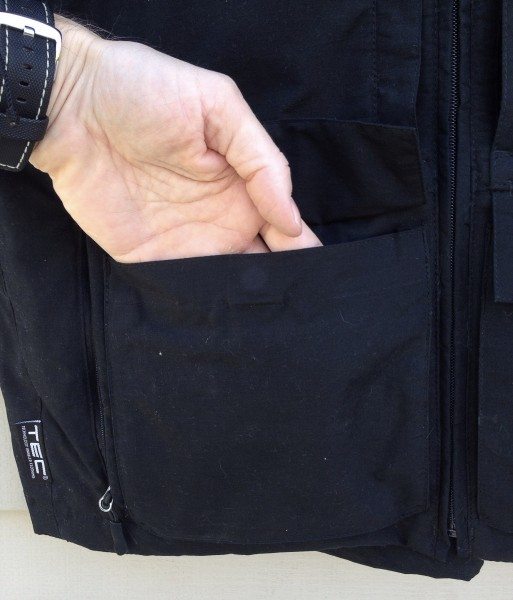 Outer Handwarmer Pockets – I think that what I have depicted in the photo above is one of the two sets of Handwarmer Pockets, the outer set.  This is a large pocket with a flap and a single magnet closure.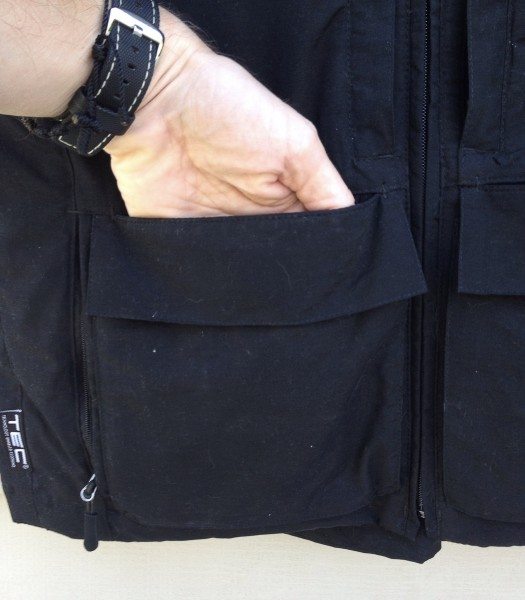 Inner Handwarmer Pockets – Yes, there are two sets of Handwarmer Pockets, which means this vest would be absolutely perfect for someone with four arms.  The Inner Handwardmer Pockets, shown in the photo above, are always-open, quick-access pockets that are directly behind the outer set of Handwarmer Pockets and because of this are somewhat hidden normally.  They could be used to slip an item into or out of quickly, but I don't think that I'd use them to hold valuables securely, due to their lack of any sort of closure.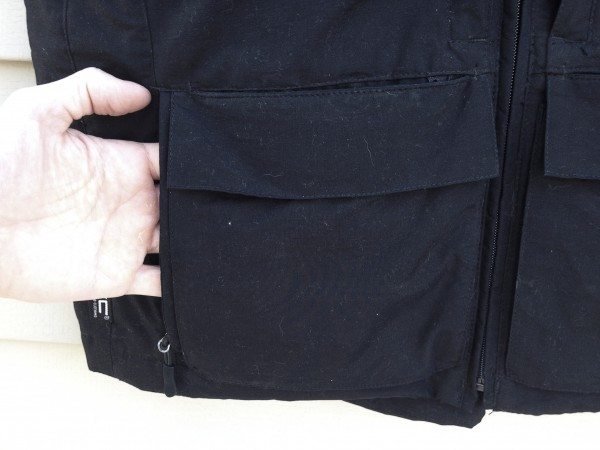 Bellow Pockets – Next up are the Bellow Pockets which have a zipper closure with a mini version of the larger SeV zipper pull.  Amazingly, these pockets also have a magnet closure as well, which combined with the more secure zipper closure is, I suppose, a type of 'belt-and-suspender' closure approach.  For example, if you are using the Bellow Pocket to keep your hands warm, pull your hands out and forget to zip the zipper, the magnet closure will kick in and at least partially keep the pocket closed, preventing things from falling out.  There is a lot going on inside these pockets, so we'll take the features one at a time.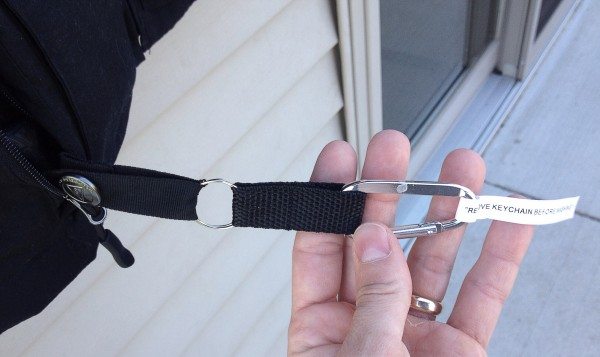 Extendable Key Holder – I'm not sure this technically counts as a pocket, but inside the right Handwarmer Pocket is an Extendable Key Holder, a strap attached to the inside of the pocket.  It has a a snap release on the end closest to the pocket.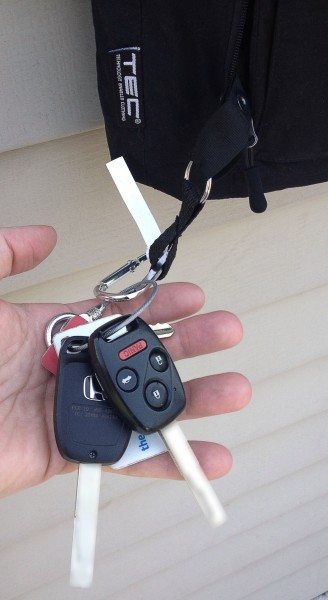 The Key Holder has a carabiner that can be attached to your keyring to keep your keys secure in this pocket but also to allow quick access to them if needed.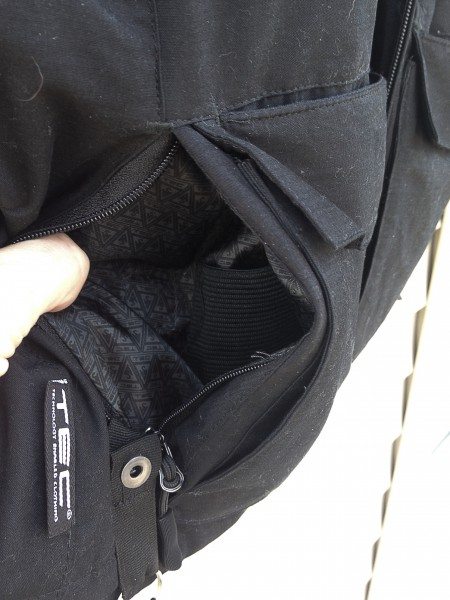 Water Bottle Holder – Another pocket inside the Bellow Pocket is another pocket of sorts, a Water Bottle Holder.  This is not exactly a pocket, but an elastic band designed to hold a typically-sized water bottle vertically.  Yes, that's right, this Handwarmer Pocket actually extends upward, inside the vest, all the way to the top, giving plenty of room to stand up a water bottle vertically and keep it there.
Coin Pockets – One additional set of pocket inside each of the Bellow Pockets is a set of small coin pockets that prevent loose change from rattling around.  These are similar Square Pockets described above in that they are small squarish pockets with a Velcro closure and elastic pull loop.  Because they are located in the bottom innermost corner of the Bellow Pockets, I couldn't get a clear photo of them, but reference the "X-ray" illustration from SCOTTeVEST above and you'll get the idea.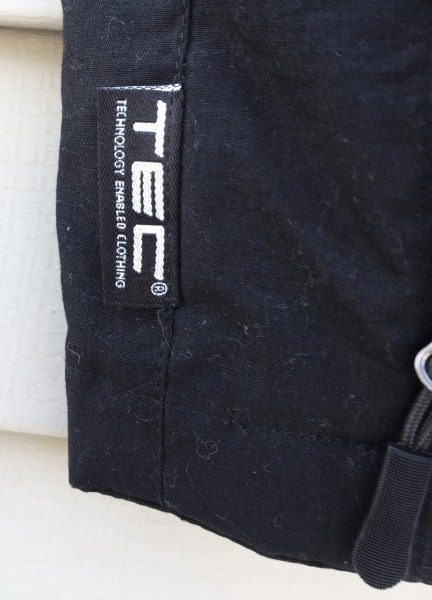 Gratuitous TEC logo tag closeup.  Special appearance by more lint.  Next, let's have a look at the pockets and features on vest's interior.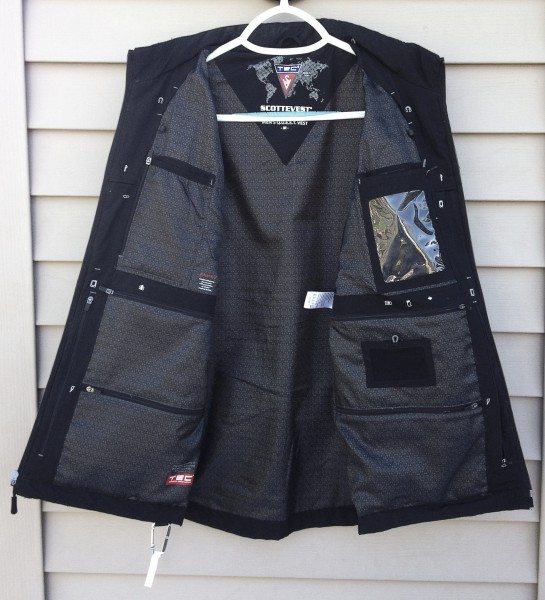 Here's where the SeV products are typically known for, a certifiably insane number of interior pockets and other features.  Above, a photo of the Q.U.E.S.T. Vest before I crammed it full of items.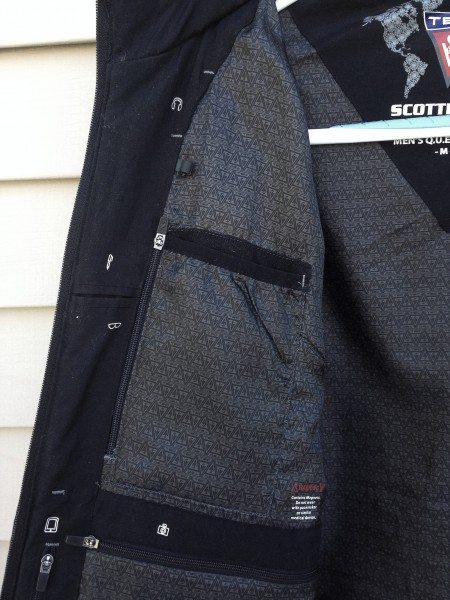 Starting on the inside top right side of the Q.U.E.S.T. Vest is a group of pockets and features.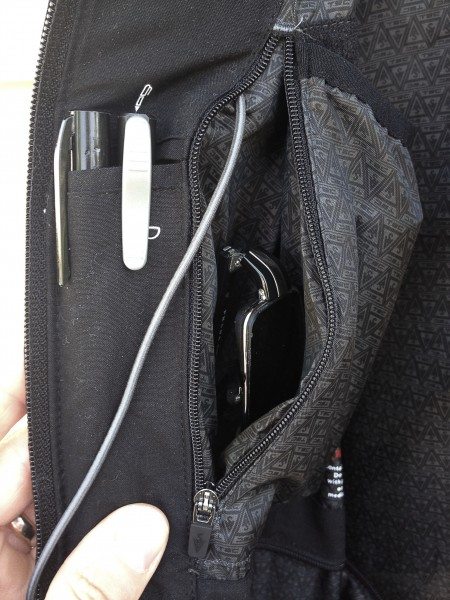 Pen Pockets and Eyeglass & Chamois Pocket – There are actually a total of three pen pockets inside the Q.U.E.S.T. Vest, this one on the right, and two on the left.  The Pen Pocket shown above is generously sized and can easily hold two pens, maybe up to three, or could even hold narrow penlights and other pen-shaped items.  I like this, because I tend to carry several writing instruments with me—probably more than I need.  Hey, I'm a Gadgeteer, and I'm still working on my minimalism, OK?  The placement of these Pen Pockets is good, because I can access them quickly, but I did notice that while wearing the vest, unless the main zipper is fully zipped, the items in these Pen Pockets are visible to the degree that they seem to scream, "LOOK AT ME.  I'M A PEN NERD." in a way reminiscent of the pocket protectors of yesteryear.  The Eyeglass Pocket is generously sized and could probably even hold a pair of those rather largish sunglasses that fit over regular glasses.  You know the type.  Welding goggle style.  The point is that this pocket has lots of room.  It also includes a PAN portal.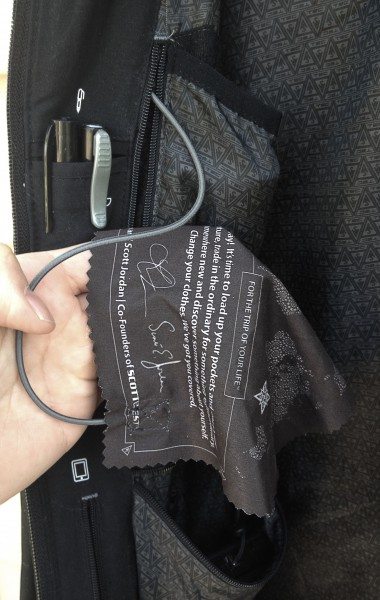 Chamois – In addition to the Eyeglass & Chamois Pocket itself, inside the pocket, attached to the interior of the pocket via an elastic cord tether, is a microfiber chamois for cleaning those eyeglasses, sunglasses, the screen of your smartphone or tablet, or anything else.  In an emergency, you could probably blow your nose with it, but that could affect how well it cleans your smartphone so I would not recommend it.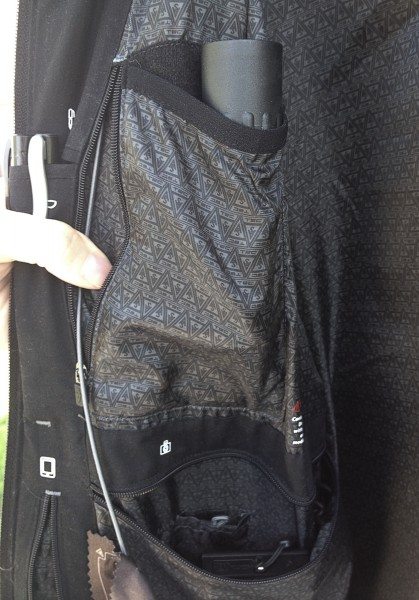 "Secret Pocket" – Behind the Eyeglass & Chamois Pocket is a "Secret Pocket."  There, I said it.  Now the cat's out of the bag.  Great.  The SCOTTeVEST Black Helicopter should be arriving any time now.  Here, I've used the so-called Secret Pocket to hold my Surefire Nitrolon G2 flashlight.  In all seriousness, this pocket is not obvious upon casual observation, so it is somewhat "secret."  That is, unless you place something like a tactical-style Surefire Nitrolon G2 flashlight in it, which is probably a bulkier item than it was intended to hold.  Then this pocket becomes somewhat less "secret."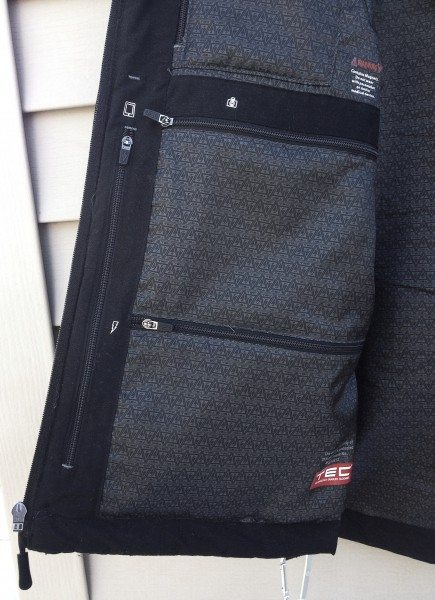 Continuing on down the interior right side are another series of pockets with even more capacity than the ones above.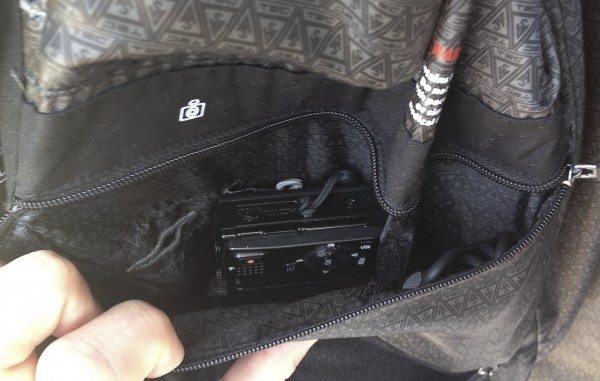 Divided Digital Camera Pocket – Below the Eyeglasses & Chamois Pocket is the Divided Digital Camera Pocket.  This zippered pocket is intended to hold a point-and-shoot camera, as I've placed in it above.  It won't hold a DSLR body (well, it might, actually), but it is generously sized for even the largest point-and-shoots.  This pocket has a divider with a strip of Velcro, so you use the divider or not, depending on the size and number of items you are carrying in it.  For example, in the photo above, I have placed my Nikon point-and-shoot in the larger left side of the divider, and its charging cable on the right side.  This helps facilitate quick access to your camera without other items getting in the way.  Also inside the larger portion of this pocket is another small square pocket with Velcro closure and elastic loop pull tab, identical to the ones inside the Rapid Access Vertical Panels—it's just barely visible in the image above behind my camera.  I expect that this is for spare SD memory cards.  This pocket also has a PAN portal.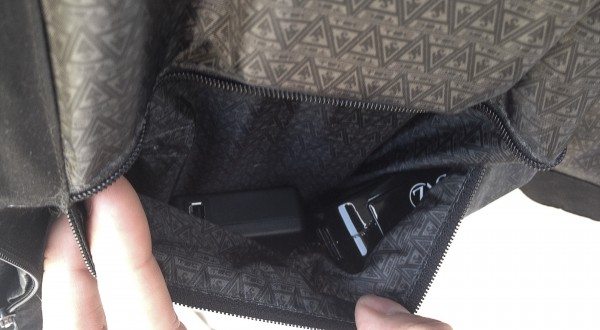 Power Pocket – Below the Divided Digital Camera Pocket is another pocket intended to hold charging items, portable batteries, or other miscellaneous items.  This pocket is also enabled with ports that allow access to the PAN system.  In this pocket, I've placed the charger for my Nikon camera as well as my ZaggSparq 2.0, which is a portable battery that, when used with a charging cable, can be used to charge my iPhone or even my iPad without even removing it from the vest, which is perfect for use with the PAN system.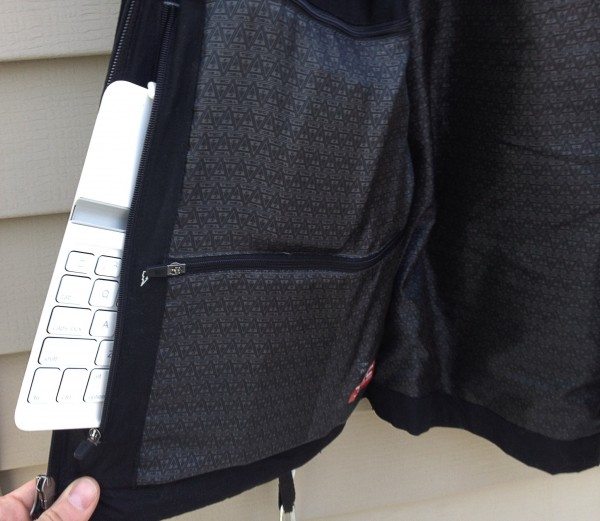 PadPocket (right) – Situated between the Bellows Pockets on the exterior and the Divided Digital Camera Pocket and Power Pocket on the interior is one of two PadPockets.  Another very generously-sized pocket, it is designed to hold a full-sized tablet.  Yes, a tablet.  Not a mini tablet, mind you, a full-sized table.  Here, I've used this particular PadPocket to hold my Logitech Ultra Thin Keyboard Cover that I use with my iPad 3rd Gen (more on that below).  The Keyboard Cover fit quite well horizontally, but this pocket is so large that, incredibly, I could nearly stand the keyboard cover up vertically.  Yeah, this pocket is that big.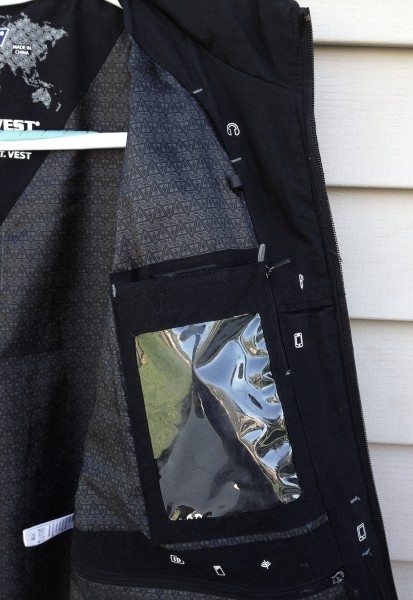 Shifting to the interior left side of the Q.U.E.S.T. Vest are a whole series of other pockets and unique features.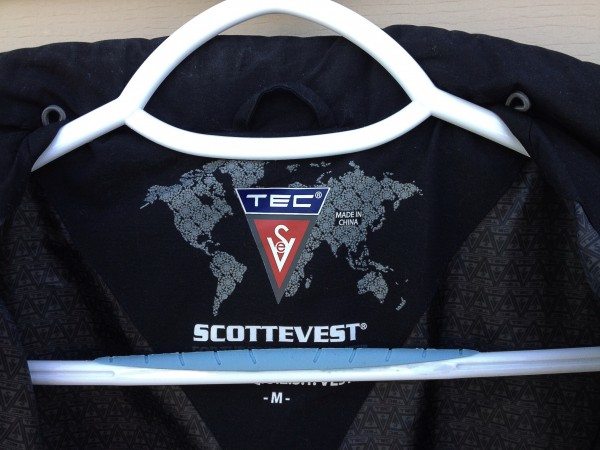 CollarConnect – Part of the patented PAN system, the Q.U.E.S.T. Vest includes a way to conceal your earbud cables by sliding them into a channel in the collar, effectively hiding them and keeping them out of the way.  The ends of the earbuds themselves then protrude from either end of the channel and are held in check by two small elastic loops, as seen above.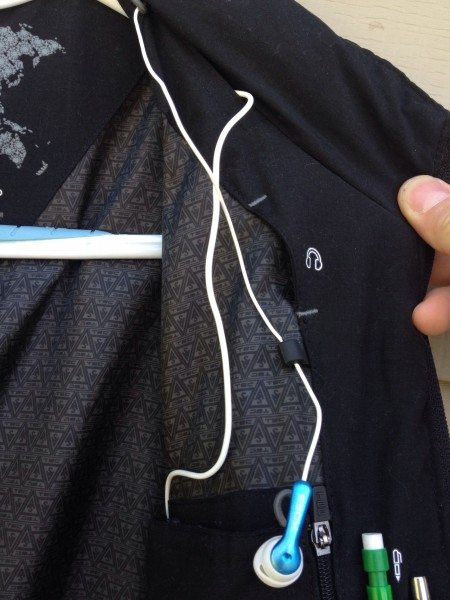 In addition to the CollarConnect and the small elastic loops described above, the Q.U.E.S.T. Vest also includes a small rubber hook that holds your earbud cable out of the way when not in use.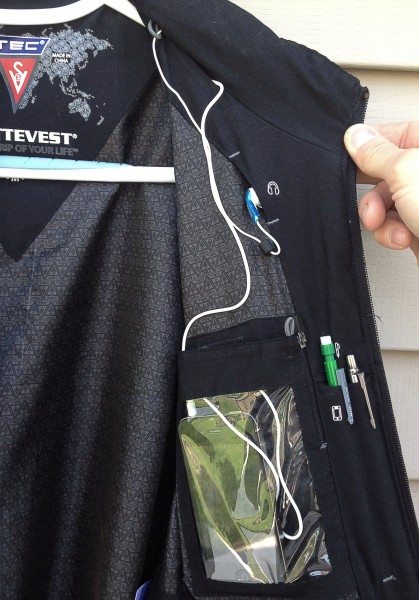 BudBucket Pockets – As if the CollarConnect and rubber hooks weren't enough, additionally the earbuds themselves can be tucked into one of two small BudBucket pockets until  you are ready to use them.  The SCOTTeVEST folks seem to have thought of everything when it comes to integrating audio with their garments.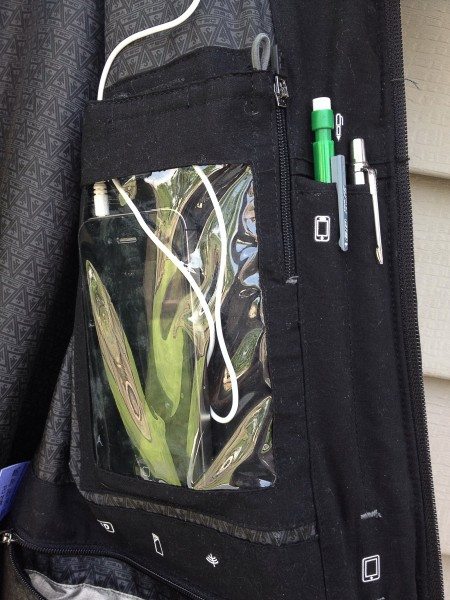 Clear Touch Fabric Pocket – This pocket is specially-designed to hold your smartphone or other touchscreen device and both see and use its touch screen.  I slipped my iPhone 4S into this pocket and you can see that it had plenty of room to spare—this pocket can probably hold even the largest smartphone or even a small phablet.  Your smartphone can be access either by a Velcro opening at the top or a combination of the Velcro pocket and a short zipper.  There is also a small loop of elastic, that can be used to hold the earbud cable.  Why didn't I use it this way in these photos?  Because I only figured out what the loop is for just now, that's why.  In any case, I found this pocket a bit difficult to use.  It was somewhat difficult to see my iPhone's screen unless it was pressed flat against the Clear Touch Fabric.  In addition, although I could indeed access the iPhone's touch screen through the material, it was a bit challenging.  Also, over time the Clear Touch Fabric material also became not so "clear"—I found that some sort of hazy film had developed on the inside of the material that made it impossible to see my iPhone's touchscreen.  It resisted most efforts to remove it.  Not sure why this happened, as the only item I've placed in the pocket was my iPhone.   Also visible are the remaining two Pen Pockets which I would note are actually divided separately.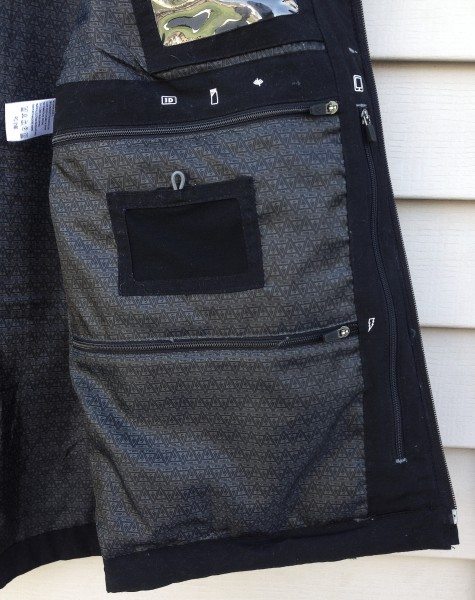 Continuing on down below the Clear Touch Fabric Pocket are several more pockets and features.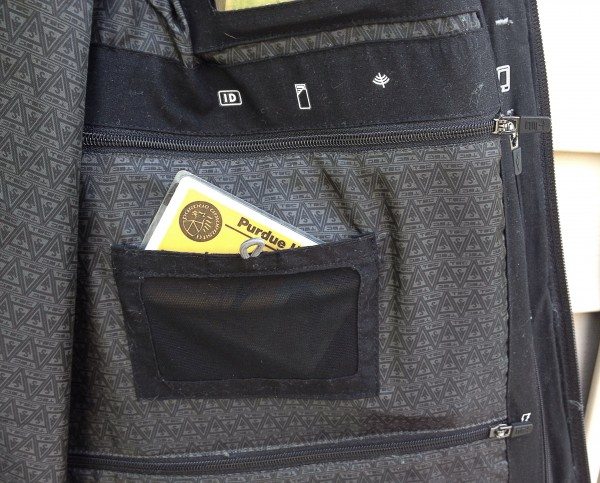 ID Pocket – Below the Clear Touch Fabric Pocket is a small pocket sized to hold an ID card or similarly-sized card.  The majority of the pocket is mesh to allow visibility through it.  I found this odd; presumably, you would know what card is in this pocket, since you would have put it there yourself, so why would you need it to be mesh so that you can see which card it is?  I wouldn't expect to flash people my ID from this pocket, but I suppose you could.  This pocket has a Velcro closure and an elastic pull tab as well.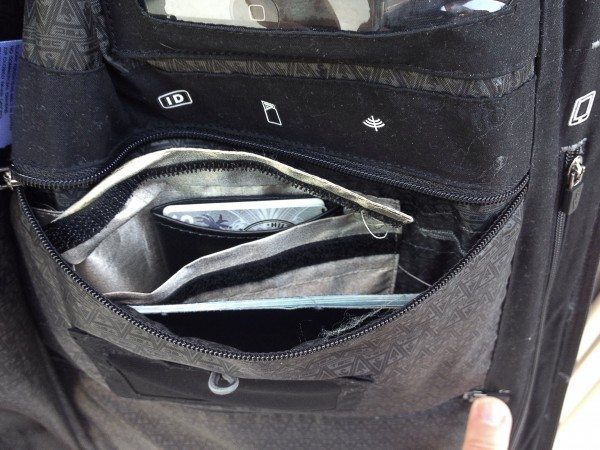 Travel Documents Pocket & RFID-Blocking Wallet Pocket – Behind the ID Pocket are actually two pockets, one inside the other.  The main pocket is sized to fit a passport and other travel documents.  Inside this pocket is a smaller pocket with a Velcro closure and lined with some type of metallic fabric that is intended to block RFID transmissions that could be used for wireless identity theft.  In this pocket I've placed my Dash 3.0 Trim wallet, which is quite a small minimal wallet, so had plenty of room to spare, but this pocket could easily accommodate much larger wallets, but maybe not George Costanza's.  The main Travel Documents Pocket also has a PAN portal.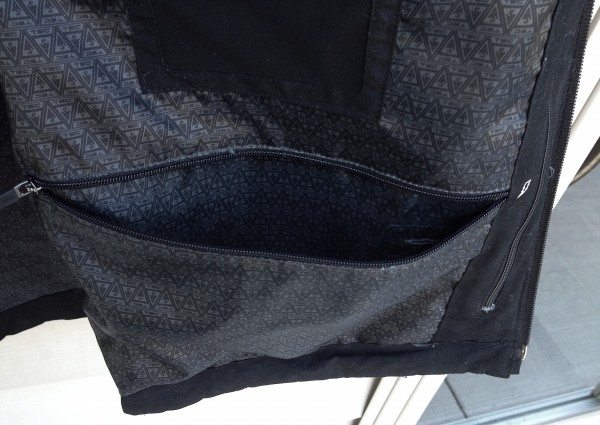 Power Pocket – Shown above is the left Power Pocket, which like its twin on the right, is very deep and wide and also contains a PAN portal.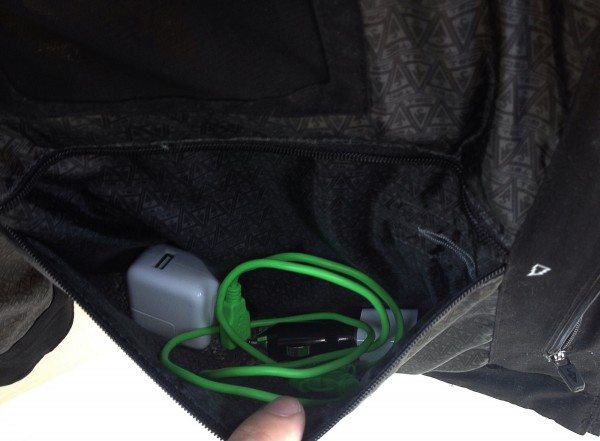 In this left Power Pocket, I placed my iPad charger, a charging cable, a car charger, and my iPhone charger.  However, this pocket can obviously hold so much more.  Like a pair of shoes, or a Smart Car.  Well, that might be an exaggeration, but it can certainly hold a lot.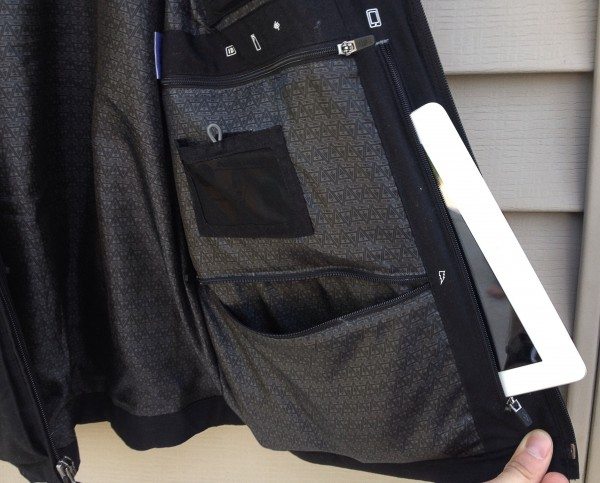 PadPocket – In the left PadPocket I placed my iPad 3rd Gen.  Similar to the Logitech Keyboard Cover that I had placed in the right PadPocket, the iPad fit with room to spare when in a horizontal orientation, and could nearly stand vertically in this pocket, which is to be expected since the iPad and keyboard cover have virtually the same dimensions.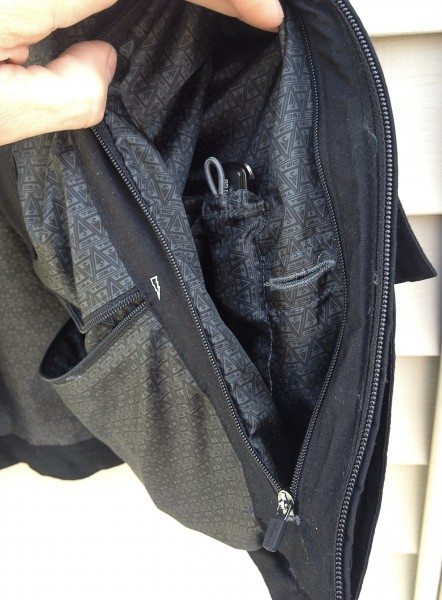 Memory Stick Pocket (?) – Unlike the right PadPocket, the left one has have an additional smaller pocket inside.  This smaller pocket is vertically oriented and long and narrow.  It has a Velcro closure and an elastic pull-tab and seems to be sized to accommodate a USB jump drive, which I placed in the one shown above.  Oh, and want to guess what else is in the left PadPocket.  You are a good guesser–there is a PAN portal here as well, of course, as seen above.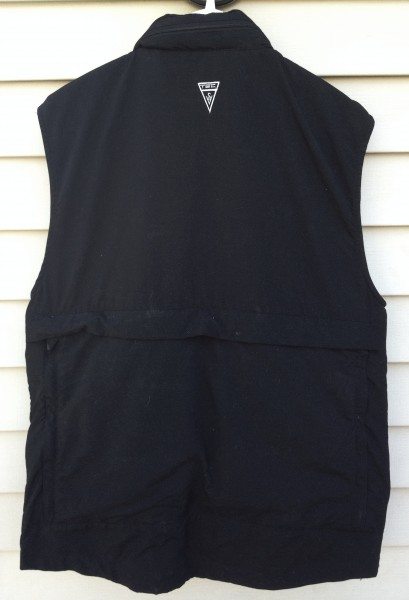 Now let's take a look at the back exterior of the vest.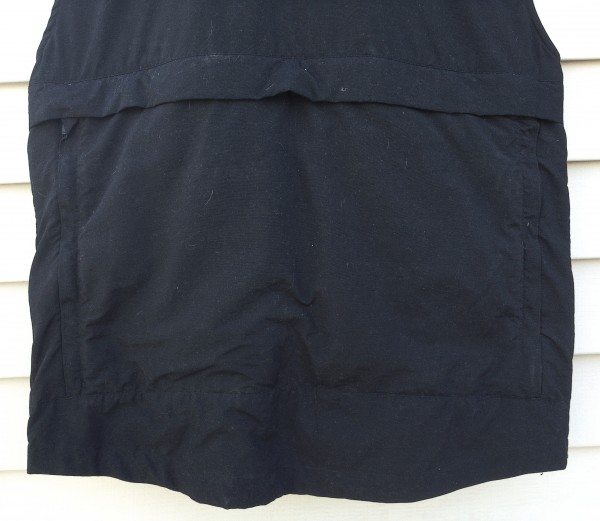 Back Pocket – The main feature of the vest's rear exterior is a large—and I do mean large—Back Pocket.  It is fully the width of the entire back of the vest and about half the height.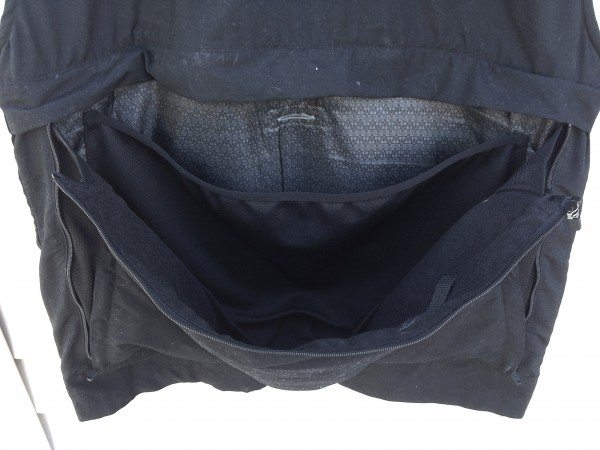 Like many of the pockets in the Q.U.E.S.T. Vest, inside the deceptively simply-named Back Pocket, there is a lot going on.  Lift the flap and unzip the zipper and you will find a very large main compartment and several other features.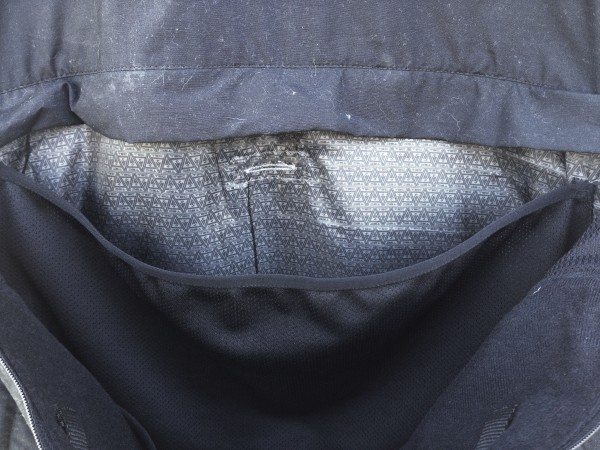 The main compartment of the Back Pocket has an other large pocket inside it, along the inside, made of a mesh material.  Just above this is another portal for the ubiquitous PAN system.  For a fleeting moment, I thought that perhaps this PAN portal might be intended to run cables from a car battery to power ALL of my devices.  But that would be ridiculous, right?  Hmmm….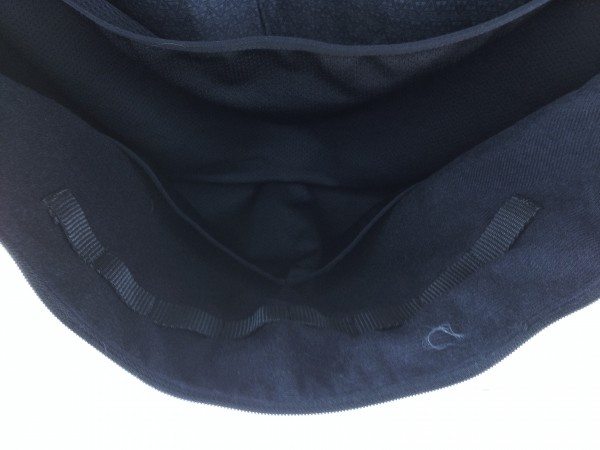 Additionally, opposite the large mesh pocket are two smaller mesh pockets, as well as a strip of MOLLE-style webbing which has a bit of a military look to it that could be used to hold or hang items from.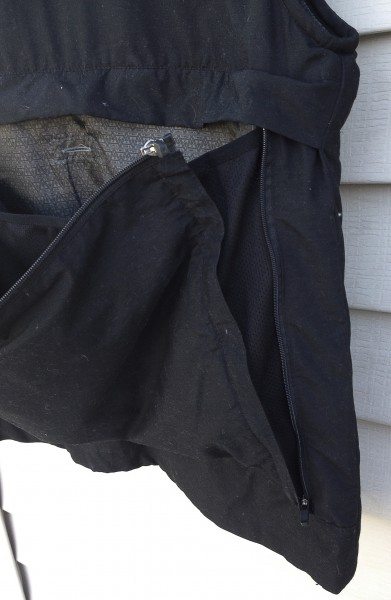 The Back Pocket uses an interesting 3-zipper system as its closure.  The Back Pocket's main zipper, located under a flap that serves to protect the zipper from the elements, is a long, horizontal locking zipper.  Unzipping this provides access to the entire Back Pocket.  However, located vertically along the right side is another locking zipper.  Unzipping this, as well as its counterpart along the right side of the Back Pocket, reveals mesh relief panels that effectively turn the Back Pocket into a "bellows" pocket that increases its capacity.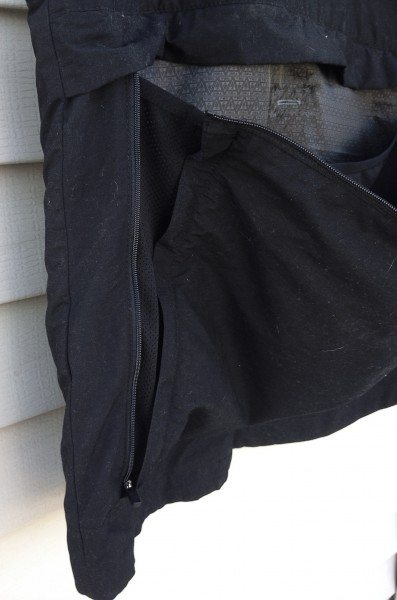 Above, a photo of the "bellows" locking zipper along the left side of the Back Pocket.  Although I haven't placed any items in this Back Pocket in these photos, nevertheless I did use the Back Pocket on my trip to Purdue that I described above.  At one point I took off the light pullover, rolled it up, and placed it in the Back Pocket.  I had to unzip the side bellows zippers, but it did fit.  However, the lower back of the vest became a bit uncomfortable when sitting in chairs.  So, as with all of the Q.U.E.S.T. Vest pockets, beware of overfilling them.
The Fit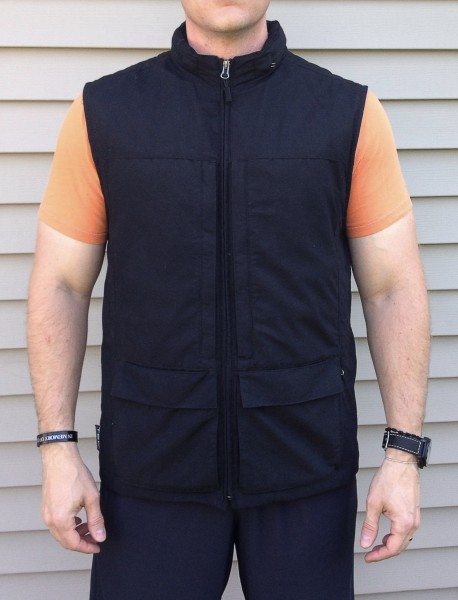 Now let's check out the fit of the vest.  In the above photo, I am wearing the empty vest with no items in it.  First, I have to say that I think I requested the wrong size vest.  This was not really the fault of SCOTTeVEST, so I don't blame them.  The way that I determined which size to request was by visiting the SCOTTeVEST site and looking at the images of various models wearing the vest.  I didn't want the vest to be too long on me, so I requested the size Medium.  From the first time I tried it on, the size Medium felt a bit snug across the chest/back and a bit tight in the armpits to be completely comfortable for me.  In fairness I should also note that I tend to have this issue with most shirts and jackets, probably due to my fitness routine.  Therefore, I think I should have just stuck with size Large, which is what I typically wear.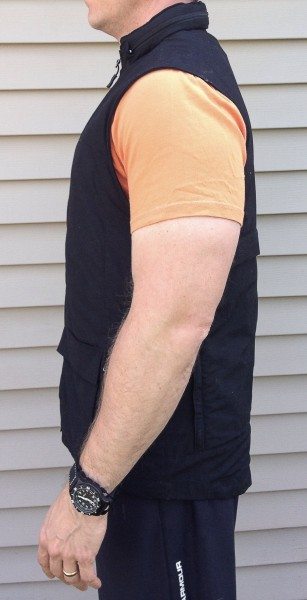 Another shot of me wearing the empty vest.  Yeah, I was wearing athletic shorts and a T-shirt for these photos.  That's how I roll.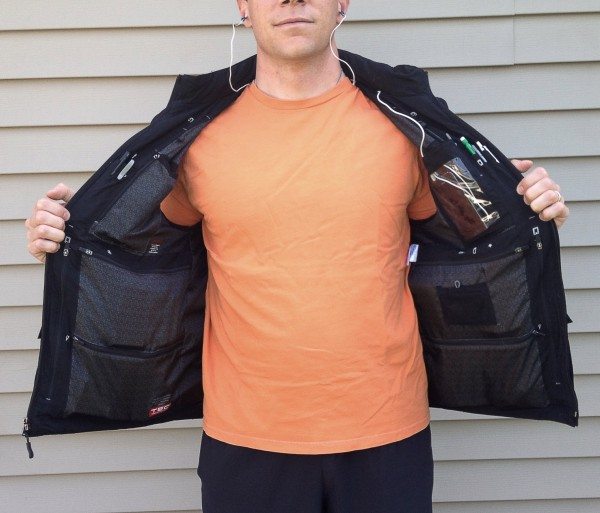 In the above photo, in which I am doing my best impersonation of a fake Rolex peddler in New York City listening to scorching jazz flute tunes on my iPhone, you can see the vest now loaded with all of the above items.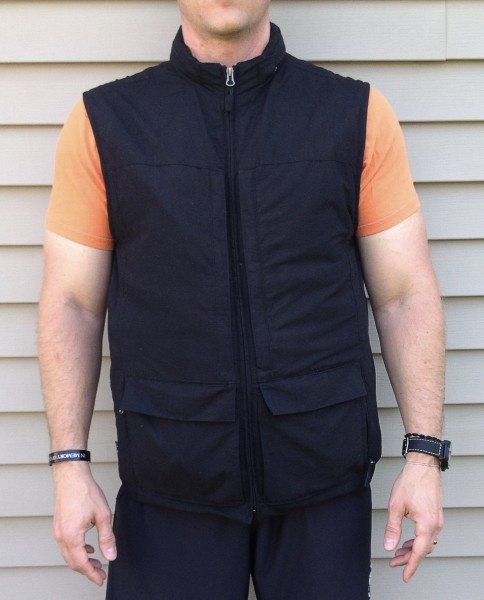 In the photo above, the vest has been loaded.  A few things to note here.  First, although the vest is loaded with items, it is not fully loaded.  As I mentioned above, there is actually still a lot of room for additional items in many of the vest's pockets.  Second, I would say that, although the vest is indeed loaded with many items, the items that I did place in it don't seem to have affected its overall appearance much, at least when viewed from the front.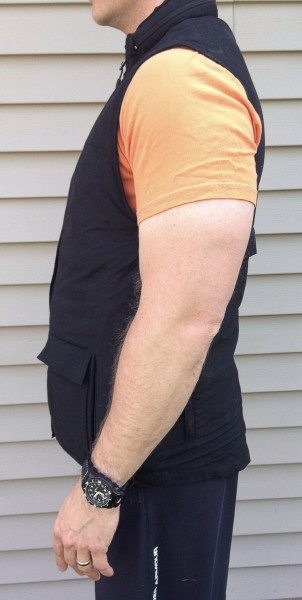 However, when the now-loaded vest is viewed from the side, it is a different story, and I start to look a bit more like the Jolly Old Elf from the North Pole when compared to the side view of the empty vest above.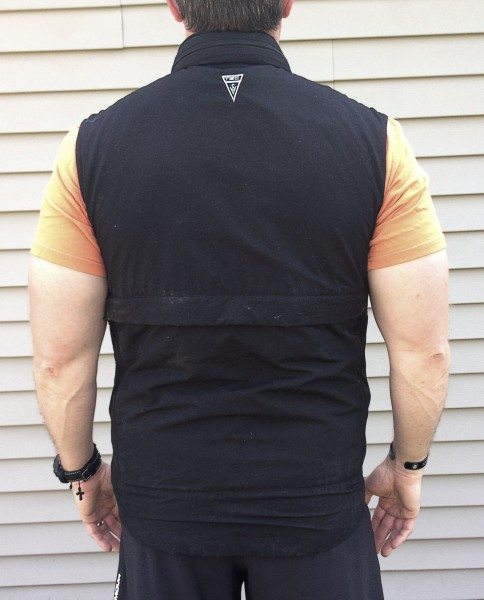 Finally, a photo of the loaded vest from the back.  You can see that the width of the vest across my shoulders is a bit snug, but again, this is because I should have requested a Large instead of a Medium.  However, this snugness is exacerbated by the fact that the vest is now loaded, making it fit even tighter.  Just something of which to be aware, and although I suspect this could be the case with virtually all of SCOTTeVEST's products, this effect might be even more pronounced with the Q.U.E.S.T. Vest because it can in fact hold so many item.
Conclusion
The SCOTTeVEST Q.U.E.S.T. Vest for Men has a lot of pockets and features.  Billed as 42, I actually counted more than that before I lost track, including pockets and other additional non-pocket features. It has pockets for every conceivable item you may want to carry with you while travelling, working, or just out about town.  That said, when fully (or even partially) loaded with items, it seems to almost have too many pockets.  (I know—blasphemy!)  The vest can get quite thick, bulky and heavy.  However, if you are judicious and don't plan to fully load every single pocket, then this vest's versatile design and special features, like the PAN (Personal Area Network), Clear Touch Fabric Pocket, RFID Blocking Wallet Pocket, the built-in Chamois and the Rapid Access Vertical Panels, just to name but a few, might be just what you need. In general I found the construction of the vest to be good, but inside many of the pockets were issues with loose threads and fraying material.  Overall, the SCOTTeVEST Q.U.E.S.T. Vest for Men is a versatile article of travel/tech clothing with many useful features that is generally well constructed but may be just a bit high-priced at $145 for what it is.
Update 04/18/15
Although I was impressed with the sheer number of pockets in this thing, I felt like a walking Best Buy while wearing it fully loaded. Between that and the somewhat shoddy construction (tons of loose threads, as noted in the review) the cloudy, hazy inner pocket and SCOTTeVEST's disappointing customer service, when I told them about the pocket, and I was not only turned off by the Q.U.E.S.T. Vest but also by SCOTTeVEST in general.
Source: The sample for this review was provided by SCOTTeVEST. Visit their site for more information.
Product Information
Price:
$145
Manufacturer:
SCOTTeVEST
Requirements:

Lots of gear and gadgets to haul

Pros:

42 pockets! (actually even more by my count)
Lots of other useful special features
Well designed to optimize space, weight and accessibility

Cons:

Fully loaded, you'll weigh as much as a tank, and feel like one
Some construction imperfections inside many of the pockets