We use affiliate links. If you buy something through the links on this page, we may earn a commission at no cost to you. Learn more.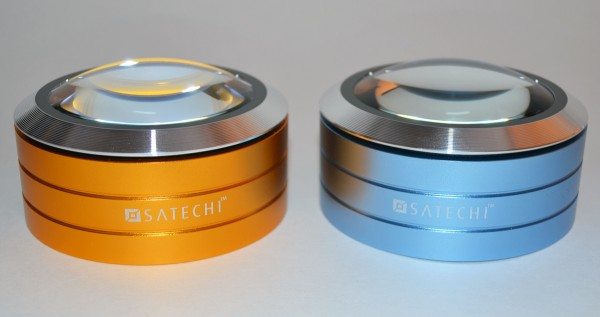 I recently posted a news article about the Satechi ReadMate LED Desktop Magnifier, a powerful, 5X magnifier to help you see small print, fine details on collectibles, or even the splinter that's stuck in your finger.  I've always been nearsighted as a bat, but I could always see even the tiniest details up close.  As I've aged, I first noticed I'd have to take off my distance-vision glasses to see up close for really tiny things.  Eventually, I got bifocals, but even they aren't sufficient for really small things these days.  I decided I'd buy one of the ReadMates for myself, so I placed my order and received my package in two days.  Within two minutes of seeing my new magnifier, Butch demanded one of his own, so I was back at Satechi ordering one for him.
I thought I'd do a short little review of the ReadMate magnifiers for others who are finding it's harder and harder to see tiny details these days.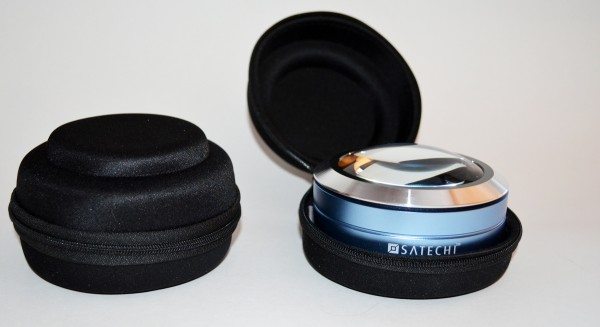 The magnifiers are available in black, red, blue, and gold.  I got the blue and Butch wanted the gold.  The body is made of anodized aluminum, and the ring around the lens is polished aluminum.  Specifications don't say, but I'm assuming the lens is glass because it's so heavy.  It's about 3.5″ in diameter and about 2″ tall.  It weighs 7.2 ounces.
The ReadMates come with a nice, fitted, zippered neoprene case to protect them from dust while they sit on your desk or from scratches if you throw them in your gear bag.  They also come with a gray microfiber cleaning cloth to keep the lens clean (not photographed).
The silver ring around the lens also serves as a switch to turn on LED illumination.   Just press down on it to turn on the lights.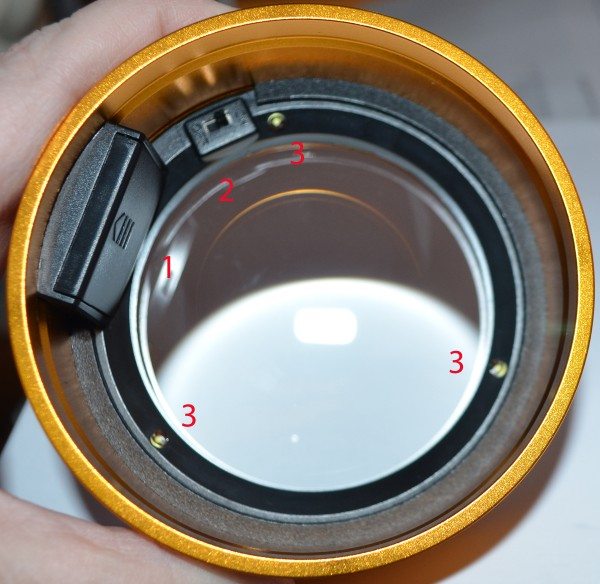 To prevent the lights from accidentally turning on and draining the batteries, there's a master power switch inside the cylinder (identified as 2, above).  When it's switched to OFF, the LEDs will not light, even when the ring is pressed.  The three LEDs (identified as 3) are equally spaced around the circumference of the lens for even lighting.  Satechi didn't specify the type or power of the LEDs, but they are sufficiently bright to provide good illumination.  The battery compartment (identified as 1) holds two coin-type lithium-ion batteries.  They are not rechargeable.  Satechi provides your first set.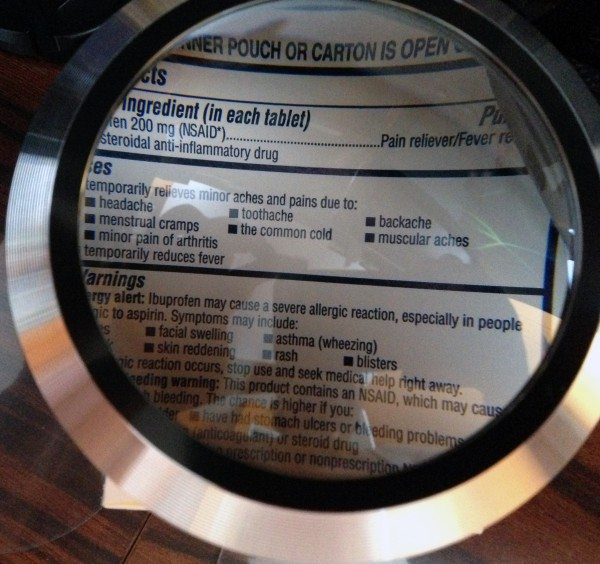 Although you can use the ReadMate by holding it up to the object, I couldn't take a photo that way without a second set of hands.  I also found that the camera on my iPhone 5 worked better to focus through the magnifier than did my Nikon camera.  (I'm not as up on the manual controls as I should be…)  This image shows the back of a box of ibuprofen.  In this image, the ReadMate is sitting on the box, and the LEDs are off.  There's a little distortion around the edges, as you would expect from a magnifying glass, but the text is clear, bigger, and much easier to read.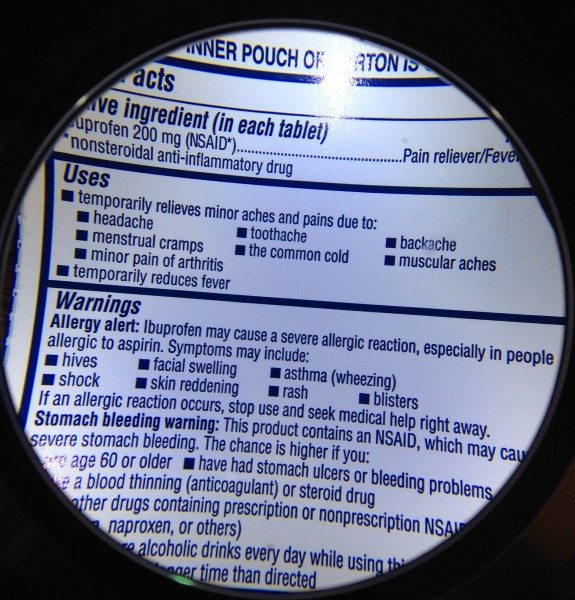 Insufficient illumination makes it harder for anyone to see, so it's nice that Satechi included the LEDs with this magnifier.  Although the enlarged print was easy enough to see without the added light, this image shows how much better it can be with a little extra light directed onto the subject.  You'll also notice the surface illumination makes reflections on the lens much less noticeable.
There's not much else to say about the Satechi ReadMate LED Desktop Magnifier, other than it works great.  If you don't mind having to potentially clean it before each use, it would look nice sitting out on your desk, but I'd rather keep it clean and safe in the protective neoprene case until I need it.  It helps aging eyes see fine print, it helps anyone see details on collectibles, and it's currently available for only $19.99.  What else could you need?
Product Information
Price:
$19.99 (normal price is $29.99)
Manufacturer:
Satechi
Retailer:
Satechi
Pros:

Protective storage case so you can take it with you
Good size
Good quality lens
LED lights illuminate your subject to make it easier to see
Can hold it up to objects or set it down on the object of interest

Cons: