We use affiliate links. If you buy something through the links on this page, we may earn a commission at no cost to you. Learn more.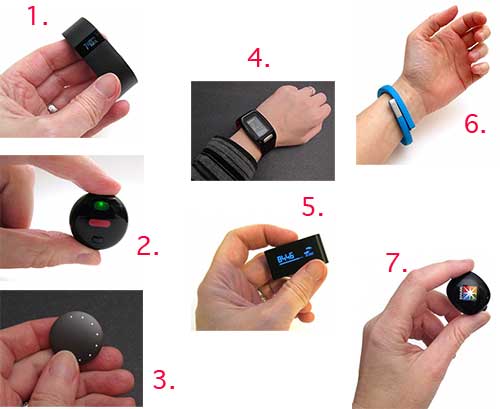 Thanksgiving and Black Friday are behind, but there is still plenty of time to get your holiday shopping completed and we're here to offer some inspiration on  popular gadget categories like iPhone / iPad cases, Bluetooth speakers, headphones, wallets and styluses. First up, activity trackers. This has been a popular category for 2013. I know because I've personally reviewed 9 activity tracker devices this year. 
1. Fitbit Force – Price $129.95. Tracks steps, distance, stairs, active minutes, calories burned and sleep. Syncs with PCs, Macs, iOS and Android devices (they are still working the kinks out with Android smartphone syncing). Doubles as a clock with settable alarms. Not shown is the Fitbit Flex ($99.95), which is similar to the Force minus the LCD display and stair tracking.
2. Fitbug Orb – Price $49.95. Tracks steps, aerobic activity and sleep. Syncs wirelessly with iOS devices. No Android support at this time. To sync with PCs and Macs, you'll need to buy an additional USB dongle. The tracker does not require charging. It runs on a CR2032 coin cell battery for up to 6 months. Lacks an on-device progress indicator. Have to sync tracker data with an iOS device to see your accumulated steps.
3. Misfit Shine – Price $119.95. Tracks steps, running, sleeping, swimming and cycling. Runs on a CR2032 coin cell battery for up to 4 months. Futuristic design that looks like jewelry. I found it more comfortable to wear than the other wrist worn activity trackers.
4. SYNC Burn – Price $129.99 (not pictured Smart Health LifeTrak Core C200 $59.99). Tracks steps, calories and heart rate. Syncs with iOS devices. Chunk design may make it uncomfortable to wear all day.
5. Withings Pulse – Price $99.95. Tracks steps, sleeping, stairs, heart rate and calories. Syncs via iOS or Android. Most features of all the trackers listed here, but isn't water resistant.
6. Jawbone Up – Price $129.99. Wrist worn tracker that counts # of steps taken for the day, distance walked, active minutes, calories burned, idle minutes, and sleep. Comfortable design.
7. Spark Wireless Activity Tracker – Price  $59.95. Tracks your steps (and other activities like biking and using an elliptical machine), distance and calories burned. Can wear on your shoe.
You'll want to read each activity tracker review for full details on the device, but I'm including a feature matrix below as a quick reference.

Which one should you buy? That depends on your needs. Do you need a tracker that can be worn on your wrist? Need one with a on-device display? Smartphone syncing? For me, my favorite tracker of the ones listed here, is the Withings Pulse. It offers more features at a better price than the others. The only thing it lacks is water resistance. If you're on a tight budget, I'd probably go with the Fitbug Orb. Although it lacks an on-device status display, it does offer smartphone syncing and water resistance. Regardless as to which one you choose, any of these activity trackers will should help motivate you to become more active.