We use affiliate links. If you buy something through the links on this page, we may earn a commission at no cost to you. Learn more.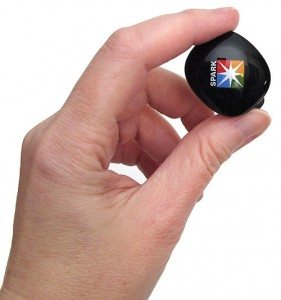 We all know that being fit equals better health, but it also means big money for companies looking to ride the fitness tracking wave. Activity trackers are becoming so popular that they are replacing pendants and bracelets as a new form of jewelry.  The Spark Wireless Activity Tracker is a tracker that can be worn on your waist, shirt, or even your shoe. Its main hook is that it's been designed to integrate with a large online weight-loss and fitness community at SparkPeople.com. Should the Spark become your new step and activity tracker? Let's take a walk and talk about it.
Note: Images can be clicked to view a larger size.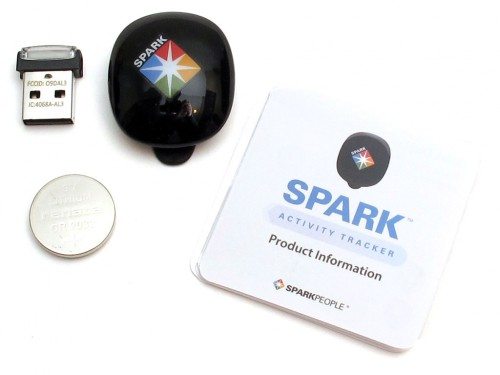 Package contents
Spark Activity Tracker
USB receiver
Extra CR232 battery
Quick start guide
What is it and how does it work?
The Spark Wireless Activity Tracker is a small plastic device about the the diameter of a quarter that has a 3-axis accelerometer to measure your patterns of motion. It clips on your pocket, belt, bra, or shoe and tracks your steps (and other activities like biking and using an elliptical machine), distance and calories burned through out the day.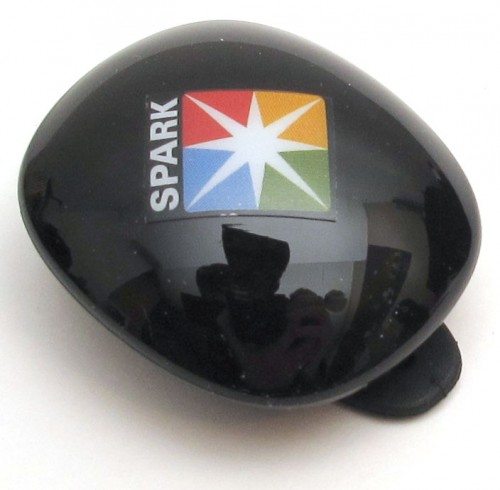 It's made of plastic and comes in the black shiny version you see above and a more subdued matte grey version.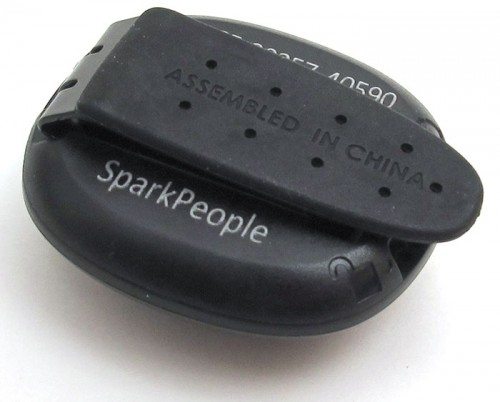 The back twists off to give you access to the battery compartment. The Spark is powered by 1 CR2032 coin cell battery, which lasts from 6-12 months. They even include an extra battery so you'll have one the first time you need to replace it.
A very strong clip allows you to easily wear the Spark almost anywhere you like.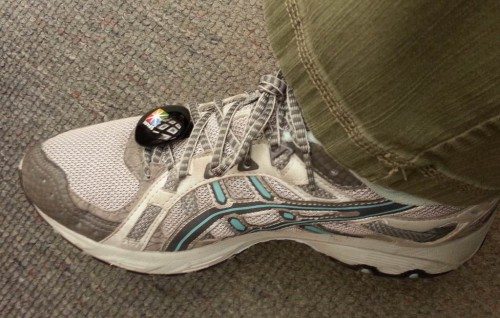 They recommend wearing it on your shoe, which I find to be very convenient because I don't have to remember to clip it to my waist in the morning or freak out when I forget and leave it in my pants pocket and it goes through the washing machine. However, if the Spark does go through the wash, it's no big deal because it's waterproof up to 100ft.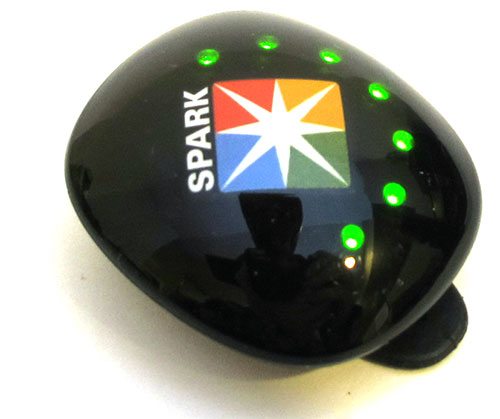 The small tracker doesn't have a display, buttons or switches (other than the battery lock on the back). It's designed very much like the Misfit Shine tracker which I reviewed not long ago (see links below). Some might say that the Spark is a blatant rip-off of the Shine's design given the matching ring of LEDs that light up to show a percentage of your daily activity progress. The Spark isn't nearly as pretty as the Shine, but it does work the same.
To see your progress, you tap the top of the Spark 5 times and it will then light up a number of LEDs to give you an idea of how much more activity that you need for the day. The whole tap 5 times to see your status is a bit much in my opinion. It gets annoying fast when you have to do it multiple times for it to actually work. Also, if you wear it on your shoe, you end up looking like a dork trying to tap the Spark to see your activity level.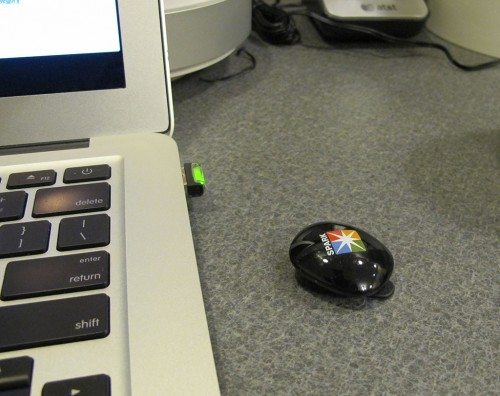 To see details about your daily activity, you'll need to install an app on your PC or Mac and use the included USB receiver. Installation of the software was easy enough, but I found the automated syncing to be hit and miss. The activity data on your Spark is supposed to automatically be synced to your SparkPeople account via the USB connector when you are within 50 feet of your computer. Every so often a small popup on my computer would tell me that either the sync worked or didn't work. Even when it said syncing was successful, I would often check the SparkPeople website and not see the newly synced info. Eventually it would show up, but not right away.
For me, this is a deal breaker when it comes to the Spark. I want to see cold hard numbers, I don't want to compute in my head that 4 stars equals about 2500 steps because it is equivalent to 25% of my daily activity goal which I've set to 10,000 steps. I want to see the actual numbers. But to do that, I have to wait till I get home where I have the USB dongle and software installed on my Macbook Air.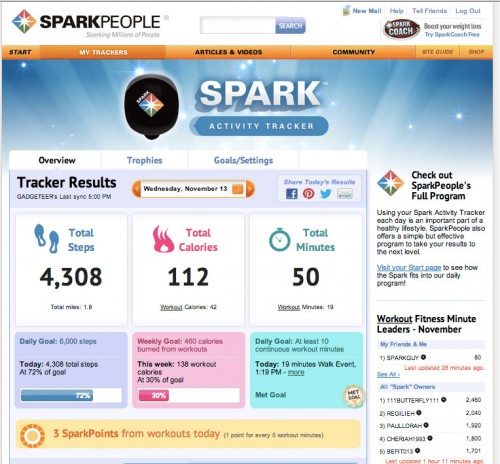 Once your data is synced, you can view it on the SparkPeople website. You'll be able to see the number of steps you took, calories you burned, distance and total minutes that you were active. You can set goals such as number steps to walk per day or number of calories to burn each day.
The number of steps counted by the Spark was in the same range as 2 other trackers that I was wearing at the same time. They all showed different numbers, but were within a few hundred steps of each other. If you like to be as accurate as possible, the Spark can be calibrated by walking a specific distance and then choosing that activity through the website and entering the exact distance.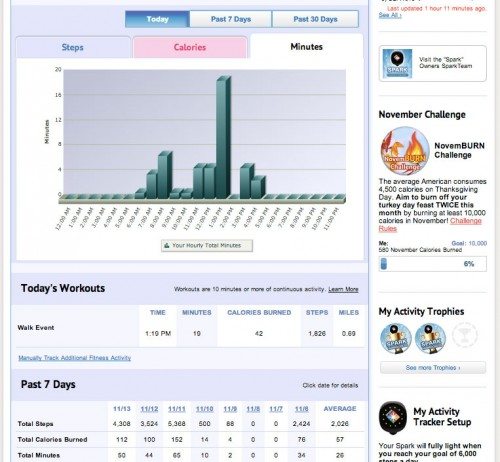 In addition to viewing your activity data, the website also offers free tools to help with weight loss, nutrition, and fitness, as well as a community of people that you can talk to in forums. You can enter foods you eat throughout the day and info from measurements and weigh ins. I found the website to be a little overwhelming and tedious. I don't want to enter my meals or measurements. But maybe you do and that's great. I just want to know how many steps I walked each day so that I know if I'm being a slug or if  need to get moving more.
The Spark Wireless Activity Tracker might not offer features like smartphone syncing and sleep tracking, but for the price and what it does, it is an easy way to get started down the road to becoming more physically fit.
Product Information
Price:
$59.95
Manufacturer:
SparkPeople
Requirements:

PC or Mac desktop or laptop

Pros:

Can wear on different areas of your body
Easy to use
Community website

Cons:

Lacks smartphone syncing
Have to use a USB dongle to sync with desktop
Syncing is sporadic